The kitchen is no longer a single purpose room, designed only to store and prepare food.  Gone are the days when most homes had a separate dining room, family room, and formal living room.  Today's kitchens are typically a multi-functional space combining the traditional food-related activities with socializing, entertaining guests, homework, and much more.  It tends to be one of the busiest rooms in the house and must accommodate numerous people at once.  Open plan kitchens are more popular than ever as they allow for a flow between the kitchen, dining, and entertaining areas, and create a more sociable atmosphere centered on the kitchen.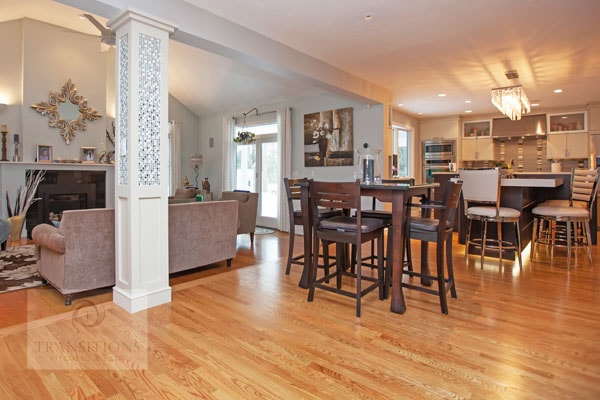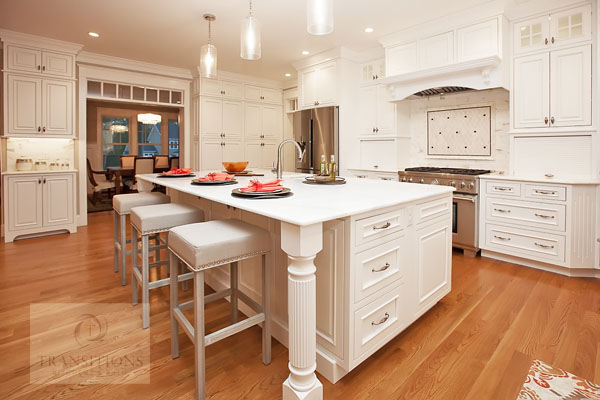 A kitchen renovation designed for multiple people doing different tasks at once requires careful planning.  Before you start considering appliances, tiles, light fixtures, and kitchen cabinet choices, take a step back and look at the big picture by considering the layout of your kitchen.
Layout and workflow are the foundation of every kitchen design and are crucial to making sure that your kitchen functions smoothly and enhances everyday life. Layout also impacts the scale of your project and where you decide to locate items within your new kitchen.  Creating the workflow you desire may even require you to make structural changes such as moving doors or removing a wall.
There are several factors to consider when thinking about your kitchen layout, including:
How much space do you have and what shape is your room?
To achieve your design goals, do you need to make structural changes or major shifts in the location of appliances?
How often do you cook and do you need to accommodate more than one person cooking at once?
Do you entertain frequently?
What other activities are top priority for your family in this space, such as studying, working from home, pets, or music?
Consider your priorities for this space and be ready to discuss these requirements with your kitchen design specialist. Traditionally, the kitchen layout was based around a work triangle, where the refrigerator, range, and sink were placed roughly the same distance apart.  This formed a triangle, which was intended to allow one person to easily prepare food.  Today's kitchens include more appliances, more functionality, and typically more people working in the space.
For this reason, today's kitchen layout is often arranged by creating core work zones for the main functions of the room.  These may include food storage, food preparation and cooking, clean up, dining and entertaining, and possible even study or work.  While a larger kitchen gives you more space to work with, a kitchen of any shape or size can be well-organized by carefully considering how to arrange these zones.
Here are a few ideas for creating logical work zones:
Arrange appliances and storage in a logical manner according to their functionality.
If your kitchen is large and you plan to have multiple people preparing food, consider having a secondary food preparation area, perhaps located in the kitchen island to allow ample space for both chefs to work.
Speaking of islands, make good use of it to separate zones in the kitchen and create a logical flow of traffic through the room. Islands are particularly useful for creating some separation between the food preparation and dining/entertaining areas of the room, like the T-shaped or L-shaped islands shown in the kitchen designs below.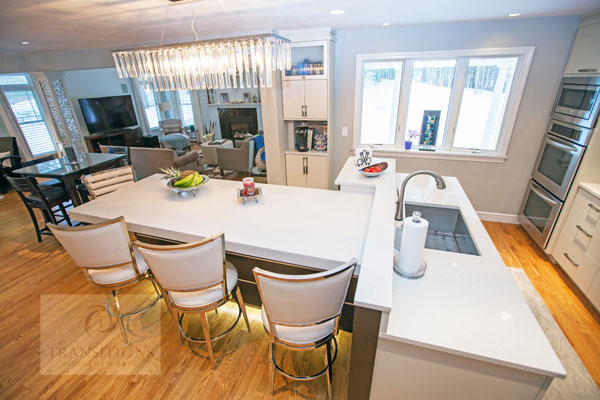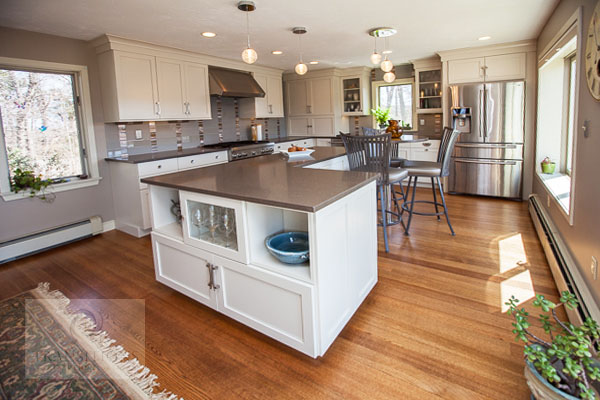 Have a distinct zone for guests, so that they can sit comfortably and talk to you without interfering with the food preparation or cleanup.
If you have kids, consider allowing a separate zone for kids to do homework, access snacks, or do activities.
Pet lovers may want to arrange a designated space for pet supply storage, food bowls, and pet beds so you are not tripping over them while cooking.
The layout is the foundation of any kitchen.  Check out our kitchen design gallery to get more ideas on different styles, and talk to a design professional to make sure you get the ideal layout for your new kitchen.