Cabinetry styles are ever- changing in bathroom design and often take their cue from what's hot in kitchen cabinetry. Styles such as industrial, minimalist and spa bathrooms are still big in 2019 and are worth looking at when remodeling.  Read on for 10 things to consider when deciding on cabinetry for your
bath design
.
1. BLACK
We've reached the peak of the gray trend and now black is on trend for 2019. It's been featured in light fixtures, matte faucets and shower heads for some time and now it's becoming a fashionable color for vanities. Dark wood is a great contrast for white and neutral surrounds and black cabinets make a really bold statement. If you're not ready for all black cabinetry, then go with gray with accents of black to bring you up to date.
2. WHITE
White countertops lend a classic look to black cabinetry but keeping everything in your bathroom design white is a clean, fresh style that won't date. This is also good if you're planning to sell.  If you want to layer your neutrals, it's currently more sophisticated to go with cooler tones such as grays and silvers rather than creams and beiges. Try a classic white vanity cabinet accented by a gray or beige-toned countertop and flooring for an updated traditional style.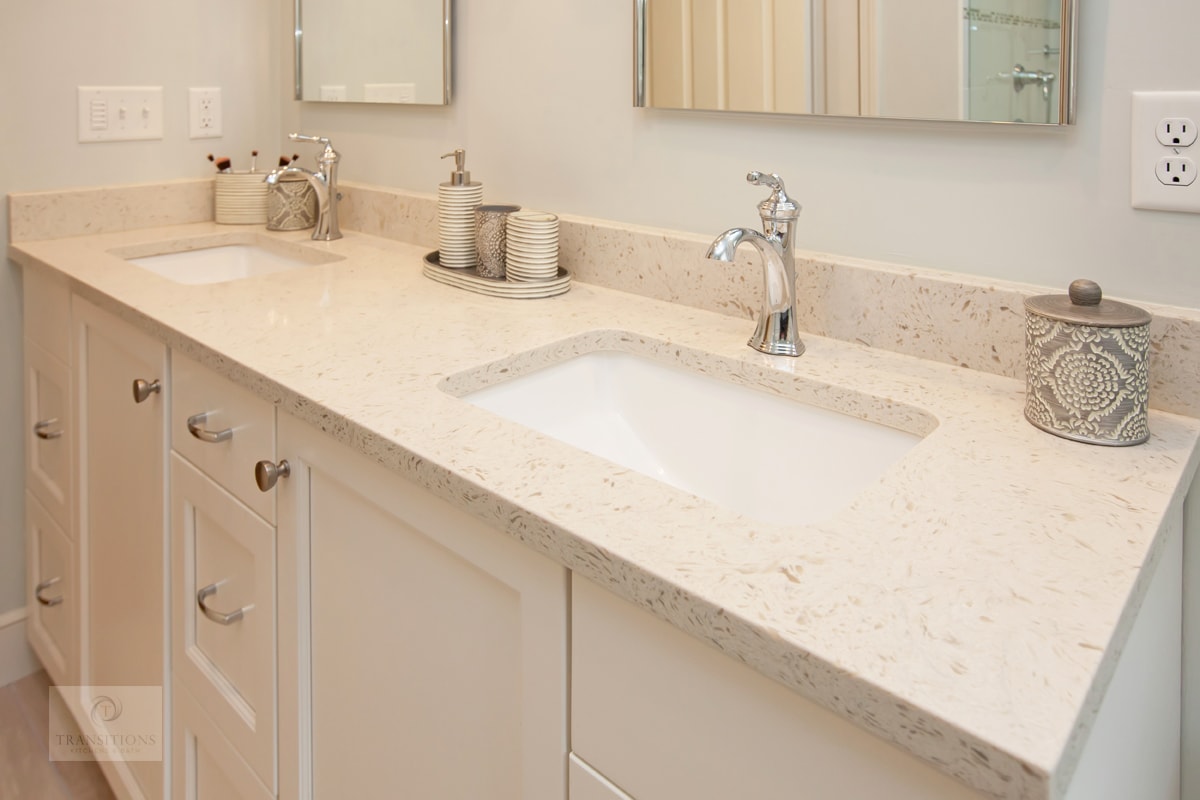 3. WOOD
Wooden pieces like freestanding vanities are appearing more often in bath design.  A piece of furniture in their own right, these unique vanity cabinets bring warmth and character to the room. Incorporating as much wood as possible in your cabinetry is never a bad thing and is the perfect balance for an otherwise white bathroom design.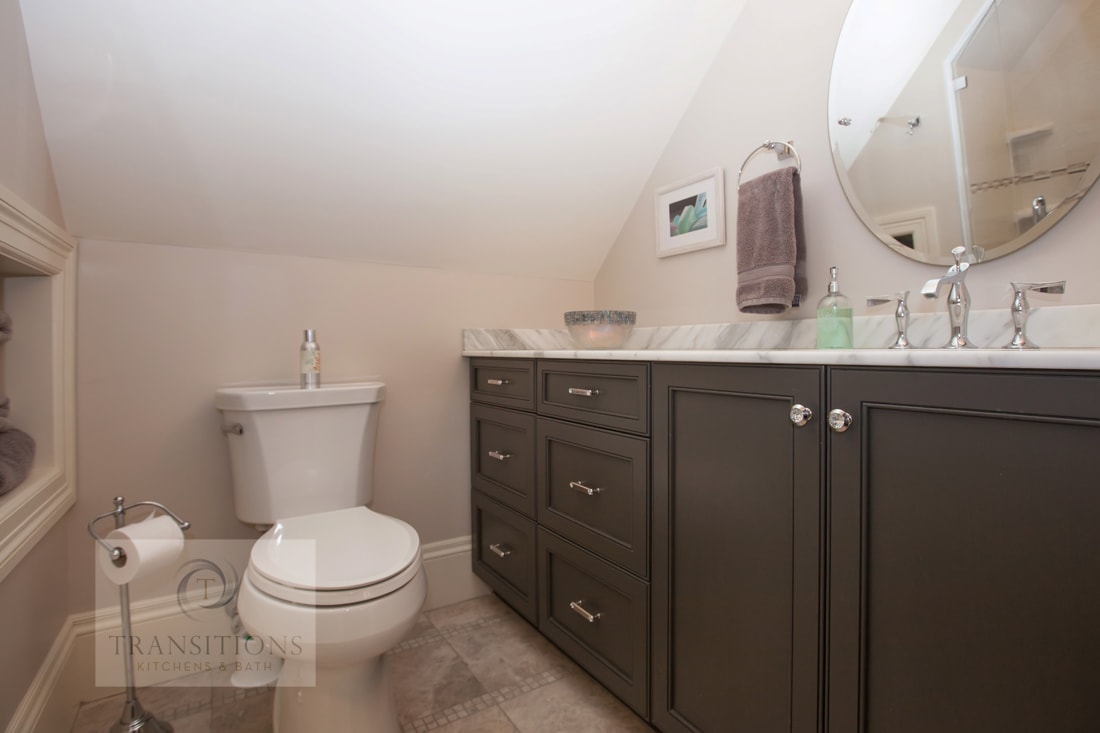 4. FREESTANDING VANITY
The most modern vanities don't go straight to the floor. When your cabinet sits on legs, it opens up the room and makes it feel less cluttered. Or, go fully freestanding with a floating vanity for a more contemporary style that really opens up your floorspace.  Make sure your flooring goes to the wall if you're only replacing your vanity.
5. OPEN SHELVING
Open shelving is more popular than ever, thanks to the spa bathroom design trend. They make a room look larger and luxurious, especially with freshly folded towels and candles. Vanities and overhead cabinets are including open shelves underneath their doors to compliment open shelving on bathroom walls.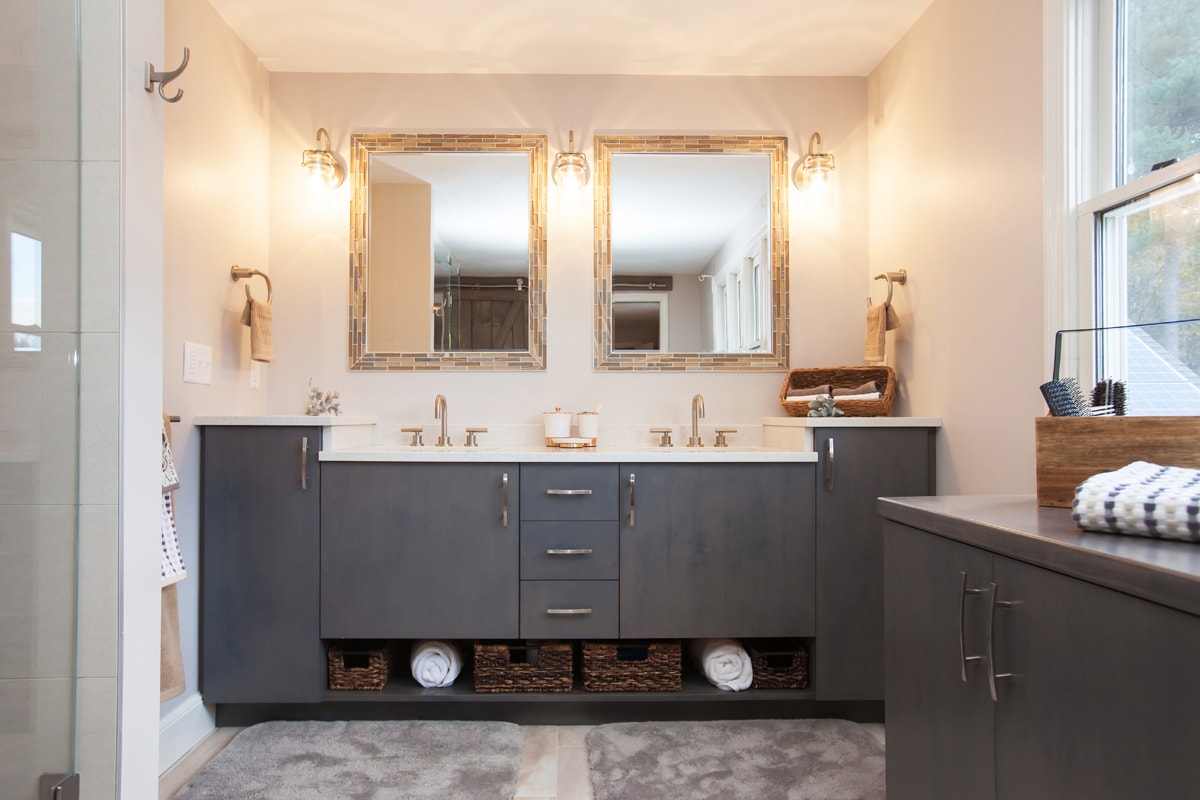 6. STORAGE
While we want to make the most of our bathroom cabinetry, it can't overpower the bathroom design. Make the most of every available area to cleverly incorporate extra storage.  Hidden and corner cabinets, units over toilets and under-space storage in vanities greatly reduces clutter and makes the room feel airy and more organized, leaving any open shelving to display curated items.
7. SINK
Drop in sinks can look dated. Vessel sinks are still a winning choice, becoming a focal point, especially in a smaller bathroom remodel.  They sit on top of a vanity, adding instant glamor to your bathroom design. Undermount sinks are the classic choice though, and by far the cleanest choice that also lets your cabinet and countertop style shine.  Their low-maintenance and simple style feeds into the need for minimalism in the modern bathroom design.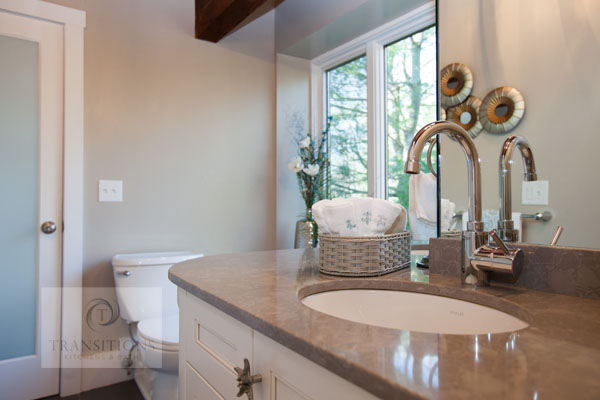 8. HARDWARE
As cooler tones are in vogue, brushed nickel, followed by chrome are the ideal choices, outselling gold and brass. If you have to choose one, classic brushed nickel stands the test of time as it's stain-proof and goes with any other color or finish. Rose gold is on trend as blush pink decor is a huge color for 2019. Why not go for cute rose gold handles or knobs that can be easily changed up?
9. INDUSTRIAL STYLE
Industrial is another look that's been popular in kitchens and is on the rise for bathroom designs. Edgy, industrial style vanities give a truly modern feel to any space. Industrial sinks with black fixtures go perfectly with brightly colored cabinets to balance this urban style. Blue and green kitchens were huge last year, so expect to see these colors appearing in bathroom cabinetry.
10. COUNTERTOP
Engineered quartz countertops are now popular in bathroom design after taking the kitchen world by storm. It's an excellent option, being durable and non-porous (so hygienic and easy to keep clean) and mimics the look of other stones and surfaces. It comes in many colors too, so you can choose the perfect countertop to compliment your cabinetry and bath design.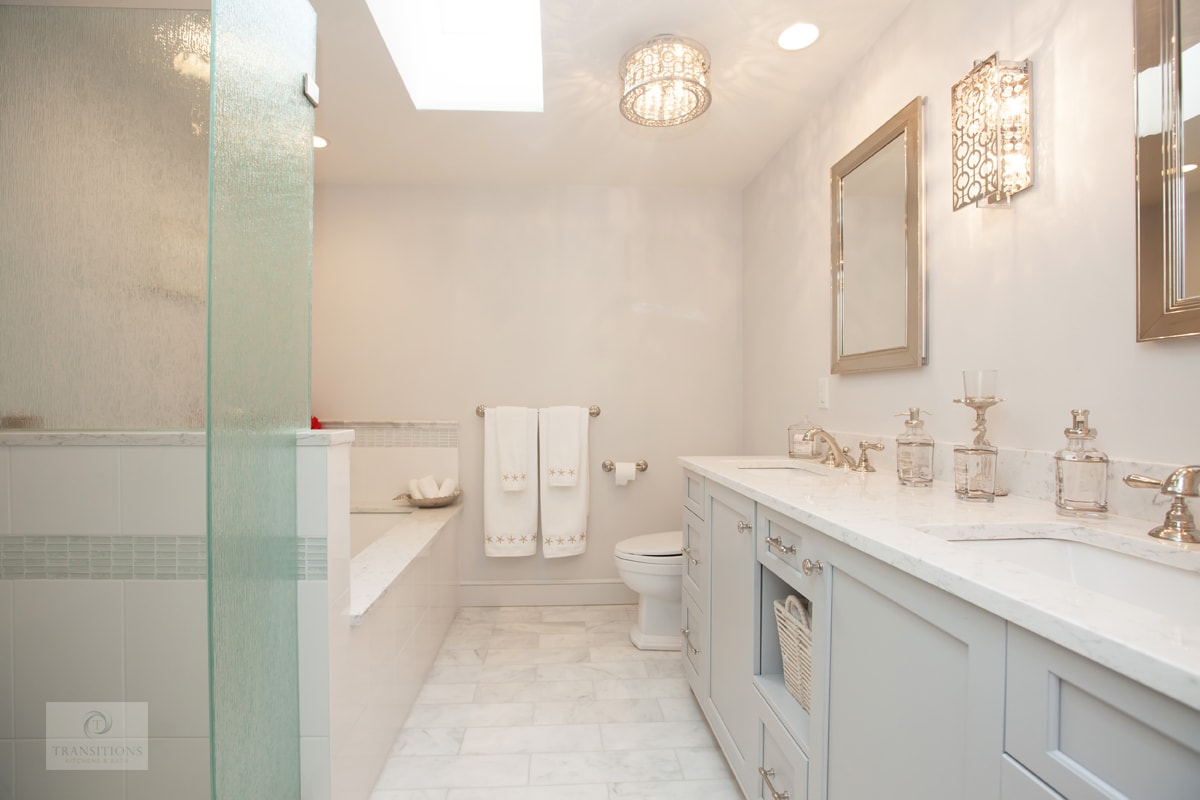 There are so many choices and influences to consider when deciding on cabinetry for your bath remodel. It's a delicate balance between form and function, the space available and your personal requirements. At Transitions our design experts are here to help and advise on every element of your renovation project and suggest fresh ideas for your design. Take a
look at our bathroom design project gallery
and
call us today
to make your dreams a reality.