There are many elements that must work together when creating a cohesive
kitchen design
. From your layout to storage solutions, materials, accessories, and more, every element of your kitchen must work together to create the style you want with the functionality you need.
A layered lighting scheme is a key part of achieving the look you want in your kitchen remodel. You must plan your lighting as part of your kitchen remodel to make sure all areas of your kitchen are illuminated and to avoid the final kitchen design feeling dull and lifeless. When planning your lighting design, take into account the fixture placements, colors, materials, and styles that you'd like to incorporate into your design.
Envisioning all elements of your lighting design at the planning stage means your lighting will balance form and function to enhance elements of your design, create necessary light for all essential tasks, and set the mood for everything you do in your kitchen. The right lighting takes a kitchen design from flat to warm, welcoming, and high performing.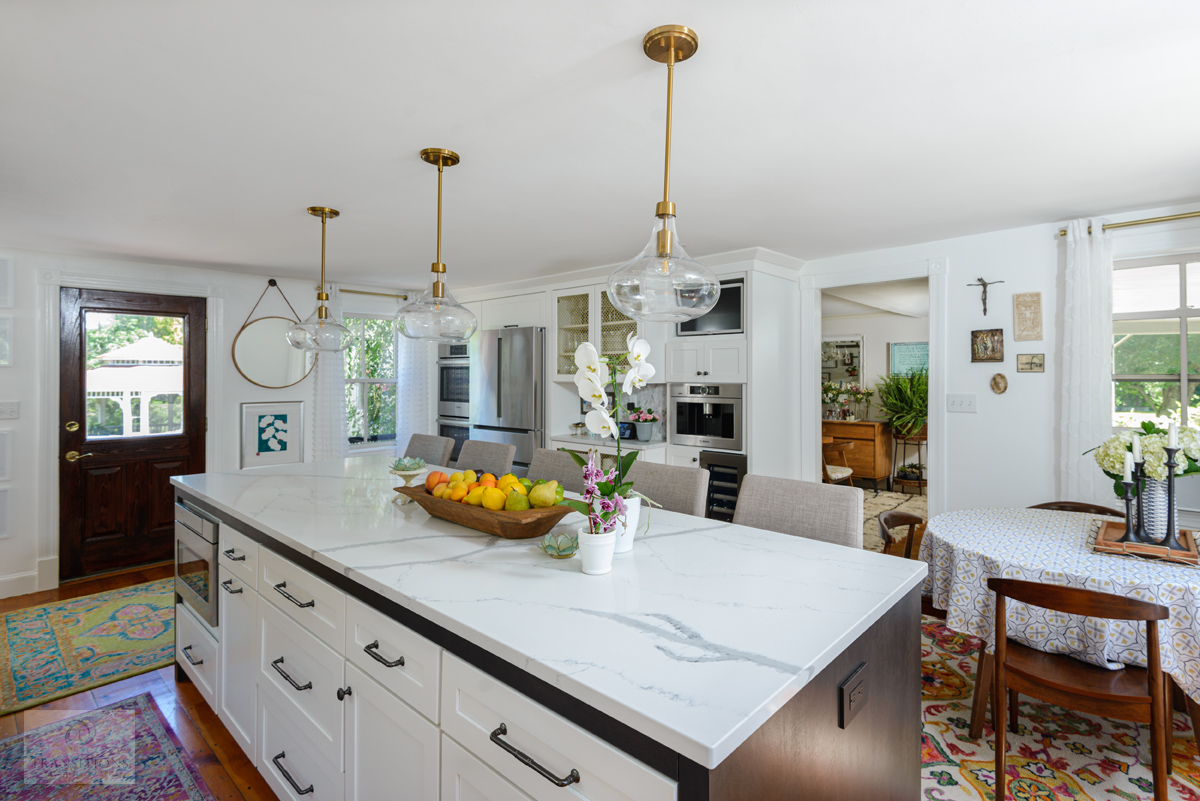 Here are some of the most popular lighting trends for 2023, to transform any style kitchen design with the flick of a switch.
Rustic Style
Rustic-style lighting is all about warmth and characterful touches such as mason jars or antlers. Try incorporating your lighting into weathered wood beams that have been stained dark. Exposed Edison bulbs give a warm golden glow that complements aged wood. This year's metals are represented by bronze, which is a popular choice in rustic design. Rubbed bronze is leading the way as a distressed metal that works well with vintage leather and homely rugs to create a cozy, lived-in look. Matte black hardware is still fashionable and using it in lighting fixtures can really enhance a rustic design.
Mid-Century Modern Style
Mid-century modern embraces stylish, clean lines with dramatic flair. Metal also makes an appearance here with vintage brass designs. Glamorous arched floor lamps and sputnik chandeliers add real character. Oversized drum lamp shades in bright colors add a focal point to wherever they are hung. You can go for a pop of color or have them blend into your overall color scheme. The mid-century retro look brings a sophisticated lounge style to your kitchen lighting design.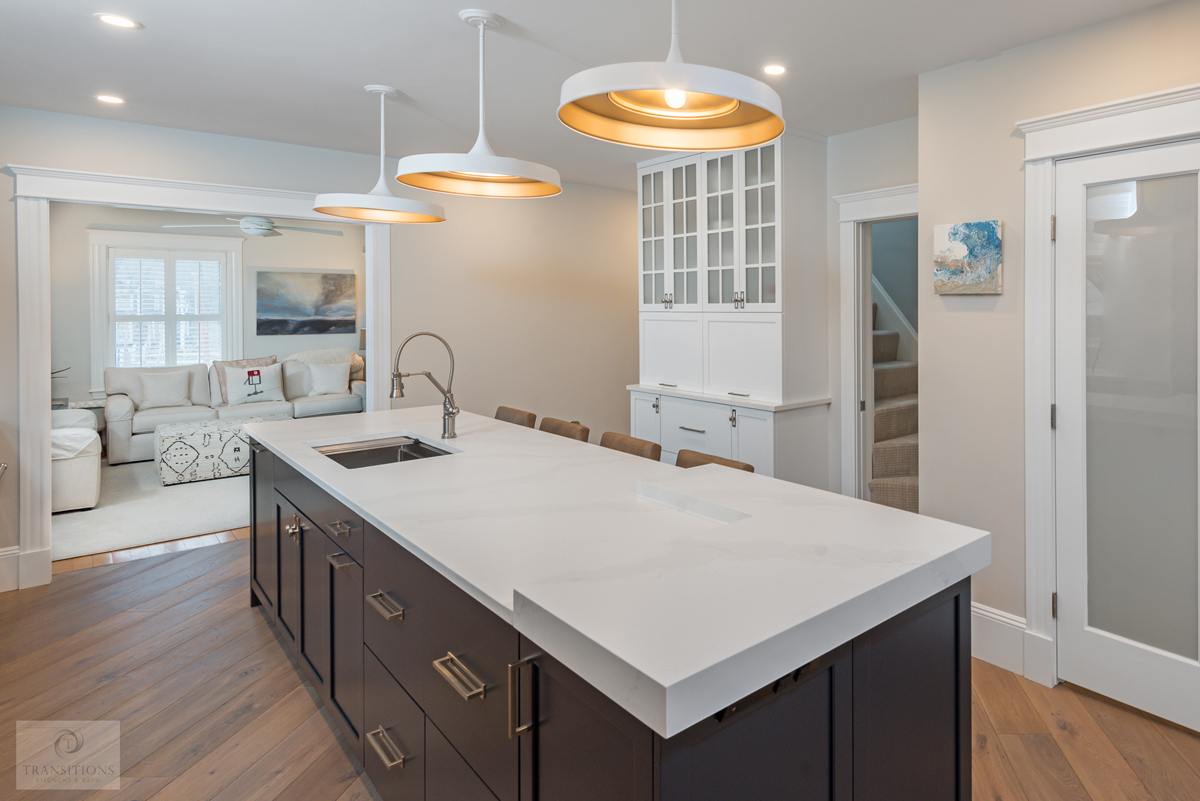 Bohemian Style
This lighting style involves using natural and ethically sourced materials and inspiration from far-flung destinations. Lighting that incorporates paper, rattan, or silk adds texture and personality to your kitchen design. Lamp shades such as lanterns or pendants work well here and fittings can incorporate a host of decorative extras such as beading, embroidery, or fringing for a whimsical touch. This is a welcoming and grounded look that feels connected to nature and global culture and is ideal for an eclectic style.
Industrial Style
Exposed Edison bulbs are also a feature of an industrial-style lighting scheme. Metal bar stools complement metal lighting fixtures, with black matte working particularly well. Wire cages, antique brass, or cast iron are also ideal for lighting an industrial kitchen remodel. Focusing on functionality and exposing pipes and brick means your lighting can be minimalist with a warm glow.
Coastal Style
Coastal style is very popular for its bright, breezy style, which works very well in kitchen designs. The main function of coastal-style lighting is to reflect light around the room, which serves to emulate the sun reflecting off the ocean. Glass chandeliers, driftwood, and rattan are all ideal materials for your coastal-style lighting scheme. Shiny brass or gold hardware also gives a maritime feel to a kitchen remodel.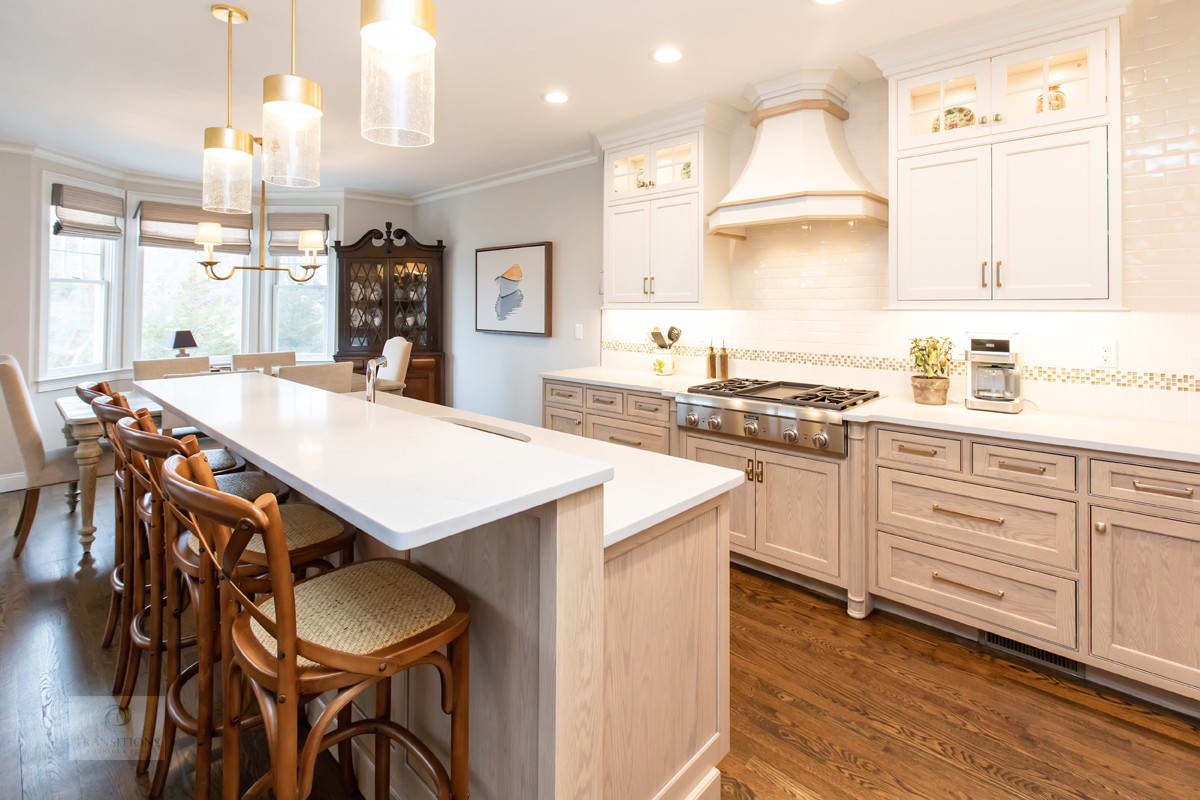 Farmhouse Style
Farmhouse style is a homely look that focuses on practicality while keeping everything welcoming and cozy. Much of this sustainable style is about using and celebrating relics from the past. Your lighting can be new with the look of repurposed items, like mason jars, for example. Distressed wood can look especially effective in a seemingly incongruous fixture such as a chandelier.  Use items from the past, if possible, in your lighting scheme and combine them with new farmhouse kitchen design elements for a cozy, yet polished kitchen remodel.
Traditional Style
Focus on a few key details to achieve a traditional style lighting plan. Candle-shaped bulbs combined with double-armed sconces, pleated pendants, and crystal chandeliers are all options that bring a feeling of old-fashioned opulence to a kitchen remodel. Classic fixtures look great with traditional lanterns and shades. Incorporate floral details or engraved metal to give your traditional style lighting extra character.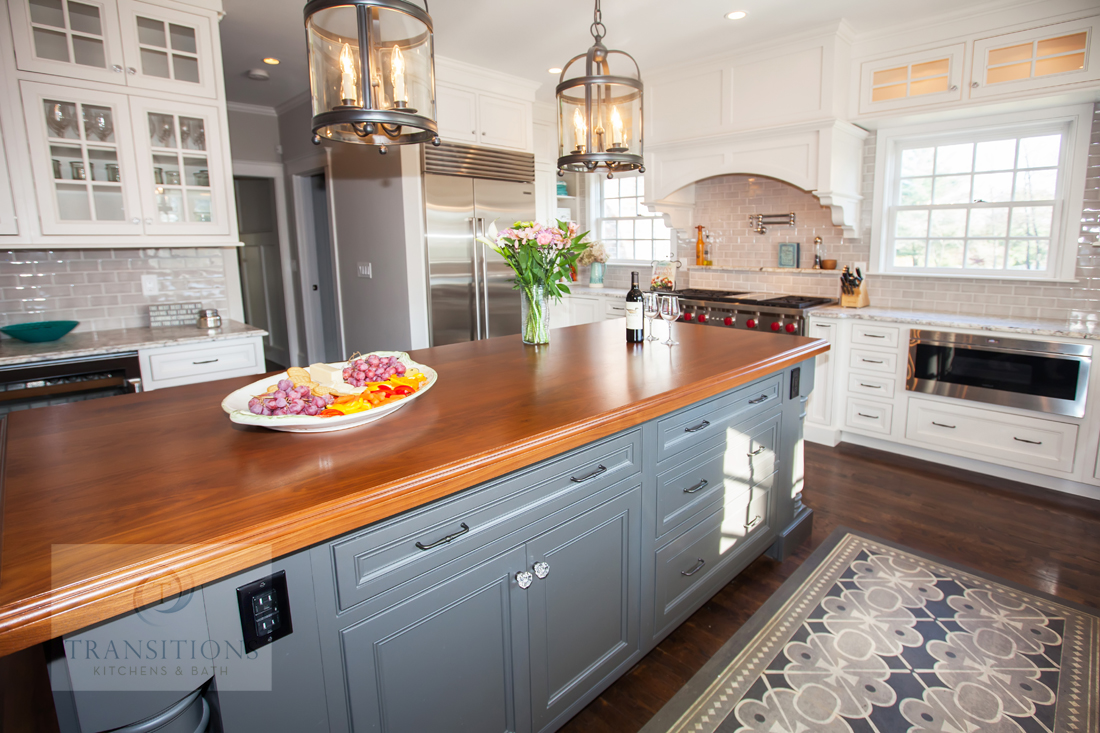 Contemporary Style
Sculpted, modern shapes in metal or natural stone give the contemporary style its futuristic feel. Its clean lines are ideal for truly striking floor lamps. Matte textures and simple colors and patterns work well in groups of pendants, so the focus is really on your lighting scheme. The sleek, abstract appearance of contemporary kitchen design makes the lighting a feature in itself and something to be admired in your kitchen remodel.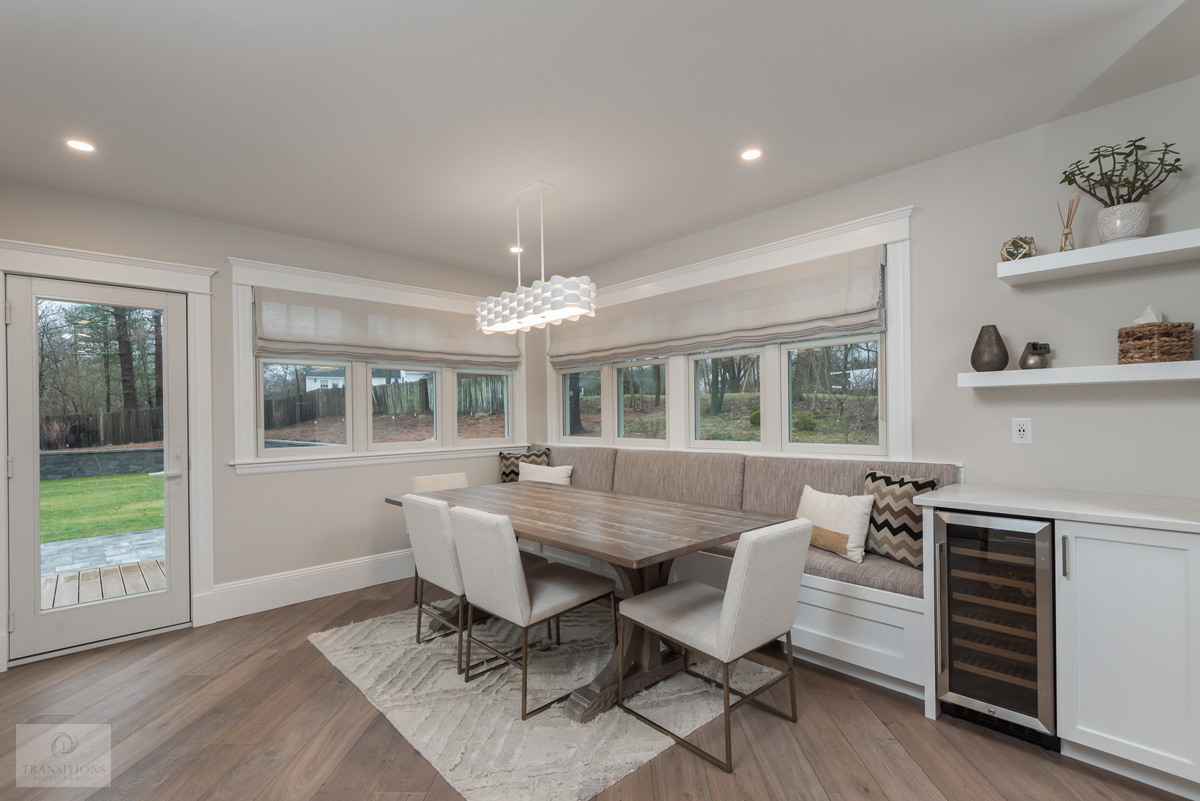 Create a Focal Point
Lighting fixtures are becoming more daring in 2023. Homeowners want to create maximum impact with unusual fixtures in innovative materials. Lighting is being looked at as an art installation as well as being functional. The material, shape, style, texture, and color you choose for each lighting fixture elevates your space and introduces visual interest. Consider each element of your lighting plan to make it as artistic and unique as possible and an on-trend focal point.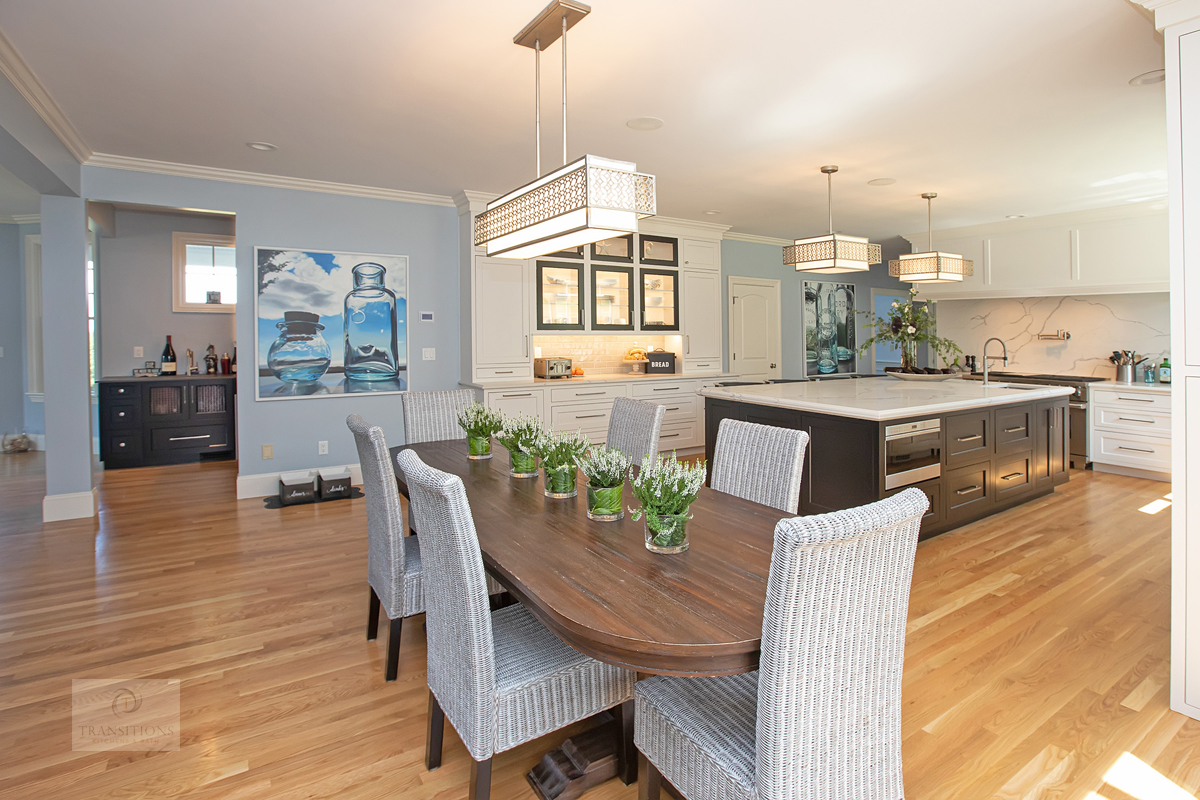 Try a Sculptural Piece
Sculptural lights are being increasingly used to create focal points this year. This statement lighting is a modern, yet organic addition to a kitchen design. It is sculpted to produce flowing lines that resemble organic shapes from the natural world. Using environmental influences brings a calming feel to a kitchen remodel. The movement of water or the sharpness of mountain tops is represented through curves, arches, and corners on the sculptural lighting. This look is also reflected in this year's furniture and architecture, meaning your lighting can work in tandem with your interior design.
Customize for the Look You Want
This year sees an increase in specially commissioned lighting plans. Homeowners want their kitchen designs to be more unique to them and fulfill their practical requirements. If you have your lighting scheme planned at the design stage, then wiring can be cleverly concealed behind walls or under floors. Lighting can also be incorporated into shelving and on walls for a multi-layered look that takes the eye all around the room. The colors, materials, textures, and styles you choose can be combinations unique to your taste, making your kitchen remodel an eclectic, welcoming place that represents your personality.
Create The Right Mood
Layering your lighting plan creates the mood you want at any time. Using lamps, candles, string lighting, accent, and spotlighting makes your remodel cozy and calm. You can easily change the mood of your kitchen design with ambient lighting dotted around the space, particularly when combined with dimmer switches or smart controls. This year is definitely focusing on how lighting makes us feel, as well as its functionality. This is especially true in open-plan kitchen designs where multifunctionality is enhanced by a flexible lighting plan.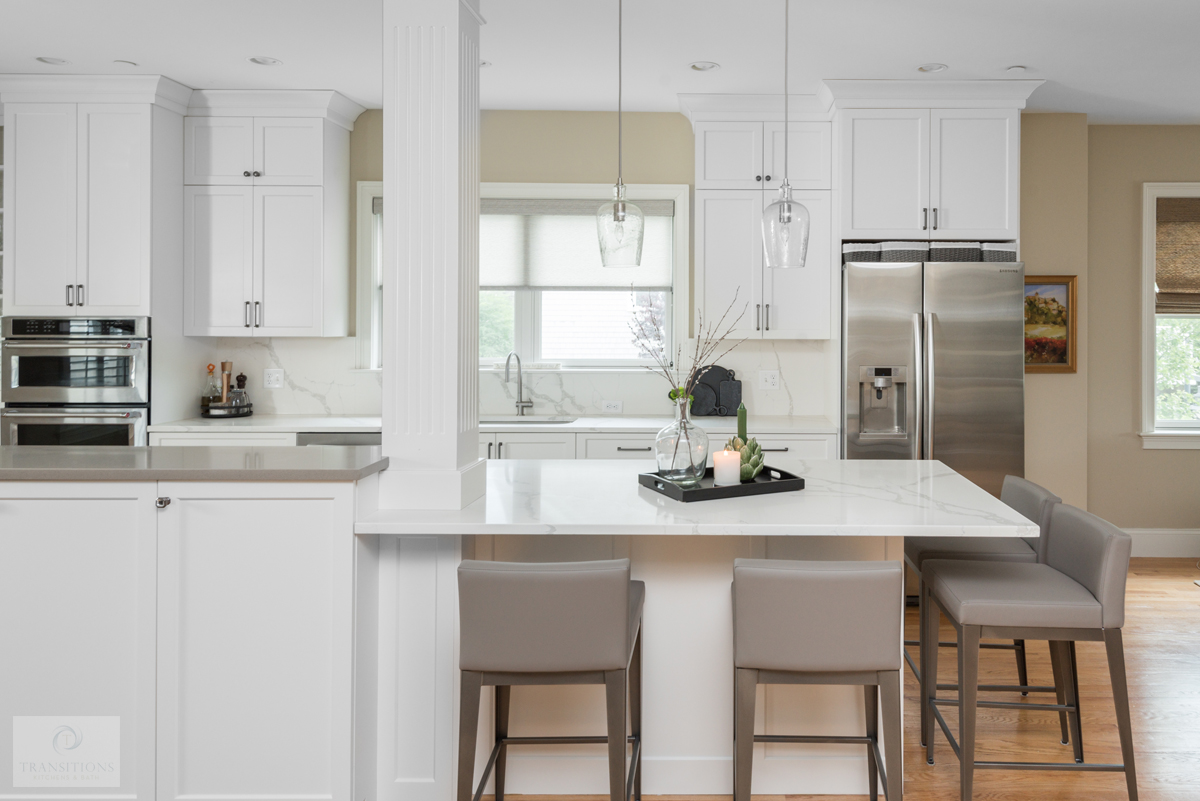 Incorporate Smart Lighting
Technological advances mean that smart lighting has become commonplace in modern homes. Open plan kitchen and living areas demand adaptable and multifunctional lighting. Voice-activated and motion-sensing lighting can be customized to make your space unique, as well as easy to use and energy efficient. Smart lighting can also be managed from a phone or tablet to create the perfect mood for any time of day or event.
Artificial daylight has been used in commercial settings and is set to make its way into kitchen design this year. It emulates sunlight in its various tones throughout the day so can be used to enhance a space or completely illuminate it.
Be Brave with Your Choice of Materials
2023 lighting trends are leaning towards unusual materials for strong kitchen design statements. Tactile materials such as rattan or wicker are popular for coastal or organic-inspired kitchen designs. Industrial looks incorporate concrete, metals, and smoked glass. Brass is increasingly popular. It usually has a brushed finish in faucets and hardware but can have a mirrored surface in lighting fixtures as it is less handled and therefore not as prone to fingerprints and smudges.  This Art Deco look is set to sweep through all lighting, from spotlights to huge pendants. It is glamorous but also practical as it reflects light around the room.
Go Large with a Pendant
An oversized pendant is still a stylish way to create a focal point in your kitchen design. 2023 sees large and sculptural shapes coming to the fore and oversized pendants fit the bill. Well-crafted and opulent light fittings draw the eye to a part of your design that deserves attention. You can also follow the trend of matching your pendant with your wall color to focus on its form. Over an island or a dining table is a gathering place deserving of an overhead design statement. An oversized pendant can also balance a large, open-plan kitchen remodel.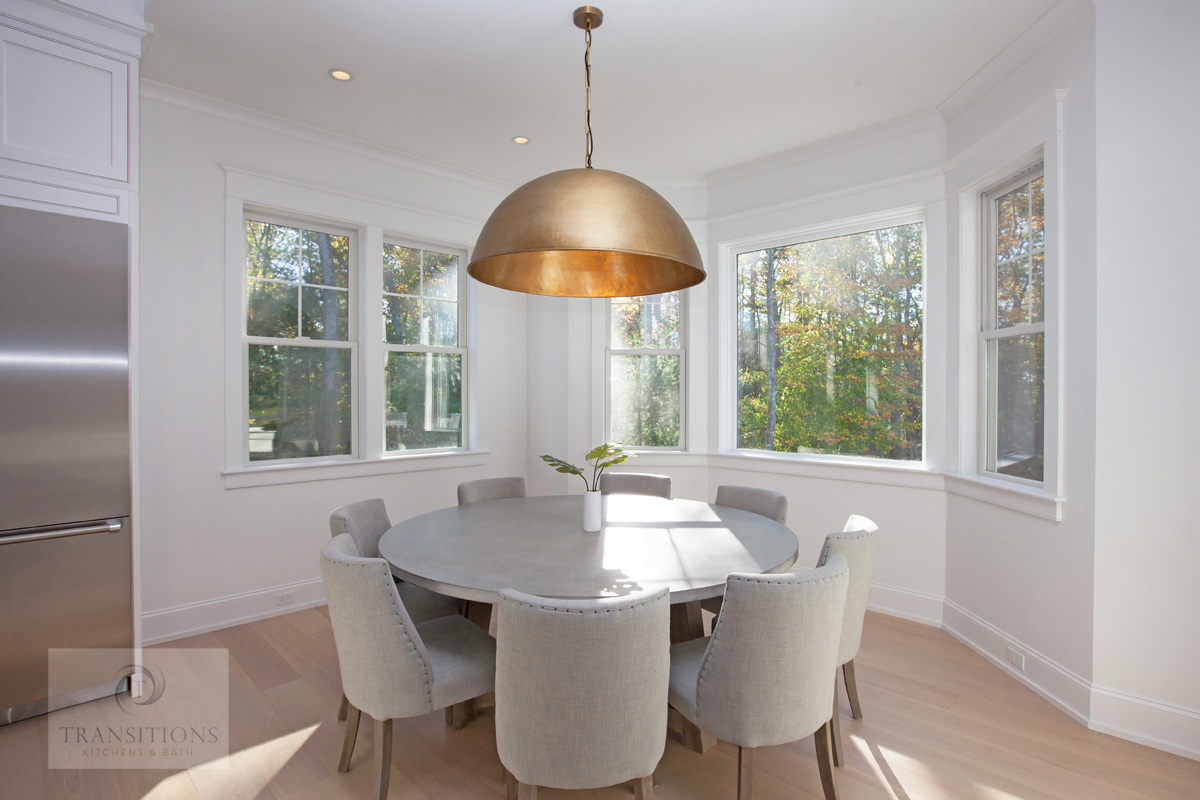 Inject Glamor with a Chandelier
Traditional chandeliers bring timeless elegance and luxury to any space. We generally think of grand old houses or a formal setting, but a chandelier can work in a modern kitchen design. They create a contemporary feel, mixing the past and present with a stylish contrast in tone. You can be opulent with many components catching the light or keep it sleek and flush to the ceiling. The glamor trend is all about bringing old-school Hollywood into your home. Chandeliers are perfect here along with warm metals such as gold, copper, and brass. Glass and metal's reflective quality work well alongside opulent materials such as marble or polished solid wood. Why not amp up the glam in your kitchen design with a look that catches the light?
At Transitions Kitchens and Bath, our years of experience and in-depth knowledge of current trends mean we can guide you every step of the way in your kitchen design. We listen to your requirements and recommend what would work in your remodel. If you are interested in revamping your lighting or tackling a whole new kitchen design, contact us today for expert advice.