Now that summer is over, it's time to declutter and re-organize your bathroom in preparation for the holiday season.  Whether you're creating a new bathroom design or re-assessing your existing bathroom, storage is the key. Here are 5 organization ideas to maximize efficiency and encourage relaxation in your bathroom.
1. SHOWER STORAGE
Shower accessories and toiletries need to be close at hand and leaving them on the shower floor is unsightly and hazardous. Niches are a stylish and practical solution, but ledges are increasingly on trend. Curate your shower products on a shelf and hang items like sponges or loofahs underneath. This contemporary bathroom design in Hingham incorporates both niches and shelving for a sleek storage solution.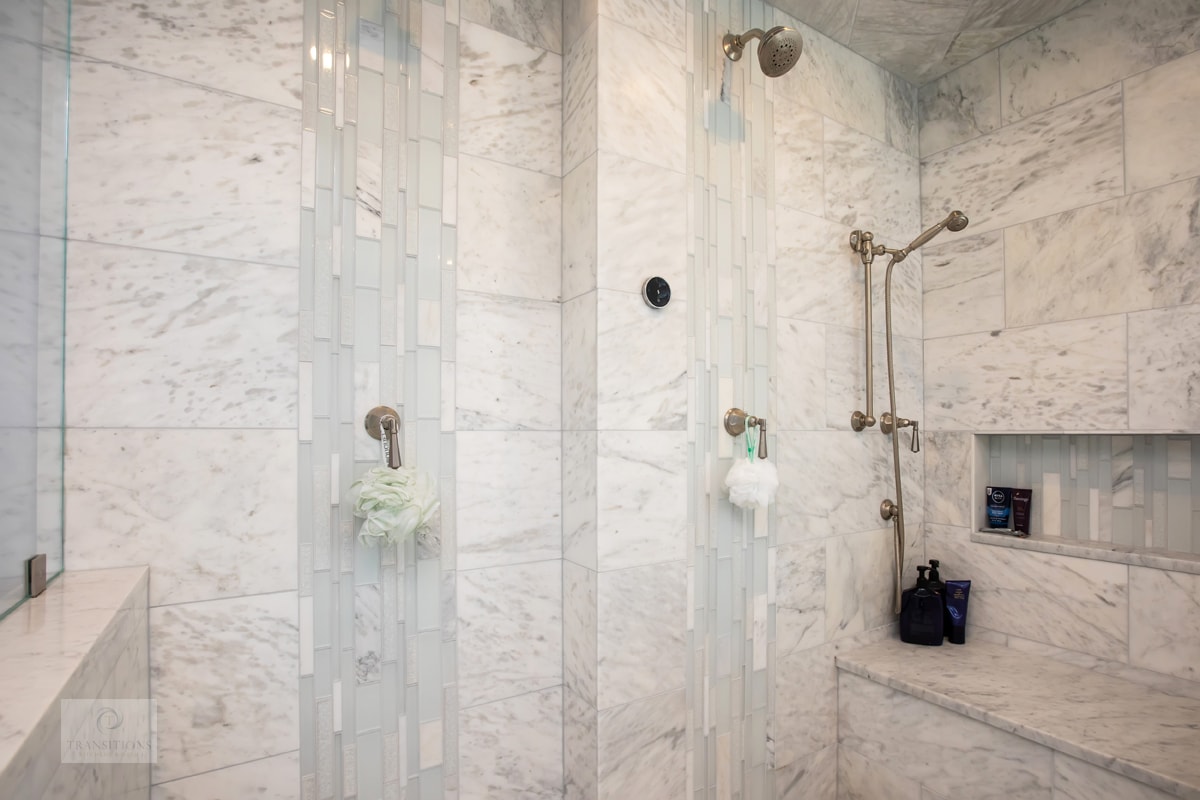 Corner shelves and racks also hold a multitude of items but avoid overloading them to retain a feeling of calm organization. Don't forget a shelf for cleaning products for your shower, either in or perhaps just outside the shower. A handy space for a glass cleaning spray means you can spritz your shower door routinely, keeping mildew and water stains at bay.
2. LAUNDRY HAMPERS
Summer activities usually mean frequent towel usage, resulting in laundry all over the bathroom. While this lessens in fall, laundry hampers are an ideal addition to any bath design. Freestanding laundry baskets do the job, but they take up floor space. Pull-out hampers incorporated into cabinetry are the best option, or simply place a basket in an open niche in your vanity. This bathroom design in Hanover has a space that can be used for storing clean or dirty towels or linens.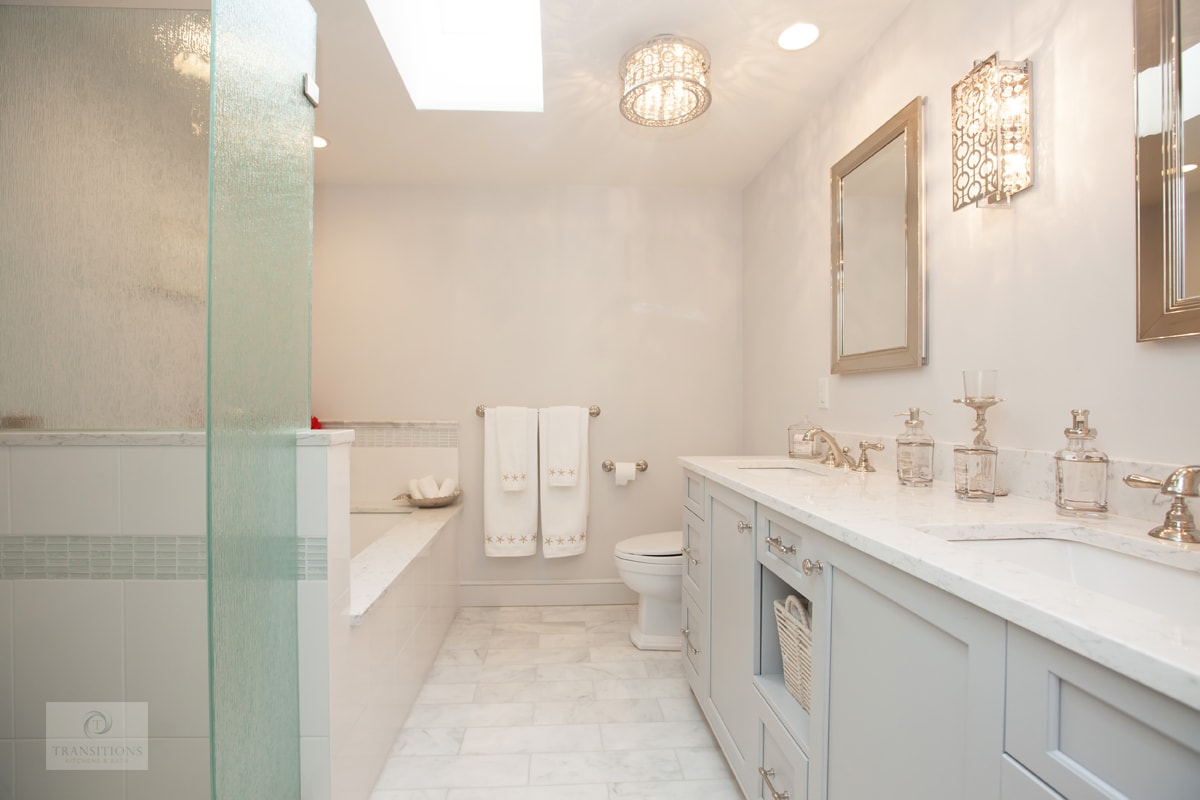 3. STORING ELECTRICAL ITEMS
Electrical items are a must have when getting ready and should be available to hand at the vanity mirror. Hair dryers and stylers and well as electric razors and other necessities should be stored away in a dry, concealed area. Include customized storage in your bathroom cabinets such as drawers with sockets, to take electrical goods, making your life much easier when you're in a rush.
4. CUSTOMIZED PULL OUTS
Door racks, lazy susans and adjustable shelving all have merit, but customized pull-outs are an excellent addition to any bathroom design. If space allows in your bathroom design, install pull-out laundry hampers for each family member so no one has an excuse to leave dirty clothes on the floor.  A pull-out trash can also fits neatly inside cabinetry, and roll-out shelving means you can see the contents of your cabinet at a glance and easily slide everything back in again. Drawers can be as deep or as shallow as desired and internal compartments keep everything super-organized.
5. OPEN STORAGE
Once you have decided on your closed storage accessories, create open storage like shelves and niches to display items you like. Wooden shelves bring warmth and texture to a bath design, especially when you add houseplants to them. If you put shelving up a little higher than usual, it draws the eye upwards and gives the illusion of a higher ceiling. Whatever you're storing on open shelving should be attractive, so toilet rolls, cotton balls and other essentials should be placed in baskets and jars. Remember to keep on top of the dusting or your open storage area will go from glam to drab!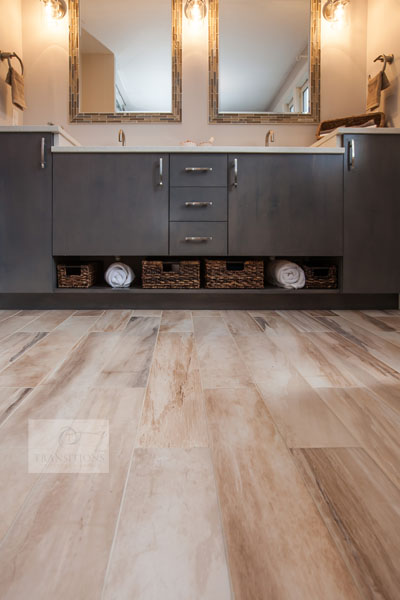 It pays to be organized when organizing. In other words, plan for what you need to store at the start of the bathroom design process. You might need less storage than you think, especially if you customize your cabinets. Don't be afraid to be inventive and embrace a new look along with creative storage solutions. It could change the whole style of your bath design while organizing your life. Check out our
bathroom remodeling gallery
or
contact our bathroom design experts
today.