The kitchen is often the social center of the home. Sometimes it's the kids' study hall and other times its party central, but every day it's where you prepare meals and gather to eat with your family. A well-executed kitchen design will ensure you can cook delicious treats without frustration!
No two people use their kitchen the same way, so it's important that yours – no matter its size – is designed to efficiently meet your family's needs. Once you've selected the general look and feel, it's time to discuss the types of kitchen appliances you want and where to place them so they're easily accessible and not in the way of drawers or kitchen cabinets.
Here are our top five tips for designing the most functional layout for your kitchen remodel and positioning your appliances effectively.  These tips follow the guidelines defined by the National Kitchen and Bath Association (NKBA), but your kitchen design professional will make sure your space follows all required guidelines with an efficient layout:
Optimize the kitchen triangle.
Professionals refer to the sink, stove and refrigerator as the kitchen triangle. It is traditionally the busiest area of a kitchen design, as cooks are constantly moving between these points with pots filled with hot food. As such it deserves careful planning in a kitchen remodel and unobstructed access. Here are a few pointers:
The total distance between the legs of triangle should not exceed 26 feet.
Tall appliances like refrigerators or pantries should not obstruct the triangle; however shorter items, like a kitchen island, can invade the triangle by a maximum of 12 inches.
Other work areas, like prep sinks or bars, should be four to nine feet from the closest point of the kitchen triangle.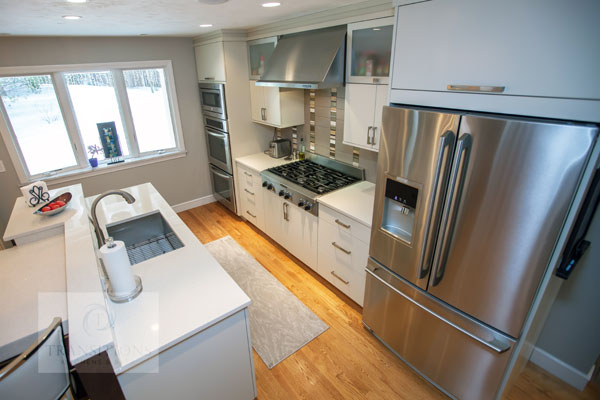 Don't block traffic.
It is paramount that you have enough space to move around while cooking and that your guests have enough room to pass you and make a drink or retrieve an appetizer. Another way to facilitate guests moving freely is by positioning an undercounter refrigerator and sink in a beverage center and perhaps a coffee bar, separate from the work zone and easily accessible by guests and kids, like this kitchen remodel in South Hanover, MA.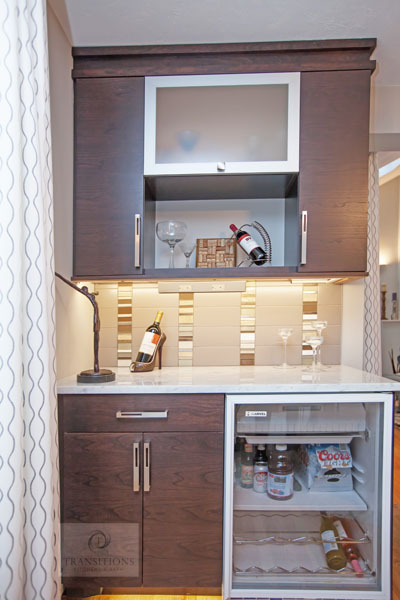 Work aisles, which are used by the chef to access any part of the kitchen designed for cooking purposes, should be at least 42 inches wide. For areas where two kitchen appliances compete for space or for those of you who love to cook with your partner, consider expanding this width to eliminate the possibility of a traffic jam.
When it comes to countertops, more is better.
When determining how much counter space you need in a kitchen design, it is essential to account for things like food preparation, dishwashing, or children completing their homework. At least 36 inches of clear, continuous counter space is needed for prep work, but 42 inches would be ideal. When undergoing your kitchen remodel, keep these National Kitchen and Bath Association (NKBA) countertop guidelines in mind:
Ensure there is at least 12-15 inches of landing space on both sides of the fridge and stove top. This is the bare minimum, and greater lengths are highly recommended.
Install a backsplash behind the stove or leave at least nine inches of counter behind the burners on an island for safety.
Leave 18 inches on one side and 24 inches on the other side of the main sink. Adequate space surrounding the sink means you can stack dirty dishes on one side and place the clean dishes on the other side.
Ensure there is a total of 24 inches of vertical space between the stove and a noncombustible surface such as a vent hood.
Position the trash can and dishwasher near the sink.
These three items work in concert as a cleaning station. First, scrape off excess food into the trash, then give the plates and silverware a quick rinse before placing them into the dishwasher.
Allocate space for smaller kitchen appliances.
Most of us can't get through the morning without using the coffee machine or toaster. Factor the small appliances you use frequently into your kitchen design and be sure to create a specific area where these items can be stored so they are easily accessible.
For more kitchen design tips or to get started on a remodeling project, contact Transitions Kitchens and Bath at (781) 871-0881.