2020 saw many people spending more time than ever at home, a renewed interest in home cooking and baking, and for some an extended period of working or studying at home.  If this was you, did you get a renewed appreciation for the comforts of home and the necessity for storage and space for everyone in the family to co-exist peacefully?  Looking ahead to 2021, kitchen and bath design trends responded to these needs by focusing on hygiene, comfort, multi purposed living spaces and storage. Read on to see how you can incorporate the latest looks in your kitchen design or bathroom remodel.
COLOR
This year's top color schemes reflect a need  for a warm, welcoming atmosphere in the home.  Warmer, comforting tones are set to dominate kitchen and bath design, from the neutral shades to bold accent colors. White remains a classic option but can be accented with shades of orange and deep blue in big ways like cabinetry or wall color or in small ways like accessories. Beige can also warm up a space and cozy jeweled colors can be used on large areas if you want to step back from white. Paint manufacturing has made advances in recent times to withstand necessary scrubbing in high traffic areas like kitchens, bathrooms, and laundry rooms, so invest in a durable paint without sacrificing style.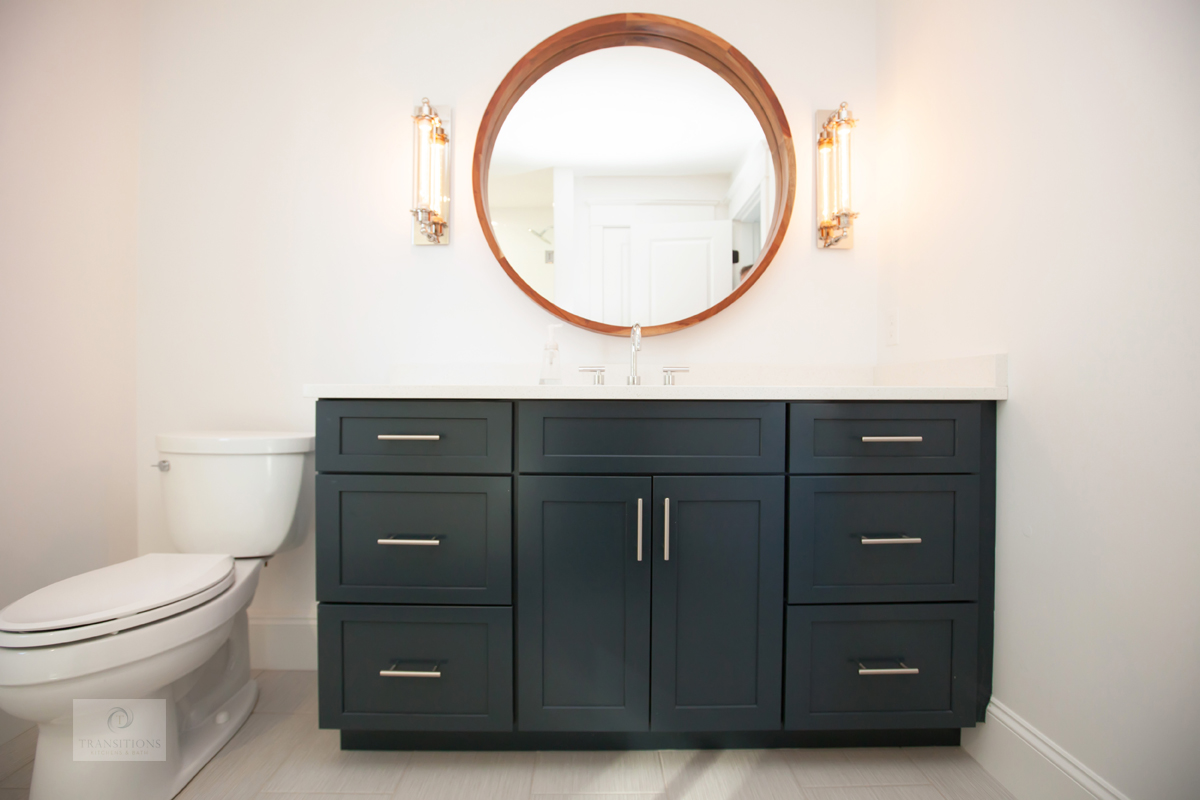 NATURE
Natural, organic materials are on the rise, and this nod to nature will really be seen throughout kitchen remodels and bathroom designs in 2021. Soft, neutral palettes and matte finishes pair well with minimal organic materials to give texture without looking busy. Nothing beats the timeless beauty of natural, hardwood floors, but wood-look tiles are becoming more popular, combined with underfloor heating, for an organic, warm feel that is easy to maintain. Larger windows and bi-fold doors are a practical addition to a kitchen remodel as they bring natural light into your space and also provide a real outdoor connection. This works especially well if your kitchen opens onto an outdoor entertainment space. Dress windows in light, organic fabrics to tie in with this natural style.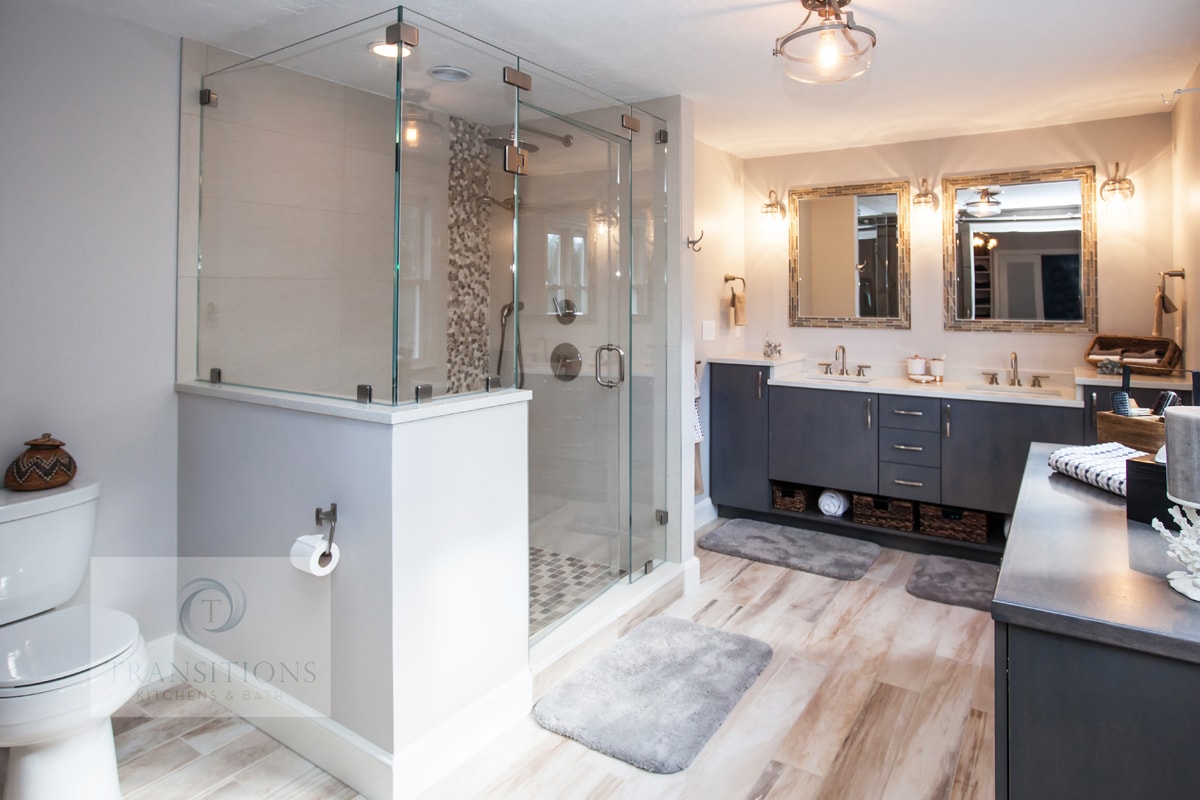 HYGIENE
What was often thought of as futuristic or expensive options are now accessible for all. Smart toilets are easier to clean with a simple, sleek appearance. They also self-flush, close automatically, and self-clean their interiors. Other hands-free design heroes are touchless faucets, which bring a huge benefit to both kitchen and bath design this year. Motion-control and touch-tap faucets are excellent for sanitary requirements as well as letting you be more productive as you prepare food. Voice commands also let you control exactly how much water you need for different activities such as hand washing, rinsing food, or cleaning up.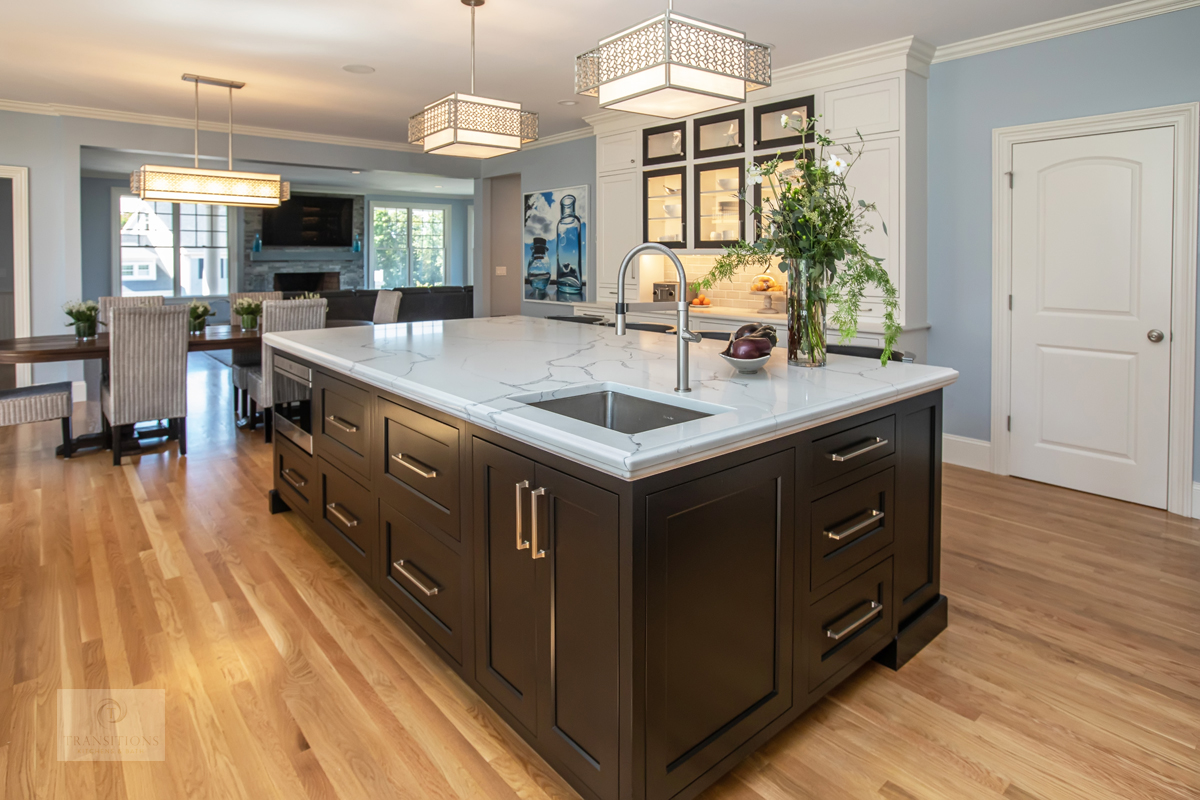 SPACE
Custom storage is always a necessary part of any kitchen or bath design, to ensure your newly remodeled space is neat and clutter free. If you shop in bulk and enjoy home cooking, you will easily recognize that extra, well-organized, and easily accessible storage is essential.
Larger freezers and bespoke pantries definitely have a place in this year's kitchen designs to accommodate a busy home life. Another space saver is to downsize your bathtub. Simple, flat-bottom, freestanding tubs are increasingly popular and can fit neatly beside a luxury shower. You have the same option to relax in a smaller tub but save water and time and still have space to accommodate the large shower style you always wanted.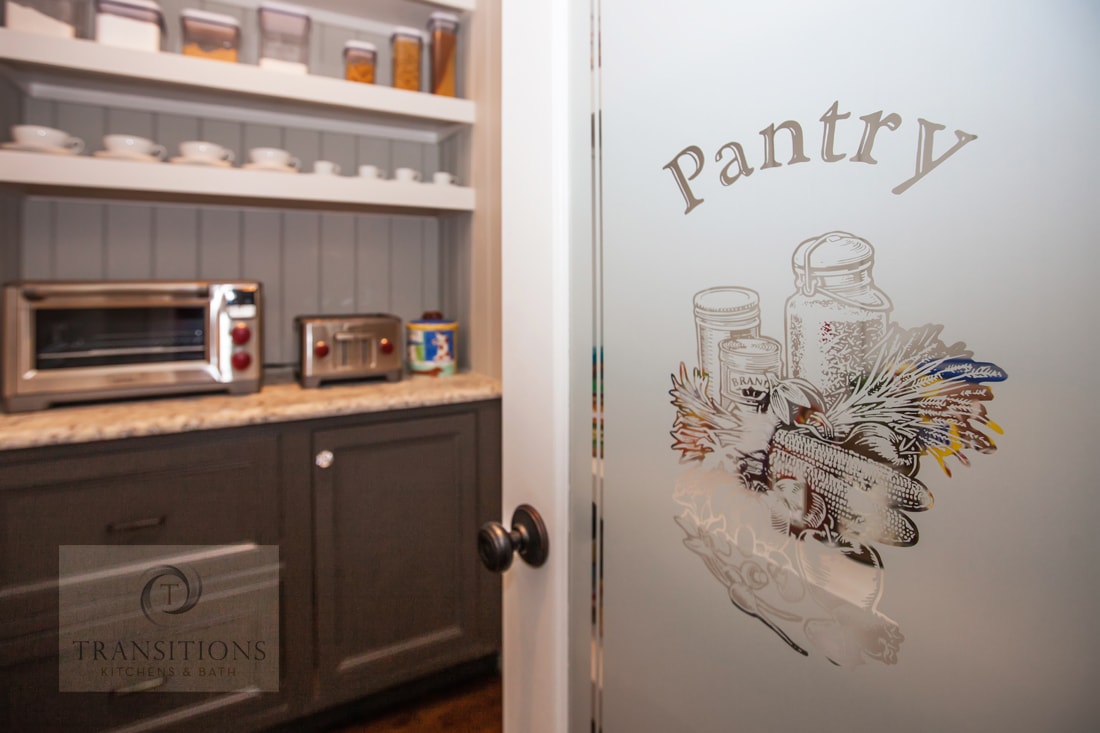 MULTI-PURPOSE
There is a big demand for large islands as they can be used for everything from food prep to studying. In a busy home, especially if you have family members working or studying at home, islands need to be multi-functional to meet the varied demands of family members of all ages. Designating space to eat, work and cook means your island is functional but still stylish. Bath design is embracing flexibility with backlit mirrors and medicine cabinets. Your reflection can be lit by ambient, glare-free lighting which efficiently doubles as a nightlight. Apart from providing essential storage, backlit medicine cabinets appear to float on the wall, providing a focal point to your bathroom design.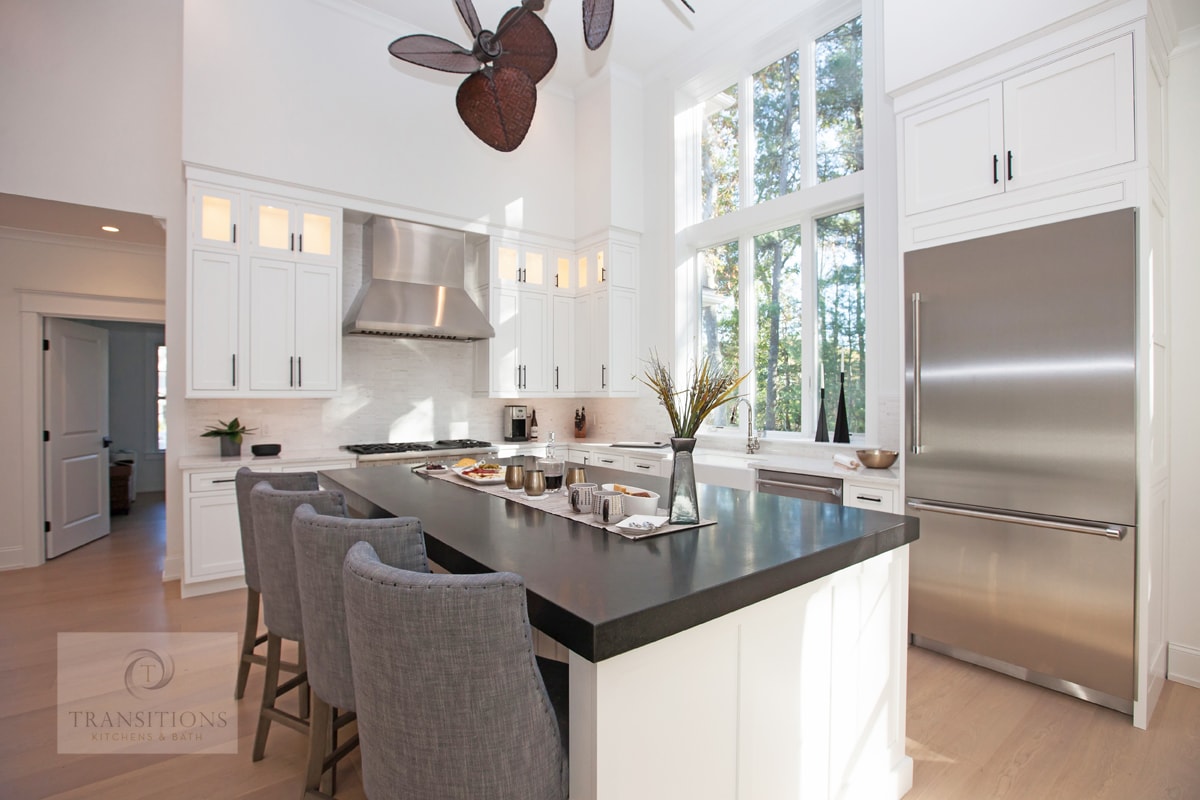 PRACTICAL AESTHETICS
We're seeing a move away from concealing ventilation and embracing range hoods as aesthetic focal points in a kitchen design. Simply by using a pop of color or bringing the edge out further than your cabinets you make the range hood stand out as a design feature. Square front hoods are becoming more popular, especially in slab materials like marble or plaster for show-stopping effects. In bath design, floating vanities are a top choice for providing essential storage and workspace, as well as bring a sophisticated style your space that fits perfectly with popular spa style bath designs. No matter the shape, size, or color of your vanity, a wall-hung cabinet allows you to clean underneath and opens up floor space with your decorative vanity to give the room greater depth.