Whether you cook daily for a busy family or rely on takeout and only turn on the oven once a week, food is still at the heart of any
kitchen design
. When creating your ideal kitchen layout, one key decision is where to store all your food essentials including pantry staples, snacks, cooking gadgets, and more.
We all know WHY you need organized food storage in your home, but when planning your ideal pantry, it helps to also consider the WHAT and the HOW.  This blog explores everything you need to know when creating your perfect pantry storage and explains the types of pantries to help you decide which option best fits your home and lifestyle.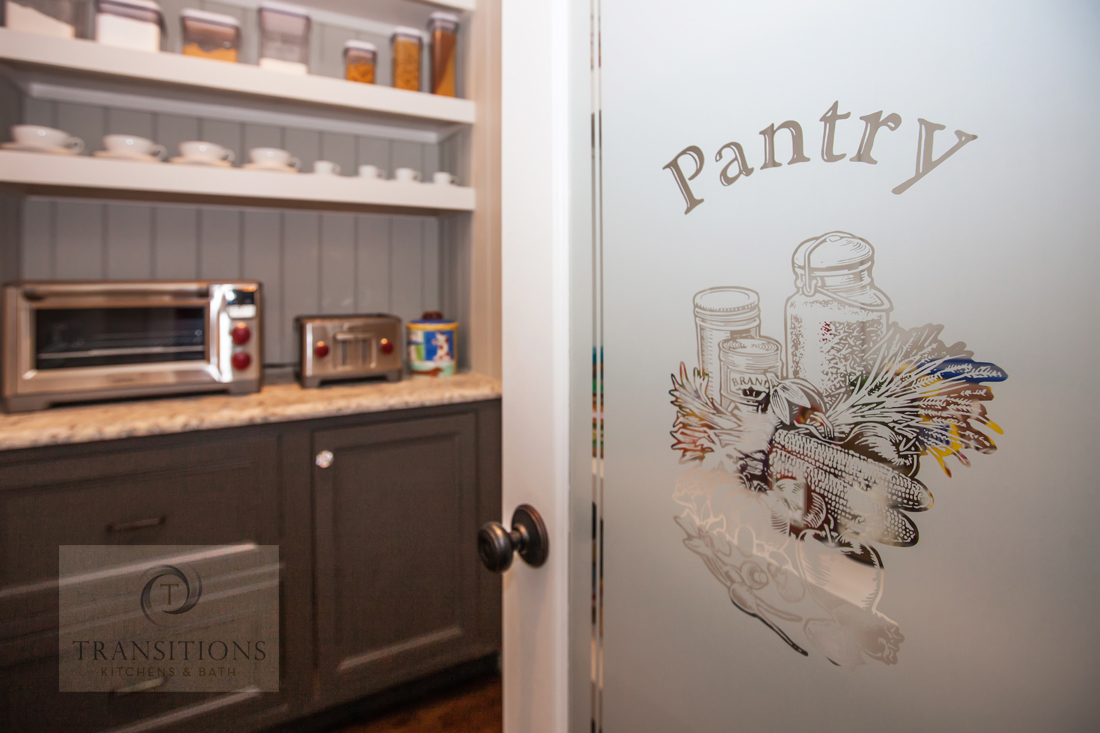 Decide What You Need to Store
Every home is different, and this means everyone's kitchen storage needs are unique. Before you start planning a pantry design, you must examine your storage requirements so you can customize your storage plan to your needs. If you are planning a full kitchen remodel, you will need to go through this process anyway.
Start by completely decluttering and clearing out your kitchen design storage. Get rid of anything that is broken or has not been used in a long time. Look at what you have left and what else you think you need to accommodate for your kitchen design. Decide what you need to have readily accessible in the kitchen and what could be stored somewhere else, like a hall closet or basement.
When planning your pantry storage, pay particular attention to food items and cooking tools. Include storage for pantry staples that fit your family's needs, such as taco Tuesday essentials or Friday night pizza-making supplies. If you love to bake, create a section of pantry storage dedicated to baking supplies and tools. Include a place to store your stand mixer, preferably with a mixer lift cabinet so you can use it without having to lift it to countertop level.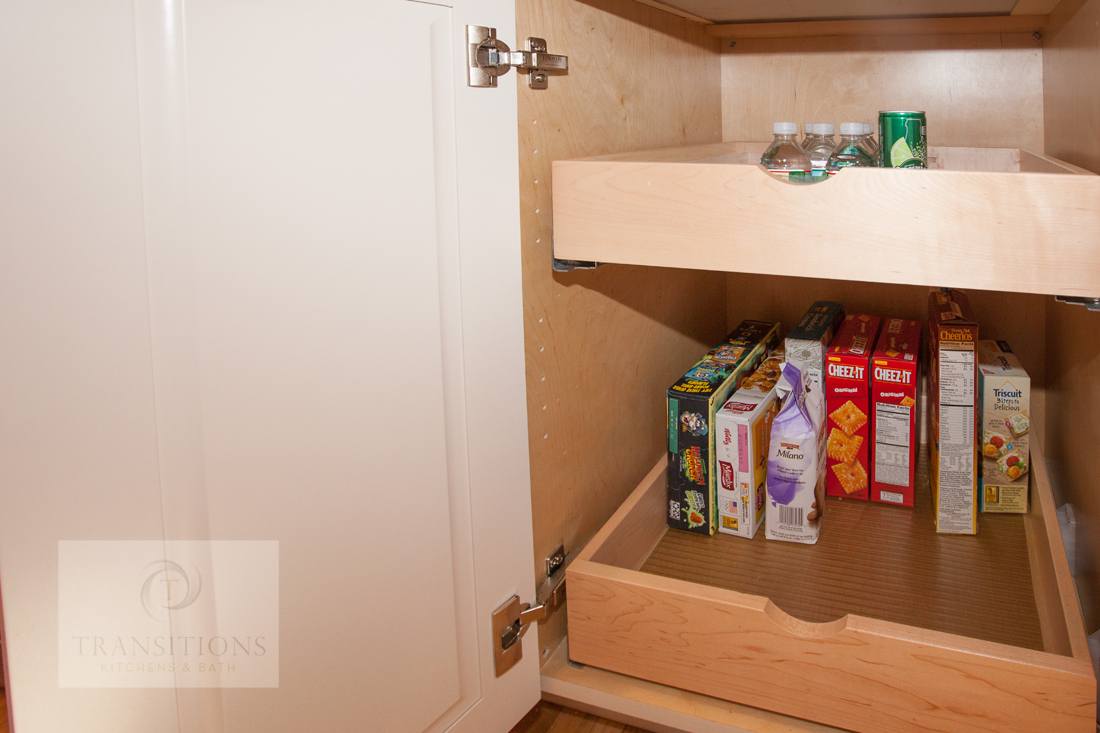 Look at Your Available Space
Once you know what you need to store, look at your available space to decide where your pantry should be positioned.  Decide how much pantry space you can include in your kitchen design. If your kitchen footprint is limited, decide if you can expand your kitchen design as part of a remodel. If you cannot, then look at alternate spaces adjacent to the kitchen that could be converted into pantry storage, such as a nearby alcove, hall closet, or understairs storage space.
Consider how your pantry will fit in with your overall kitchen design. Remember that a larger pantry may take space away from your main kitchen layout, particularly if you include a large, walk-in pantry. However, enhancing your pantry storage will help keep the rest of your kitchen, including the countertop workspace, clutter-free. Strike a balance that fits your kitchen design layout and storage needs.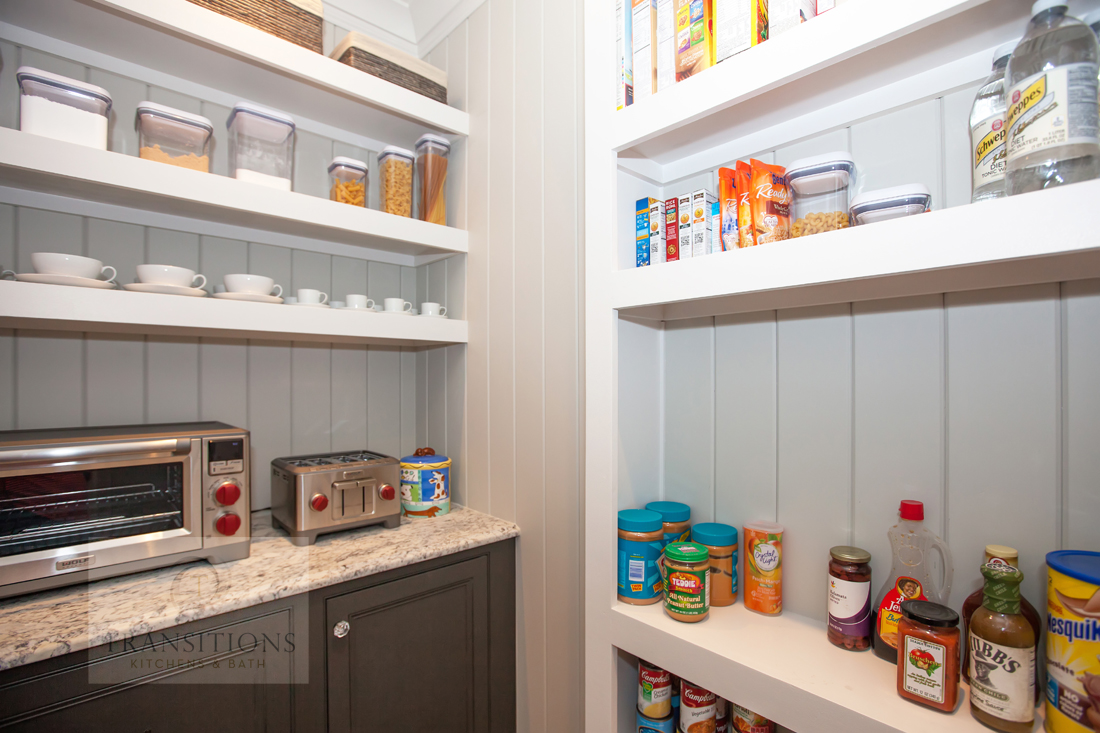 Determine How You Plan to Use Your Pantry
How you intend to use your pantry depends in large part on your family's needs, who lives in your household, and your approach to cooking. For example, if you are a young family you may need to include easy access to healthy snacks and storage for favorite lunch items, water bottles, and lunch boxes. Or, if you frequently host dinner parties, you may benefit from a walk-in pantry that has extra food prep space, plus storage for serving platters and special dishware. If you are designing for aging in place, then easy-to-access pantry storage with simple roll-out shelves in a section of your kitchen cabinets may be the ideal solution.
Your kitchen design expert can help you assess your needs to figure out the best solution for your home. In discussing these requirements at your design consultation, be prepared to answer questions like: How often do you cook? Do you entertain often? Will your pantry just be a space to store and access food or will it serve as a mini kitchen with an extra dishwasher or refrigerator, a sink, and extra food prep space? Would you prefer your pantry to be out of the way, at arm's reach, or some combination of both? Make your pantry work for you by creating storage that fits your needs.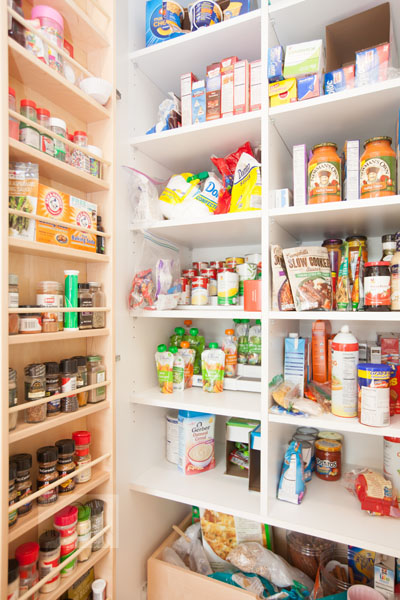 Find the Right Pantry Style for Your Kitchen Design
There are many different types of pantries to suit every family and every size of kitchen. Which one is best for your kitchen depends on your own needs and style. Here are some of the top pantry styles:
Reach-in Pantry: This is effectively a closet-style pantry with shelves that can be designed and adjusted to fit your requirements. Reach-in pantries sit behind doors that open out, are bi-fold, or slide. Behind the doors is a shallow space with shelves on which you can stack pantry staples like canned goods, containers with dried goods, snack items, and other non-perishable foods. A reach-in pantry is typically more limited in space than a walk-in pantry for larger items, but it can accommodate some kitchen gadgets or smaller countertop appliances. Choose containers to store and organize items that fit both your functional needs and design aesthetic. Label everything, which will make it easier when you are looking for ingredients or putting items away.
Walk-in Pantry: If the reach-in pantry is like a closet, then the walk-in pantry is similar to a walk-in closet. With this pantry style, you will go in to find items you need and bring them out into the kitchen to use. It takes up more floor space than a reach-in pantry design but allows you to walk into it and see the items you've stored. A U-shape layout is the most common floor plan for a walk-in pantry, but depending on the size and shape of your room this could differ. Typically, a walk-in pantry is lined with shelves, which can be adjustable to meet your individual requirements. This means you can alter the configuration over time to fit what you need to store. Alternatively, your walk-in pantry could incorporate cabinetry in place of shelves with customized accessories.
Butler's Pantry: A butler's pantry goes even further and effectively creates a mini kitchen that provides both storage and prep or clean-up space. It usually includes space for small appliances and gadgets but can also incorporate a spare refrigerator or dishwasher. Butler's pantries include countertop space for preparing food or stowing dirty dishes, which is a real asset during a party! It may also incorporate a sink to assist in cleaning up. While traditional butler's pantries were located in between the kitchen and dining room, modern butler's pantries can be located anywhere you have space. It serves as a separate room where you may spend time preparing food, setting out goodies for a party, or cleaning up. Since you may do work in this room, it's even more important to pay attention to the style and lighting to make it a pleasant place to spend time.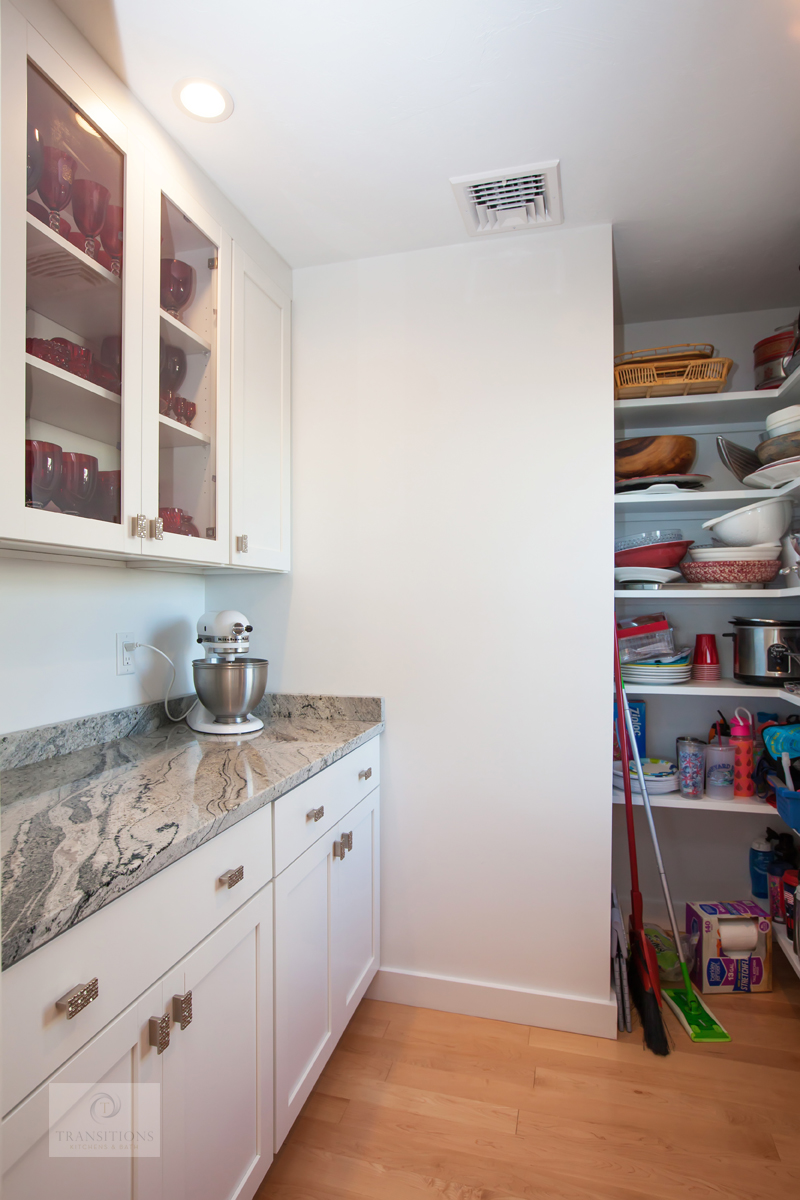 Pantry Cabinet: If a separate pantry room does not fit your available space or your personal preferences, it is possible to have a well-organized pantry in a section of kitchen cabinets. Outfit your cabinetry with customized storage accessories to accommodate all your pantry essentials, from cans to jars, packets, bottles, gadgets, and more. Custom cabinetry can also neatly fit into awkward spaces, such as between the refrigerator and the wall, with narrow, tall cabinets that pull out to reveal their contents. This approach works well when you don't have a suitable space to create a separate pantry but is also ideal when you prefer to have your pantry items within arm's reach. This could be preferable, for example, if you are designing for aging in place and want to minimize how far you need to travel while carrying ingredients. It is also often a better use of space than a walk-in or reach-in pantry if you want to maximize your available footprint.
You can create one section of cabinetry as your pantry or even split it into different zones for cooking, baking, barbequing, or anything else depending on your requirements. Incorporate storage options such as drawers, pull-outs, and cabinets with roll-out shelves. Keep larger or heavier items such as countertop appliances or heavy bags of flour or rice in deep drawers where they are more easily accessible.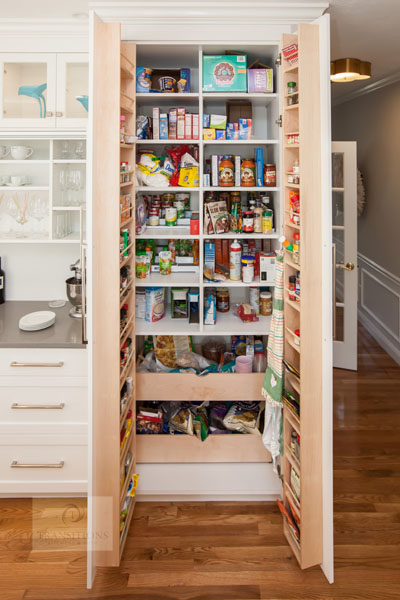 Other Pantry Options: If your kitchen has limited space or you don't like having everything stored in your kitchen itself, there are other options you can consider. Create storage within the kitchen design for essential items you need to have available daily. Then look outside your kitchen for other places that can be used or converted into extra storage. An alcove, understairs space, attic, underutilized hall closet, or basement (provided it stays relatively dry) can all be transformed into extra pantry storage when outfitted with customized shelves and cabinetry. Use this space to store seasonal items, gadgets and tools you use less often, and excess bulk pantry items.
Style Your Pantry
In any pantry, you should add simple style accents that fit your design vibe. A butler's pantry would particularly benefit from creating a stylish space since you may spend time doing food prep or cleanup there. In a reach-in pantry, you could paint or wallpaper the wall behind the shelves to add a pop of color. In a butler's pantry, you have the option to install storage that matches your kitchen cabinets or to include cabinetry in a different style or color, so it stands out. Select storage containers that fit your design aesthetic to hold pantry goods and include decorative accessories or hanging wall art to complete your space.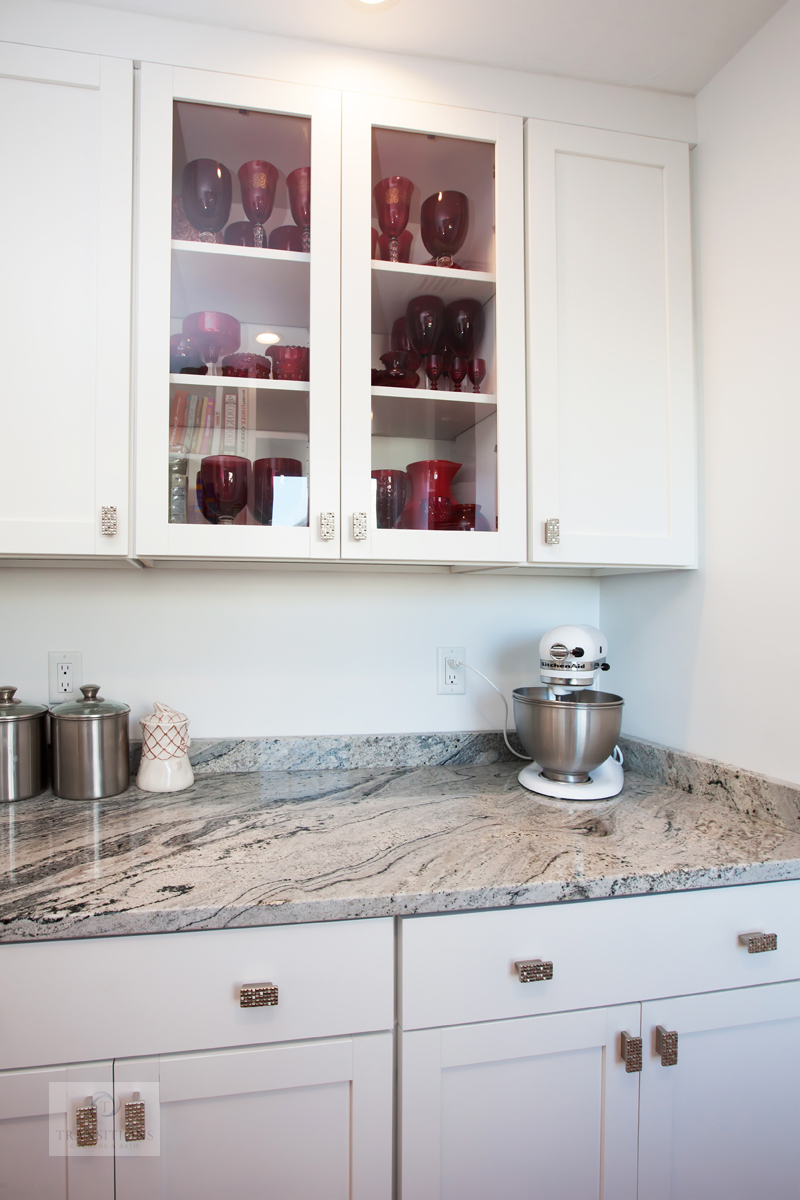 Light it Up
A pantry requires essential lighting, just like any other storage or workspace in your kitchen design. Plan lighting at the design stage, which will differ depending on the type of pantry storage. Pantry cabinets, where stored items can be pulled out to be viewed, may not need their own light source. A reach-in pantry would benefit from some internal lighting, to make it easier to see the contents. For a walk-in or butler's pantry, lighting is crucial to be able to see and locate pantry goods and to do food prep or clean up in a butler's pantry.
What is Your Perfect Pantry Style?
The right pantry can transform your kitchen design, helping you to keep it clutter free and making it easier to store and access the essential items you need to keep your kitchen running efficiently. Consider which pantry style fits your requirements by examining your available space, your household, and how you plan to use your pantry. Look at the ideal location and then outfit it with shelves or storage accessories plus containers to keep everything neatly stowed. Finish off your design with stylish accents and lighting that fit your space and design aesthetic. Talk to our kitchen design experts about all your kitchen remodeling needs, including the ideal pantry to fit your home and lifestyle.