Laundry is a never-ending task, and this is particularly true in a busy household with kids.  With school back in session, sports and other activities in full swing, and summer vacation over, the laundry seems to pile up even higher.  It may never be your favorite activity to do around the house, but you can make laundry a job that does not leave you filled with dread.
Here are a few ideas to help make laundry day more bearable, and maybe even a household job that you might enjoy!
Sort it out in advance.
There's nothing worse than realizing it is Sunday afternoon and no one is ready for the week ahead.  Work clothes, school clothes, and sports gear sit unwashed in a big heap on the laundry room floor.  It's enough to make you want to close the laundry room door and forget it's there.  Step one to making laundry a more bearable task is to have it sorted in advance.  Laundry baskets designed to sort everything into lights, darks, and delicates, means that your loads of wash are ready to toss in the machine.  The laundry room design below left opted to put baskets under a counter in the laundry room, while the one below right placed baskets on shelves.  These sorting baskets could also be incorporated in a bathroom design or bedroom.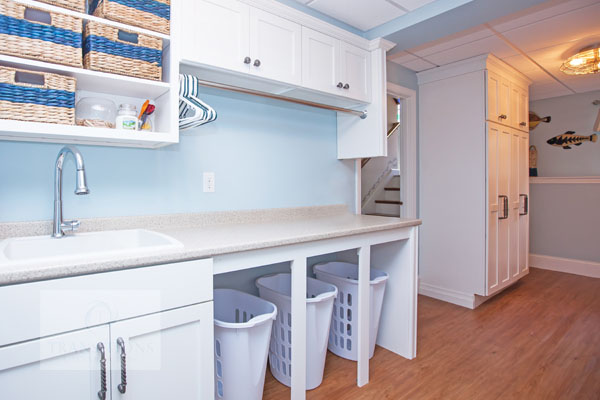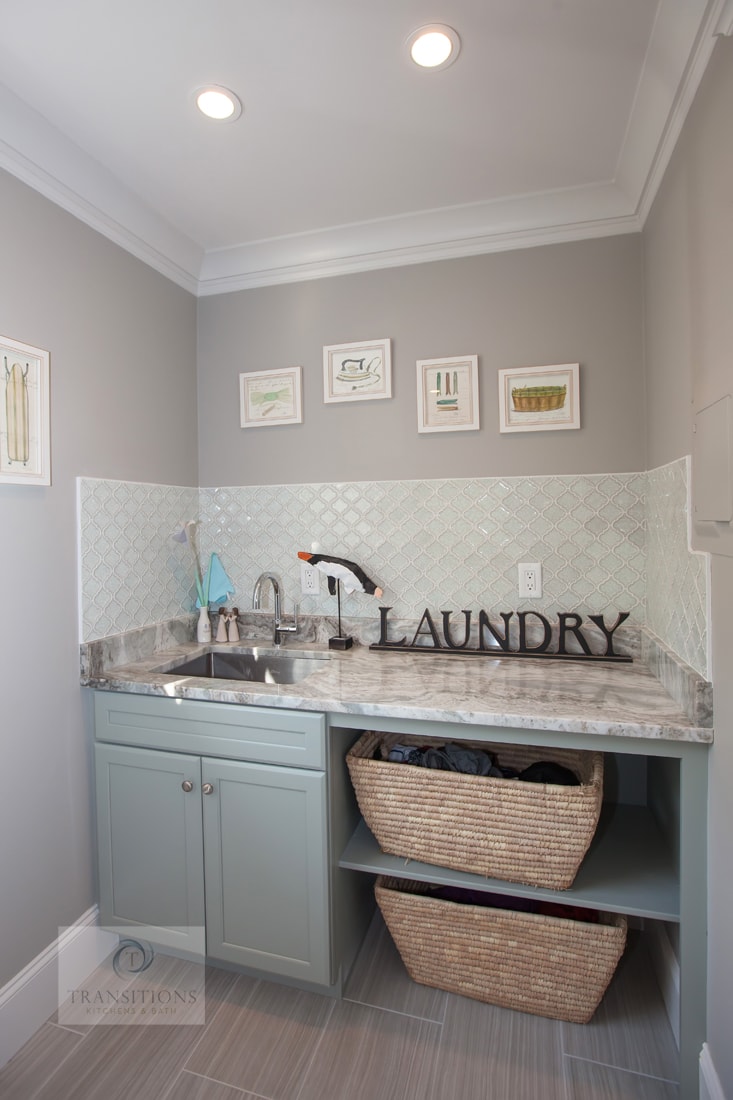 Make it a family task.
You are not the only one creating dirty clothes, so why should you be the only one cleaning them.  Laundry is a household job that could involve the entire family.  Start by getting everyone to sort their own laundry and then give everyone an age-appropriate job.  Even small children can help put clothes in the washing machine or dryer.  Older children can start the washer and dryer and fold, and everyone (yes, everyone!) can put away their own clothes.
Get the right machines.
Ah, modern technology!  What would we do without smart phones, smart homes, and smart cars. While it can be tricky to navigate which parts of today's technology truly make like easier, there is no doubt that a high-quality washer and dryer work wonders in making a home run more smoothly.  This does not necessarily mean you must have the largest or most expensive, but it does mean you should carefully review your home's requirements for laundry and find the right machines to do the job for you.  A kitchen and bath design expert can help you review your product choices as part of a home remodeling job.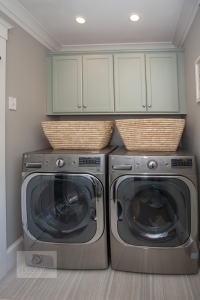 Make your laundry room as bright as your whites.
Your laundry room does not have to be plain or dark.  Whether you do laundry in your basement or in a designated laundry/utility/mudroom, make your laundry space bright and beautiful.  A kitchen and bath design professional can advise you on the best way to use your room to create a space that is both practical and stylish.
Include plenty of cabinet storage, which could complement nearby kitchen cabinets or bathroom vanity cabinets. Add a utility sink for hand washing and rinsing, plus a countertop and an area to hang clothes to air dry.  Include stylish components to make the laundry room design a more enjoyable space.  A unique backsplash like the laundry room designs shown here, or a personal sign or piece of artwork, brighten up the room.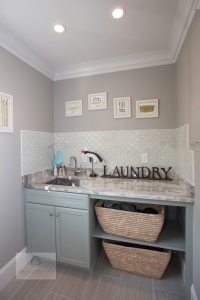 Go one step further like this laundry room and add a comfy bench where you can relax or read a book while waiting for the spin cycle to finish.