White kitchen design has long been a top choice for interior designers and home remodelers. While this look will always be chic and timeless, you may find yourself longing to add a bit of panache to your monotone color palette.
Whether you're looking to incorporate small colored details to add some charm or you're ready to take on a full kitchen remodel with blue kitchen cabinets, here are some fun and fresh ways to integrate colors into any style kitchen design!
Revitalize Your Cabinets
When it comes to freshening up your kitchen, updating the cabinets can go a long way. Here are a few ideas:
If you are not ready for a full kitchen remodel, you might consider painting your kitchen cabinets or island. Adding color to your cabinets creates a bold look that will make a huge impact.  If you have glass-front cabinet doors, consider painting the cabinet interior, which creates a dramatic background for kitchenware and special collectibles.
If you are planning to remodel your kitchen, then the possibilities are endless.  Talk to one of our kitchen design specialists to discuss the cabinetry styles and finishes that will work best in your space.  Depending on how much color you want to add, you could consider changing your all-white kitchen for another neutral or wood tone or go for a bold cabinet color to create a style all your own.  If you think doing all your cabinets in a color may be too much, consider adding a color to only the island cabinetry or just the top cabinets while leaving the base cabinets white (or vice versa).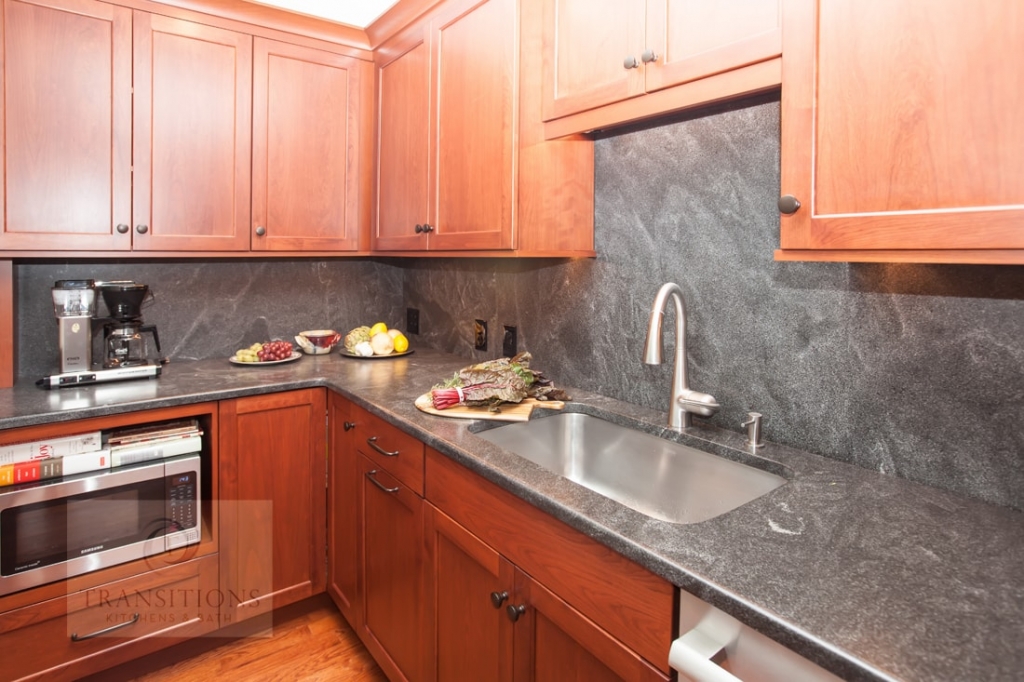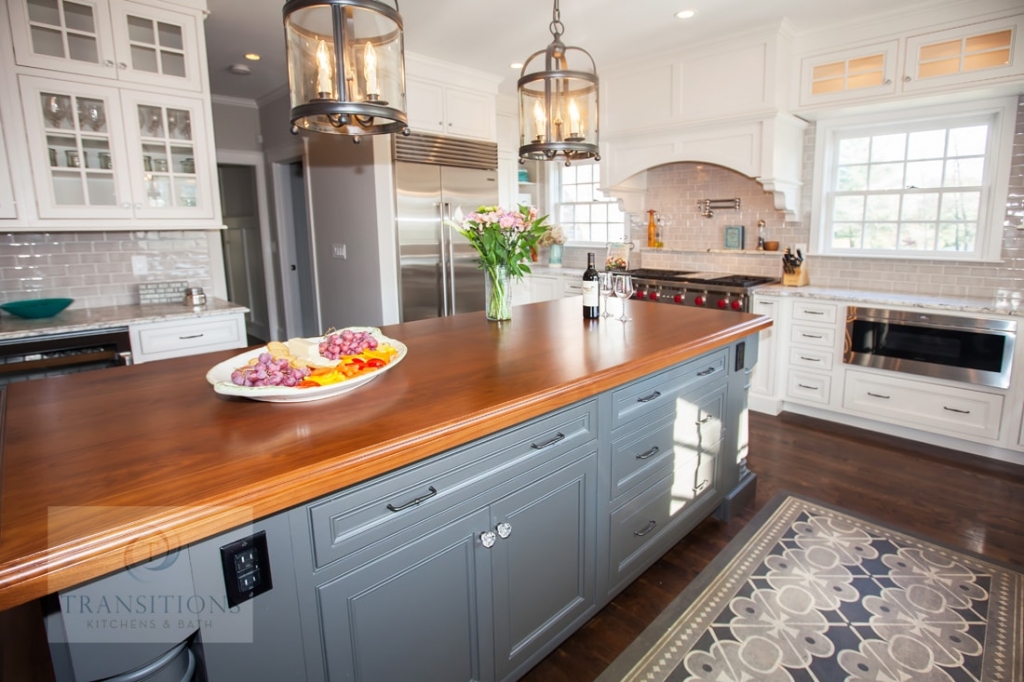 Install Colorful Countertops
Unlike natural materials like granite and marble, quartz countertops are manufactured and can be produced in a wide array of colors.  Plastic laminate, tile, and glass countertops offer even more color options that allow you to spice up your all-white perimeter work area or island.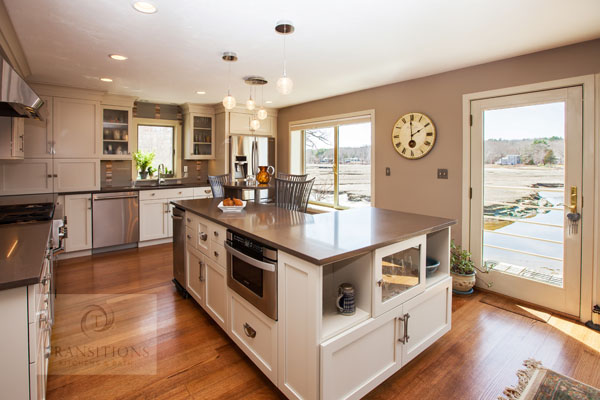 Add a Decorative Backsplash
A tile or glass backsplash is another chic way to add just the right dash of color, while still keeping the bright vibe that makes white kitchen designs so popular.
Install Colorful Appliances
Those who remember avocado green ovens and refrigerators from the 70s may be apprehensive to add colored appliances to their newly renovated kitchen.  This retro style has been revised in a modern way that has designers and homeowners excited to add bold color to their appliance selection. Many manufacturers now offer appliances in colorful options, and this trend has been evident at industry events like the Kitchen and Bath Industry Show.
Hang Floating Shelves
Floating shelves are the perfect way to display vibrant accessories, like bright dishes and cookware, decorative knickknacks, or colorful cookbooks.  If open shelving is not for you, then glass front kitchen cabinets are another solution.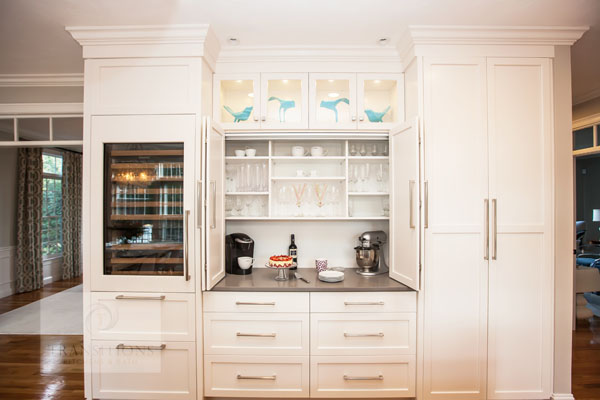 Don't Shy Away from Wood and other Natural Tones
When it comes to kitchen design, color doesn't necessarily mean blue or red. Incorporating natural wood and a more neutral color palette can create some drama just as much as a pink stove! Natural wood and wood stains offer striking, timeless color. To bring this organic look to your white kitchen, consider natural wood flooring and butcher-block countertops, or add a wood accent to a sliding barn door like this kitchen design in Norwell.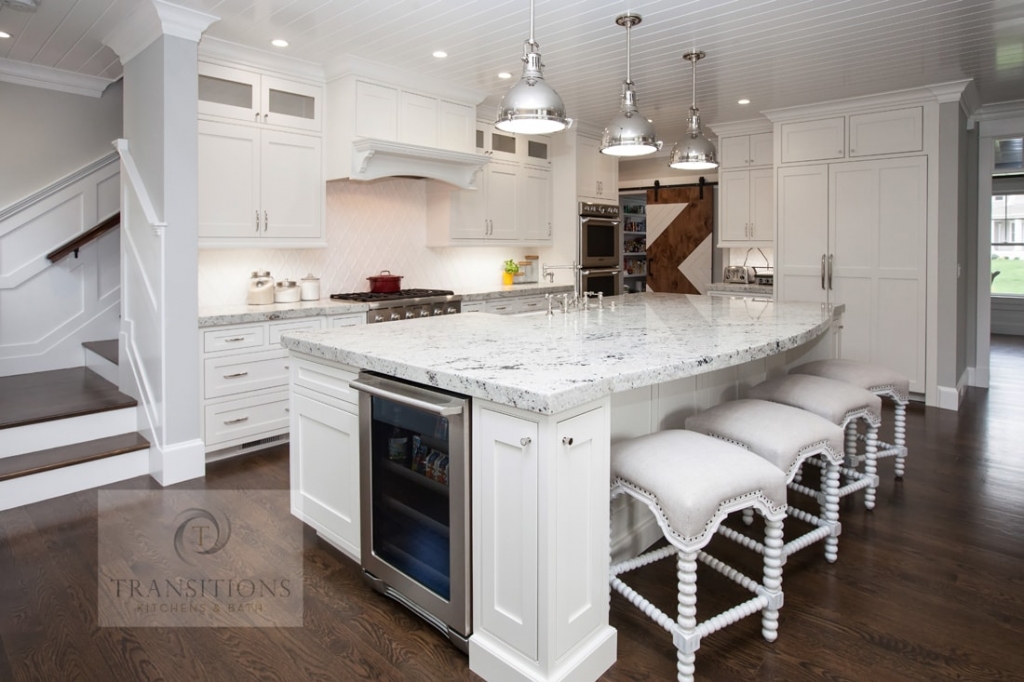 Decorate with Art
Spruce up your kitchen with some bold, funky artwork. If you do not own artwork, websites like www.art.com sell very reasonably priced prints. You can also look on Etsy or at local thrift stores to find great pieces that will enhance your kitchen's look.
Choose Colorful Seating Options
Lose the matching kitchen chairs or barstools in favor of something more fun! If your kitchen design budget hasn't left much room for barstools, visit local thrift stores and garage sales to find vintage chairs that will add some drama. You can also breathe some new life into your existing chairs and barstools. Paint them different shades of one color or replace the upholstery or cushions with a simple pattern that has a dash of color.
Use Vibrant Accessories
Well-placed accessories can add a lot of character and depth to an otherwise dull space. Invest in a bold window treatment to vividly change the feel of your kitchen. This look can be even more dramatic when paired sparingly with a few other accessories of the same color.  Pick your accent color and then use your imagination by incorporating it into your kitchen.
Choose exciting cookware to display in glass-front cabinet doors. Hang dish towels from hooks and pegs to enhance a boring look.  Select small appliances like coffee makers or toasters that match this accent color.
For more inspiration, visit our kitchen design gallery or stop by our Norwell, MA showroom to talk to one of our experienced designers.