Universal is the ideal solution when remodeling a bathroom for several people, particularly those with varying requirements or abilities, or just to accommodate one person's future needs. This type of design means everyone can access bathroom facilities easily. With so many options available, you don't have to sacrifice style for a universal bathroom design. You can have an on trend, yet practical space perfect for everyone in your home. Here are 5 tips for achieving a universal bath design.
1. Is Your Bathroom Entrance Accessible?
A universal bathroom should be on the ground floor so wheelchairs and mobility-impaired users can access it easily. If space allows, you can enlarge your powder room to become the family bathroom or install a separate ground floor bath. The doorway should be at least 36" wide with a door that swings out. Plan for 5ft of clear space inside to accommodate people with wheelchairs and walking aids. This space is also ideal in a house with small children who are often in the bathroom together. Keep furniture freestanding so you can add or take away what you like as the years progress.
2. Do I Need Specific Lighting?
Think carefully about your lighting plan for a universal design. Layered lighting means it can be soft over the tub but strong around the vanity and shower. Bright sensor lights are especially good over the entryway, so no-one must struggle with switches. Make sure any light switches and pull cords are within easy reach. Finally, maximize the benefit of your windows to let in natural light. This could include enlarging a window or adding a new window if possible, or just carefully consider your window treatment to allow in as much light as possible.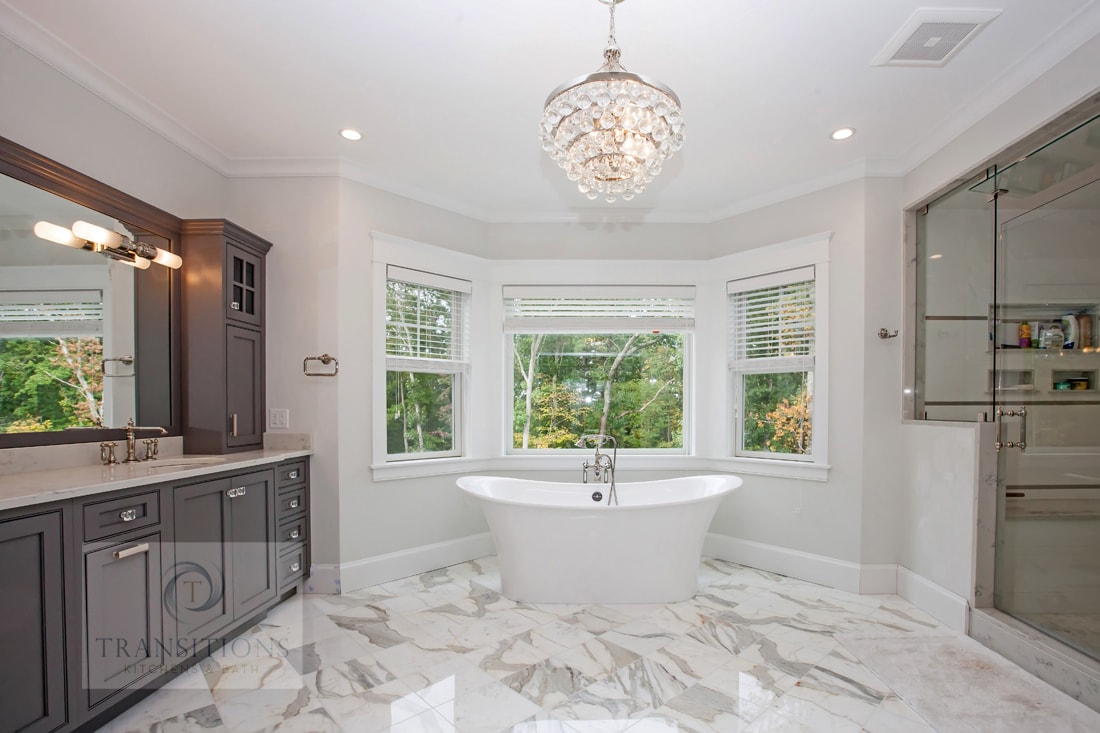 3. What Flooring Should I Choose?
Texture is very important when it comes to flooring a universal bath design. Smooth, shiny surfaces, such as marble, are dangerous when wet. It is best to choose materials with a grip like mosaic tiles, textured tiles, or wood. Rugs might get caught in wheels or present a trip hazard. It's best to keep your floor area clutter-free, which is not only safe, but aesthetically appealing for any bath design.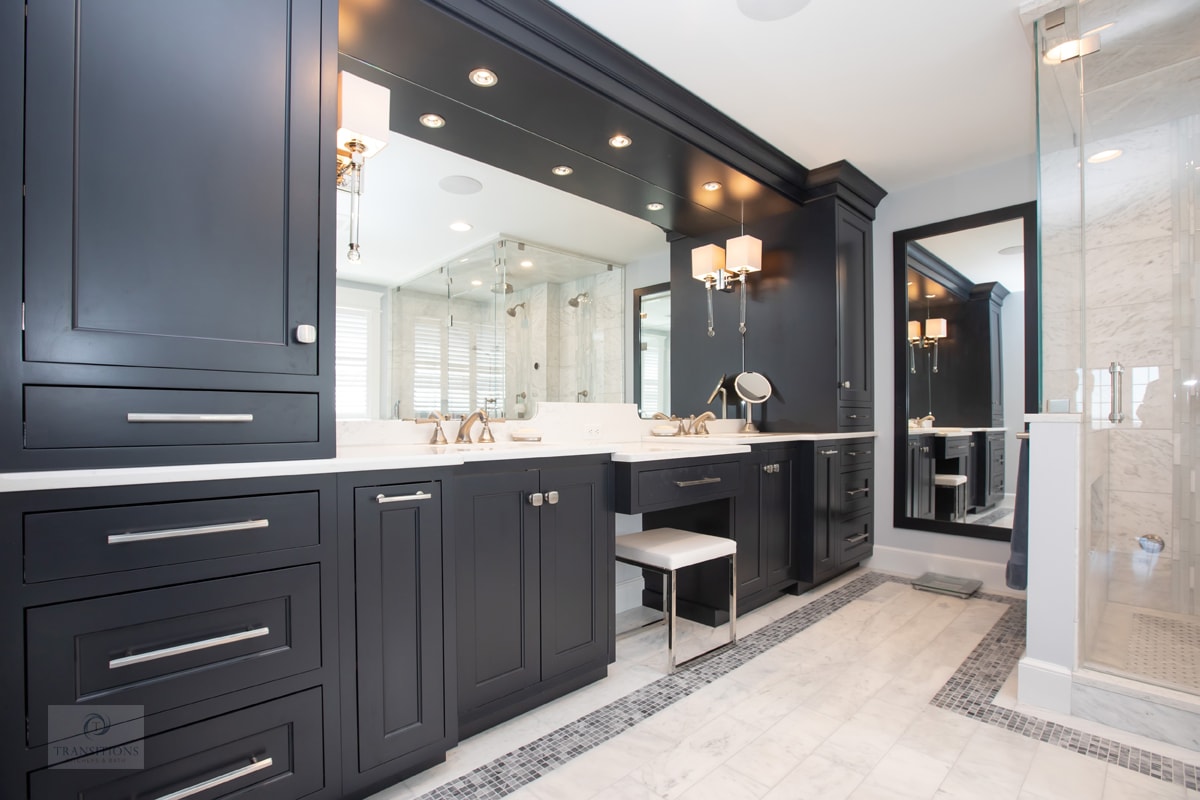 4. Can I Use Standard Bathroom Fixtures?
Floating sinks and vanities give the illusion of space and calmness but also provide access underneath for wheelchair users. Just make sure they can support a person's weight if leaned on. Lower sinks are also perfect for young families and adjustable vanities can be raised as children grow. Mirrors should also be low and large enough for everyone to use. Sensor and single lever faucets are easier to switch on and off for young and old alike. Also ensure that cabinet hardware and doorknobs are easy for anyone to pull or push. Wall hung toilets are ideal alongside floating vanities, installing them high enough for a mobility-impaired person to slide on or off. Or select a comfort-height toilet, which is 17-19 inches high instead of the standard 15 inches.
5. Will Any Shower or Tub Work in a Universal Bath Design?
Climbing in and out of a tub can be troublesome for many but investing in a walk-in model with an airtight seal is a great addition to a universal bathroom. Curbless showers make access easy for all, as well as being a stunning focal point in your bath design. Or just remove all barriers and create a fully open shower design.  Multiple shower heads with long hoses and anti-scald settings add luxury and practicality. Benches are also a good option for everyone and make it easier to assist in bathing people with limited mobility. Just make sure everything is at the right height for all users.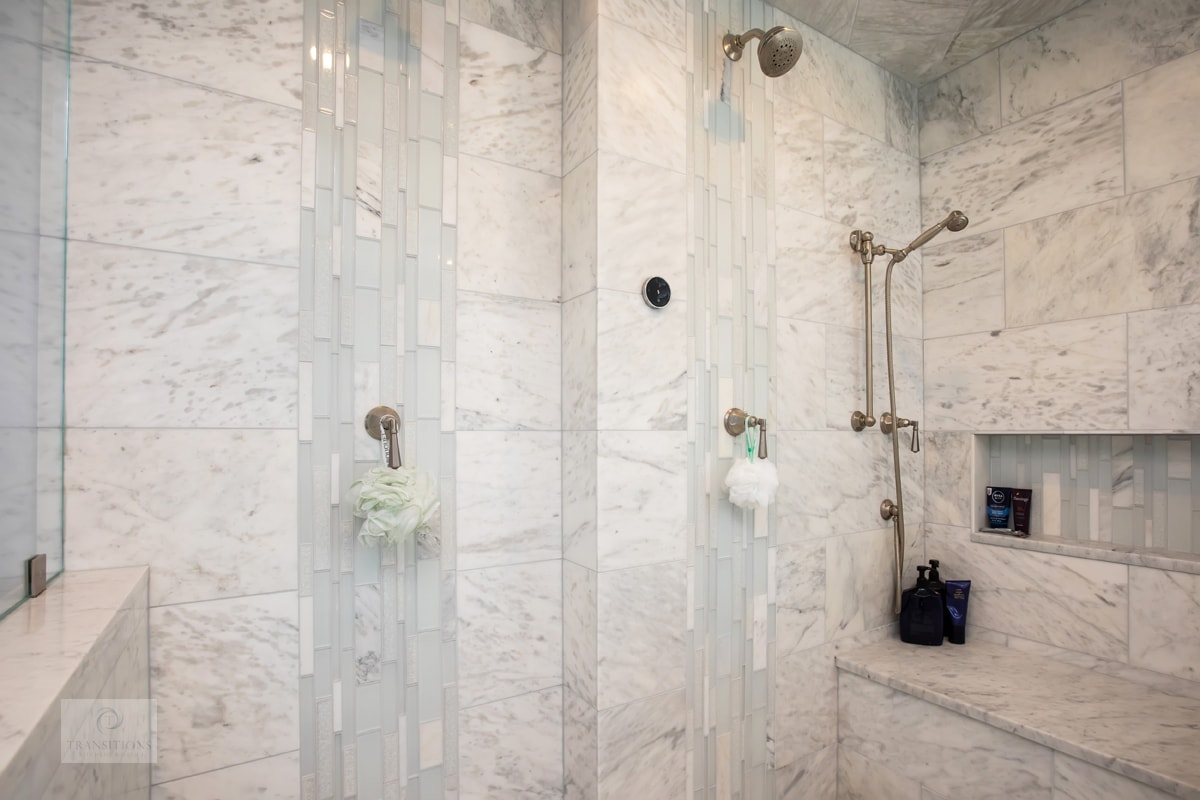 Your design professional will make sure that each element is accessible, easy to use, and positioned such that it will not block or injure anyone. Universal Bath Design equips your bathroom, so it works for all users while expressing a style you love. Look at our
gallery for ideas that would work in your bath design
and
contact us today
for advice on how you can achieve this simple, practical, yet chic look.