You are ready to embark on a bathroom remodel, but what is your motivation for updating your space?  Is the room simply out of date, or have you reached the point where your shower no longer functions and the vanity door is falling off?  Perhaps you are tired of fighting for space at the single bathroom sink.  Whatever your reasons, a bathroom design breathes new life into the bathroom and your day-to-day life.
The foundation for any bathroom design is the layout, which must be considered before you start looking at beautiful vanity styles and amazing tile selections.  The layout brings together where you will position key fixtures in your design with the location of plumbing, the distance between each item, and the flow of traffic.  It is the difference between an efficient, well-functioning bathroom design and one where you are unable to open the vanity cabinet and the main bathroom door at the same time
Here are 5 fundamentals to understand in creating the ideal bathroom design layout that will make the most of your space.
Get to know your space.
Before you do anything else, look at your existing bathroom in terms of size, shape, and layout.  What do you like about it and what don't you like?  Is it big enough and if it is not, do you have an option to move a wall or extend the space in any way?  Look beyond the surface, and try to envision your ideal space.  Do you wish you had a freestanding tub underneath the window, rather than a standard tub against a blank wall?  Be creative and try to envision the space you want, rather than what you have.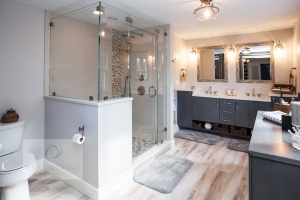 Consider who will use the space.
Is this a master bath remodel for two adults, a family bathroom, a seldom used guest bath, or perhaps a powder room?  This may influence, depending on available space, whether you will include multiple sinks and vanities, a separate shower and bath, or how much storage you require.  Think about the age of the people using the bathroom and whether you are creating a bathroom design to use as you age in place in your home.  If so, you may want to include wider doorways and prioritize a large, open shower instead of a bathtub.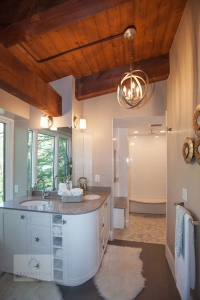 Can you move the plumbing?
As you begin to create your ideal bath design, look at whether your existing plumbing supports this plan. Keep in mind that moving plumbing, much like extending a wall, increases the required budget.  An experienced bathroom design professional will help you find the best layout for your needs and make sure it meets all building requirements.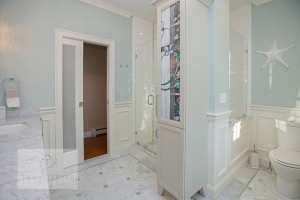 Privacy, please!
If your bathroom is large enough, consider including a separate toilet compartment. If you do not have space for this or think it will divide up the room too much, add a half wall divider or at least position the toilet where it is not in direct line of sight when the door is opened.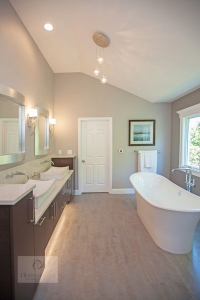 What is your budget?
It's fun to dream, but some of your hopeful plans may not be possible if you do not have room in your budget. Bumping out walls, changing plumbing, and moving fixtures around are all excellent ways to revive your space and give it a new lease on life.  These structural changes add to your budget, so be prepared to see those dollar figures increase or scale back on the proposed changes.  If your budget is more limited, perhaps pick one thing to change that improves your bathroom layout.