Who doesn't love a soothing, warm shower after a long day, or a powerful shower to wake you up in the morning? While some people still prefer a soak in a bathtub, showers have become a firm favorite in most bathroom designs as the ideal place to not only get clean, but to relax and unwind.  As a focal point of many bathroom remodels, shower styles have evolved to include an array of sizes, styles, and features to create the perfect functional and stylish oasis in your bathroom design.
No longer relegated to a small cubicle in the corner or a showerhead installed inside a bathtub enclosure, today's shower can be as small or large as you are able to fit into your bathroom layout.  The shower can be in a private, walled enclosure, combined with a bathtub, or surrounded by frameless glass to give an open, bright feel.  Your shower could have a curtain, a sliding door, or a hinged glass door.  Or, you could opt for an open shower design, removing the door altogether.  Read on to find out more about open shower styles.
What is an open shower?
As simple as it sounds, an open shower is any style shower that does not have a door.  It can take the form of a 3-wall shower enclosure that is thresholdless and allows you to simply walk into the shower without opening a door or stepping up into a raised shower base.  Or, you could break down all the barriers and opt for a fully open shower, creating a wet-room style bathroom design.  This style has no enclosure, with just a showerhead and a well-positioned drain to ensure that water goes the correct direction and doesn't flood your bathroom.  It is essential to work with an experienced bathroom remodeling professional to get the specifications right.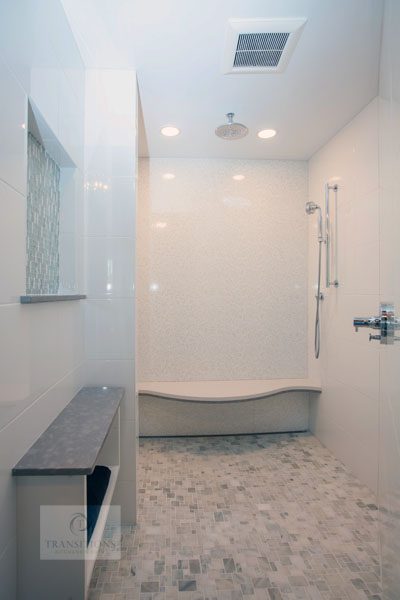 What are the requirements for an open shower?
If this sound like the perfect choice for your bathroom remodel , here are a few things to consider to make sure an open shower will fit with your available space and other bathroom design choices.
Ideally, you should give a fully open shower a minimum of 6-feet buffer on each side to keep from soaking the entire room. If you do not have this much space, you could consider a partially walled-in shower with no door to keep the splashing contained but still give that open effect.
Drainage is even more important in an open shower than a regular one. Your bathroom design expert will confirm the best option for you but consider angling the shower floor toward the drain and including either more than one drain or a linear drain.
The type of showerhead you use is also essential, especially if your open shower occupies a more limited area in the bathroom design. A rainfall showerhead is ideal as the water goes straight down, limiting the spray created.
Pick your other bathroom products carefully. Bathroom surfaces must be able to stand up to moisture and humidity, but with an open shower style this is even more important.  Splashes are inevitable, so plan for them by choosing surfaces that stand up to moisture well.  Also, consider radiant underfloor heating, ample heat sources, and radiator towel warmers to keep you toasty warm in and out of your open shower.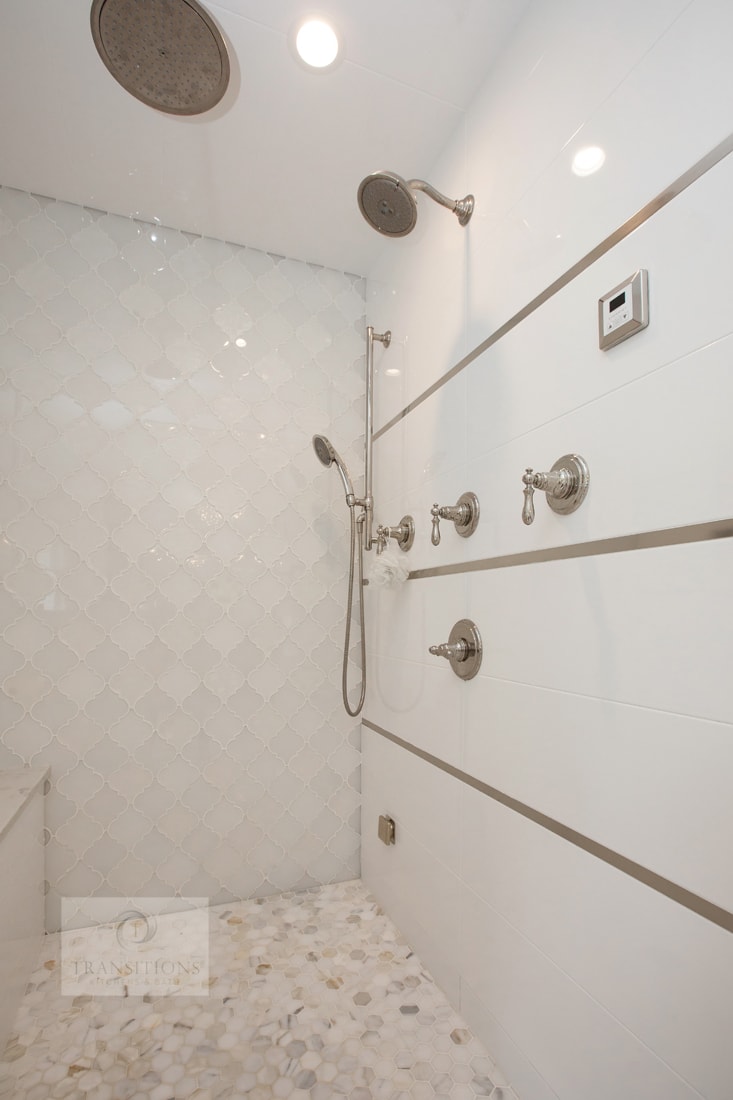 Why go for an open shower?
There are several benefits to an open shower style.  First, it is the ultimate in open, airy bathroom designs. If you love a natural, spa-like feel for your shower experience, this shower style may be for you, especially if you have a private, scenic view out of your bathroom window.  If this sounds like you, then an open shower in your bathroom design can offer you the ideal natural, peaceful shower environment.  On the other hand, if you prefer more privacy or if this is a busy bathroom that will be used by multiple people, an open shower may not work.
Open shower styles are also ideal for a home where you plan to age in place, for someone in a wheelchair, or for anyone who requires easier access into the shower.  A doorless or fully open shower facilitates stress-free, easy movement in and out of the shower.  A large or fully open shower also makes it easier for a second person to be on hand to help with the showering. Add a shower bench to make your experience even more comfortable.