The kitchen sink is an often-underappreciated tool in a
busy kitchen design
. It is crucial to the functionality of your kitchen, from washing hands to preparing food and cleaning dishes. Upgrading your sink as part of a kitchen remodel will transform the way you use your kitchen design, especially when you pair it with the ideal faucet to meet your requirements.
In addition to enhancing your kitchen's functionality, the sink and faucet you choose form part of your kitchen's design aesthetic. From the size, style, and material of your sink to the line and finish of your faucet, these fixtures are part of your kitchen's style and color scheme.  It's also essential to choose a sink and faucet that work well together, from the combination of materials to the style and installation method.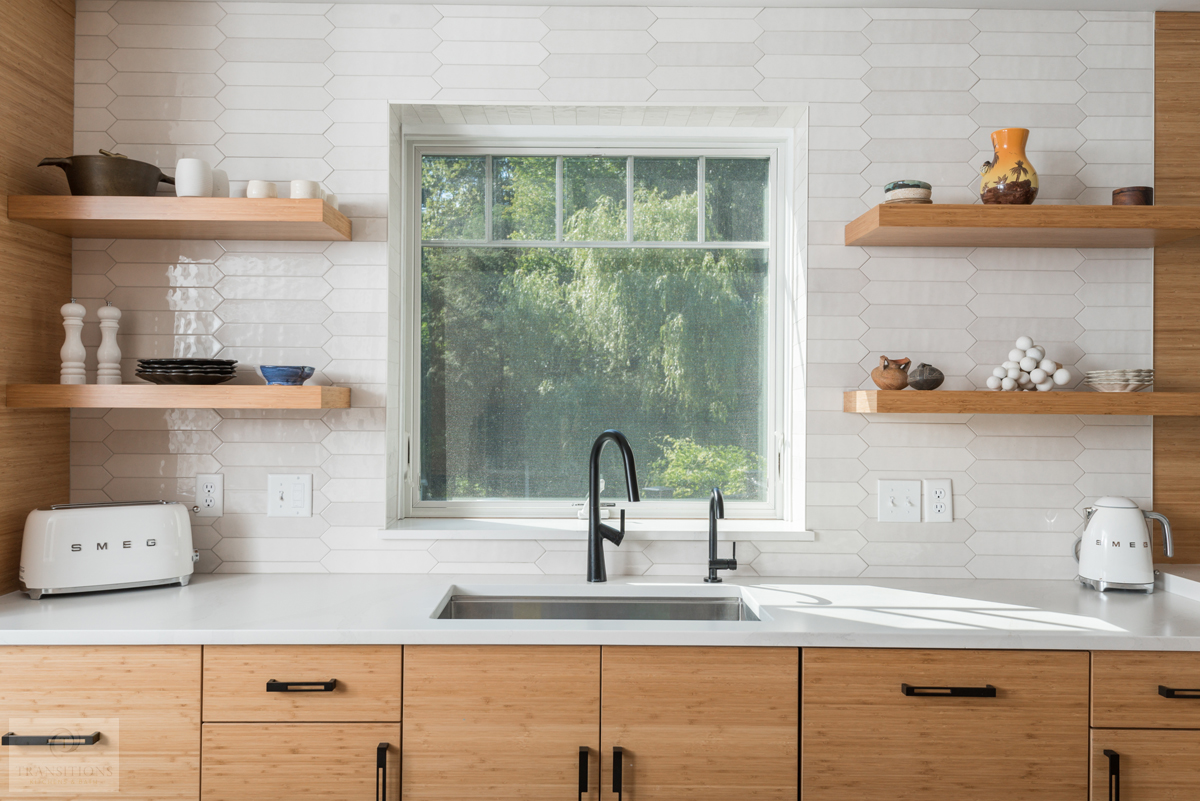 Find the perfect pairing to enhance your kitchen's style and functionality with our guide to ideal sink and faucet combinations.
Decide What You Need
The array of products available for kitchen remodeling is enough to make your head spin. It helps to work with an experienced kitchen design firm for your full remodeling project, as they can walk you through the entire process from concept to completion. This includes helping you find the ideal products to fit your functionality and style needs, while also making sure your products are compatible with your home and each other.
Start by considering what you need and want out of your new kitchen design. The answers to these questions will also guide your choice of sink and faucet:
How large is your kitchen?
What is your kitchen's layout, and do you plan to maintain this layout or change it?
Who uses your kitchen? Do you typically have more than one person preparing food at one time? Is this a multi-generational household?
What do you do in your kitchen (other than prepare food, of course!)?
Do you have space for more than one sink, for example in a beverage bar, or one sink in the island and one in the perimeter?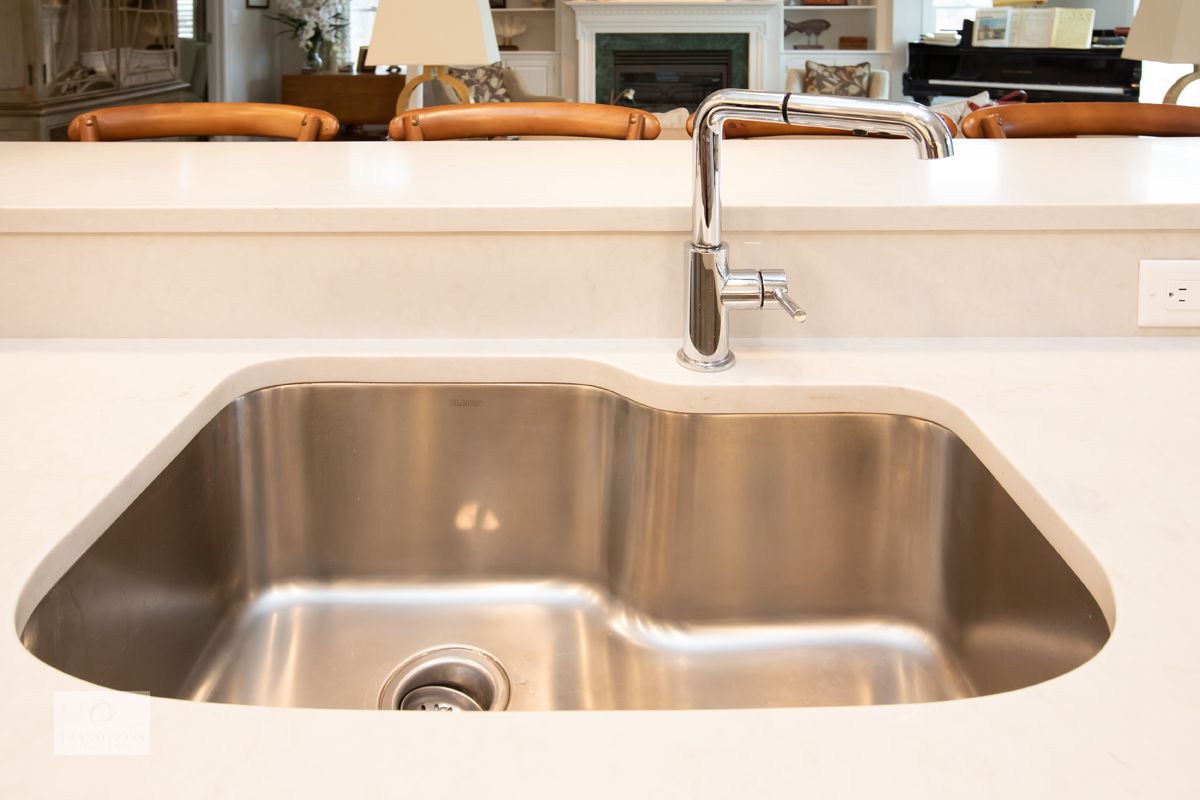 The answers to these questions and more will give you a clearer picture of what type of sinks you need, how much space you have available to accommodate them, and what type of functionality you need to look for in your sink and faucet combination.
What Else Should You Consider
In addition to the practical considerations, you must also look at the aesthetic value of your sink and faucet choices, including:
What style are you going for – traditional, modern, farmhouse, transitional, or another style?
Do you want your sink and faucet style to match?
Should they also match other elements of your design, like cabinet hardware or lighting?
Or would you prefer to create an eclectic design where your sink and faucet are a standalone feature in a contrasting material and finish?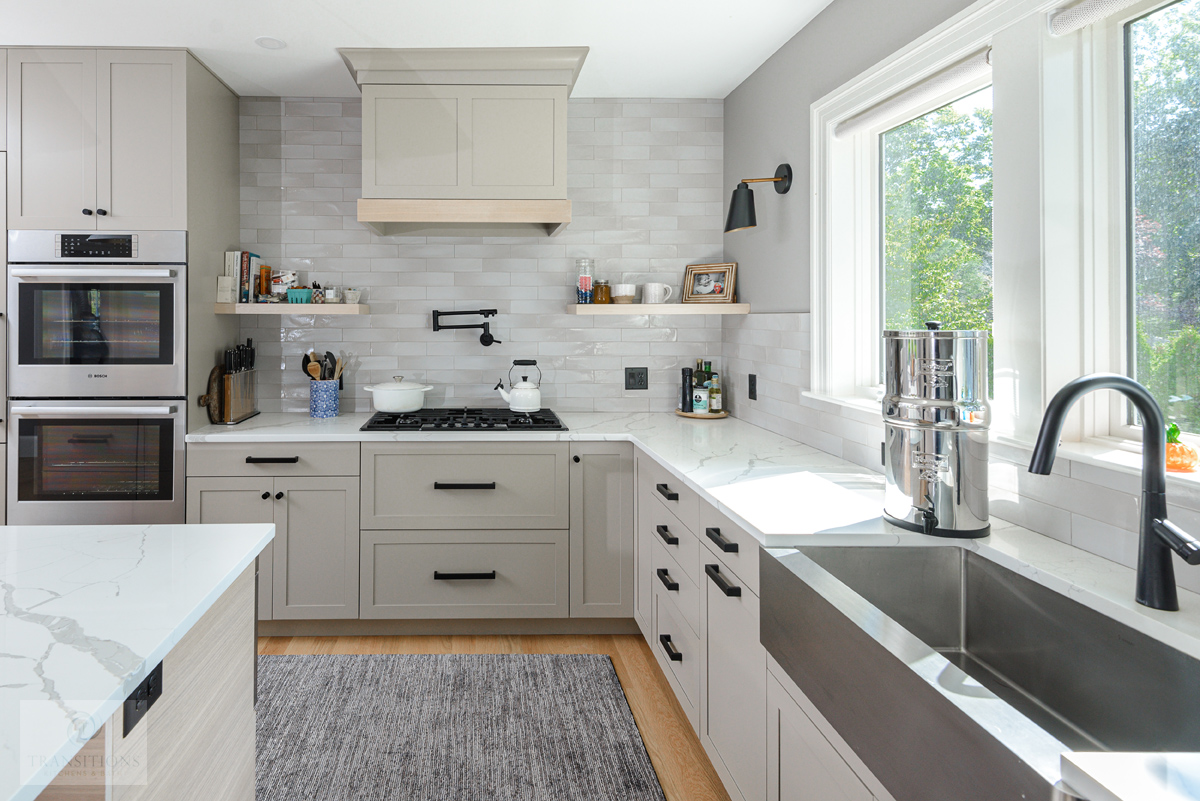 Sinks and faucets
come in a range of materials and styles. It can be difficult to narrow down the choices but determining your kitchen design style and how your sink and faucet fit into this design plan will help. Browse styles online or in person at a kitchen design showroom to find the styles that will enhance your new kitchen design.
All About Sinks
There are sinks for every style and budget, so it helps to have a basic understanding of the types available. They vary depending on the mounting and basin options, the material, and the purpose of the sink.
Main Sink Types
The main mounting and basin options for kitchen sinks are:
Undermount sinks are the most popular as they provide a sleek look, fitting neatly under the countertop, attached by clips. They also make clean up much easier, since it is simple to sweep water into the sink. They tend to be more expensive and require greater skill to install.
Top mount or drop-in sinks have a rim and are easily installed into a hole cut into the countertop. They are a more cost-effective option and ideal for a DIY project but are more difficult to clean since the rim collects moisture, food residue, and dirt.
Farmhouse sinks, also known as apron front, are mounted just below the countertop and exposed at the front. They are typically a large, deep sink style, making them a practical and stylish solutions for a busy household.
Basin options include single bowl, double bowl, or low divider double bowl. Double bowl sinks are great for multi-tasking where you need one side to prep food and the other to rinse and wash dishes. Single bowl sinks lack this division of labor but have the benefit of fitting more neatly in a smaller kitchen design. They also have more space for large pots in the single bowl.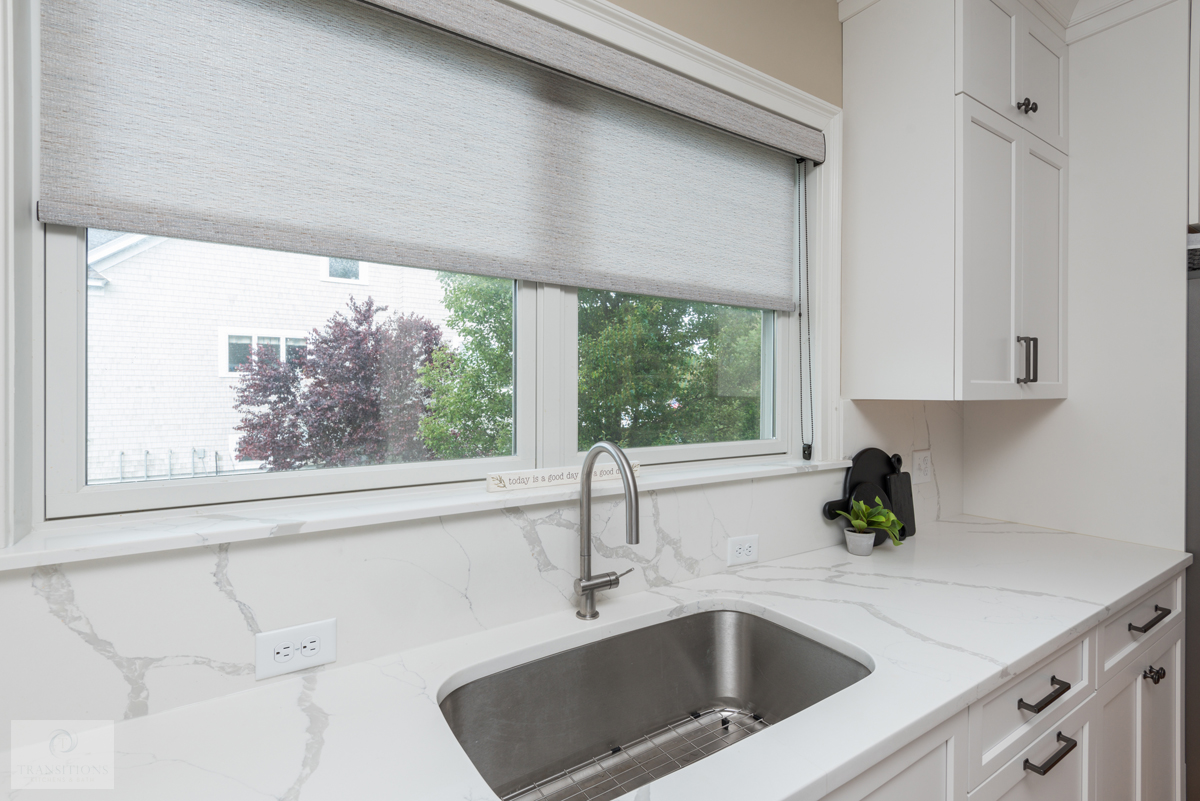 Sink Materials
There are a wide range of materials for kitchen sinks, varying in terms of style, weight, durability, and price tag. Here are some of the most popular materials:
Stainless steel is one of the most popular kitchen sink materials, since it fits any style kitchen design. It is a high quality, durable, moderately affordable option that comes in top mount, undermount, and farmhouse styles.
Granite composite sinks are becoming more popular as a highly durable, hygienic, and easy to maintain option.
Cast iron sinks are glossy white due to their porcelain enamel coating, making them perfect for a farmhouse or cottage style kitchen design. They are a heavy and durable sink with a high price tag, but the enamel can be prone to chipping.
Fireclay sinks are made from clay and glaze fused at high temperatures. They look like cast iron sinks but are more durable and come with a higher price tag.
An integrated sink is constructed of the same material as your countertop and often made of a single piece of material to give your kitchen design a cohesive look. This provides a one-of-a-kind style that is easy to clean and maintain, though this depends on your chosen material. It is also generally an expensive option and very difficult to replace since it is connected to the countertop.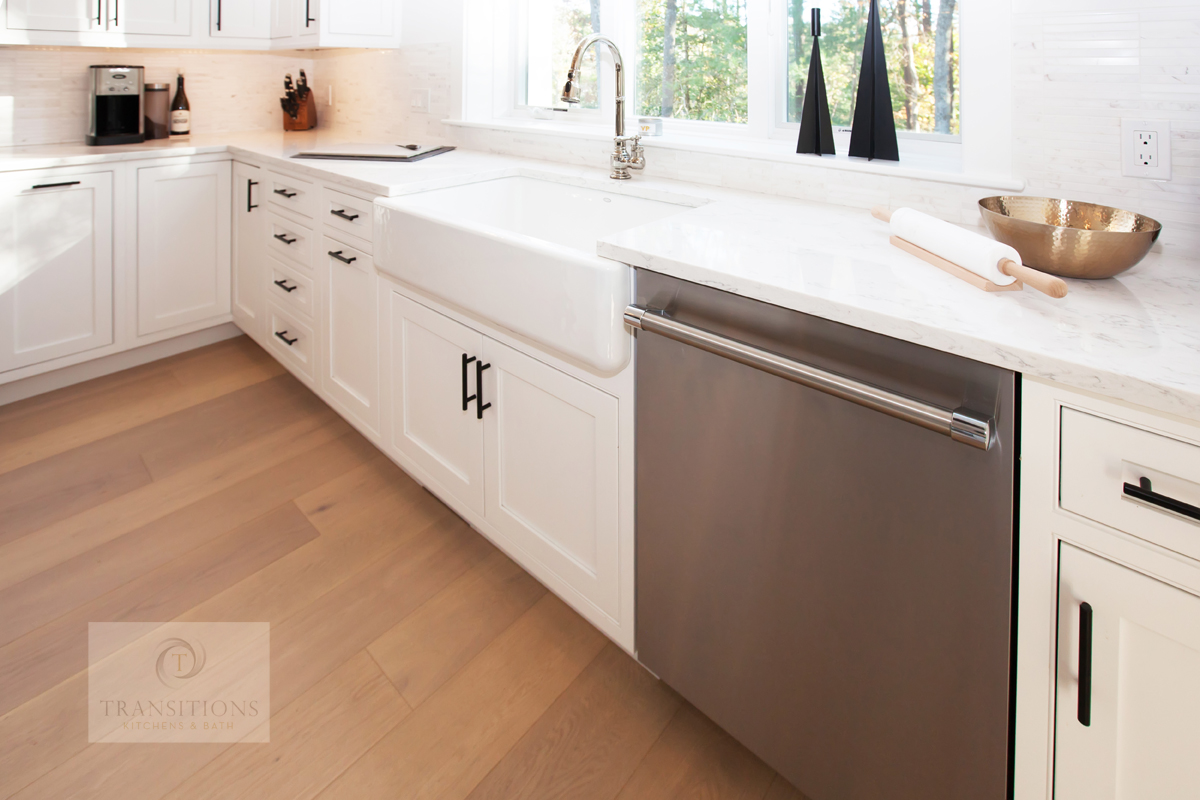 All About Faucets
We rely on faucets to deliver hot and cold water on demand, which is essential to the working of a kitchen design. Faucet options depend on the type of faucet, the style and finish, as well as the installation method.
Faucet Types
The main faucet types range from the most basic to professional and even high tech.
Pull-down faucets have a spray wand that you can pull down into the sink, which makes cleaning dishes, rinsing vegetables, or clearing up your sink much easier.
Pull-out faucets have a faucet head that pulls straight out with a greater range of motion than pull-down faucets.
Two-handled faucets are a more traditional style where two handles sit on either side of the central spout.
Single-handled faucets control water pressure and temperature with a single handle, making it easier to turn on and off when your hands are full. It can be more difficult with this model to adjust the perfect temperature.
Touchless faucets allow you to turn them on and off with the wave of a hand using sensors. This is ideal for busy cooks handling raw meat, messy baking, or homes with children.
Smart faucets take this one step further in a luxury product that can be operated with voice controls, through an app, or by using the sensor or handle. It allows you to specify the quantity of water you require, among other things, and to save presets for common tasks.
Pot fillers fit neatly in the backsplash at your stovetop and allow you to fill up heavy pots and pans with water to save you carrying them back and forth from the sink.
Commercial faucets have a longer, flexible spout that gives your kitchen design a modern look and lets you bring out your inner pro chef when preparing meals.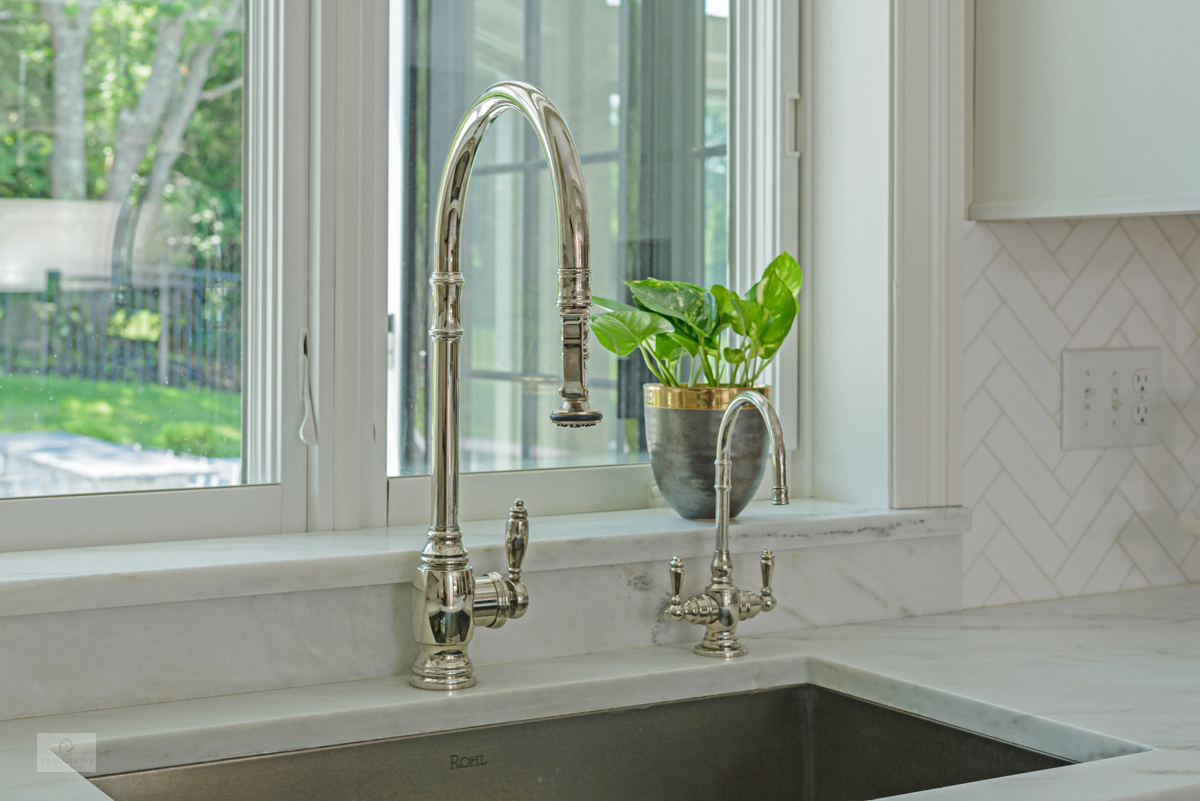 Faucet Neck Type
Faucets can also be distinguished based on the neck type, ranging from a standard curved neck to a straight neck and gooseneck.  The straight neck is not as compatible with a kitchen sink as it limits space underneath, while the gooseneck is an elegant model that allows for more space to wash pots and pans.
Faucet Mounting Options
Faucet mounting options are a key differentiator when choosing a faucet to go with your kitchen sink. The faucet type and mounting method determine the holes that need to be cut and where the plumbing needs to be positioned. A wall-mounted faucet keeps counter space clear but should only be installed on an interior wall. It is a more popular option for bathroom designs and doesn't generally work as well in a kitchen design layout. Deck mounted faucets are more popular and require a hole or holes to be drilled in the countertop behind the sink.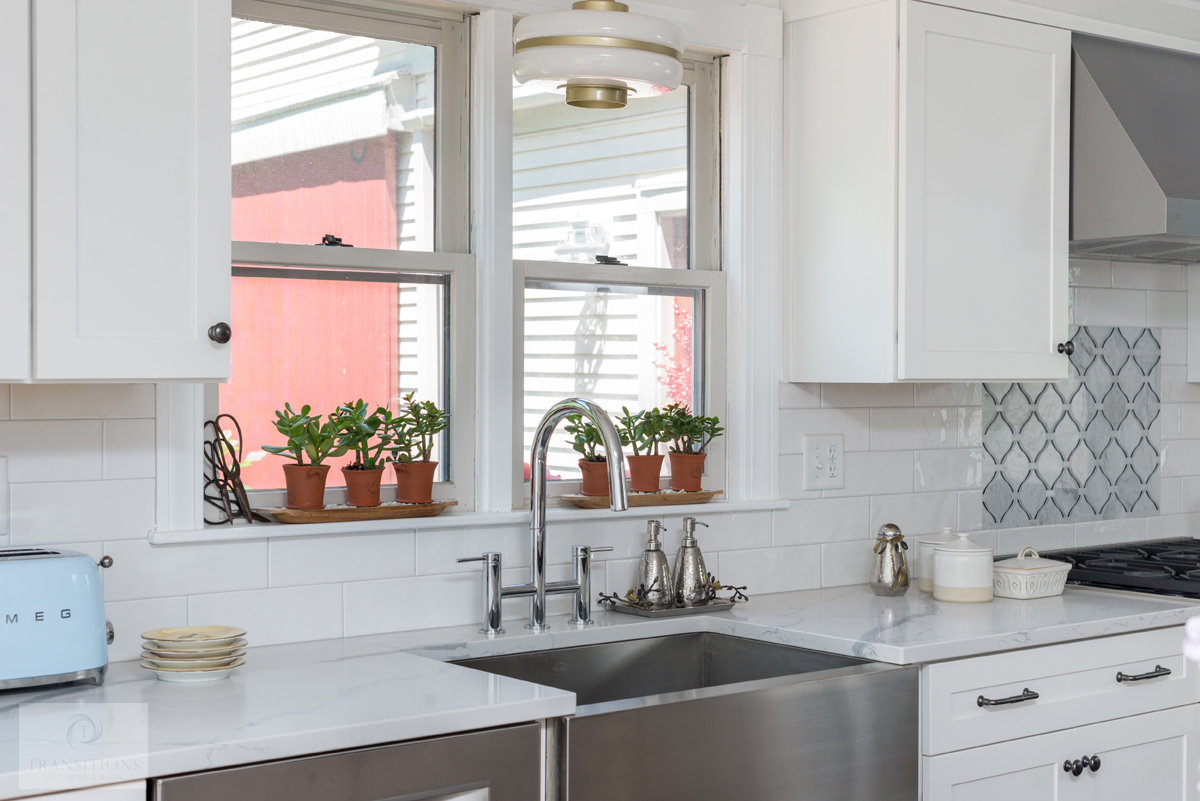 Faucet Materials and Finishes
The material you choose for your faucet's components influence both the price as well as the longevity of your kitchen faucet. Popular choices are brass, stainless steel, copper, plastic, and zinc. Each varies in terms of durability, maintenance, and price, with brass being the most durable, while plastic and zinc are lighter weight, less durable, and less expensive.
The finish applied to this material also influences the ongoing cleaning and maintenance, but definitely impacts your kitchen design style. Some of the top kitchen faucet finishes include:
Stainless steel is a popular choice, especially if you want a uniform look to blend with your sink and stainless appliances. It is also a durable and more easily maintained finish.
Polished chrome has a silver, reflective finish, which can make your kitchen style shine but also makes it prone to water spots and fingerprints.
Polished nickel is a similar finish that enhances traditional kitchen designs.
Brushed nickel brings warmth to a kitchen design with a dull silver finish.
Oil rubbed bronze has a deep finish that brings a traditional style and old-world charm to your kitchen sink area.
Brushed or satin brass has a muted gold appearance and is a popular choice as it fits a wide range of kitchen design styles. It also beautifully accents on trend cabinet colors like navy blue, green, and black.
Matte black is one of the most popular options in kitchen design today and pairs well with light toned cabinetry and backsplashes.
Rose gold is another trendy shade that creates a distinctive look in a kitchen design. It's difficult to say if this shade will remain on trend but if you love it and are willing to commit to it, rose gold gives your sink space a unique appeal.
Two-tone finishes are a recent trend that feature a primary finish with a second accent color, for example pairing matte black and brass. They transform your kitchen faucet into a design focal point and can pick up on different accent colors throughout your kitchen design.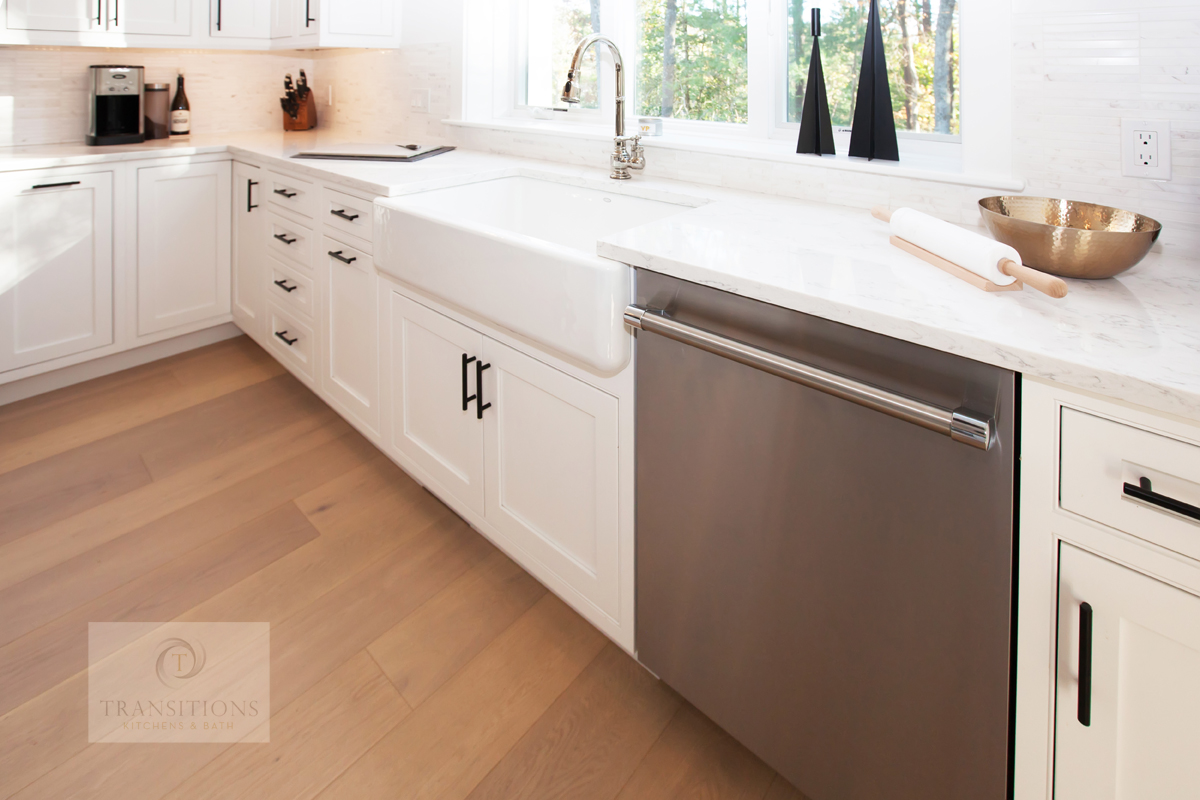 How to Find the Right Combination
When determining which sink and faucet will work together, first consider your practical requirements. With so many materials and finishes available, it's essential that you select models that fit your family's requirements and will last you for years. Remember that your choices may differ if you have children or are designing for a multi-generation household.
Other key factors to consider are the location of your sink, the clearance behind and above the sink, and the number of holes required for your chosen faucet style. In a full kitchen remodel, these considerations will be part of your overall design plan, but in a partial remodel you may need to limit your choices based on existing plumbing or your countertop. The position of your sink is key as you must have adequate space to install your faucet behind the sink as well as clearance for the height of the spout.
Finally, think about how the style of your sink and faucet pair with your overall kitchen design aesthetic. Do you want them to blend with other features, such as appliances or cabinet hardware? Or would you like them to stand out as a design focal point?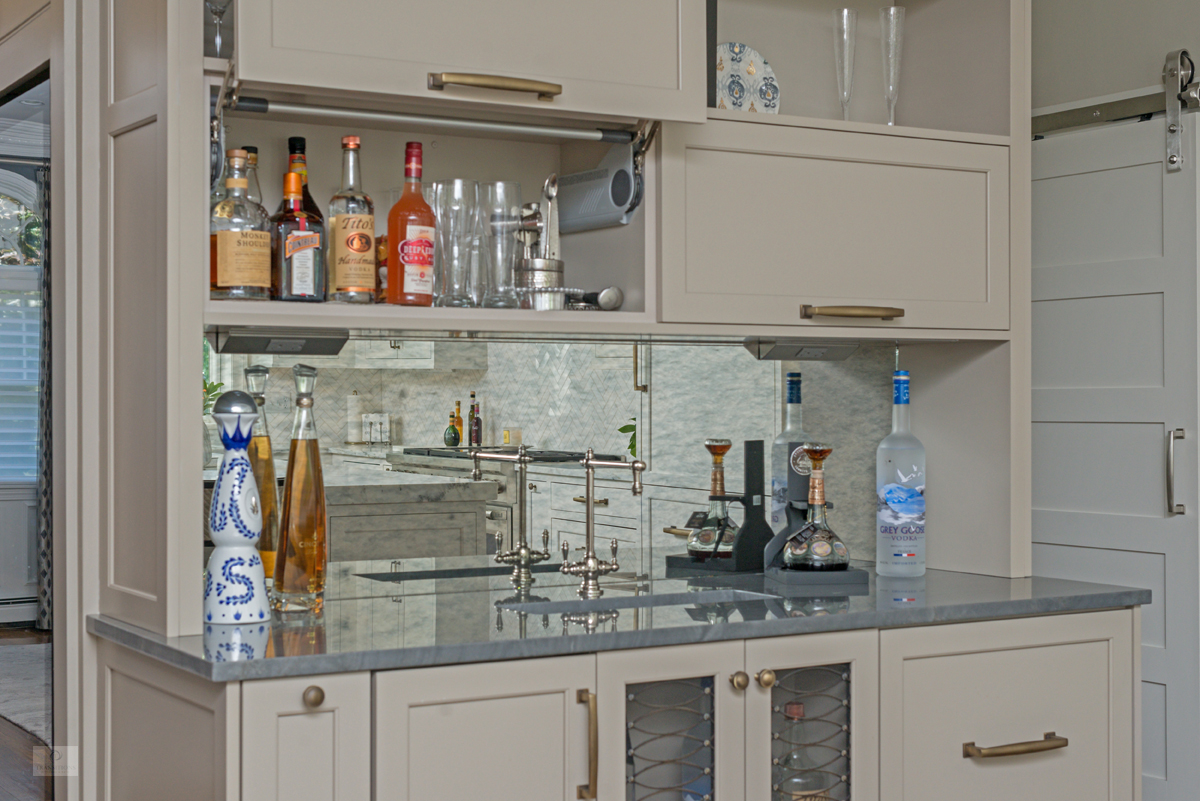 The right kitchen sink and faucet pairing are essential to a functional and stylish kitchen design. Find models that fit your family's needs and then select styles and finishes to accent your kitchen design aesthetic. Consider your budget range and remember there are a wide array of options so you can always find a model that balances your requirements with your budget. Get inspired when you visit
our Norwell, MA showroom
and then talk to
an experienced member of our team
to kick start your kitchen remodel!