A
kitchen remodel
needs to have adequate storage to function efficiently. If you have clutter everywhere this detracts from the look you want and means your design becomes high maintenance. How do you declutter to get the most out of your kitchen design and allow your style to shine through? It starts at the planning stage when you and your kitchen design expert consider your storage requirements and how they would work within your chosen style.
Custom storage solutions transform a basic kitchen design into a multifunctional one. High-end countertops and kitchen cabinets can look stunning while achieving their potential if your space is organized and aesthetic. Here is how to declutter with kitchen storage solutions.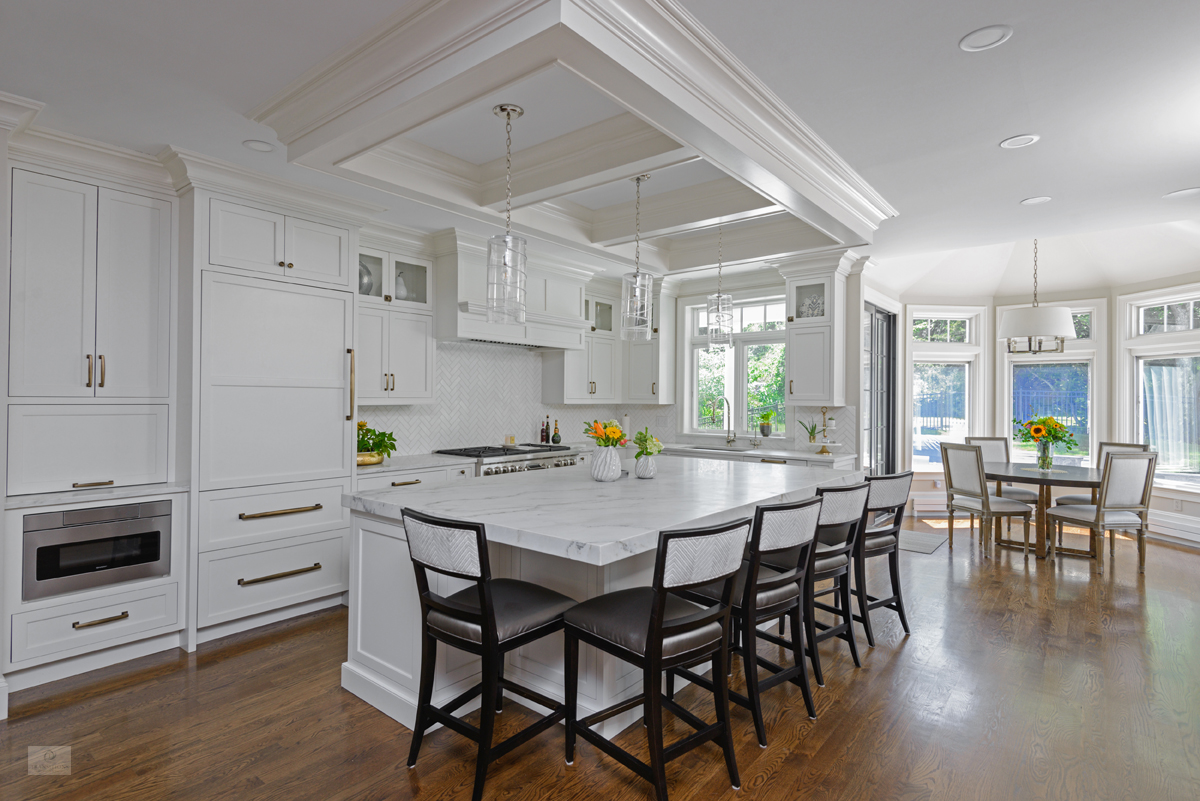 Think Ahead
Assess what you store in your current kitchen design. Are there items you never use? Perhaps you have broken things that you intend to get fixed. Cull your kitchen contents accordingly, keeping only what you actually use. Now work with your kitchen designer to assess how best to store these items, incorporating classic solutions and recent innovations. Look for design inspiration in current trends such as double islands or beverage bars. Consider how you can utilize every corner of your kitchen remodel, storing everything comfortably and not compromising on style.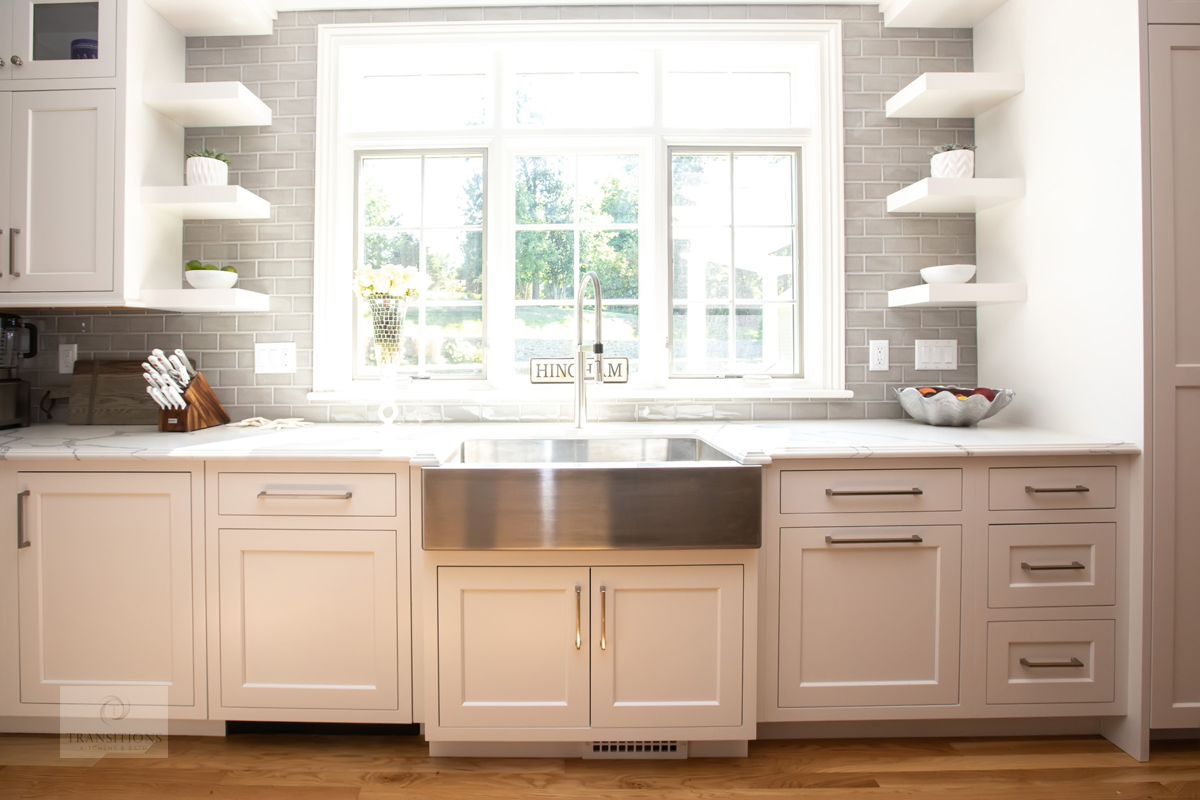 Ultimate Coverage
One trend that's really taking off is streamlined storage. Tailor-made cabinets go floor-to-ceiling and wall-to-wall, resulting in a sleek look that stores everything effortlessly. This works really well along one side of a galley kitchen remodel to retain its flow and maximize storage potential. However, streamlined cabinets work in any kitchen design whether space is at a premium or not.
To complete your smooth style, handless doors are ideal with this type of cabinetry and push-open models are gaining in popularity. Recessed handles are another option, and you can add interest by choosing hardware colors and materials that accent the cabinet doors.
The focus with this style is the quality of the cabinetry as its expansive clean lines dictate the tone of your kitchen design. Whether you go for a glossy or natural finish, the craftsmanship needs to be flawless. At Transitions, we ensure the best quality installation and finish for a streamlined kitchen design.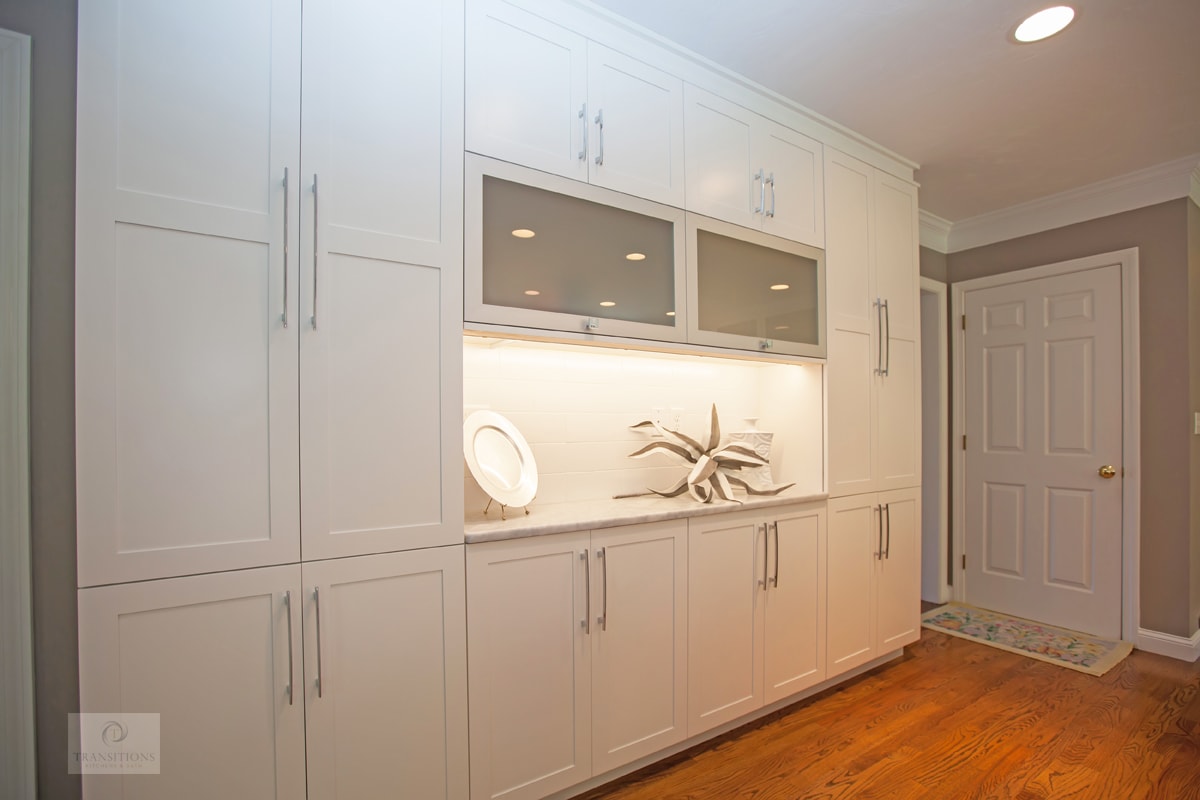 Store Bulky Items
Leaving large items out on countertops may seem logical so they are accessible, and you don't have to break your back trying to access them, but this only creates clutter. Placing these large or awkwardly shaped things on a high shelf to keep them out of the way takes up space and makes them inaccessible. A kitchen remodel is the ideal time to finally give these items a home where they fit perfectly and maintain the luxe appearance of your design.
Deep drawers work really well in this situation. They can store pots and pans as well as plates and bowls, organized with a handy peg system. Why not incorporate dividers so flat items such as trays or baking sheets can be stored conveniently on their sides? The deeper the drawers, the taller the items you can fit. Cooking utensils or water bottles can stand upright, or a slide-out shelf within the drawer means you can have two levels. Lids can go into a shallow drawer that slots over or under the deep drawer, so your pots and lids remain super-organized.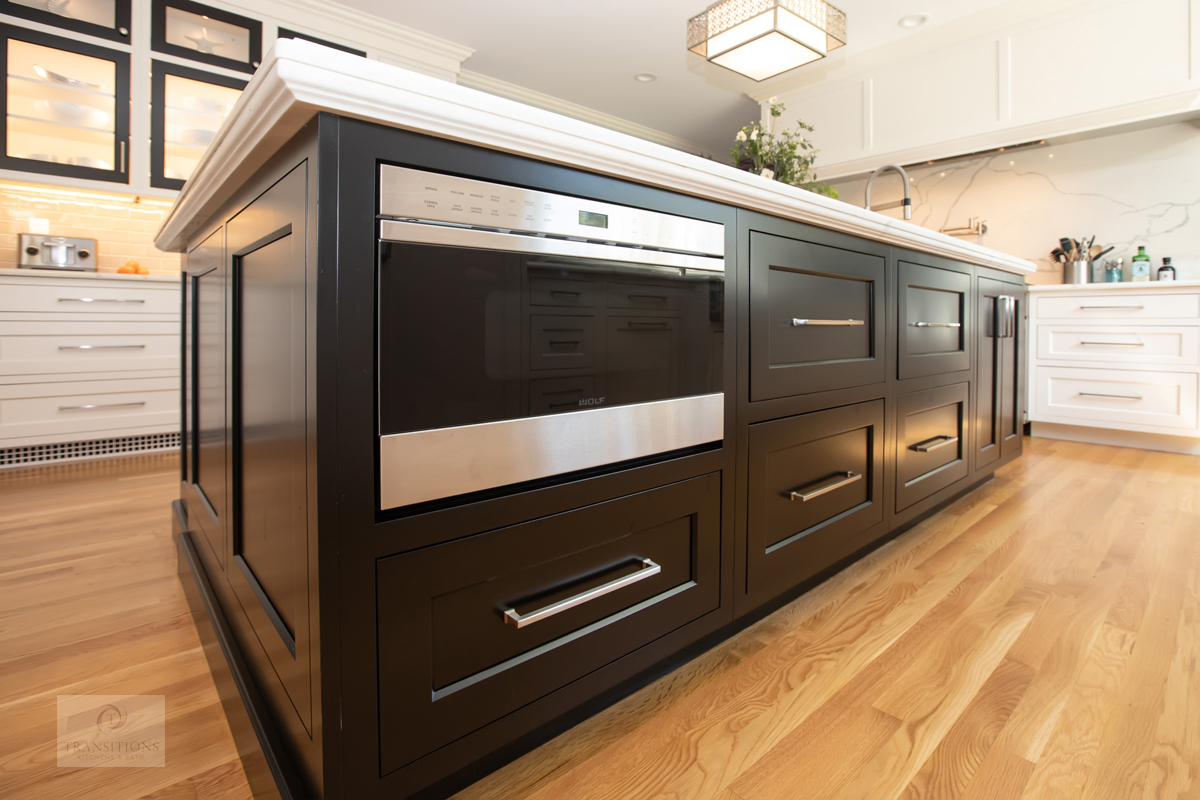 Hidden Functions
There are many ways to incorporate items that you use regularly into your kitchen design. They can become part of your remodel in a way that enhances efficiency and style. A cutting board can slot underneath a counter to slide out when needed. Why not store a pull-out trash can underneath to neatly dispose of compostables? Island countertop extensions are possible in the same way that we rely on table extensions. Include a hidden countertop that rolls out or pulls out with fold-down legs, giving you access to extra workspace or dining space at a moment's notice. Appliance garages can also conceal essential worktop appliances behind a pull-down door.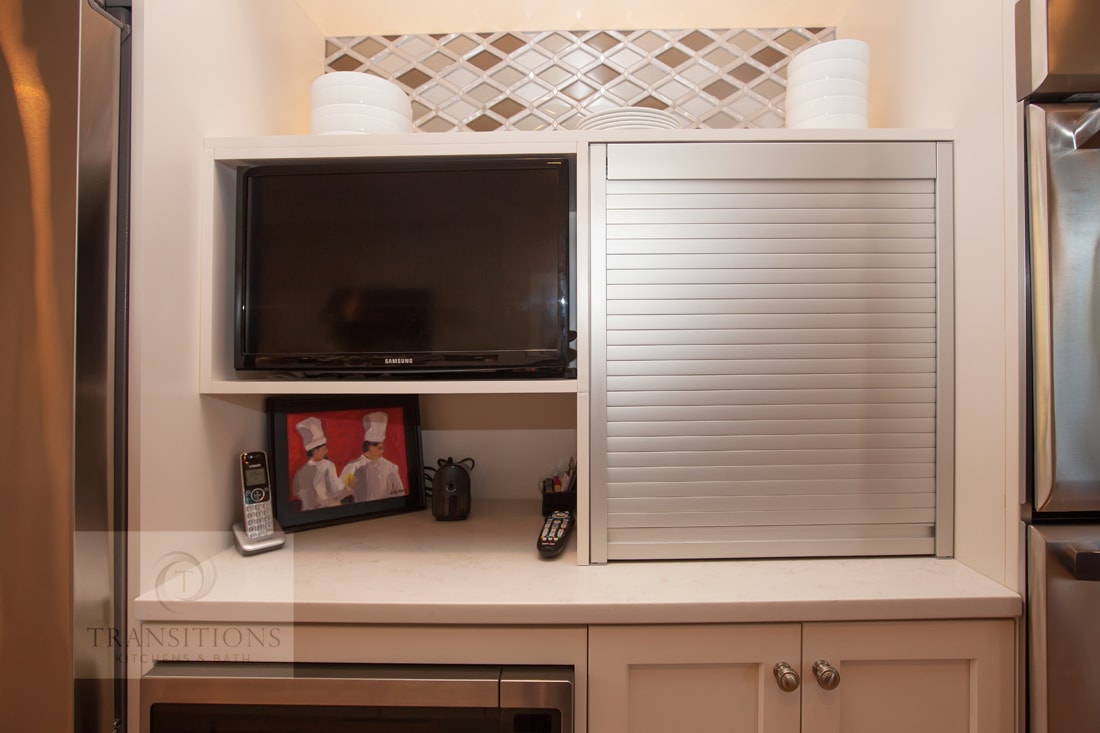 Keeping a Sleek Aesthetic
It's possible to store everything in closed storage to give your kitchen design an uninterrupted flow with a truly sleek appearance. Dishwashers and refrigerators can be integrated behind seamless cabinet doors. Small appliances that are used on countertops can be kept in lower kitchen cabinetry and brought to the surface with handy appliance lifts. Make use of all the empty space in your kitchen design by creating a recessed storage niche in your backsplash to store cooking essentials.
It's easy to utilize the space underneath lower cabinets by making the baseboard a toe kick drawer. A push-activated mechanism lets this hidden drawer open and close, storing a multitude of items such as baking trays and table linens discreetly. Slim, slide-out cabinets are also ideal for vertical spaces and can be transformed into spice racks, narrow pantry storage, or pull outs for cooking utensils. Instead of keeping dishcloths and dish cleaning products by your sink, incorporate a tilt-down compartment in the space at the front of your sink. It's small enough to store these essentials and keep your countertop clean and clear.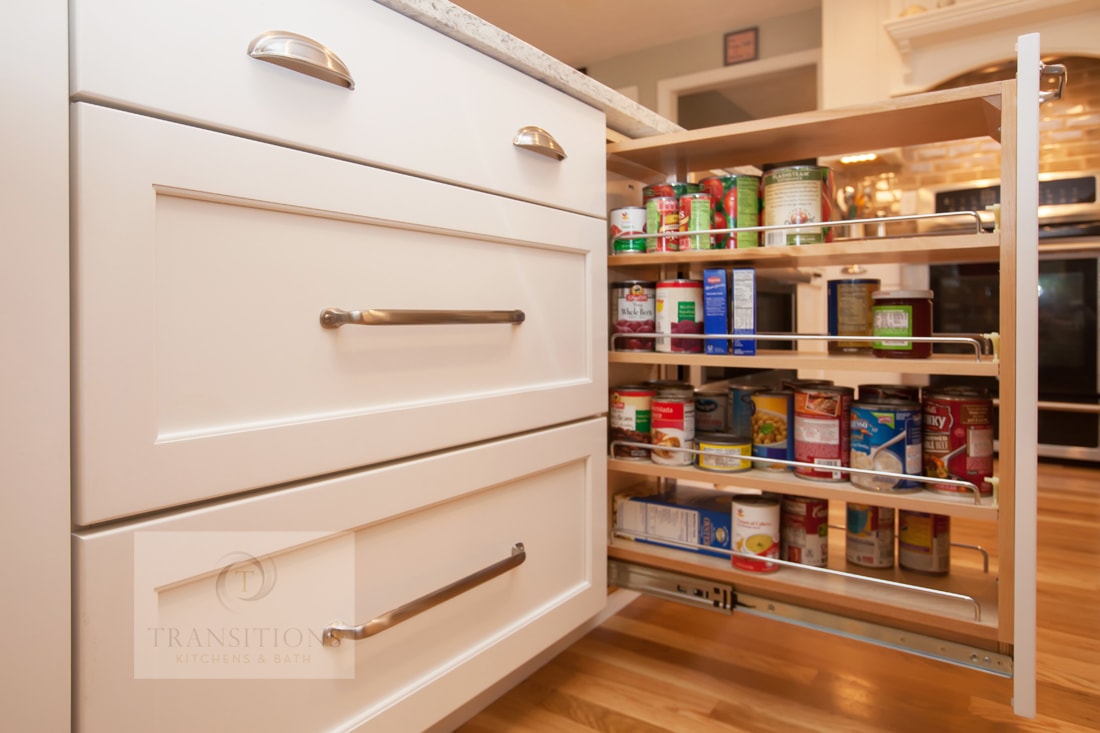 Consider Open Storage
Kitchen design has really embraced open storage, which is still popular as a storage solution. It works especially well in open plan kitchens as you can combine functional and aesthetic items on your shelving throughout the kitchen and living area. It's a more budget-friendly option than installing a row of cabinets, but bear in mind that the newly exposed wall will need to be finished.
Open storage also needs regular maintenance to look good. Dusting and cleaning of shelves and contents is essential, especially if near a stove, which can spatter oil. Open storage also needs to be curated well or it becomes cluttered. Group things in no more than groups of four items, with each item in a group having a similar color, texture, or purpose to create a cohesive design. Small items should be positioned in front of larger ones to create depth.
Open storage can inject a lot of character into a stark kitchen design and achieves a good balance when used in conjunction with cabinetry. A large shelf over lower kitchen cabinets is a good solution. Other practical open storage includes a magnetic strip for knives or spices, a pegboard and invaluable rails and hooks that hold everything from utensils to potted herbs, keeping your workspace free.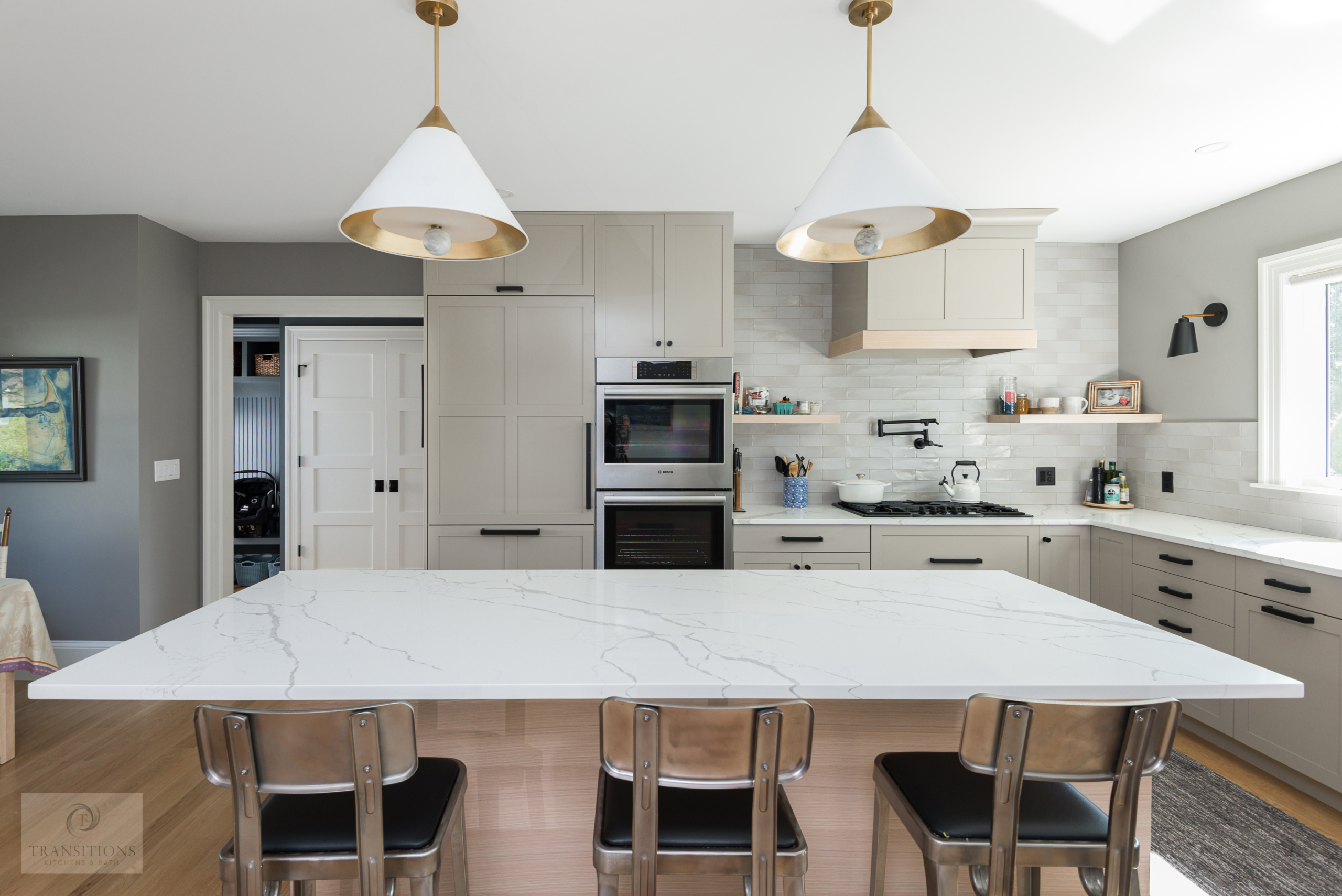 Allocate Pantry Space in Your Remodel
Pantries are the ideal storage solution for a cluttered kitchen design. Custom storage, whether in the form of cabinets or shelving, means that food and cooking essentials can be stored together. Seasonal items, such as Christmas platters, can be stowed away in less accessible storage like a high shelf until needed, without crowding kitchen cabinets.
Use clear containers to organize items in your pantry, so it's easy to see what you have. If you don't have the space for a pantry that's independent of your kitchen, then it's possible to create a pantry within your kitchen design. An alcove with shelving and a bi-fold door makes excellent use of space. Even a kitchen cabinet with solutions like pull-out racks and lazy susans mean you can dedicate a section of your kitchen remodel to functioning as a pantry, increasing efficiency and reducing clutter.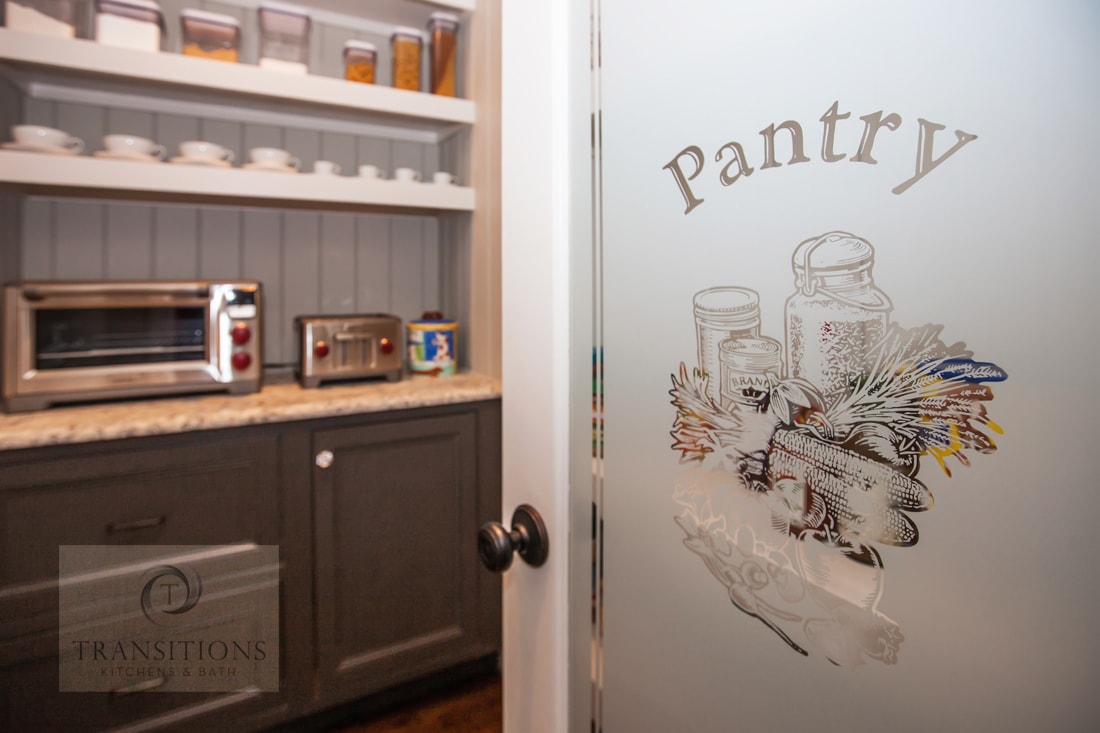 Consolidate in Style
Whether you're keeping things in a pantry, open storage or on a counter, it helps to have containers that suit your design aesthetic. What style have you chosen for your kitchen design? If it's industrial, then metal and tin work well, along with structured wire trays. Baskets and wooden boxes look great with rustic or country styles. Ceramic and glass jars suit most styles and can also provide pops of color. As well as being functional, containers can tie together elements of kitchen design with their texture, color, and style. Also, try to use them unconventionally to store things in a way that brings character to your remodel.  Recipe books can sit in a basket or utensils can be gathered into a cocktail shaker. Don't be afraid to use containers as visual pieces in themselves.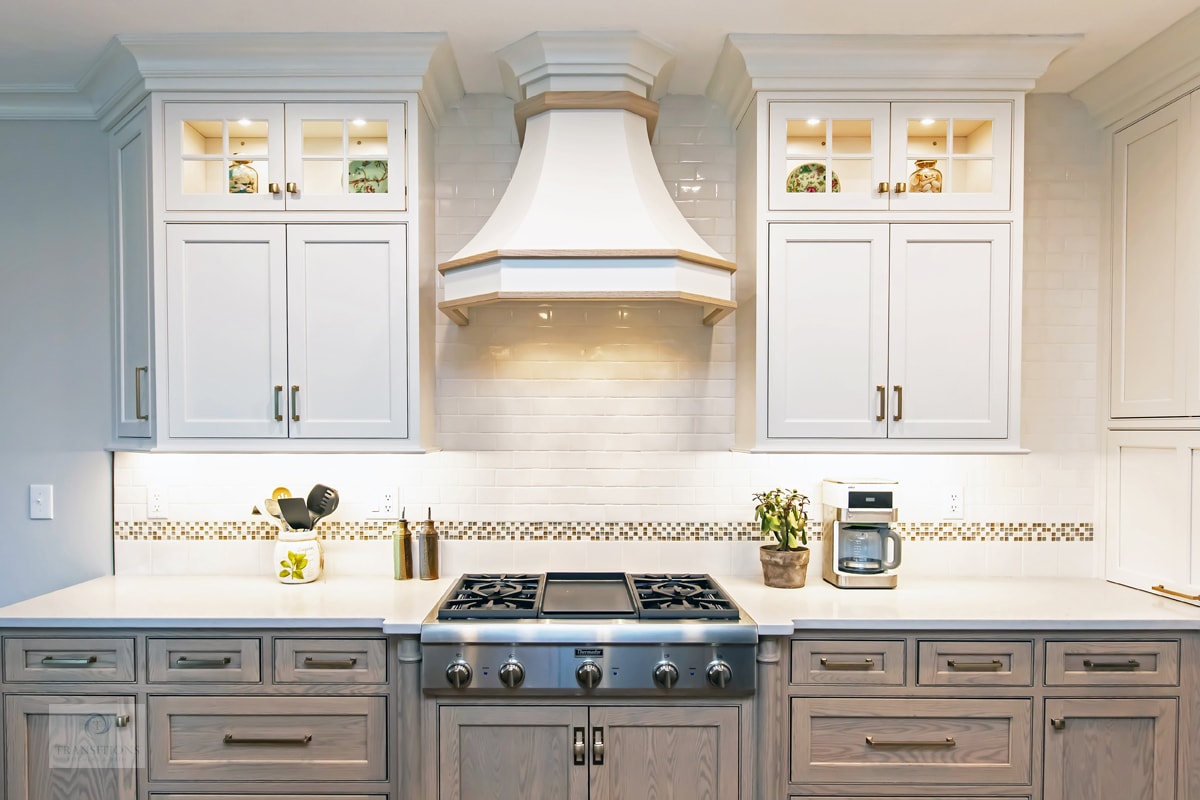 Island Potential
Islands can store a lot, from pet bedding to dishwashers. Modern kitchen design places the island as a focal point. It's where food is prepared and served, and where we work and entertain guests. Incorporating a second island into your kitchen design maximizes storage potential and functionality, making your remodel twice as efficient and stylish. Each island can serve a different purpose, such as one for cooking and one for dining. Both can store items relevant to these functions and keep clutter off valuable counter space. Concealed outlets and charging stations mean technology can be integrated into a kitchen design without wires and devices taking over.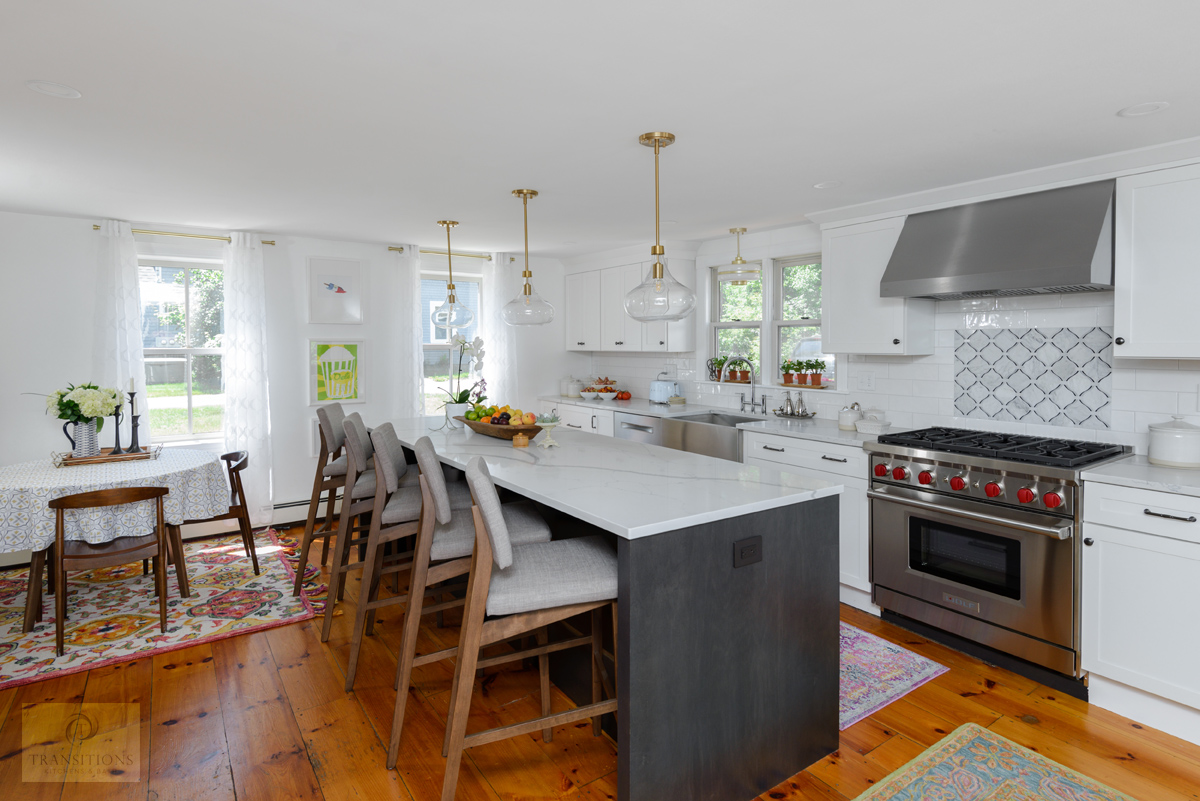 Dedicate A Space to Beverages
Beverage bars are increasingly popular in kitchen design. They're a clever and stylish way of storing all your drink-making requirements. For the coffee afficionado, a built-in coffee machine means water is plumbed directly in for easy brewing and the perfect cup of coffee. A cabinet can hold glasses, cups, and everything else you need for drinks. A mini-fridge stores cold drinks, and you could install a sink to consolidate all functions into one area. Countertop storage can be covered by a custom shutter or doors if you so desire.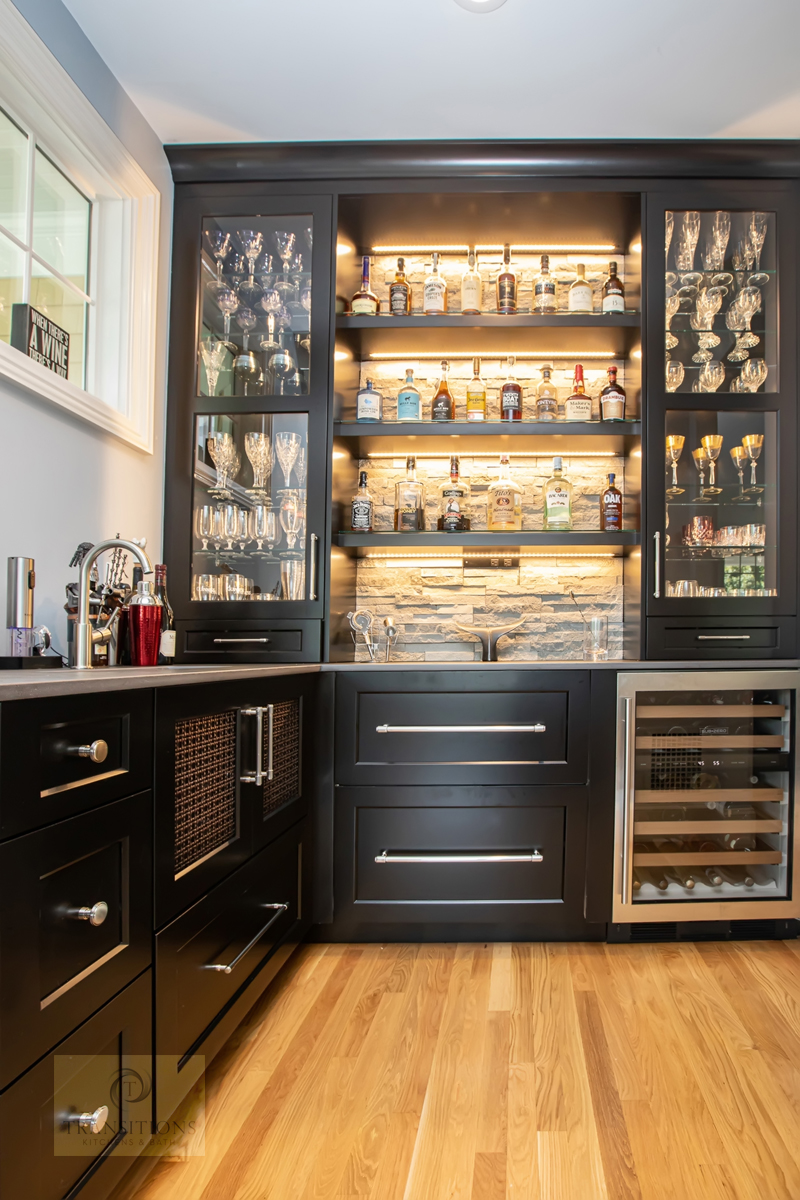 Take time to assess what you need to store and then go through every inch of your kitchen design. If you go for floor-to-ceiling kitchen cabinets, there could still be space at the sides to hang a rail or magnetic strip. Each cabinet has space that can be divided and increased with lazy susans, shelf risers, pull outs, and baskets. Pantries can hold all your essentials, no matter where they're situated. Technology can be integrated into cabinetry as devices are powered and charged out of sight. Beverage bars and integrated appliances all add to streamlined cabinetry and give your kitchen remodel a seamless look that accentuates a design built on clean lines.
At Transitions, we can design your ultimate kitchen remodel with all storage issues catered for in a way that suits your style and requirements. Contact us today to start planning your dream kitchen design today!