Designing a kitchen remodel involves choosing the right flooring, fixtures, and fittings, but a good lighting scheme is what maximizes its potential. Overhead, floor and pendant lights give the optimal mix of light sources in a kitchen design. Adding under- or in-cabinet lighting provides the ultimate warm atmosphere for any kitchen. This lighting also makes it easier to work on your countertops and illuminate anywhere from deep drawers to display cabinets, such as these upper cabinets in Norwell.
Ideally, under cabinet lighting should be installed as part of the lighting plan of your kitchen renovation, but it is possible to add afterwards. This lighting saves energy, especially if you use LED bulbs. In fact, it adds value to your home as details like under cabinet lighting can sell a home much more easily than a dim, coldly-lit kitchen design.
What types of under cabinet lighting are there?
Plug-in lights are straightforward to install. They're attached to the underside of the cabinet and the wire is tacked along to the nearest electrical outlet. Tape or rope LED lights are quite long but you'll need a separate switch for each strip of lights.
Wireless lighting options include fluorescent strips, track or puck halogen lights that are battery-operated. Keep these bulbs to a low wattage as they can overheat. Also keep a supply of batteries at hand and don't forget to turn them off when not in use.
Integrated lighting is built into your cabinets so needs to be factored in at the design stage of your kitchen remodel. Fixtures such as puck lights need to be installed directly into the cabinet. Custom track or strip lighting can fit exactly where you need them. All integrated lighting needs to be installed by a professional to make sure it's completely safe.
Plug-in or wireless are an easy way to quickly add lights to existing cabinetry where you need it. However, integrated lights are the preferred option both from a style and functional perspective and should be included in your kitchen remodeling plans.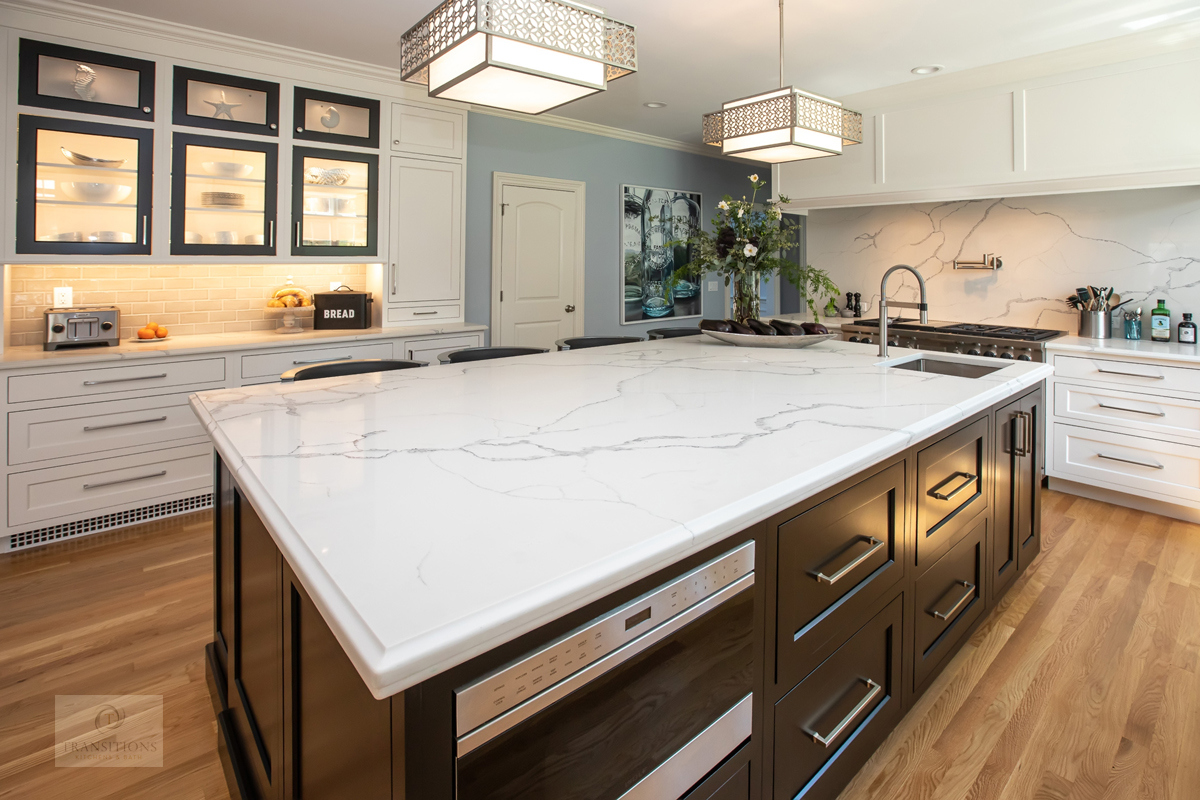 Which bulb should I choose?
LED light bulbs are very popular as they're efficient, long lasting and cool to the touch. However, they are quite expensive and have the weakest and least natural light.
Incandescent and Halogen bulbs are bright, warm and cheap. Neither are sustainable due to high energy consumption and their tendency to overheat means you would need a dimmer control.
Fluorescent lights have vastly improved. Modern versions are slimmer with a more natural cool-toned light that is long-lasting. They are relatively cheap but not as eco-friendly as low-energy LED lights.
Xenon bulbs are expensive as they have a very long life. They burn bright and not too hot and work well when dimmed. They are not as energy efficient as LEDs and fluorescent bulbs.
What color would work best?
It's imperative to get the bulb color, temperature and brightness right or your kitchen design will either look cold or too yellow. In general, if your color scheme is warm then choose warm lighting, and cooler for white, gray, or blue toned remodels.  LED lights are naturally cool toned but can be altered with a colored lens. The brightness also depends on the finish of your cabinetry and countertops. If your countertop is very reflective, then your task lighting can be frosted to prevent glare. This white kitchen design in Marshfield has a softly lit alcove that gets the lighting balance just right.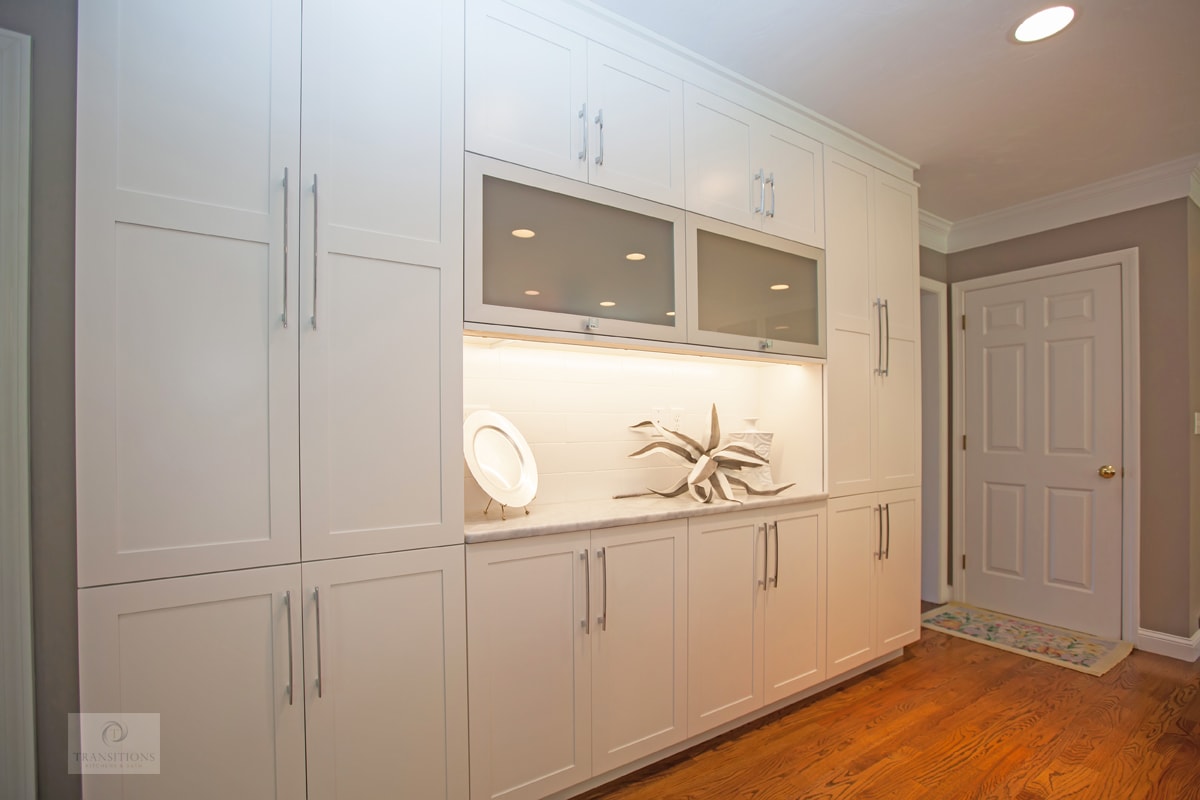 Does it matter where I place the lighting?
Under cabinet lighting needs to be under the upper cabinets and towards the front to fully illuminate the countertop. Integrated lighting covers large areas, but puck lights need to be evenly spaced. If they're too far apart, there will be places left in darkness. Including under cabinet lights at the design stage means you can plan how to conceal wires and exactly where to position your lights.
Properly done, under cabinet lighting beautifully finishes a kitchen design. By placing it over counters, in glass front cabinets, under shelving and in storage areas, you are stylishly brightening every corner of your kitchen. This lighting provides targeted light to work under and displays items and gives a relaxing atmosphere with soothing ambient light. Contact us today to discuss a new lighting plan for your next kitchen remodel. Your dream kitchen design is only a phone call away.