Undertaking a kitchen or
bathroom renovation
can feel overwhelming with the number of choices to be made. If you are remodeling your kitchen or bathroom, it's important to decide on the style that appeals to you and complements your home's interior design as a whole. Once you know what your preferred style is, then it is easier to choose all elements of your design as you can eliminate anything that does not fit with your plan. Establishing a style lets you accessorize with ease as you are going with your individual preferences and making your kitchen or bath remodel a place where you can live comfortably.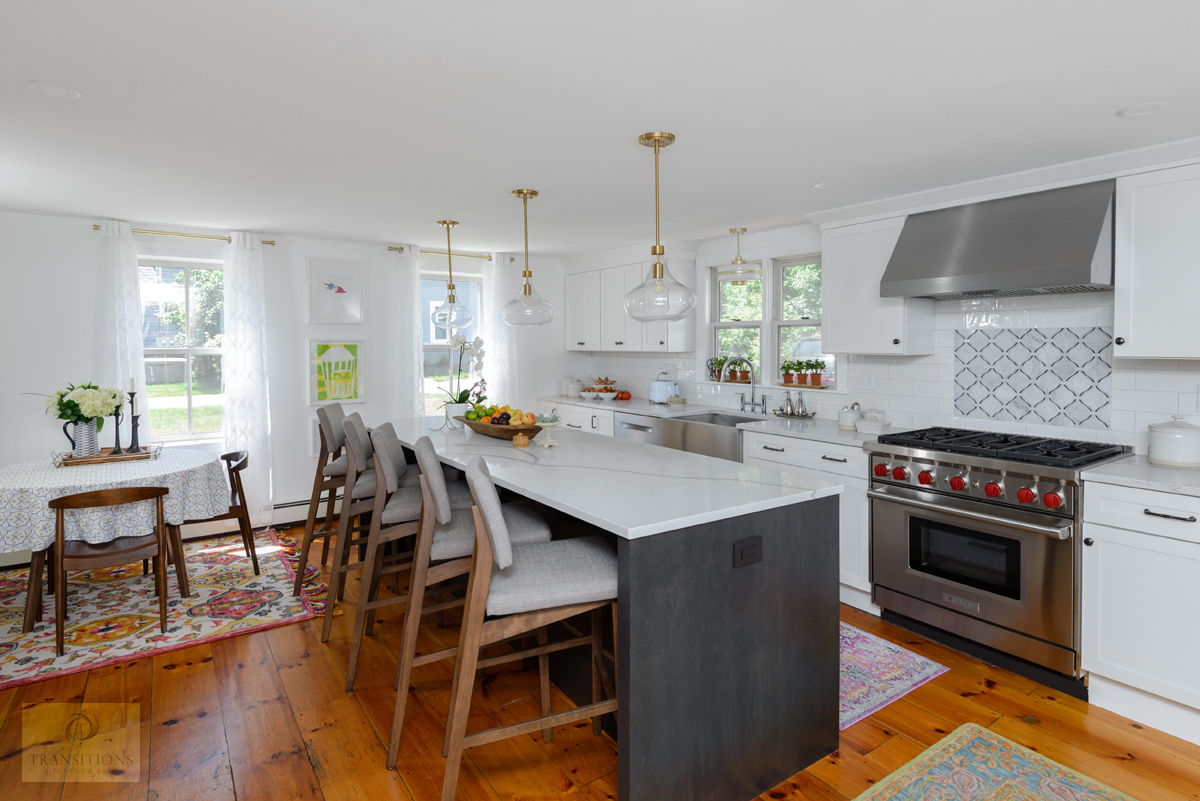 Do not assume that the style you've always chosen in the past is still right for you. Take time to look at all
kitchen and bathroom design styles and current trends
and you may be surprised what appeals to you. A different style might ensure that your design achieves better functionality, easier maintenance, and stays in vogue longer.
If elements of different styles appeal to you, you could go for an eclectic look that pairs your favorite elements of each style in a balanced, cohesive design. Consider your color, pattern, and texture preferences. Do you like clean lines or elaborate detail? Rich walls or neutrals? Whatever you choose is going to be true to you and won't compromise on form or function if you make an informed decision.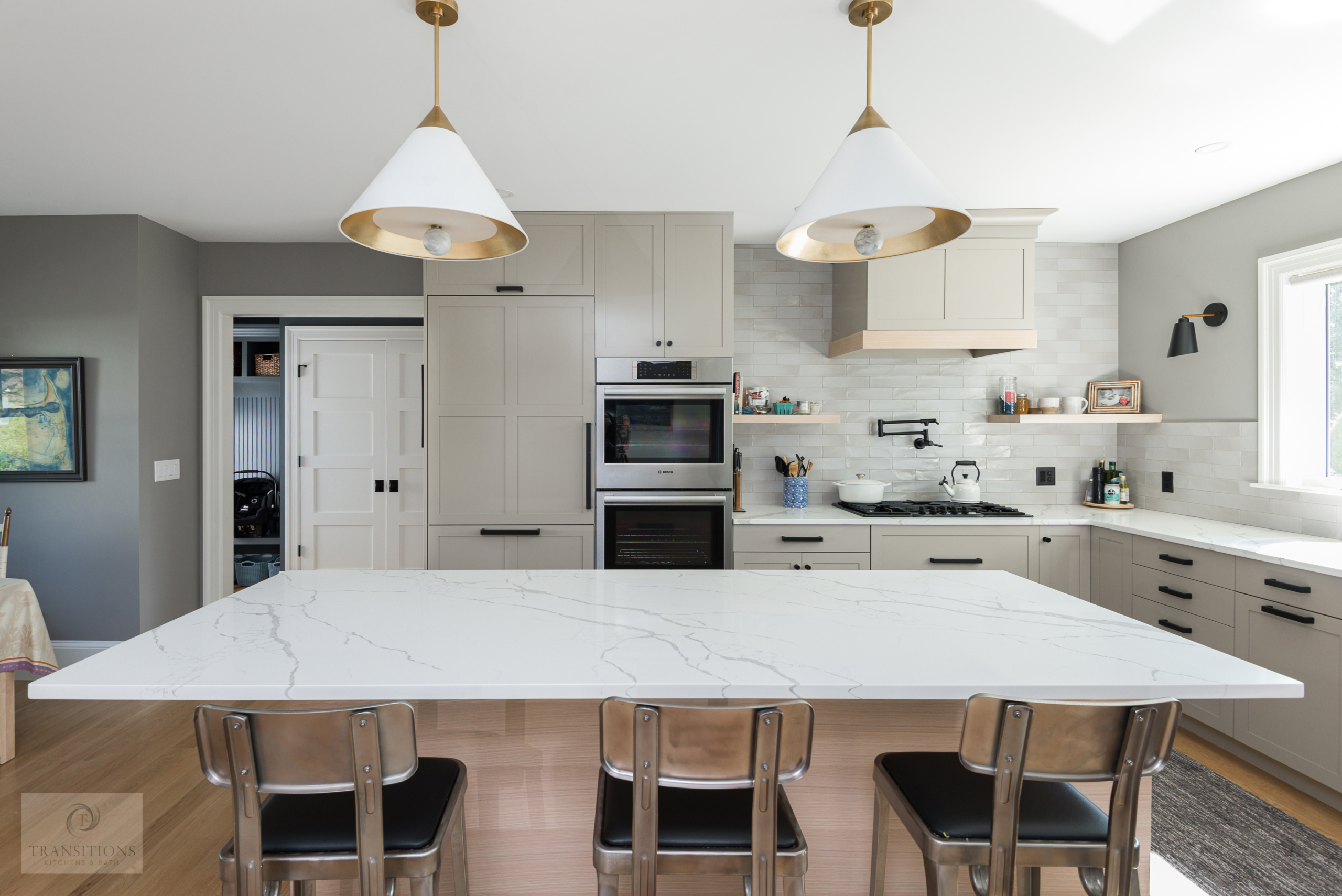 Read on for our guide to
kitchen and bath design
styles.
LAYOUT
The main objective of a kitchen or bathroom design layout is to maximize efficiency of your available footprint. Choosing a style that does not work with your layout is also an option if you can change the position of key fixtures, remove an internal wall, or bump out a wall to increase your space.  Be aware any necessary changes or repositioning of plumbing or electricity will increase your budget. Changes that increase storage and enable easier navigation around your room are an investment that will enhance your lifestyle and that can be enhanced by the style of your bath or kitchen design.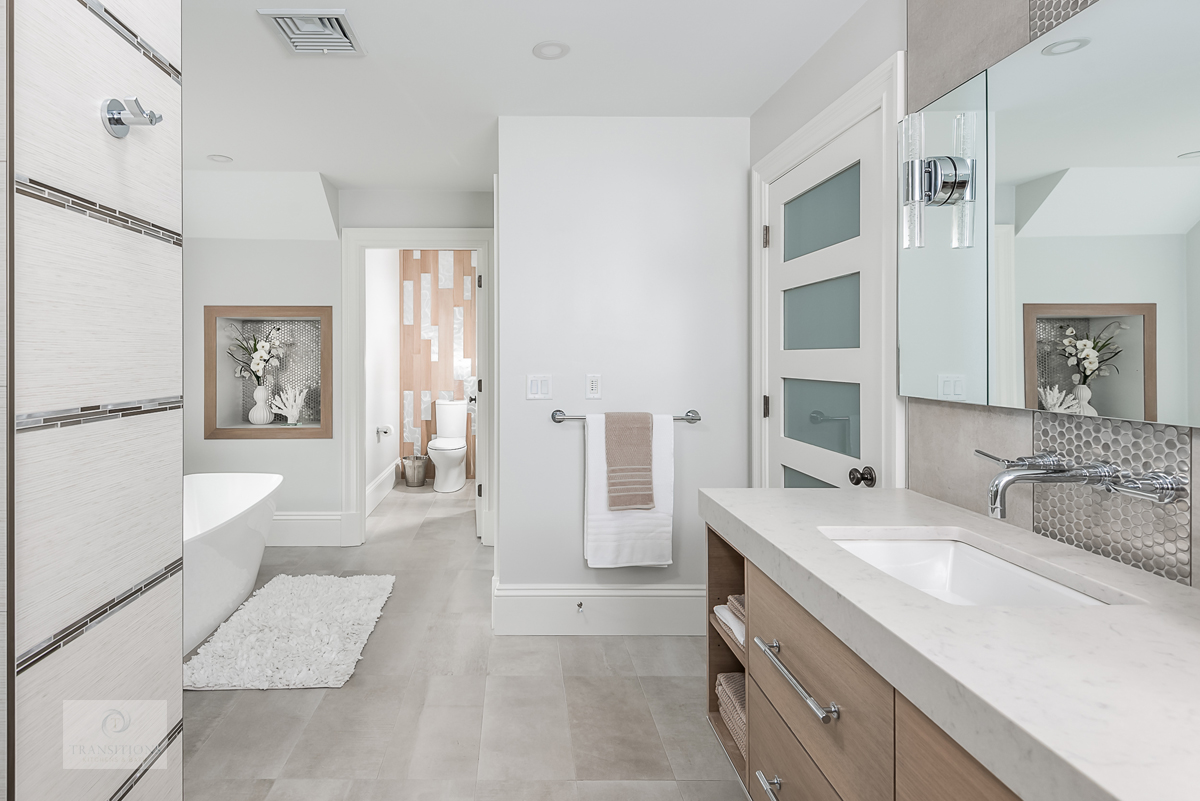 Bathrooms
There are several types of bath layouts that typically look like the following:
A Full Bath layout has a sink, toilet, shower, and tub plumbed along one wall.
A Three-Quarter Bath is the same layout minus a tub.
A Versatile Bath involves a shower and tub on one side and a toilet and sink on the other. There is also space for a walk-in shower design, shower tub or a double vanity in this layout.
Additions to any layout are possible, such as placing a half wall or a vanity along one side of a toilet for increased privacy.
Luxurious layout additions include a custom alcove for a tub or a separate toilet compartment for added privacy. A large master bathroom design allows for complete customization in a layout tailored to your space and your design requirements. Such investments always add value to your home.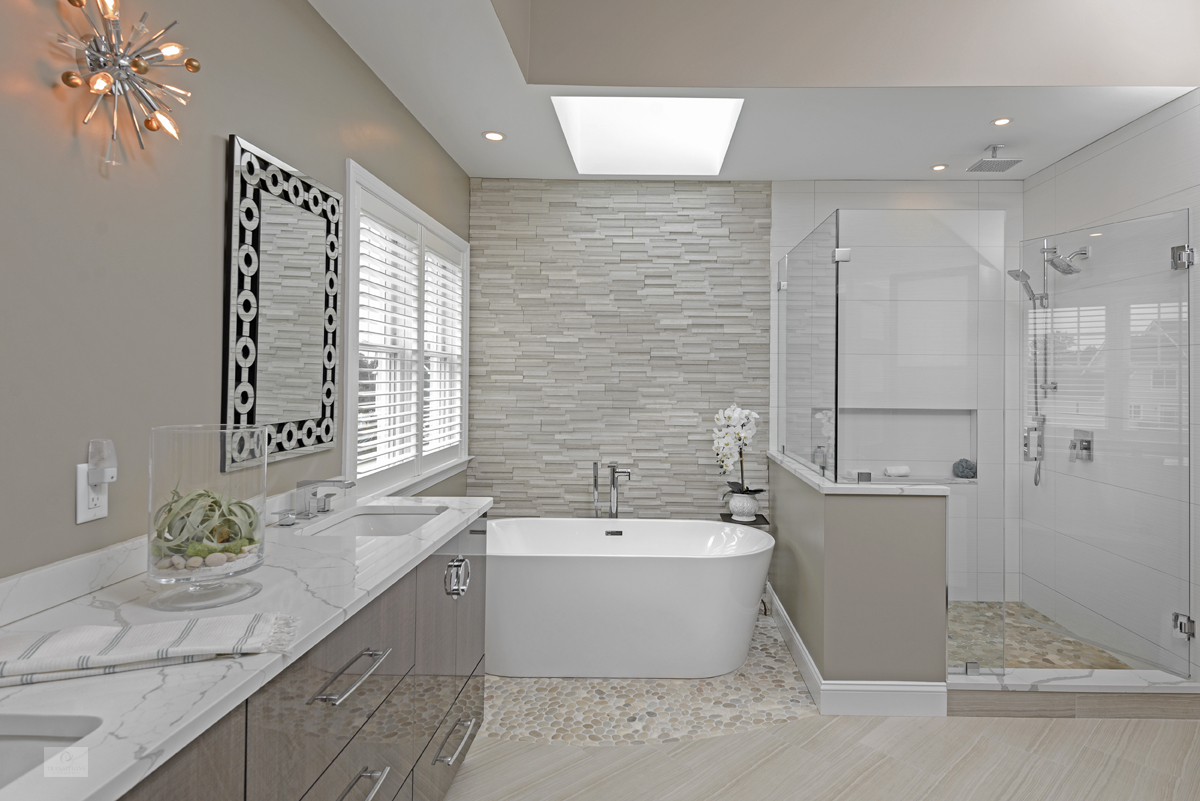 Kitchens
Kitchen layouts can be broken down into several basic types:
An L-Shaped layout is built along two walls, with cabinetry sitting in an L-shape.
A U-Shaped design incorporates three walls of kitchen cabinets and workspace.
A Peninsula layout has a counter, and possibly cabinets, extending out from a wall or countertop for increased surface and storage.
An Island kitchen makes a feature of an island in the center of the design.
A Galley kitchen puts cabinets and appliances opposite each other in a long, narrow space.
In a One-Wall kitchen layout all essential kitchen design elements are position alongside each other on one wall.
There are many design styles to choose from, so choose a look that expresses your personality and enhances your lifestyle. At Transitions, we offer a wide array of kitchen and bathroom design features that incorporate the latest looks, technology, and storage innovations.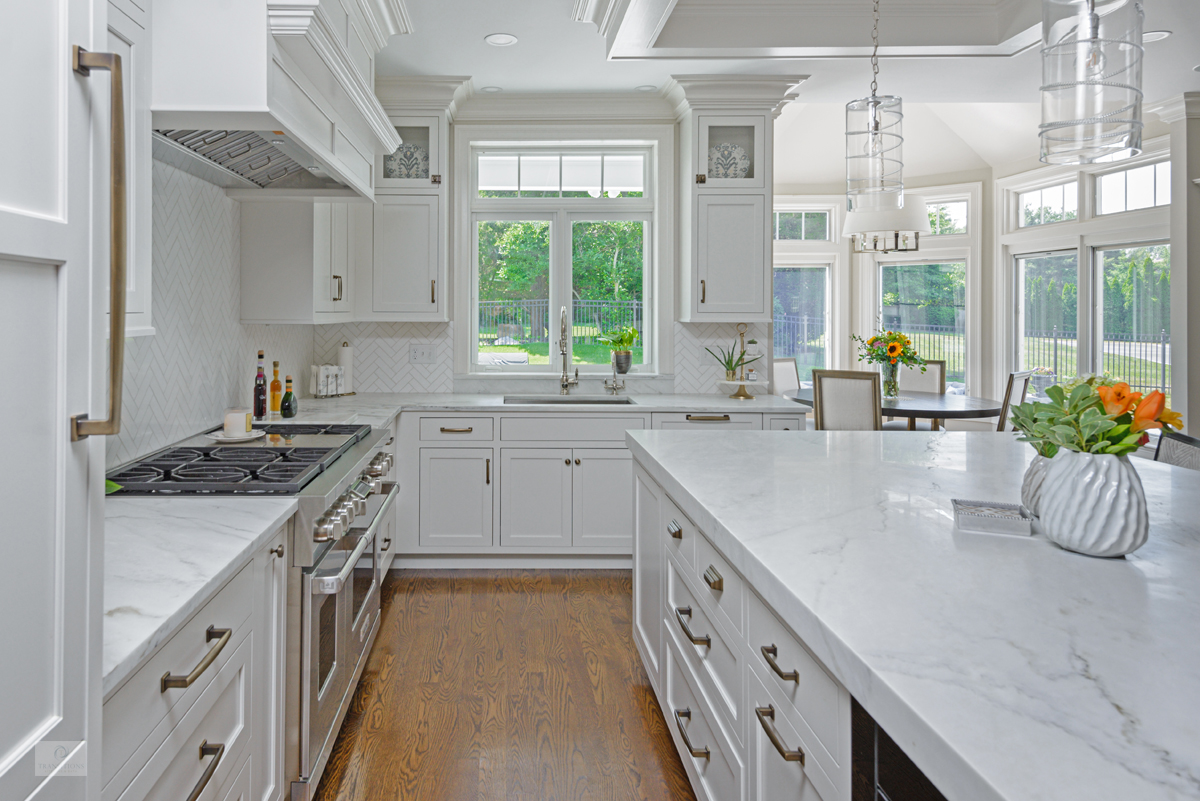 Here are some of the most popular bath and kitchen design styles:
MODERN
Do you want a structured look that has strong, clean lines but is also functional and stylish? Consider a modern style for your kitchen or bath remodel. Modernism was a movement from the first half of the twentieth century with minimalism at its core. Choose high-end materials for this look and steer clear of cabinetry hardware or pedestal sinks that distract from the simple beauty of a modern kitchen or bathroom design. Floating vanities contribute to the feeling of low maintenance and flow in a modern space and give your master bath design a spa-like vibe! Keep colors simple and go for neutral or monochrome palettes.
CONTEMPORARY
Contemporary design also focuses on minimalism, but it combines this with current trends from different styles, bringing more warmth to a contemporary space. It's best to keep your contemporary color palette to two colors. Include striking focal points and accessories but keep these elements to as few as possible. This ensures that your contemporary design has plenty of character without being overwhelming.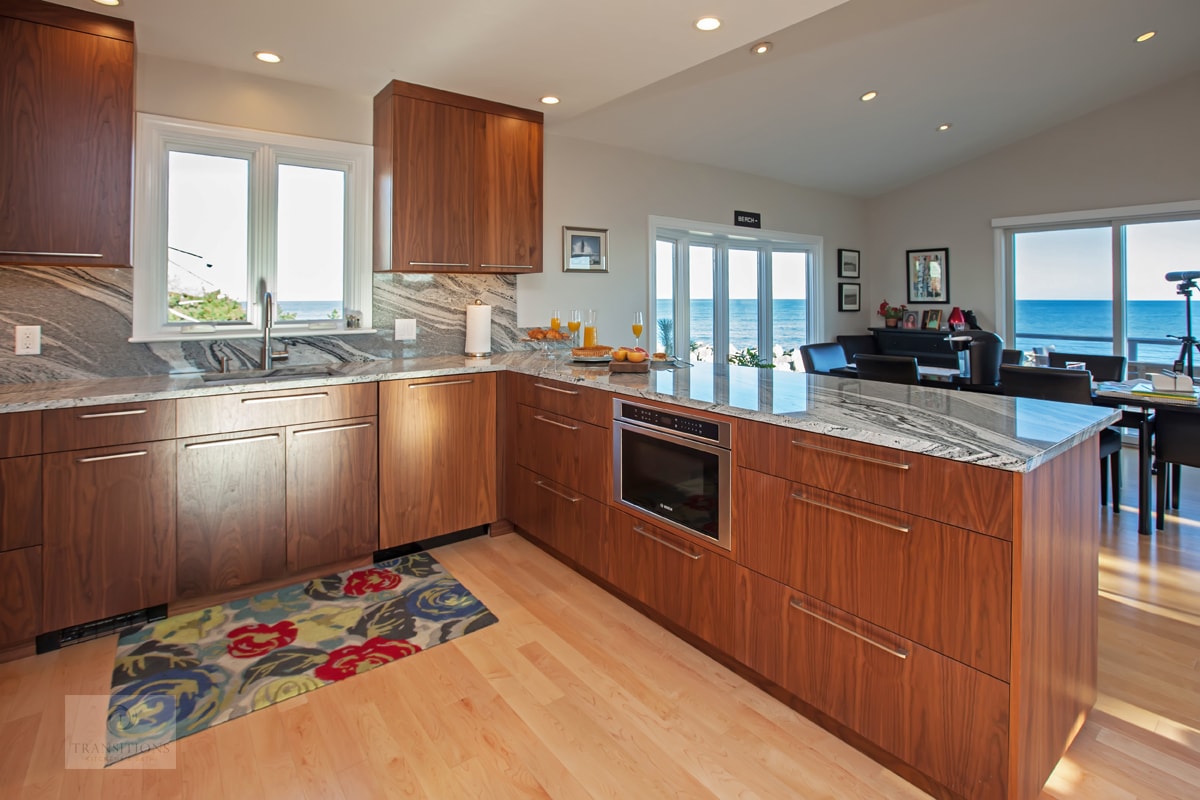 TRADITIONAL
A Traditional look is all about detail and embellishment in your kitchen or bath remodel. Traditional style takes inspiration from soft, natural colors and then adds richer and deeper tones like ornate, dark wood cabinetry. Nature is also a theme in materials used in a traditional bathroom or kitchen design. Natural materials such as stone and wood are popular in countertops, backsplashes, and floors in traditional spaces, paired with ornate fixtures and fittings. Carved cabinet doors, chandeliers, or clawfoot tubs are all excellent features in a traditional kitchen or bathroom design.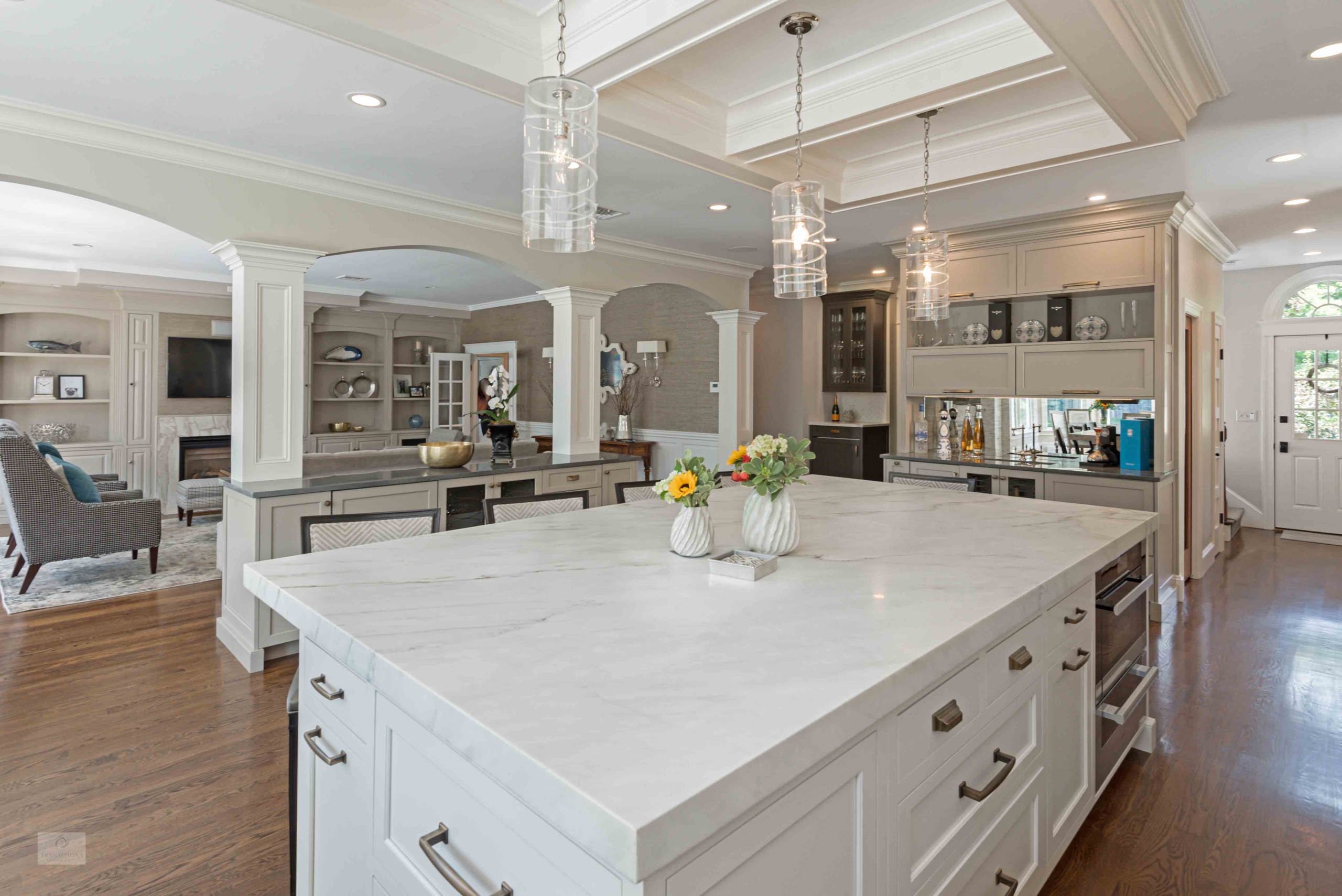 TRANSITIONAL
Transitional style kitchen and bath design is a combination of Traditional and Contemporary styles, bringing together the best of both design styles. It focuses on a soft aesthetic, to embody a feeling of comfort. This means it is as important to prioritize your lifestyle requirements as it is to focus on how your design looks. Nothing in a transitional space is too fussy, as it takes traditional furniture and fixtures and opts for sleeker versions with the same homey feel. Shaker cabinets are perfect for a transitional kitchen or bath remodel. Keep your color palette neutral or gray with organic textures and minimal accessorizing. With transitional designs you must focus on comfort and calmness more than anything else.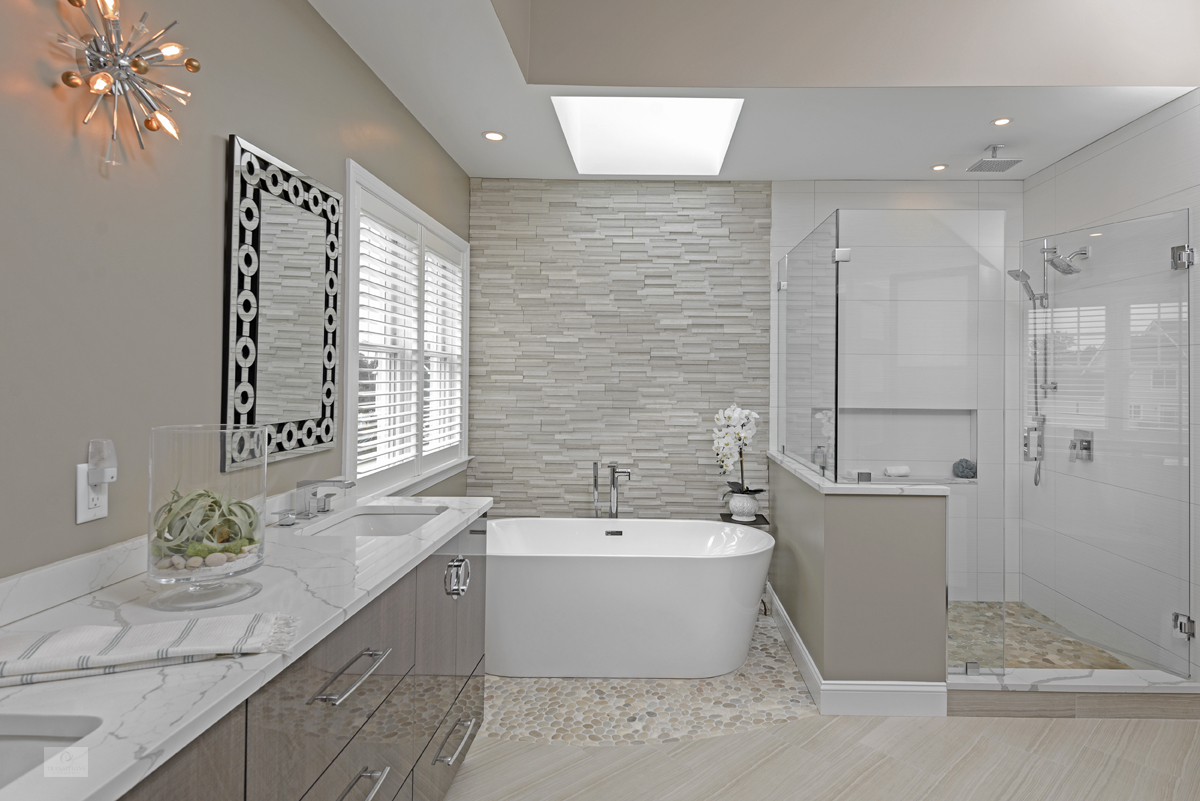 COASTAL STYLE
Beachy or nautical color palettes are perfect in bath and kitchen design. Open plan kitchen remodels can look stunning with coastal inspired kitchen cabinets, floors, and walls as this bounces light around the room. Keeping a white or neutral palette also lets you play with texture and incorporate organic materials like rope, reclaimed wood, rattan, and natural stone. Navy is a great color to pair with white, especially if you want to contrast upper and lower kitchen cabinets. Pastel or tropical tones such as sky blue or warm coral are also good colors for a coastal kitchen or bathroom design. Accessorize with maritime style brass hardware or add shells, pebbles, and waterscapes for the finishing touch.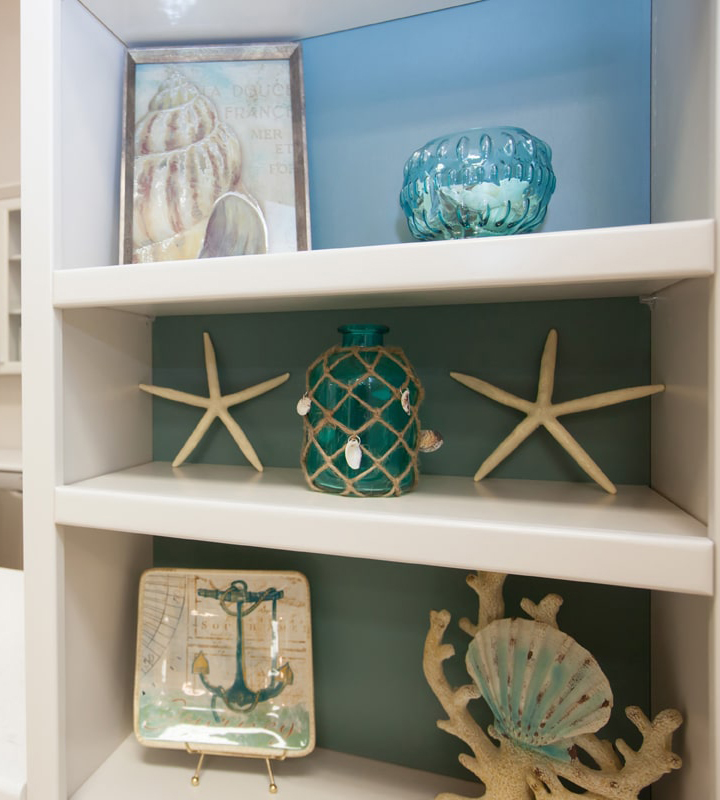 INDUSTRIAL
An Industrial kitchen or bath remodel has an urban edge and with functionality at its forefront. Inspired by repurposed factories, it uses materials that are manufactured and exposes elements that would usually be concealed. Exposed plumbing and stainless-steel shelving are examples of this warehouse apartment look. Bricks, concrete, gray steel, and rust tones all juxtapose well with chic white ceramics or matte black hardware. Strong lines and minimalism are the order of the day in this aesthetic. Filament light bulbs and organic, worn textiles such as leather or linen, bring coziness to this structured, open look.
RUSTIC
Filament bulbs and open shelving are also used in rustic bathroom and kitchen design, but this overall style is warmer in tone than Industrial design. The Rustic look is all about warm colors and textures and incorporating natural materials. Furniture and fixtures should have distressed or brushed finishes, not matte or gloss surfaces. It's primarily a masculine aesthetic where distressed leather and live edge wooden furniture strike the perfect balance with sheepskin throws, natural stone countertops and bright, copper farmhouse sinks.
CRAFTSMAN
Craftsman style kitchen and bath remodels focus on character and individuality. It is a look that embraces clean lines and earthy tones like gray, beige, greige, green, and white. The Craftsman aesthetic has roots in the early twentieth century and was a counterpoint to the introduction of mass production. This kitchen and bathroom design style takes inspiration from well-crafted pieces made from high quality materials put together in a calm way that lets the focus remain on the craftsmanship. Natural stone countertops and wooden floors are the cornerstone of this design. Large windows, stained glass, and shelves in alcoves with reading nooks are all examples of this elegant, yet cozy look.
MEDITERRANEAN
Not inspired by a time, but a place, Mediterranean design takes its lead from this coastal region. It encourages bright, rich colors that are prevalent in classic Spanish design. Whitewashed walls are a surefire way of getting this style, but also bring blues, oranges, yellows, terracotta and sand shades into your kitchen or bath remodel to feel enveloped in warmth. Stay with traditional materials like natural wood and stone, brick, and ceramics. Large rustic tables, exposed wooden beams, and colorful tiles are all part of this charming look.
ECLECTIC
If you cannot choose one style, why not opt for a combination of your favorites? This is called Eclectic design and it results in a kitchen or bathroom remodel that is unique to your personal style and requirements. An eclectic style is not simply a case of putting several elements together as it takes planning and discipline to prevent a chaotic result. Start with minimalism and a layout that has clean lines and structure. Then choose a theme to pull together the colors, patterns, textures, fixtures, and fittings you have chosen. Storage is especially important in this look, so design custom storage to streamline and conceal clutter and put the focus on curated eclecticism.
Your kitchen or bath design style should suit your taste and layout. It should also be achievable within your budget and sympathetic to the rest of your home's style. Whether you choose a traditional, rustic, or industrial look, there is a vast range of fixtures, fittings, cabinetry, furniture, and accessories to choose from. Knowing your style narrows this choice considerably and takes the stress out of decision making. At Transitions, our team can guide you through your remodel, from choosing a style to installing the finishing touches. Talk to us today and we can advise you on your ultimate kitchen or bathroom design.