2023 is finally here and it brings with it a host of exciting new design trends for
kitchen and bath design
. Homeowners are looking for designs that increase both convenience and style in kitchens and bathrooms. People want to put their own stamp on designs alongside embracing the latest looks.
Multifunctional spaces are bigger with more integrated technology. Bold colors and patterns are coming to the forefront to enliven these large spaces. Tubs are taking center stage in relaxing bath designs and islands are an indispensable component of kitchen design. Unexpected color alongside natural wood and stone will also be a defining feature of interiors this year.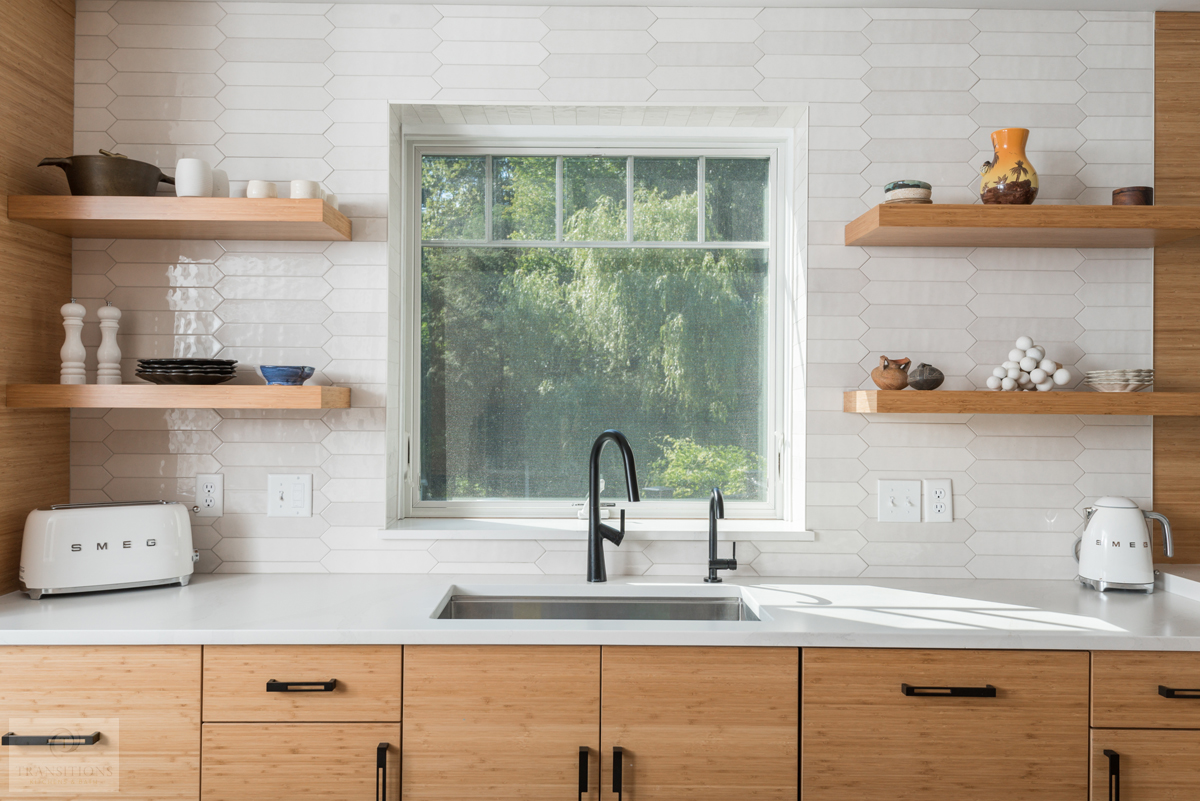 Here are ten of the top
kitchen and bathroom design trends
for 2023.
KITCHEN DESIGN
1. Designer Tiles
Ties are getting a new look with a twist this year. Tiles with textures and unusual shapes add dimension to a space and can reflect light around the room. Hand-crafted or highly detailed tiles take a kitchen backsplash to the next level, adding interest to minimalist, sleek cabinetry. Putting textured tiles beside a flat surface also helps them become a focal point while bringing depth to a space.
Geometric patterns are another welcome addition to this year's kitchen designs and can also be used to make a feature area by creating a block of color within the pattern. You can arrange geometric or patterned tiles any way you like, to make your kitchen design unique.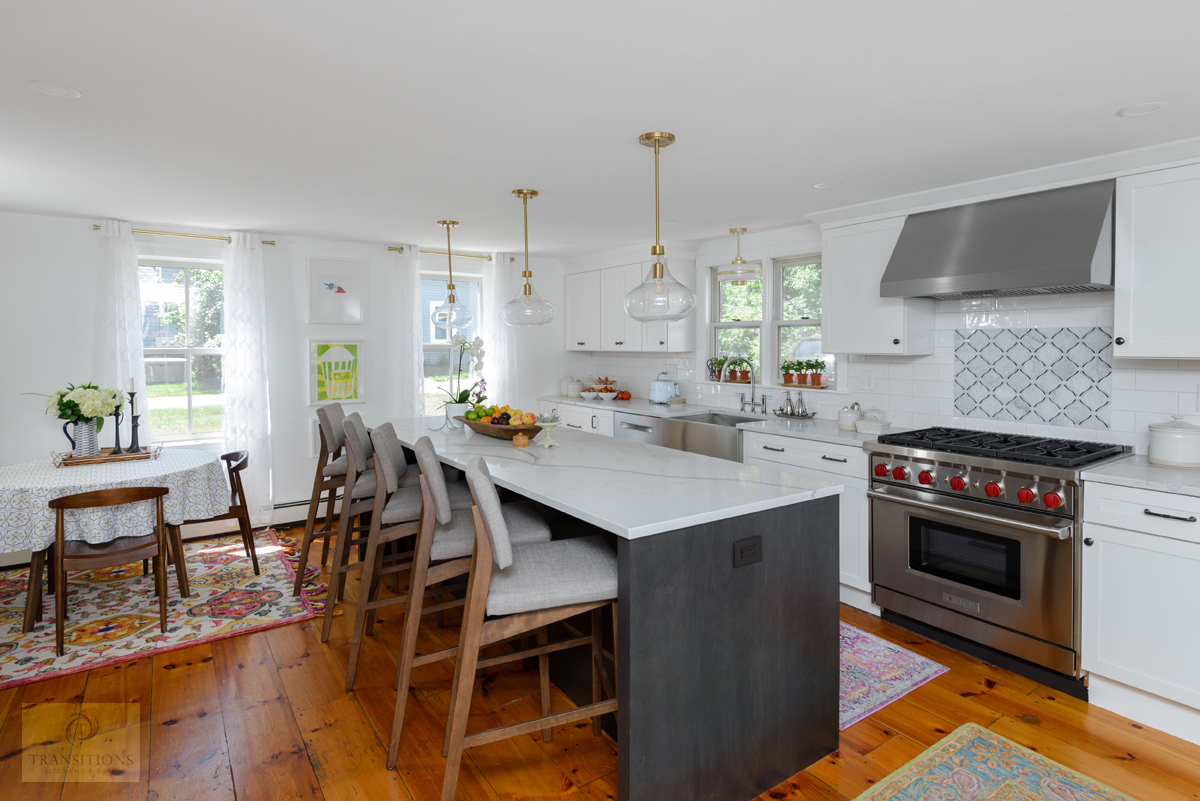 Boldly colored tiles also make a statement in this year's rich blue, green, and pink tones. If you're going for a classic white kitchen design, consider letting your personality shine through with your choice of tiles for a contrasting backsplash.
2. Deluxe Custom Beverage Bars
Deluxe custom beverage bars are rapidly increasing in popularity. Large, open plan kitchens are the perfect space to put floor to ceiling wine cabinets to ensure that your collection is at the perfect temperature These are the modern versions of wine cellars, but so much easier to access!
Custom storage turns your wine collection into a design feature. These cabinets have UV tempered glass and dimmed LED lighting to prevent altering the wine's color or taste. Why not elevate your beverage bar by choosing this year's industrial design open storage version that hangs on a wall. Using on trend metal adds interest to expansive cabinetry designs and lets your beverage bar become a stylish focal point.
You can also customize your beverage bar to your specific needs. For example, add a separate beverage refrigerator that is only for the kids' soft drinks, set apart from your wine refrigerator.  If another drink, like coffee or gin and tonics is your preferred beverage, then gear your storage and display space around this. Include a built-in coffee maker or custom storage for your glassware and drink supplies.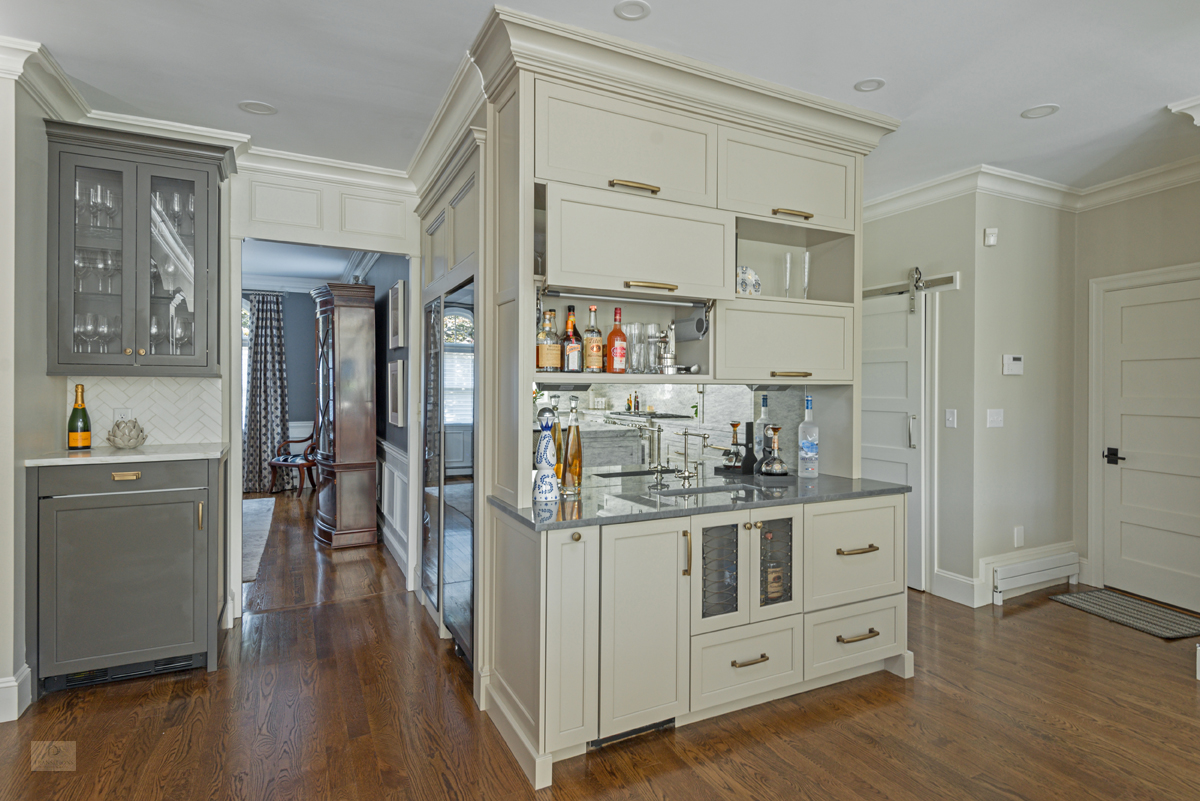 3. Wood as a Feature
Update your kitchen design by mixing natural and painted wood. The organic trend favors natural materials, so use a stain that will let the wood's grain shine through. Try placing a painted storage unit on a natural wood countertop or painting the legs of a table with a sanded and waxed top.
Oak is a classic, warm toned timber that is back in demand for kitchen remodeling. A good way to draw the warmth from natural wood is to contrast it with cooler tones such as blues, grays, or greens in natural stone. Conversely, neutral cabinets and walls let wood countertops become a design statement as their natural hues and texture are placed front and center.
4. Statement Lighting
Decorative lighting is becoming more important as an element of kitchen design. Recessed lighting has often been the default option for kitchen remodels in the past. As tiles and colors become more adventurous, so too does lighting.
Oversized pendant lighting is ideal over an island or dining table. Ornate bar lighting can also illuminate the whole length of these areas and make an equally strong style statement. Introducing this year's mixed metal trend into your lighting scheme will instantly take your remodel from average to high-end. As with any eclectic color grouping, keep to the same tonal range to avoid a jarring result. Consider unique lighting for your kitchen design to make a functional feature become a design element.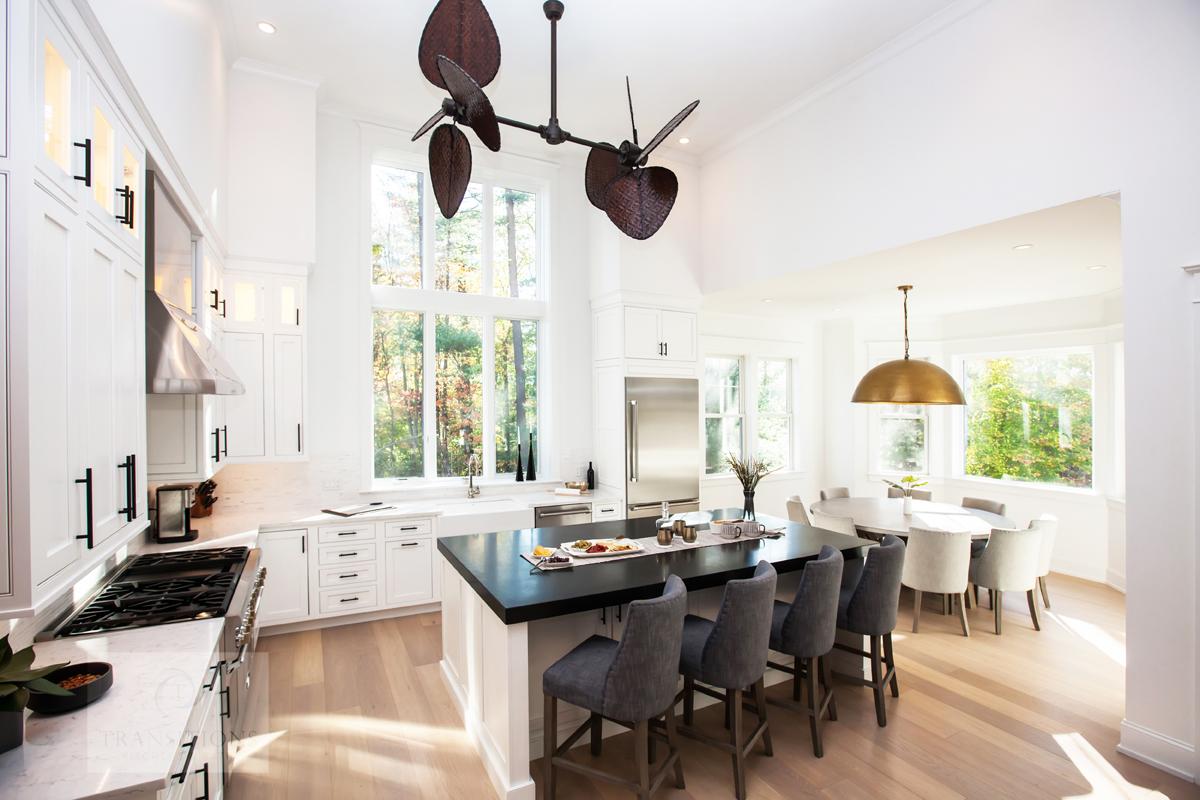 5. Islands as a Focal Point
Kitchen islands are a huge selling point for a house, and so are a worthwhile investment when planning a kitchen design. Islands are the central part of a multifunctional kitchen design, providing dining, entertaining, work, and food prep areas.
These socially focused hubs are evolving to take the place of formal dining rooms as kitchens become more spacious. An expansive island, perhaps in an L- or T-shaped configuration, or two islands reduces the need for a kitchen table and makes entertaining easier.
Island seating will be more in demand next year as everyone gravitates to this central part of the kitchen. A boldly colored island is a great way to enliven a white or muted kitchen design. You could embrace the organic trend and go for a durable butcher-block island countertop. Include workspace in a food prep zone and add storage for large and small appliances.
The ultimate in luxurious looks is the stone waterfall island countertop. The natural stone countertop sweeps down the side of the island and into a similar stone floor or a contrasting hardwood floor for a truly dramatic kitchen design statement.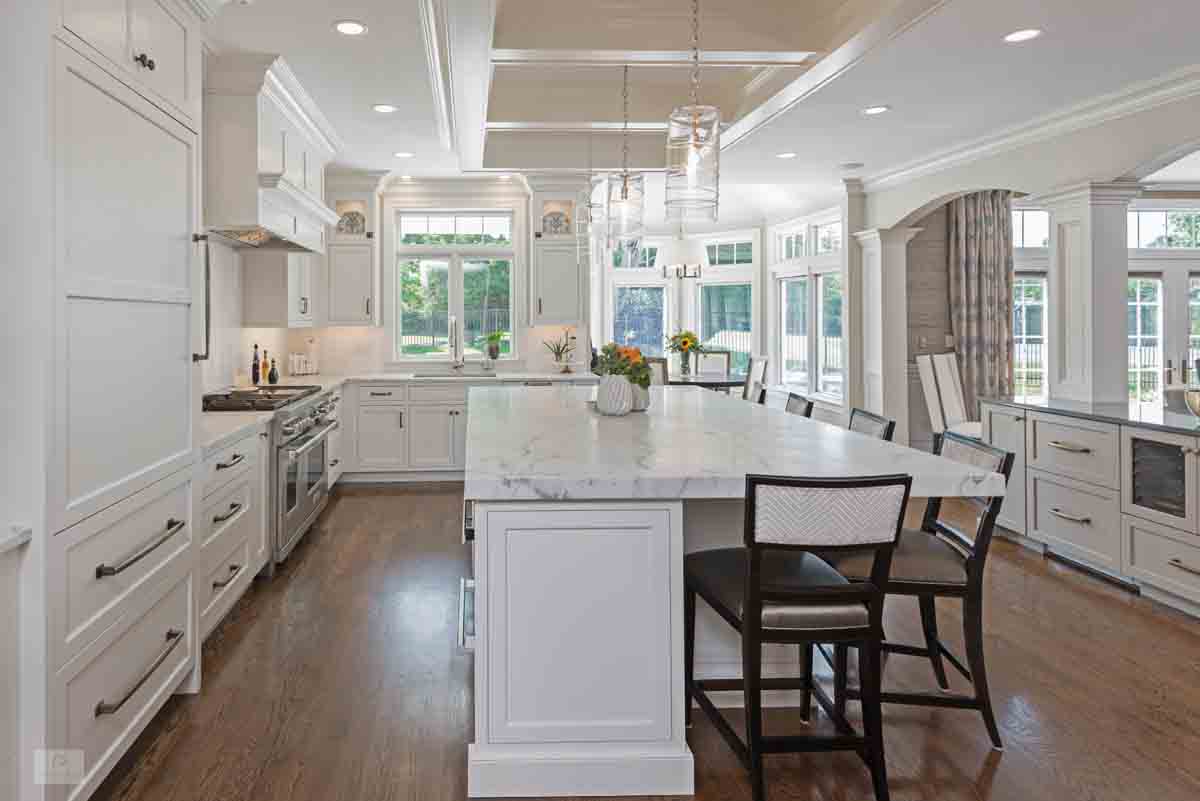 BATHROOM DESIGN
1. Smart Technology
Smart technology has become integrated into most facets of our lives. Bath design is no exception as tech gadgets make our lives easier than ever. Homeowners are excited about many technological advances in elements of bath design, such as auto-adjusting vents that control the temperature based on programmed settings and thermostat smart controls for heated flooring and showers.
App controlled and voice-activated showerheads, touchless faucets, and motion sensor lighting save time and energy in a smart bath remodel. Shower toilets (also known as bidet toilets or washlets) can save each family member's preferred water and air pressure as well as temperature for the ultimate smart toilet and bidet in one.
Music can be voice-activated during a shower along with water temperature and lights. Smart mirrors or mirrored medicine cabinets double up as touch screen devices that won't mist over in the bathroom. Incorporating technology can improve all aspects of your bath remodel.
2. Unique Touches
Over the coming year we will see more unique decor in bathroom designs. These individual design touches transform a functional or impersonal space into one that expresses your style.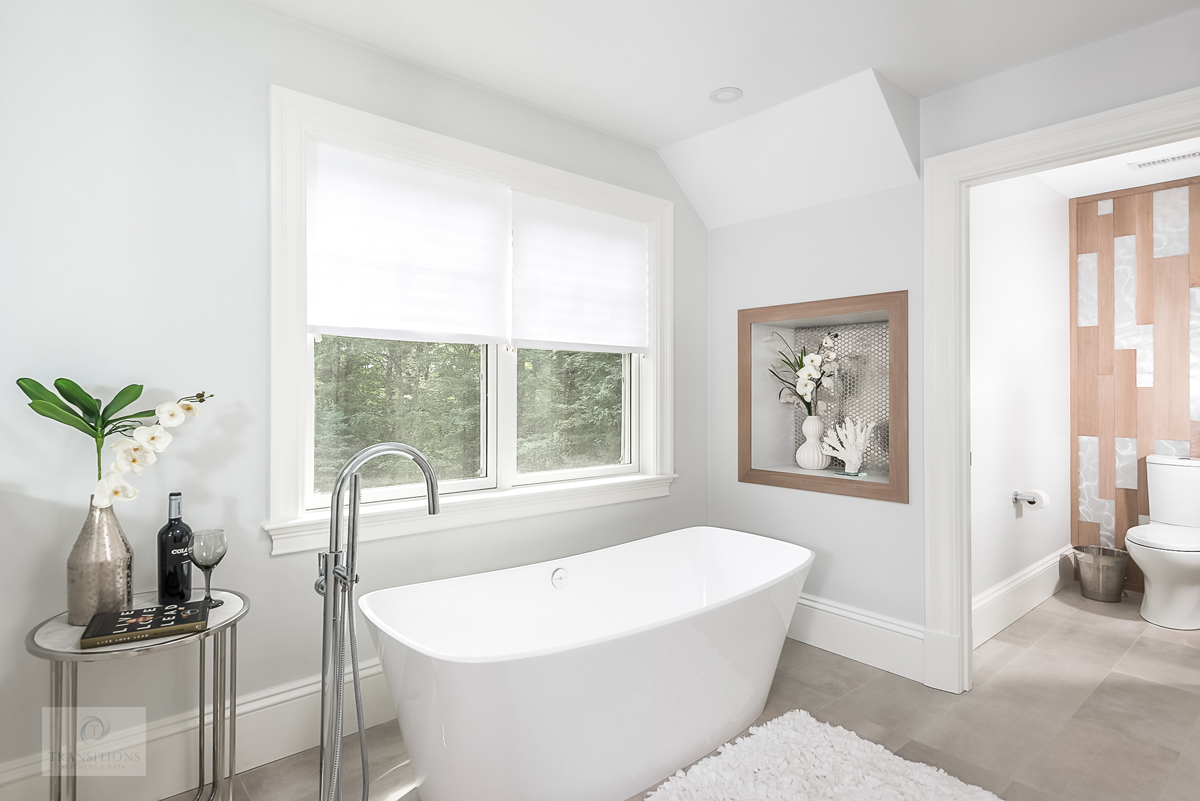 Irregularly shaped bathroom mirrors are really taking off as a
bath design feature
. They can be hung anywhere as a design element that is both stylish and practical. The right artwork can also bring a sense of whimsy or high-end decor, depending on the aesthetic. Even a picture's frame can alter the mood of a space.
Placing upcycled pieces around your bath design is also a sustainable option that is trending in 2023. Repurposing items also gives your bathroom remodel a unique look, so don't be afraid to try it.
3. Natural Stone Countertops
The trend of focusing on organic materials is set to continue. Natural stone countertops are a huge trend to watch out for this year. Quartz is still a reliable option but as people look for more color, they will look for quartzite and marble vanity countertops and bathroom backsplashes. Earthy tones are also very popular so natural materials such as oak, honed limestone and unglazed terracotta are appearing in interiors.
Marble is still in huge demand, but in soft browns and deep greens as the natural world is being evoked in bath design. You can use it expansively on a double vanity countertop, or on top of a smaller storage unit. There is a size and shade of marble countertop out there to suit your budget and style.
4. Statement Tubs
There has been a greater emphasis on self-care and wellbeing in recent years. With this has come an increased popularity of relaxing, spa-style bathrooms. The focal point of these bathrooms is undoubtedly a custom or freestanding bathtub, so a tub is a great investment to add value to your home.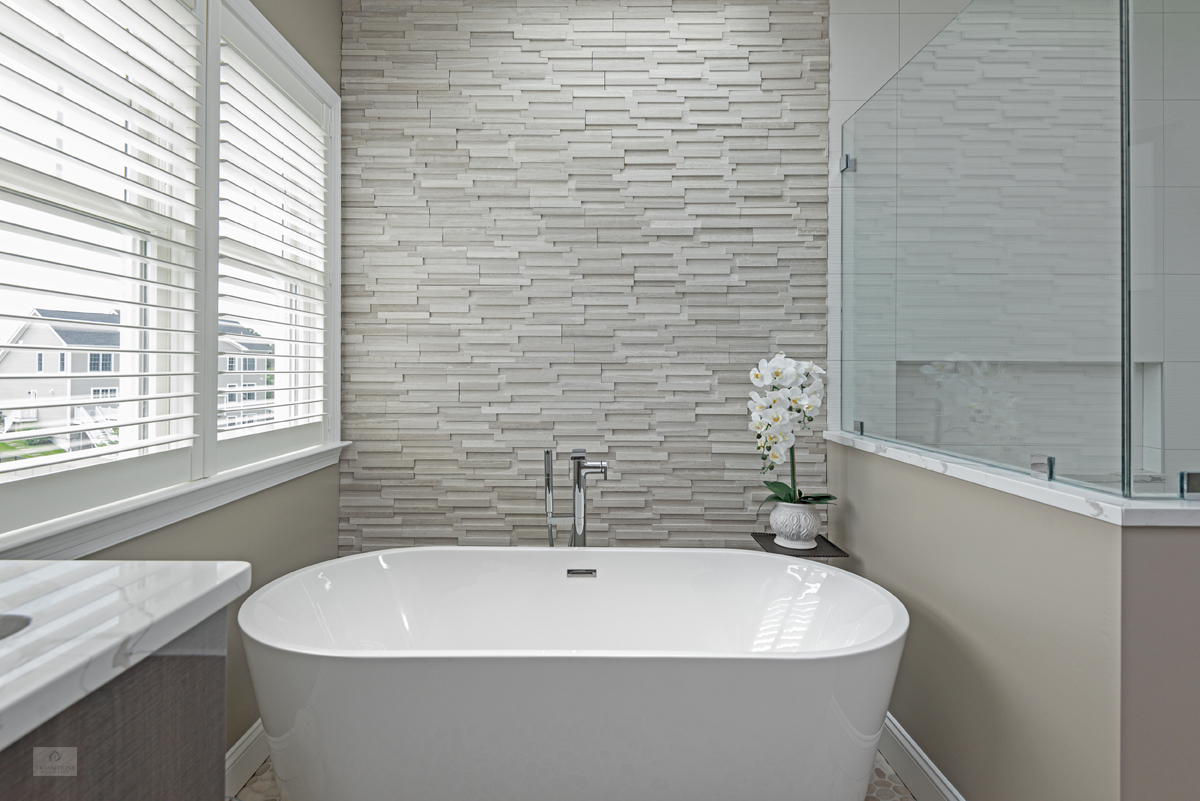 Clawfoot tubs are suitable for opulent or traditional designs, but transitional or modern bath remodels are geared toward sleek, flat-bottomed bathtubs. Stylish slipper tubs provide a high back so you can sink right back into a bath with good neck support. Gold fixtures give a luxe feel to your tub and contribute to the
spa-style bath design
feel.
In a bath design tight on space, why not try a Japanese soaking tub? It is only big enough to sit in but is deep and comfortable and comes in a selection of unusual materials, from wood to copper. You can create a focal point by putting your bathtub on a platform and accenting it with beautiful lighting or by surrounding it with a unique tile focal point. Whatever type of freestanding tub and setting you choose, it will be the ultimate, relaxing way to end your day.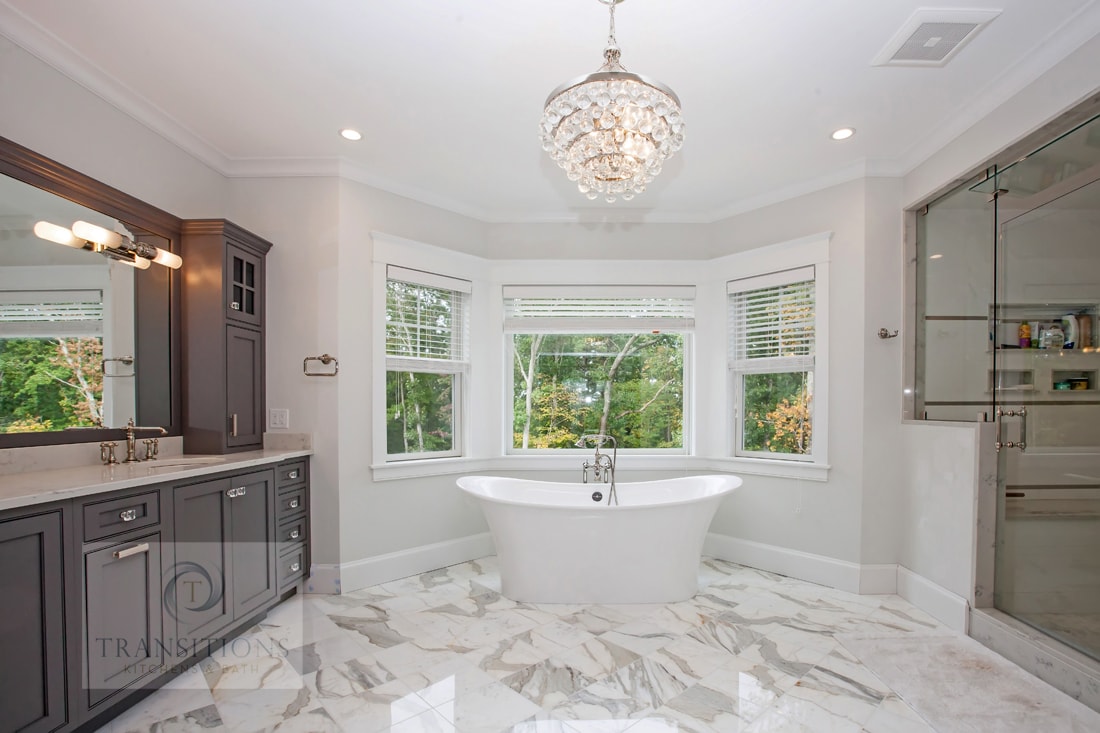 5. Colors
Last year was all about calming colors but this year we're seeing more warm, invigorating shades. Earthy tones, warm neutrals, pinks, rich dark accents, and bold pops of color are in vogue. White bathrooms are still popular but in warmer tones, especially taupe, cream, blush pink balanced with warm wood tones. Blues, greens, grays, and neutrals will be the most popular choices for bath design. Dusty blues and greens are especially prevalent as they open up the palette to pair with many more shades of hardware and accessories. Pastels are also on the rise in soft pink, mint, and lilac. These lighter, muted tones work very well when paired with natural wood.  Bold colors can be introduced on walls, artwork, and vanities for a dramatic effect in your bath remodel.