When it is time for a bathroom remodel, there are many elements to consider.  Perhaps you want to create more storage, need a fresh take on your bathroom layout, or want to update your design to reflect your home's style.  In a busy bathroom, the shower tends to be a focal point and so should be given careful consideration when planning your remodel.  Here are five mistakes to avoid when designing your new shower.
Know your pipes
The shower is a water intensive element of any bathroom design, so you need to make sure your pipes can handle whatever shower style you plan to install.  Understand where your existing pipes are located and the impact of moving the shower to a new location or of expanding your shower.  Consult with your bathroom design professional to find out what affect your chosen shower will have on your pipes and how any changes will affect your budget.
Structural Requirements
Decide what type of shower you hope to install and then talk to your remodeling contractor about how that will work in your space or what structural changes need to be made to accommodate it. Does it require building out a new half wall or attaching a heavy class enclosure to an existing wall that has to be fixed to wall studs?  Discuss the structural requirements for your chosen style at the design stage so you fully understand what can be done within your existing bathroom layout or what must change to accommodate your new shower.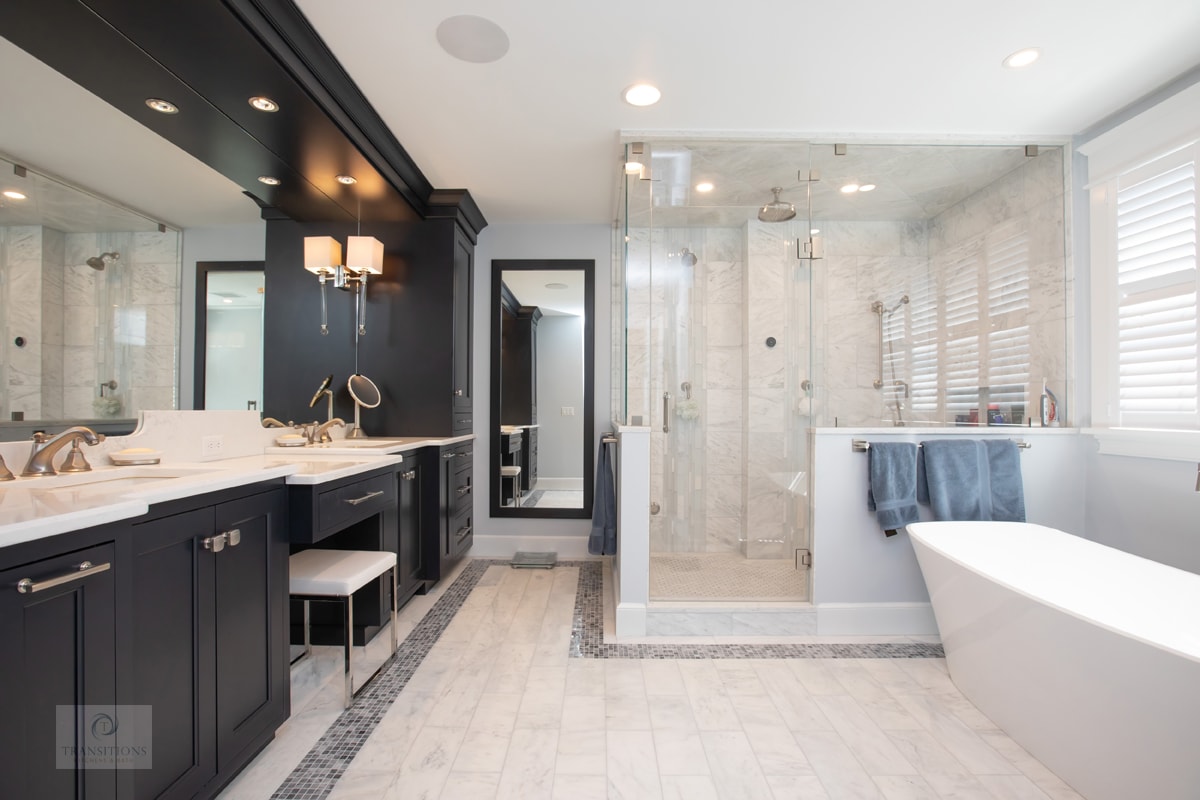 Style Choices
Whether your shower is fully enclosed or open, curbed or thresholdless, it is a central feature of your bathroom design and certainly one that draws the eye when you enter the room.  While the focus in creating your bathroom design style may be on items like a vanity cabinet and floor tile, pay close attention to the choices you make for your shower too.  A full bath remodel is an expensive project and an investment in your home and lifestyle.  Choose a shower style, tile, showerheads, and added features that will enhance your shower experience and will fit your home style for years to come.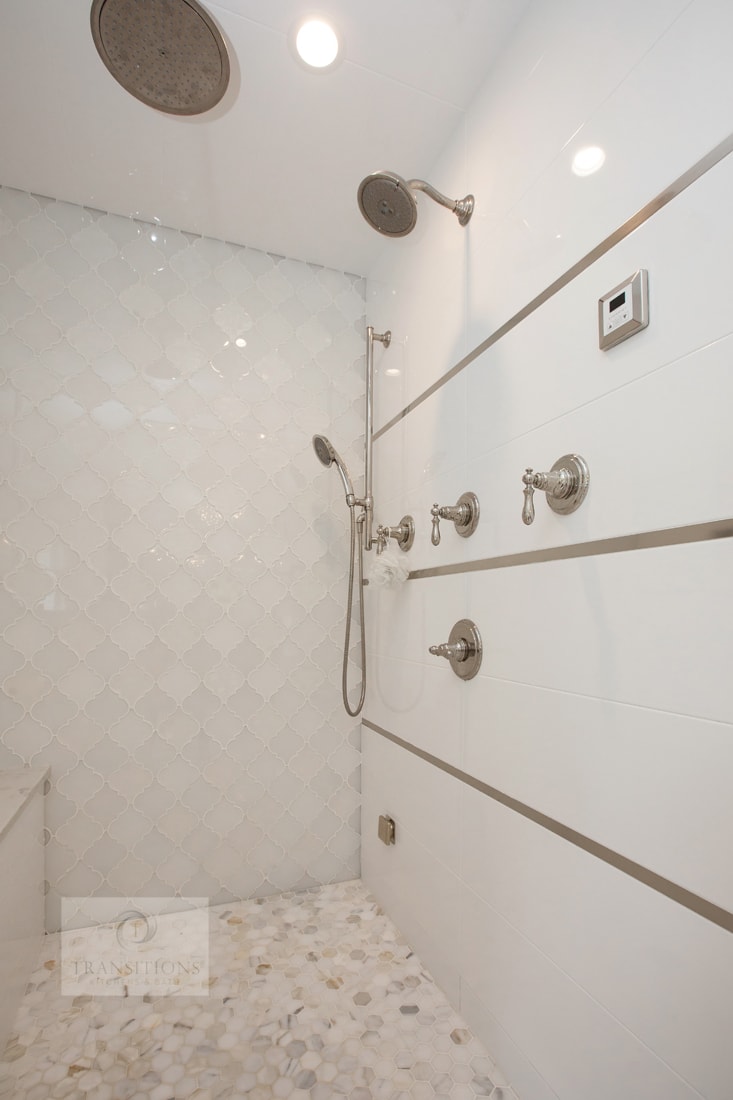 Future Proofing
Consider your life stage and how long you plan to stay in your home when creating your new shower design.  If you plan to age in place, moving to a curbless shower style is never a bad choice, and is also very on trend. This sleek style allows for easy access to the shower enclosure but must be planned at the beginning of your bathroom design to allow planning for the drain.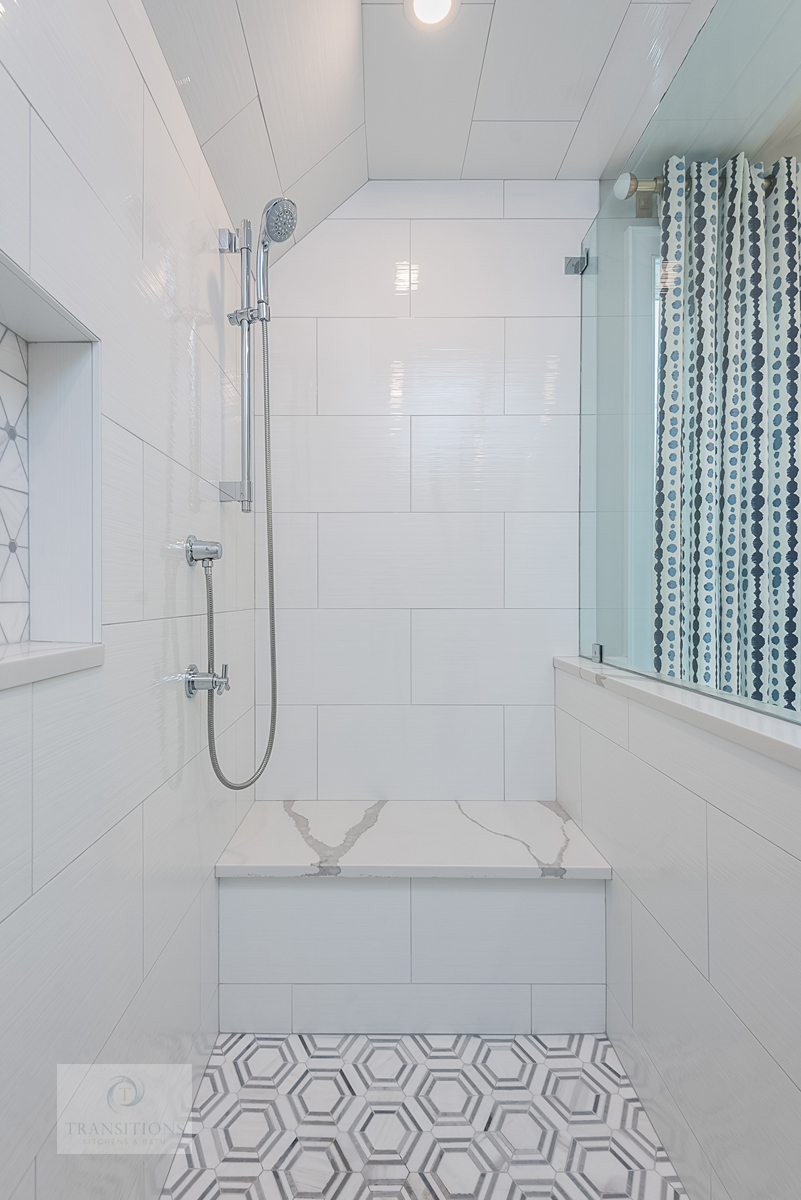 Advanced Waterproofing
Bathrooms are subjected to moisture and steam every day, so waterproofing, especially in a busy master or kids' bath design, is essential.  A poorly planned bathroom remodel or one that attempts to cut corners to lower costs can result in leaks that may damage more than just your bathroom.  Avoid longer term structural damage to your home and the associated expenditure by building advanced waterproofing into your bathroom remodel.  Your bath design expert will take this into account when planning and budgeting for your remodel.
Nowhere is this more essential than in your shower design, which must be able to withstand a constant onslaught of water on a regular basis. Include advanced waterproofing techniques, like a membrane before walls and floors are finished, silicone in gaps between walls and floors, and other waterproofing layers. By doing so, you avoid numerous potential issues like mold and mildew, water damage to the structural elements of your home, and leaks that damage your bathroom and other surrounding spaces.
Avoid these mistakes to create the perfect shower for your lifestyle and make it the centerpiece of your bathroom design. Check out our
bathroom remodeling gallery
for more ideas, and then
contact
our
design team
to discuss your remodeling plans.  Let our team help you transform your home living spaces into your dream designs!