Kitchens and bathrooms are essential spaces that have become even more central to home life in recent years. These rooms have become increasingly multi-functional living spaces with kitchens serving as the center of entertaining as well as cooking and bathrooms as spaces to relax. Some core elements of
kitchen and bathroom design
are slow to change, but the latest trends bring advances in color schemes, styles, technology, and storage to create highly functional and appealing rooms. From kitchen islands to new materials, freestanding tubs, and more, explore the latest design trends and get inspired for your home.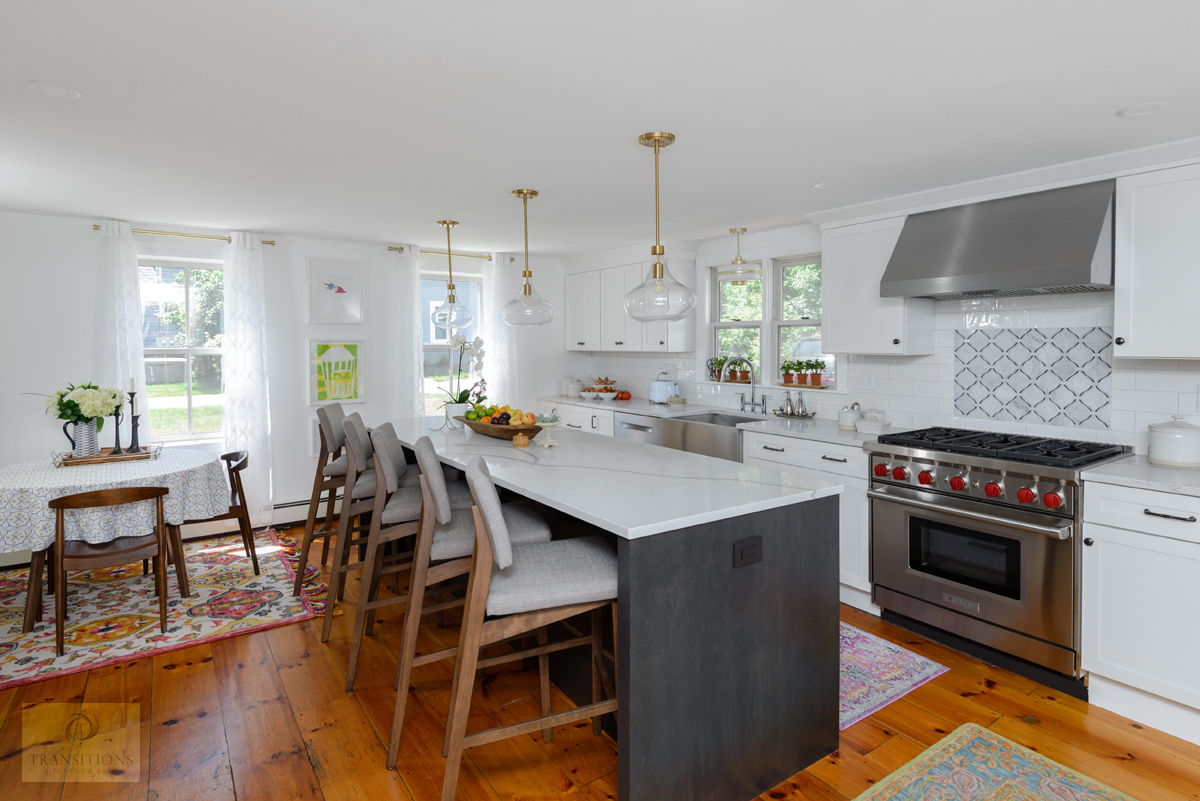 Matching Backsplash and Countertop
Sleek, clean styles are very popular this year, with contemporary cabinetry, customized storage, and natural wood tones leading the way in kitchen and bathroom design. Complete this look with a matching countertop and backsplash to create a cohesive look that draws the eye.  This trendy look is perfect for a modern kitchen design or bathroom remodel but could fit any style design depending on the material and color you choose.
Select a material that is durable and easy to clean to create a low-maintenance kitchen design.  This ensures you have a surface that not only enhances your style but makes your kitchen design more enjoyable since you don't have to spend as much time cleaning! Take the backsplash all the way to the upper cabinets or even to the ceiling to create a really striking style. This Hingham, MA kitchen remodel includes a stunning quartz countertop and backsplash in dark gray tones that beautifully accents the wood cabinetry.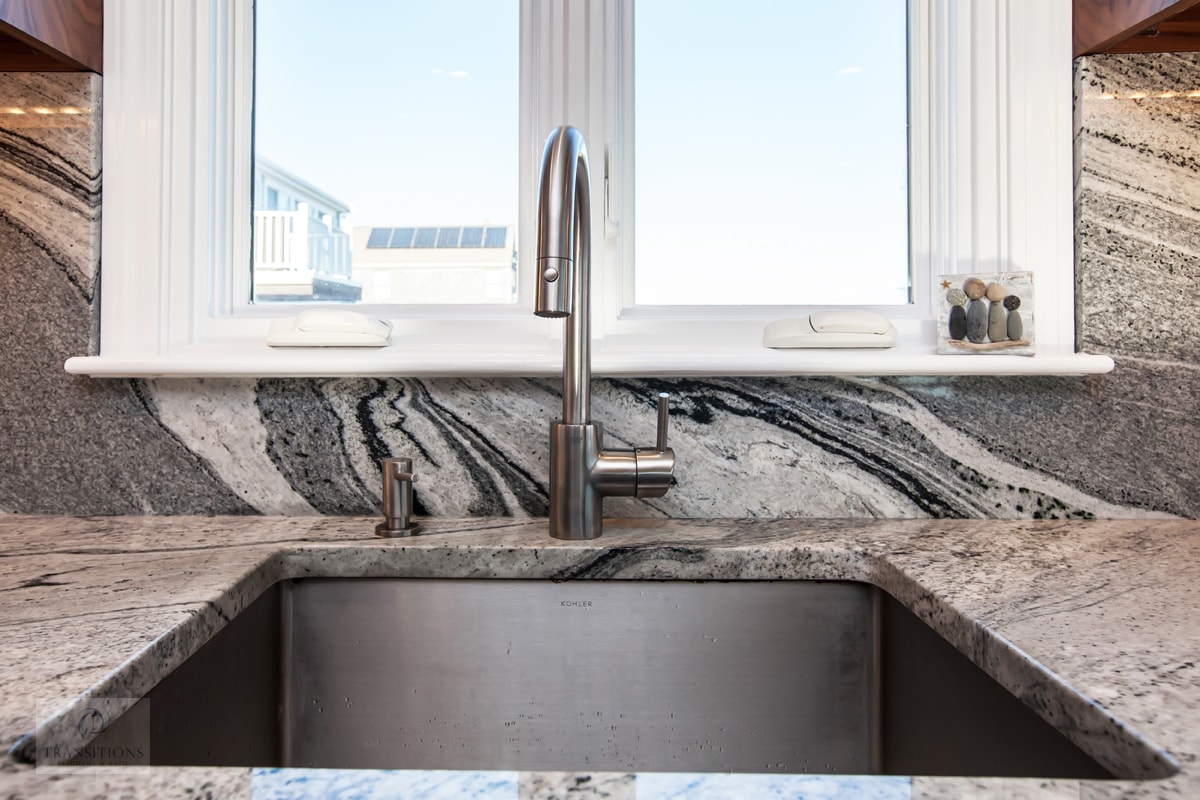 Sophisticated Bath Design Styles
Today's bathroom designs combine efficient layouts with customized storage, beautiful materials, and the latest innovations, making them more than a purely functional space. With multiple showerheads, sleek freestanding tubs, and technologically advanced toilets and medicine cabinets, bath remodels have gone from being a necessary space to being a personal spa retreat at the center of your home.  Bathroom design styles are also becoming more integrated with the rest of the home, with sophisticated features transforming a master bathroom into an extension of your home's living spaces.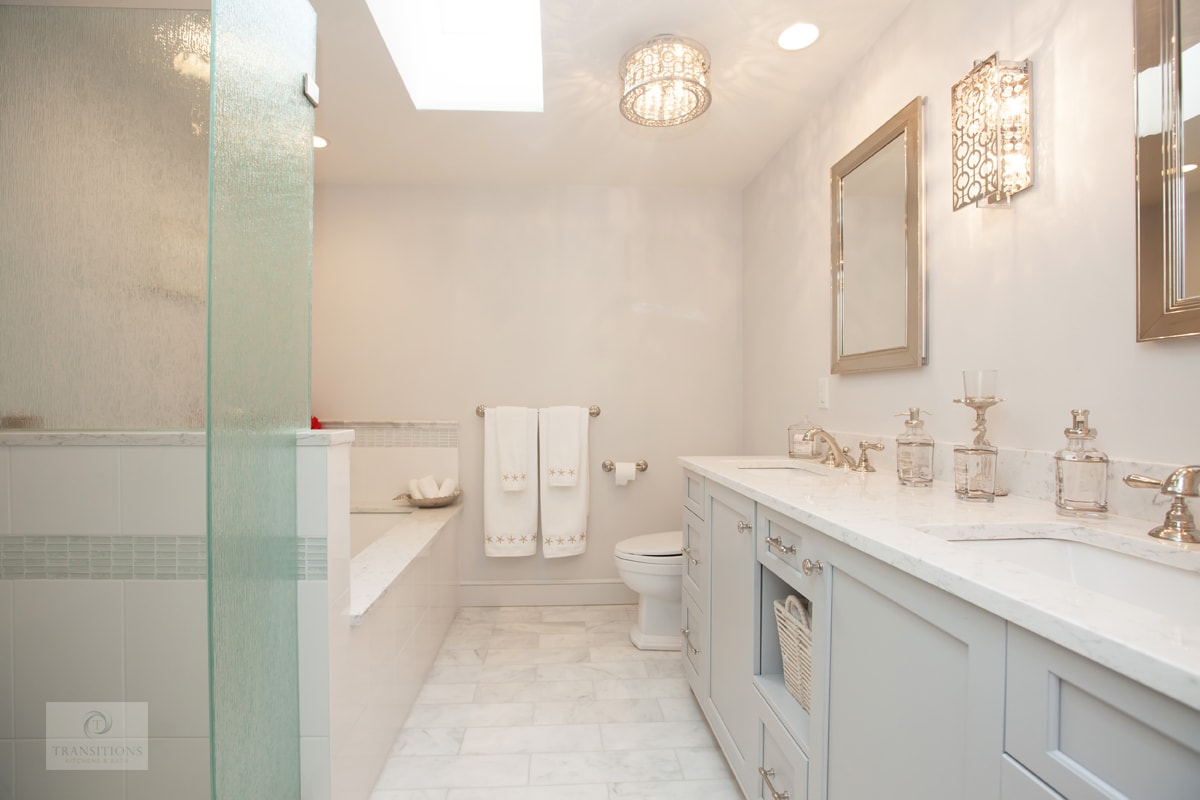 The key to a sophisticated bathroom design is to go for the best materials you can afford and to maximize your available space. If your budget allows, create a spacious bathroom that accommodates a freestanding tub and large shower, and consider moving the toilet into a separate toilet room to enhance privacy and style. Include ample storage so your space remains clear, your style takes center stage, and your bathroom becomes a relaxing oasis.
When choosing materials, focus your budget dollars on the most visible areas that have the greatest impact on your style. The vanity cabinet provides storage and helps set the tone for your bath remodel. For a sophisticated style, choose warm wood tones, dark finish cabinets, or furniture style cabinetry that make your vanity a focal point of your bathroom design.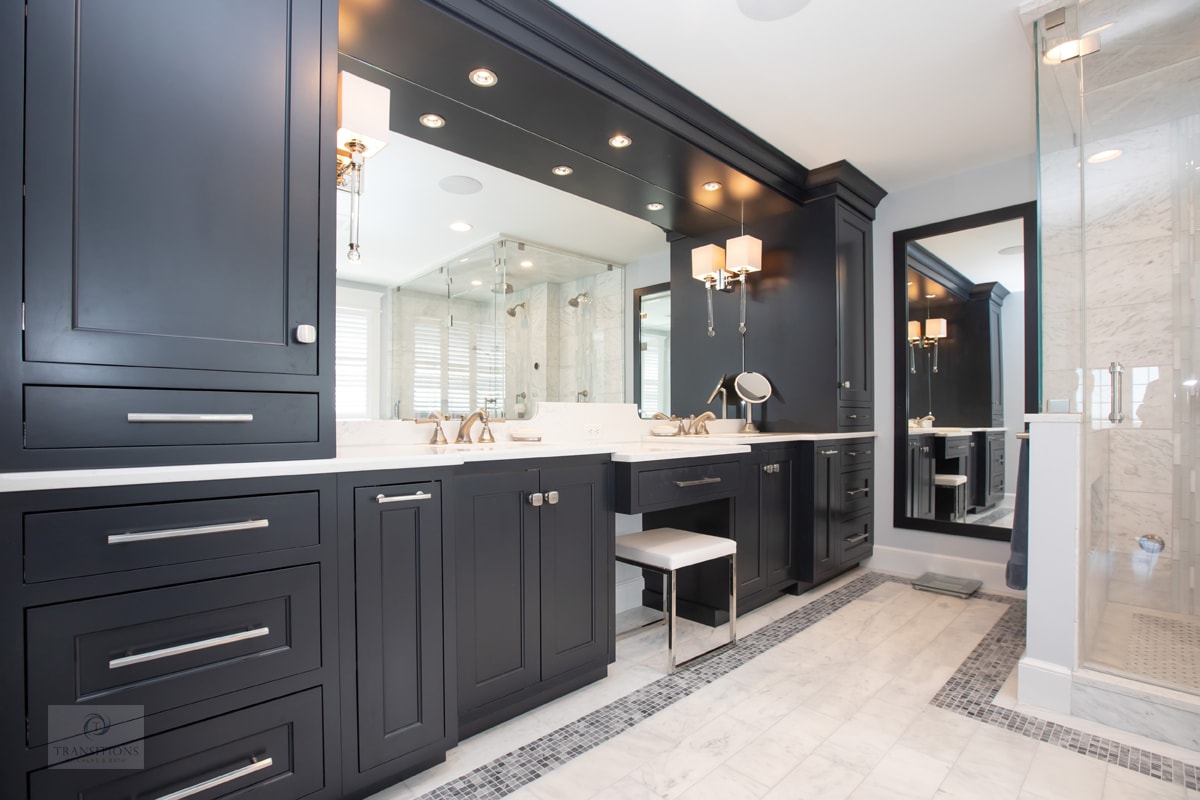 Accessorize the cabinetry with hardware
that beautifully elevates your style. The latest metallic finishes like brass, gold, and matte black are ideal for a sophisticated bath design and create an eye-catching style when paired with plumbing fixtures and lighting in the same finish.  Or go for full on sophisticated glam with a chandelier at the center of your bathroom design.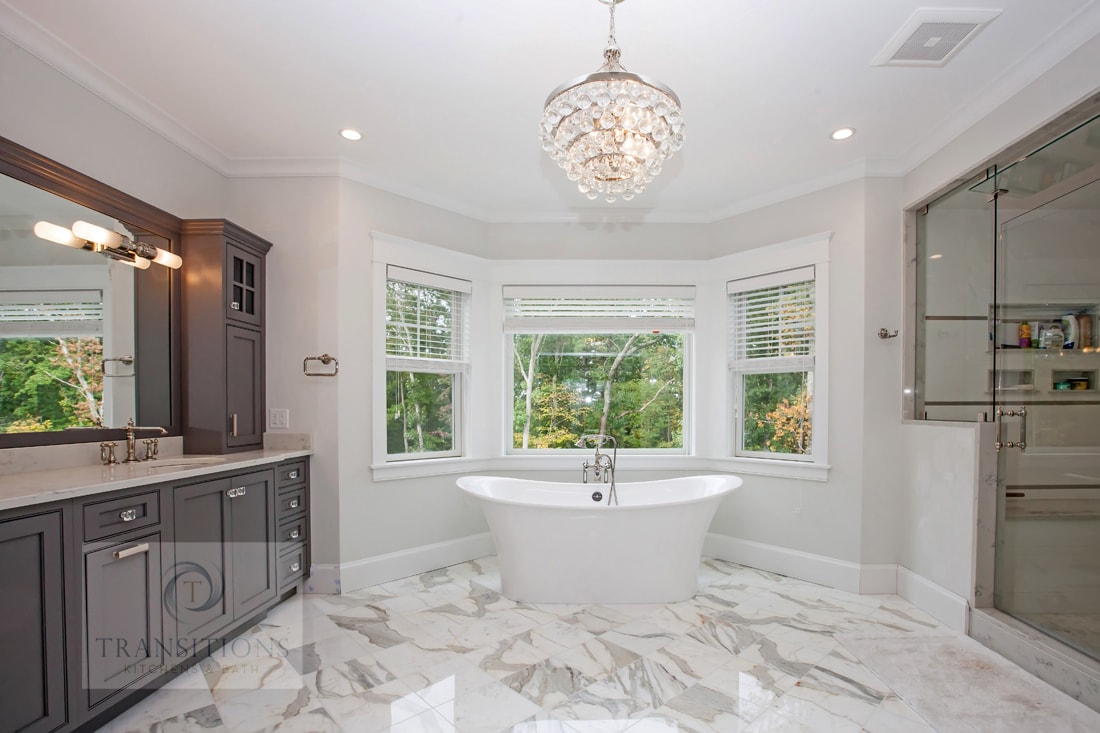 Tiled areas, such as the floor and shower walls, are another highly visible surface that impact your room's style. Choose a sleek, slab surface for your shower wall in a classic material for a stylish and easy to maintain shower. Or go for a stunning tile design that brings texture and pattern to your room. One-of-a-kind handmade tile gives your room a unique flair.  Or use this as an opportunity to add a dash of color like this patterned floor tile that accents the gold hardware and plumbing fixtures.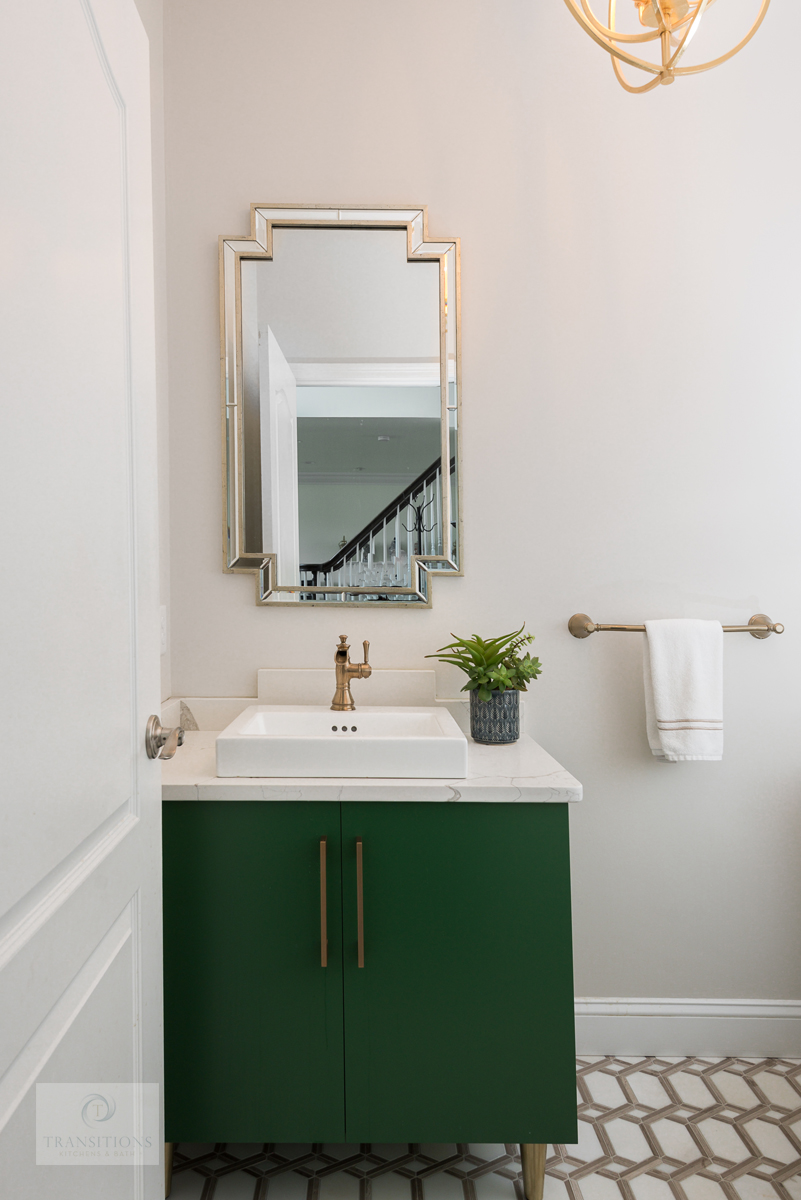 For a truly classic look, marble is an ideal choice that introduces a natural, unique appeal to countertops and other surfaces. One-of-a-kind, freestanding furniture pieces enhance your room's style and storage. A vintage cocktail table is perfect situated next to a freestanding tub or paired with a comfortable chair in a
spacious bathroom design
.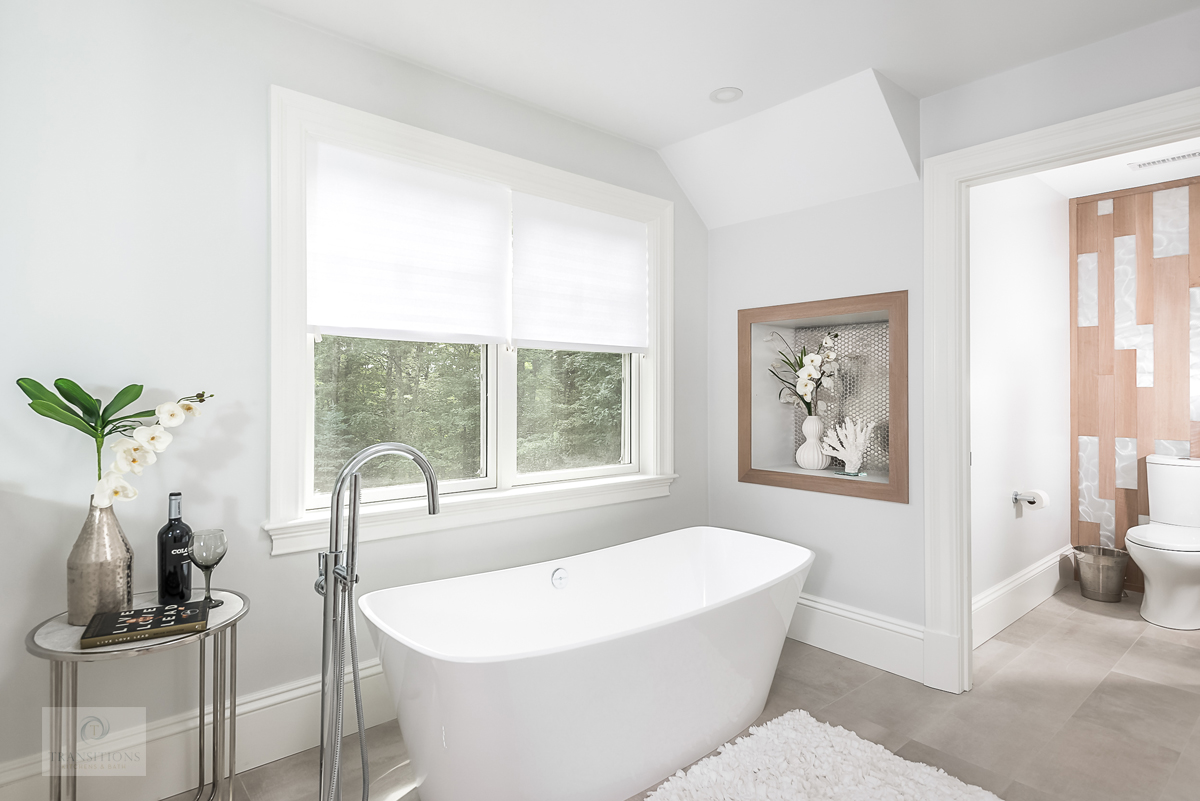 Wood Tones and Updated Color Schemes
While white kitchen and bath designs and painted neutral tones are always a top choice, this year sees a move toward wood tones and updated shades like blues, reds, and greens.  It's easy to see the appeal of introducing high quality wood cabinets to a bathroom or kitchen design.  Go for the best quality you can afford and allow the natural wood textures and tones to show.
Choose a lighter wood for a bright, contemporary kitchen remodel or a clean, spa style bath design. Or introduce darker wood shades for a warm, sophisticated feel. Wood is ideal for adding texture to a kitchen or bathroom, such as rustic reclaimed wood for floating shelves. Hardwood flooring is a classic choice but be careful installing it in high moisture prone areas like a busy bathroom design. In a kitchen design, a wood countertop perfectly complements cabinetry in white or a bold shade like blue. If you don't want to commit to wood countertops throughout your kitchen, consider a section of wood on your island to create a tabletop end for casual dining.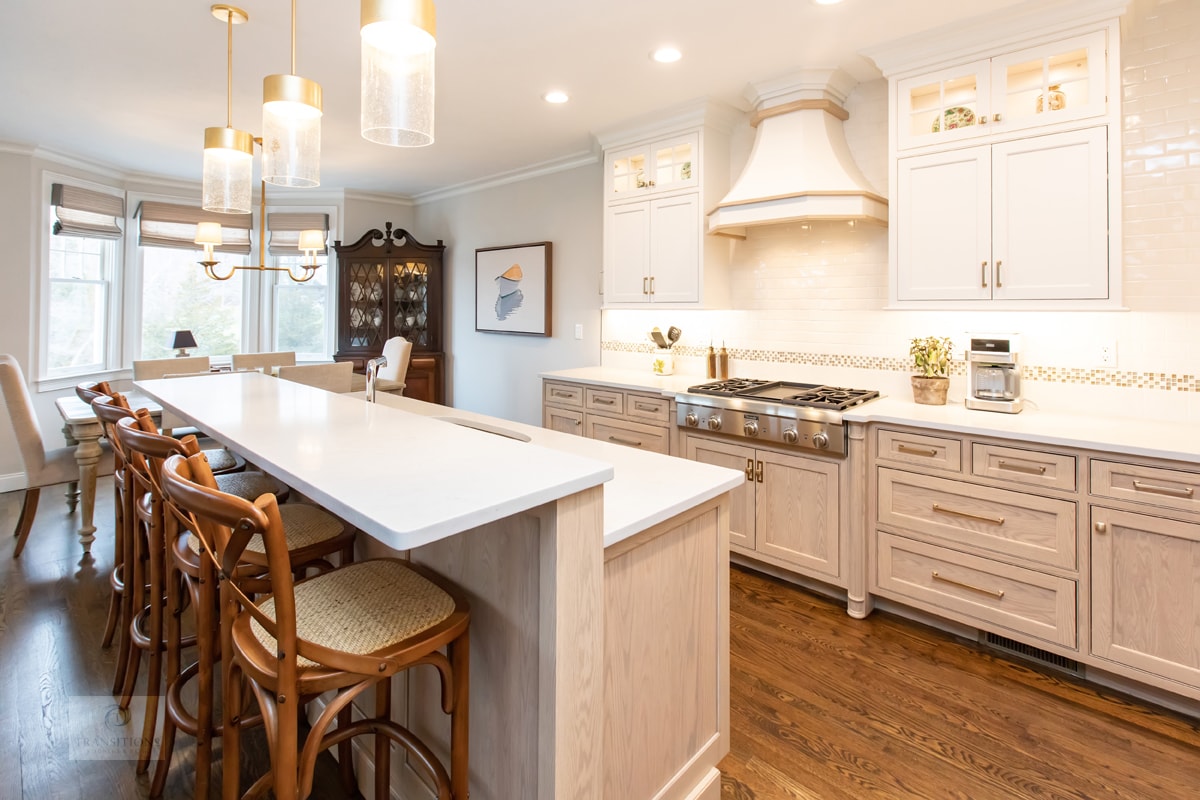 Alternatively, embrace this year's trend for updated colors by introducing colorful cabinetry, walls, or accessories. If you are ready to commit to a bold color choice, opt for kitchen cabinets or a vanity cabinet in your favorite shade. If this is too much, consider limiting the color to your island cabinetry or a section of cabinets, or go for bright colors in accessories, barstools, or other small items.
Take a leap and choose the bold, creative vibe of Pantone's color of the year for 2022, Very Peri.  This blue-purple shade brings optimism and a bit of fun to your home.  The bright shade could be an ideal choice for a small room like a powder room, where you can experiment with bold colors and patterns. Or stick to accessories that can be easily changed like towels, decorative items, and soap dispensers.
For a more subtle color choice, consider 2022's color of the year from Sherwin Williams, Evergreen Fog.  This green tone evokes relaxation and brings a sense of nature to any room. This color works perfectly on painted cabinetry, as a wall color, or offers inspiration for tile or accessories.
Focus on Islands…and Custom Storage
A kitchen design is the most important room in your home, where everything happens from cooking to dining, studying, and entertaining. To make these many activities work, focus on creating an efficient layout with plenty of storage customized to your family's needs. In an open plan design, where work and social activities all take place in the same interconnected area, it is even more important to have a well-organized kitchen.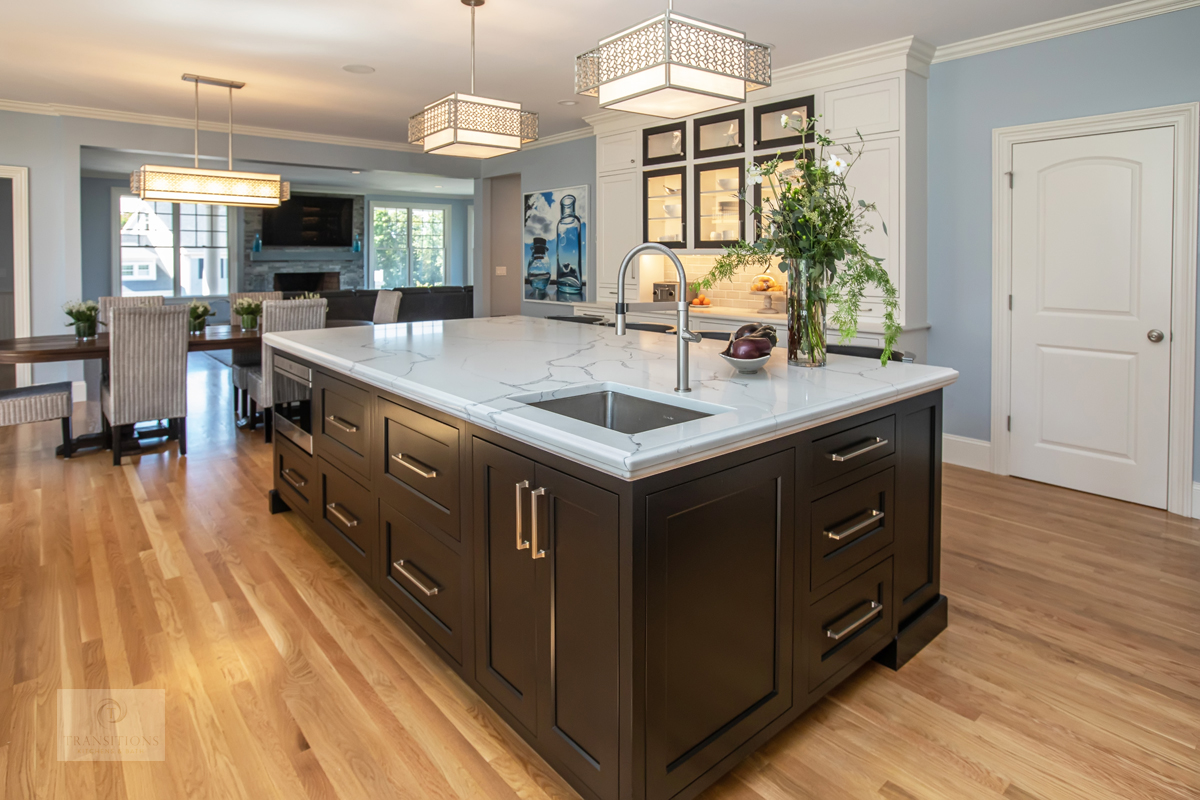 The key to keeping everyone happy in a
multi-functional kitchen design
is to create distinct work zones. This could include an area for cooking, food prep, clean up, dining, study, crafting, and more. In a spacious kitchen design, particularly an open plan one, a kitchen island serves as a focal point for your room's design and organization. This year sees even larger kitchen islands take center stage, or even two islands in a spacious kitchen design.
These large, multi-functional islands allow you to create specialized zones within your island and to use your island to clearly separate work zones. For example, one side of the island can be set aside for cooking with the range incorporated in the island, while the opposite side includes seating for dining and entertaining. In a T- or L-shaped island you could use one end for dining with a wood tabletop and stylish dining chairs. Include an undercounter beverage refrigerator or an adjacent beverage bar near the seating area so guests can refill their coffee cup or wine glass without interfering with the cooking. With two islands you can even use one island exclusively for entertaining while the other is designated for cooking and food prep.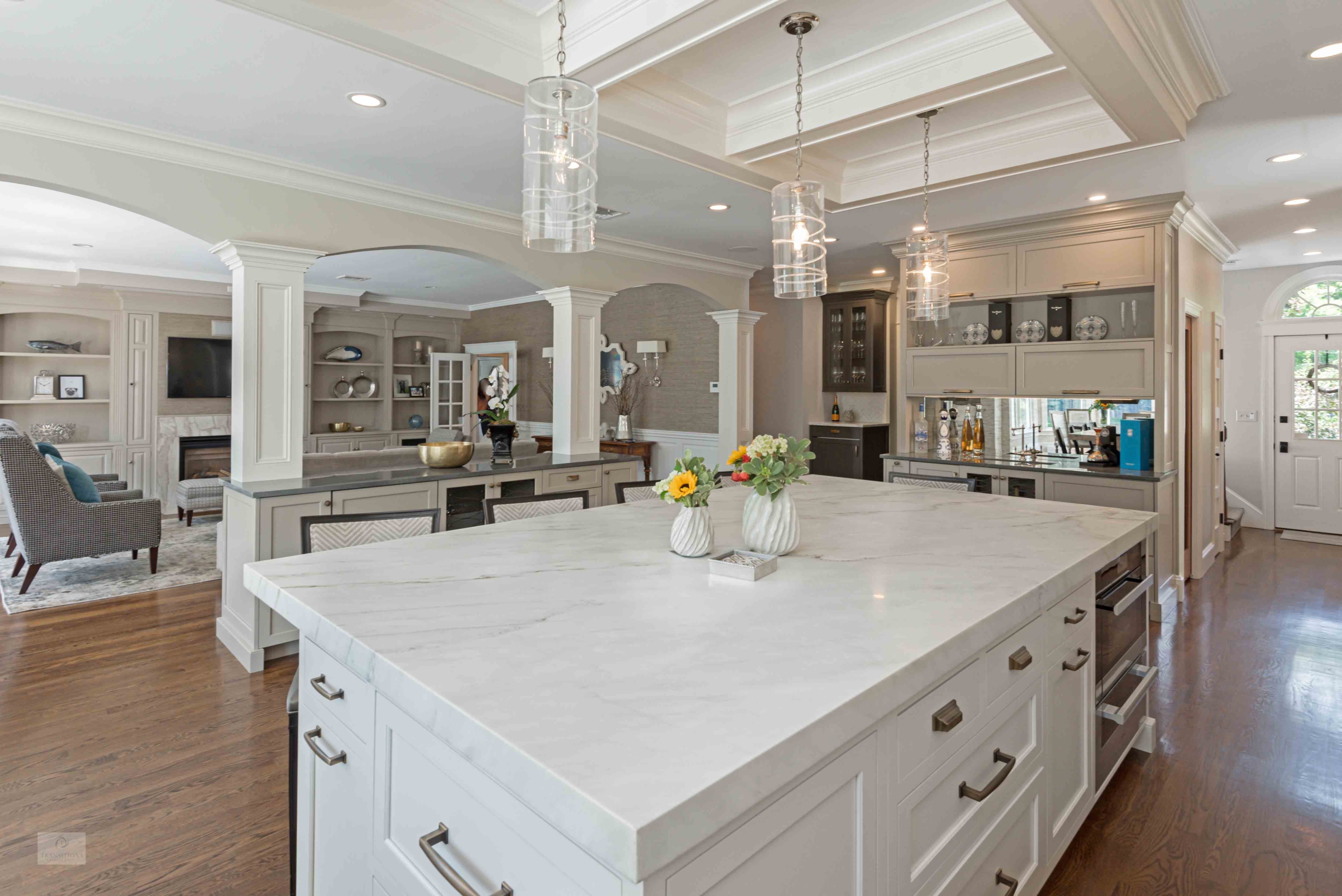 If you don't have space for the island you want, consider creating space for it. Use the opportunity of a kitchen remodel to change your room's layout, knock down a wall, or move a wall to reinvent your space so it can accommodate your preferred island. Since the island is situated at the center of the kitchen, it creates a natural focal point for your room's style. Change up your kitchen's color scheme with island cabinetry in a bold accent color or include a unique countertop material that sets it apart from your perimeter work zones.  Accent everything with beautiful metallics in the cabinet hardware and island light fixtures.
Use your islands to enhance your room's storage solutions. Ultra-custom storage is a top request for this year's kitchen designs, as creating specialized storage for all your needs helps you to stay organized, enjoy using your kitchen, and maintain your room's style.  Decide how you will use your kitchen islands and include storage accessories to meet these needs. If you plan to create a baking zone, consider installing a mixer lift and storage inserts for cookie cutters, rolling pins, and baking trays.  For an island geared to dining, deep drawers with a peg system for dishes and utensil drawers keep all your dining ware easily accessible. A cooking area requires custom pull outs and rollouts for cooking utensils, oils, and spices, plus space for heavy pots, vertical dividers for cutting boards, and more. Perimeter cabinetry can accommodate pull out pantry storage for all your food supplies, or better yet include a walk-in pantry.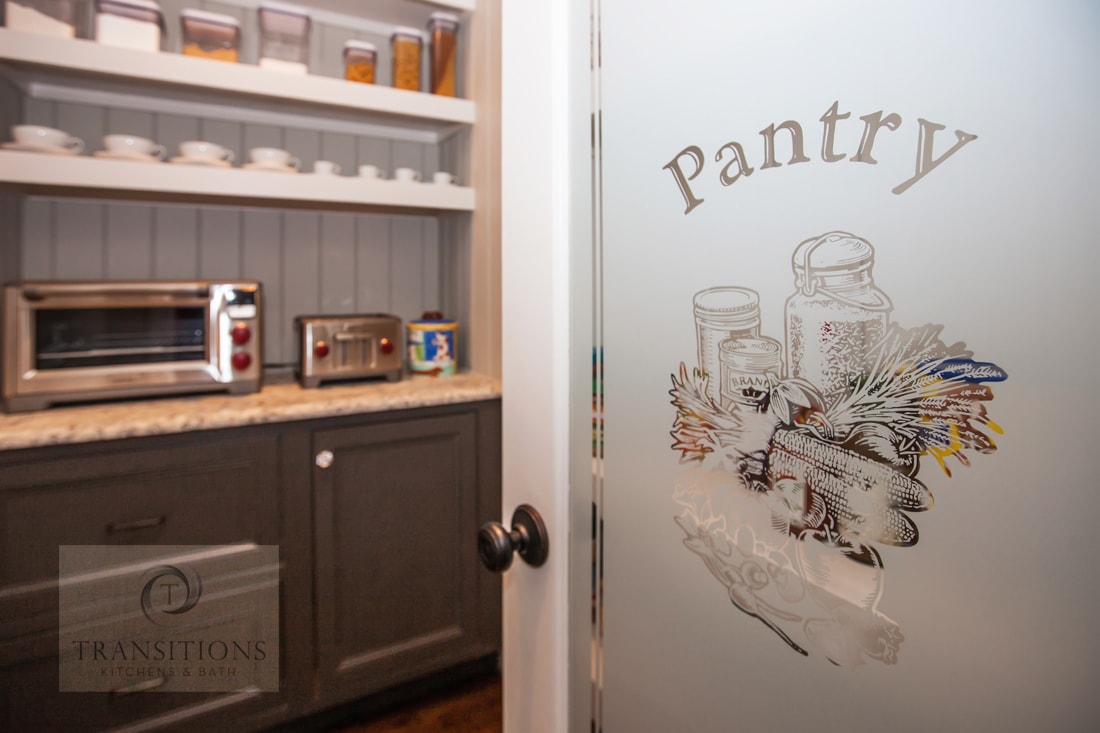 Freestanding Tubs and Luxury Shower Experiences
Bathroom designs are quickly becoming a place to relax, and this year's top trends reflect this.  If your ideal way to unwind is a soak in the tub and you have space in your bathroom layout, include the increasingly popular flat-bottomed freestanding tubs. These bathtubs have sleek lines and complement any style bath remodel. Place them in a prominent place and make them the focal point of your design.  A large window is an ideal spot where you can soak up the sun while soaking in the tub. Or give your tub a beautiful backdrop with a feature wall in an accent color or tile, like this Cohasset, MA bathroom design.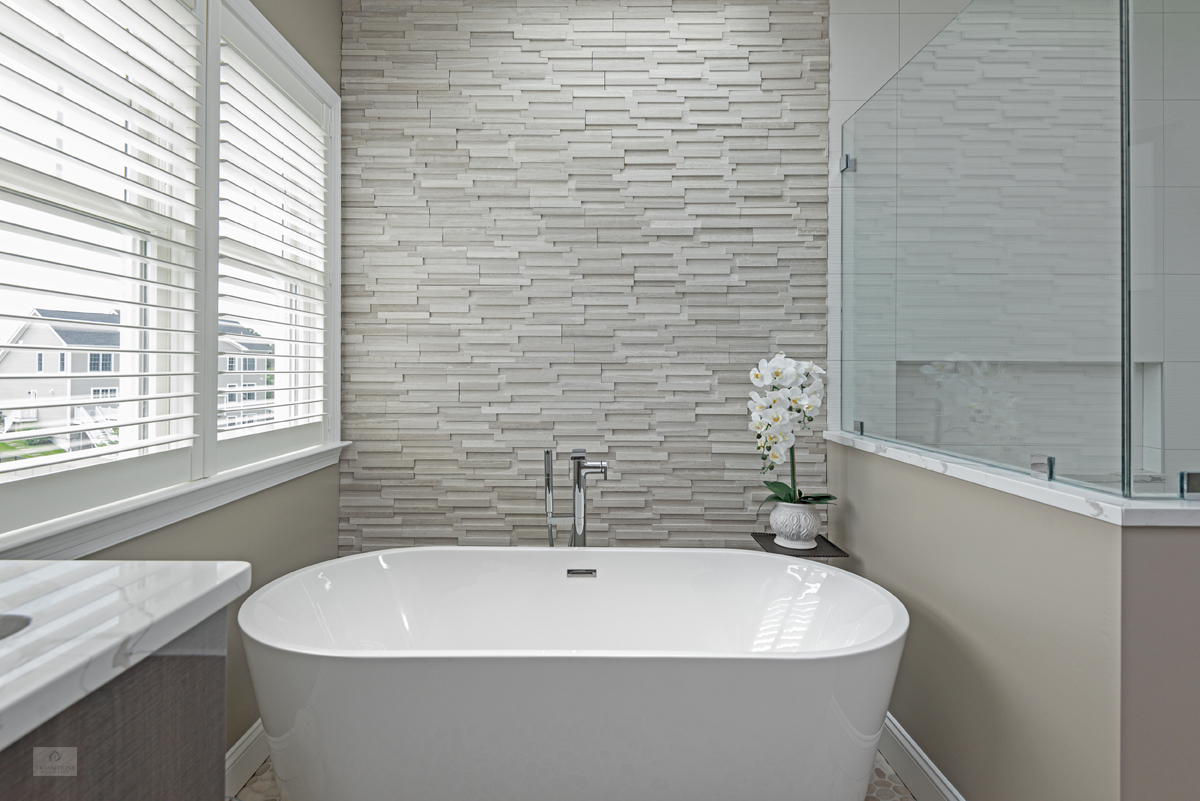 Luxury showers are another style and functionality game changer for an upscale bathroom remodel.  Create a custom tiled shower with a frameless glass enclosure that allows light to shine through.  Add an accent tile design, a recessed storage niche or corner shelves, and a built-in bench. Finish off your soothing shower space with multiple showerheads including a handheld and rainfall shower, massaging shower panel, or even two showerheads to accommodate more than one person.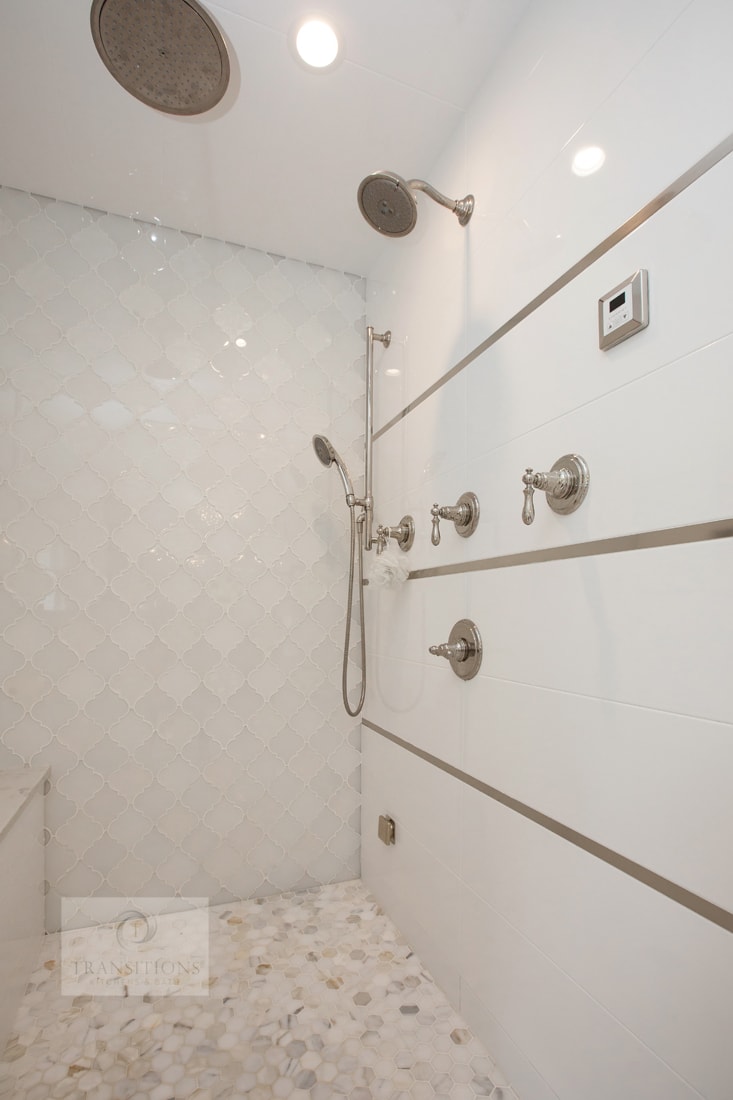 Are you ready to reinvent your home living spaces with the latest
kitchen and bathroom design trends
? First, think about your home and your family's needs, and then lay out your remodeling goals.  Get inspired by the latest design trends and by browsing our online kitchen design and bathroom remodeling galleries.  Then
contact us to start planning
your dream home!