A bathroom should be more than a functional space. It can be a retreat from our hectic lives to rejuvenate mind and body. Why not opt for a spa style bathroom design if you're remodeling? Materials, lighting and calming colors are all elements of this look and accessories matter more in this bath design than any other. This means that you can start to create a spa style bathroom now by clever accessorizing and then complete it when you're ready to renovate.
1. DECLUTTER
As spas are places to clear your head, start by clearing your bathroom of clutter. Toss everything that has expired and decide what to do with duplicated products. Clean all surfaces thoroughly and then put away the essentials, preferably in tailor-made storage solutions, which are ideal for a sleek and open bath design.
2.  STYLISH STORAGE
Organization is the key to a spa style bathroom. Everything must be arranged neatly, with a touch of luxury. Store everyday items, such as cotton balls, in large jars, put liquid soap in stylish dispensers and keep toilet paper rolls in baskets. Place your products on vintage trays or glass shelves. Custom storage units with mirrors and internal compartments make a big difference and can be fitted into all nooks and crannies in your cabinetry to bring glamor and order to a space. Even before your bathroom remodel, use small boxes or dividers to better organize cabinet drawers.  If you just want to update the style of your current cabinetry, try swapping your hardware for luxe gold or brass finished versions.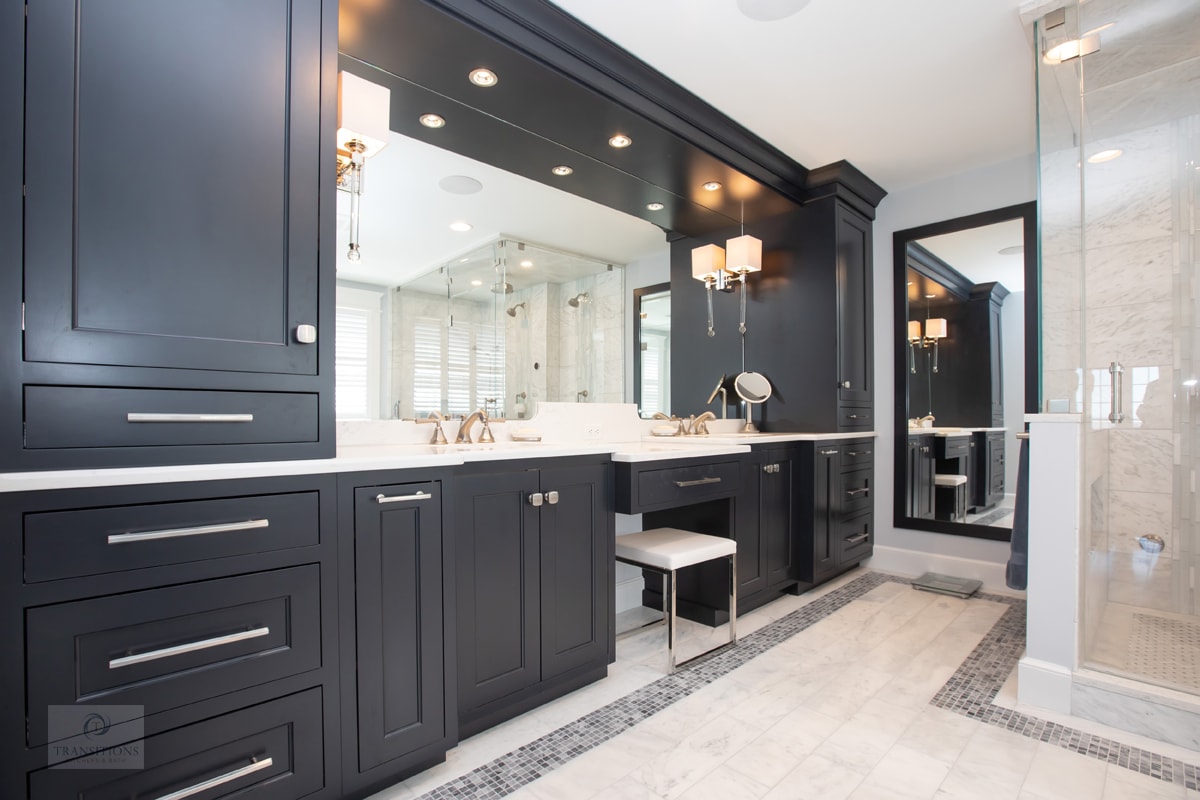 3. BRING IN NATURE
Houseplants both purify air and bring beauty to any room. For a feeling of lush tranquility, introduce plants that thrive in a warm, humid environment. Hanging planters, vases of flowers and potted plants all make a bathroom like a spa. Wood always adds a natural feeling of warmth and character. Everything from bathmats, trays, floors and tubs themselves are available in beautiful hardwood and there are excellent faux wood options available that won't succumb to humidity. Natural stone can also be used anywhere for an instant hit of natural luxury, like a soothing stone or river rock shower floor.
4. CHOOSE COLOR WISELY
For a relaxing atmosphere, it's important to choose a soothing palette for your bath design. You can't go wrong with neutrals such as whites, grays and beiges. Or why not try this year's hot trend, pink, in a subtle shade or as an eye-catching accent color. You can create accents of color with art, towels, textiles or flowers or create whatever scene you like with wallpaper. However, keep the color combinations to a minimum to avoid a look that's too busy.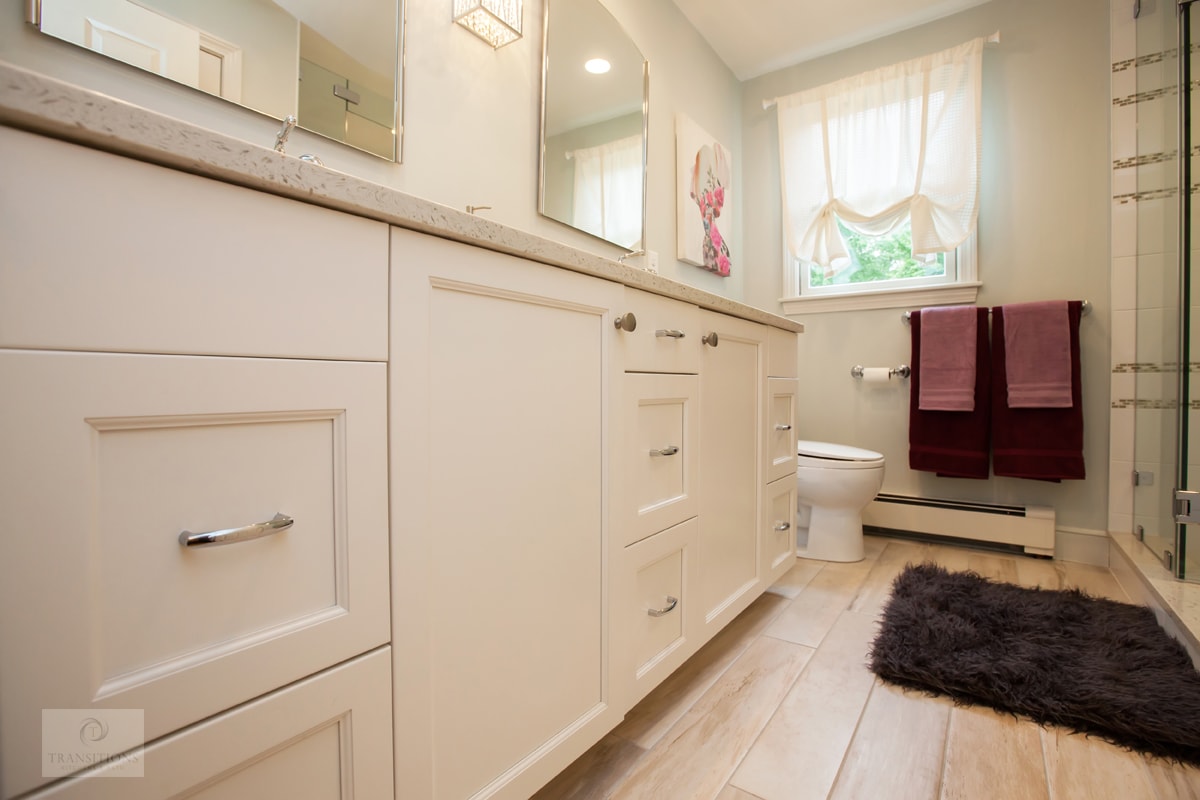 5. SOFT TEXTURES
For the ultimate in comfort, softness is the key. Adding luxurious towels, robes and bathmats give you a spa feeling.  Invest in quality towels and keep them rolled in a basket, hanging from a storage ladder or piled high on a shelf. A towel warmer or warming drawer lets you have a toasty towel ready when you need it and prolongs the feeling of your bath. A seat that's padded and upholstered is a small, but decadent addition to your bathroom remodel and the perfect place to relax or apply products.
6. THE RIGHT FIXTURES
Your toilet, tub, shower and sink are what your bathroom design is all about, so devote as much of your design and budget on the right choices for a spa-like space. Rainfall shower heads that massage you or steam showers that make your skin radiant, are central to a spa type design. Upgrading your faucets makes a big statement, whether they have LED colors to indicate the water temperature or they just look glam.  Freestanding bathtubs are elegant and inviting and can be a central feature in your spa bath design.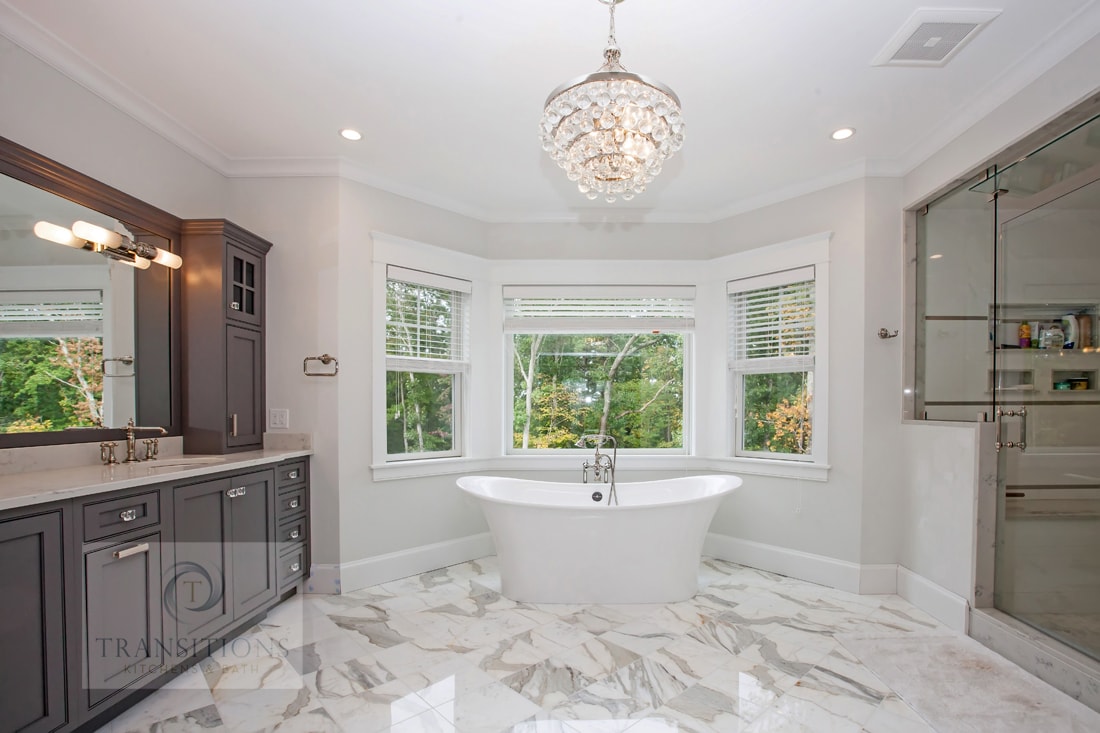 7. AROMATHERAPY
For a fully sensory experience, include fragrance in your personal spa. Apart from the fresh scent of plants, candles are a genuine spa addition, relaxing you as they release their aroma. Oil burners also add a heady scent to your bathroom, with essential oils for each mood. Diffusers leave a gentle scent in the air. Lotions and soaps add to your pampering experience too. Invest wisely and a little goes a long way.
8. LAYER YOUR LIGHTING
While targeted lighting is essential in a bathroom design, including only strong light must be avoided if you want to emulate a spa. To make the room feel luxurious, layer your lighting design. Chandeliers, recessed lighting and sconces, with the addition of dimmer switches, provide a sophisticated and candlelit effect. Investing in large windows is an excellent idea to maximize natural light and views and make your bath design open and airy.