Accessorizing a
kitchen remodel
really gives it the finishing touch that completes your kitchen design and personalizes your space. Accessories are also more easily changed over time, so they offer an ideal opportunity to transform your kitchen design any time you like.
At the planning stage of your kitchen remodel, envision the end result for your kitchen, including accessories that will complete your look. If you decide on the style you want for your finished kitchen design, then it's easier to choose the components that will help you achieve your design vision. Cabinet doors, hardware, color scheme, and lighting designs all fall into place in a cohesive style.
In order to accessorize effectively, your design will have to be as neat and organized as possible, or chaos will reign. Storage is therefore vital to avoid clutter in your kitchen remodel. Accessories should be well thought out and combine both the functional and aesthetic. Here are our top tips for accessorizing your kitchen design.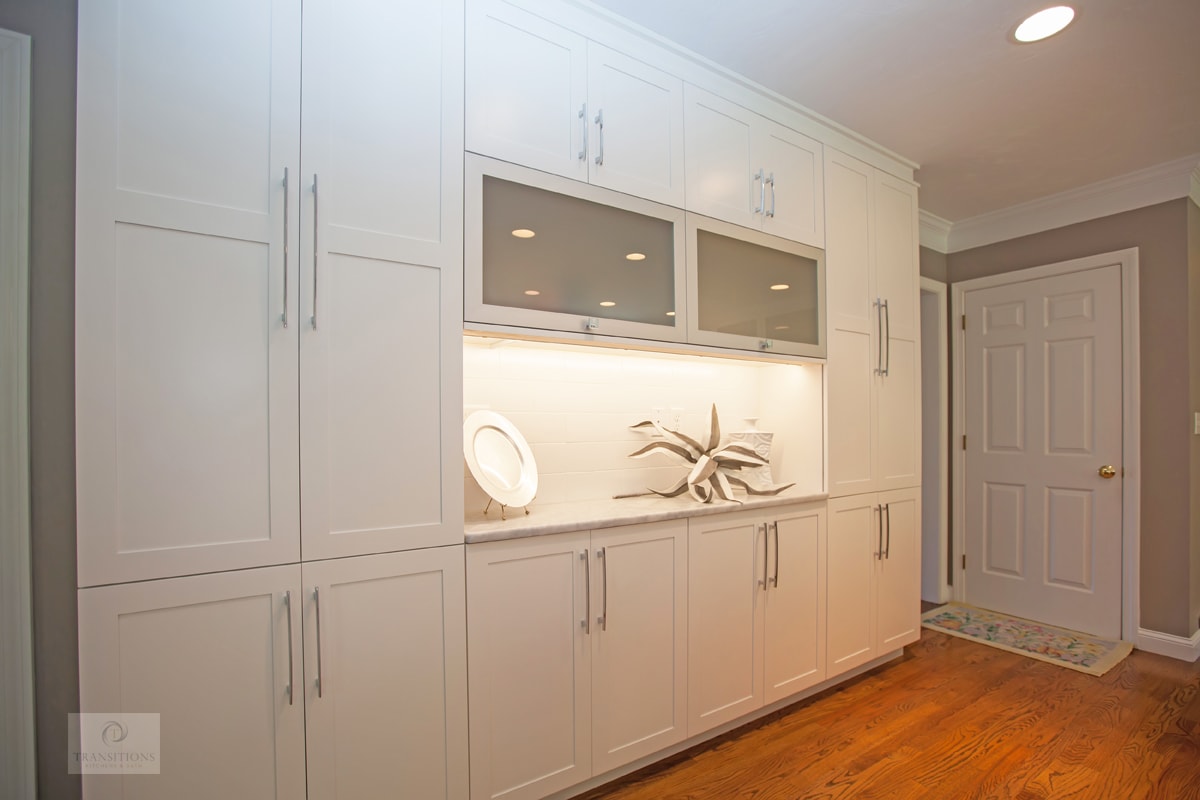 Start With a Blank Canvas
Clearing out your kitchen design is a good place to start when deciding how to accessorize. When you've stripped everything back to the bare minimum, you can visualize how best to accentuate your room's contents and design with accessories.
Empty out everything so you're left with empty cabinets, countertops, shelving, freezer and refrigerator. Go through what you have removed and be ruthless about what you'll put back. Are you keeping expired food that was hidden at the back of your pantry or seasonal items that you never use? Do you keep ornaments on your windowsill that just accumulate dust? We are all guilty of this, but when creating a fresh look for your kitchen design you must think about what you want to store and then what would look good on display.
Are you keeping a vintage appliance hidden away when it could be the star of the show on a countertop? Look at the style, color, and texture of each item you display to ensure it works in your kitchen design. If an item is useful but doesn't fit into your overall style, then keep it in closed storage. Custom storage is the best way to ensure that you can maximize space in your remodel.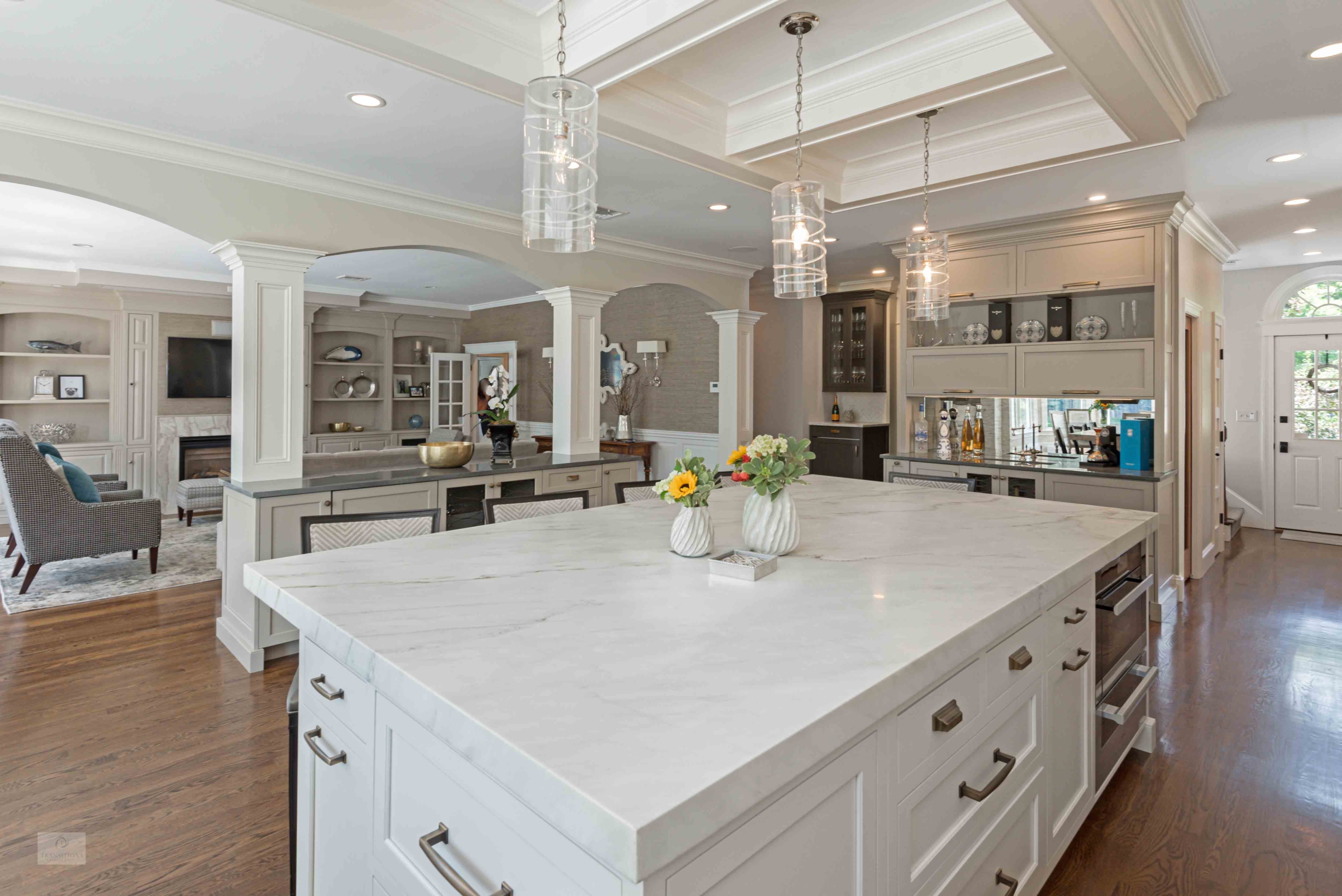 Elevate the Mundane
Accessorizing isn't just about creating an aesthetically pleasing space. A kitchen design must be efficient and well-organized, and able to incorporate functional items that are both stylish and useful. The dishcloths and soap holders you buy should be as considered as the hardware and lighting fixtures you choose. Invest in quality dish towels that complement your color scheme. Make sure that the storage containers you use work with the style of your countertop, cabinetry and shelving. Elevate everyday items to maintain a high standard for your kitchen design. Try utilizing unusual but beautiful objects as containers and vases to inject personality and style into your kitchen design.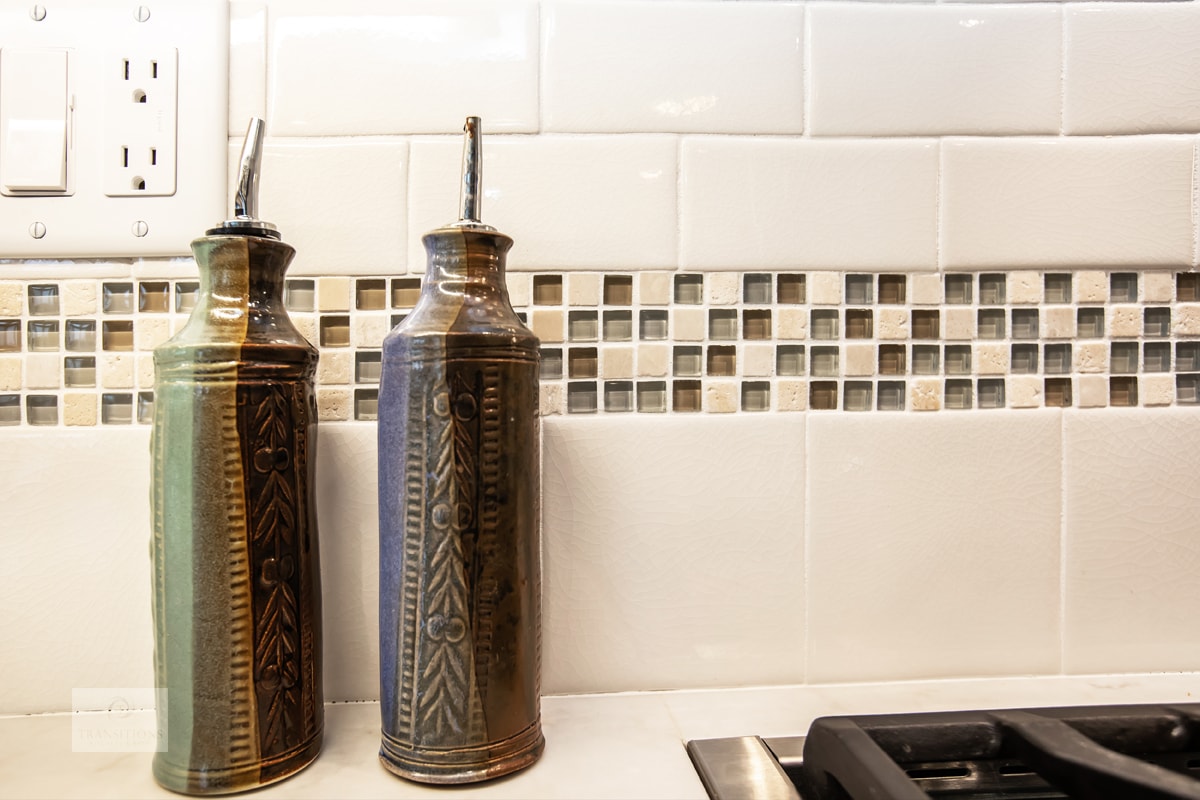 Consider How to Arrange Your Kitchen Design Accessories
Once you have selected items you'd like to display to accessorize your kitchen design, it's important to arrange them well. Lining items up in a row looks boring and one dimensional, so it's important to consider the best way to arrange them to create a cohesive style.
A classic design technique is to arrange a small group of accessories together that have a common trait. Choose items of the same color, style, material, texture, or function. Keep the tallest at the back and arrange the other items in front of them to give depth to the group.
Don't be afraid to put things on top of each other to create an aesthetically pleasing arrangement. Books can lie horizontally with candles on them, for example. Conversely, instead of stacking up trays or cutting boards, try standing them up against a wall in order of size. Adding depth and dimension makes accessories look more interesting and natural.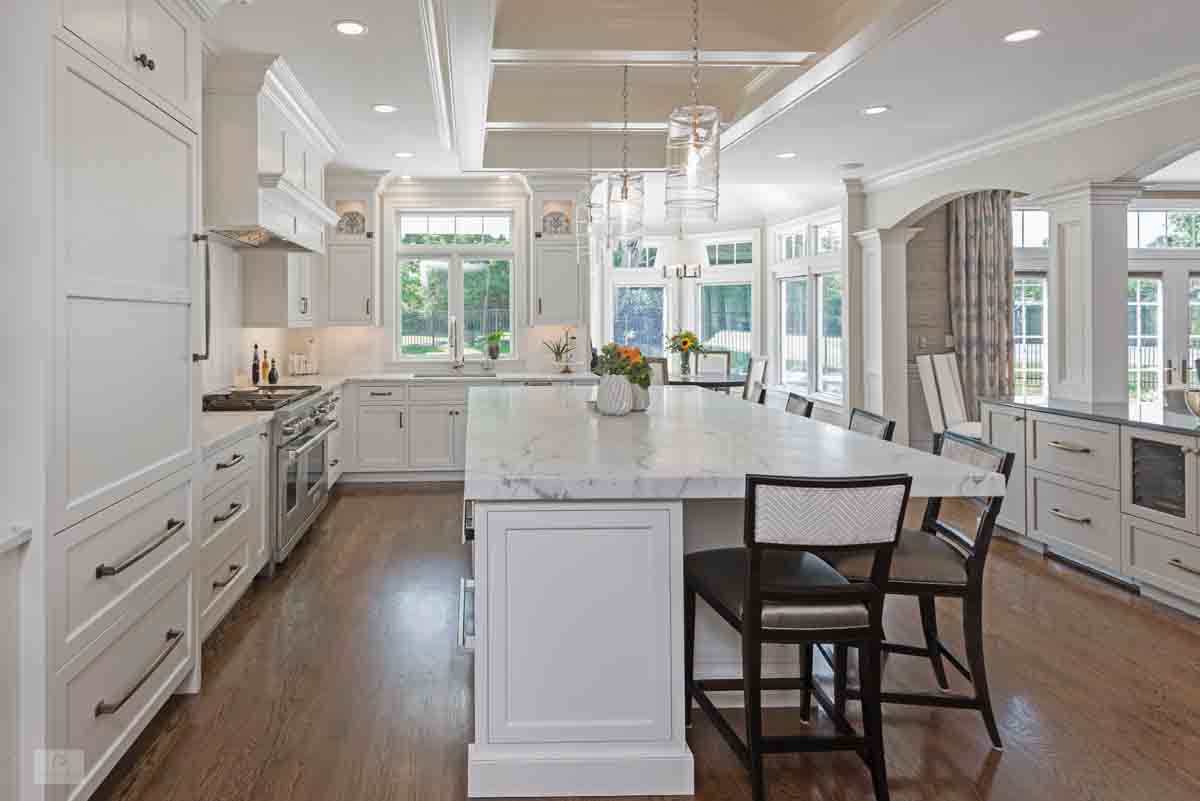 Open up Your Storage
Shelving is an ideal way to accessorize your kitchen design.  Install shelving units or corner shelves in otherwise unused wall space or alcoves around the kitchen design or replace upper cabinets with larger shelving.
How does your shelf's material alter the look of your remodel? Glass is a neutral option that opens up a space as it reflects light. Wood adds warmth to any design, and reclaimed wood brings a rustic, one-of-a-kind look to your room. Bring an edgy touch to your kitchen remodel with powder coated metal or stainless steel. It could either work with an industrial design or contrast with a softer look.
Whatever you choose, your shelf material should complement the overall style, other materials, and color scheme of your kitchen design. Keep the focus on your shelves' material by not overloading them with too many items. Regularly used items should be kept near where they are needed to increase your kitchen's functionality, and make sure displays are well curated and dust free for perfect statement storage.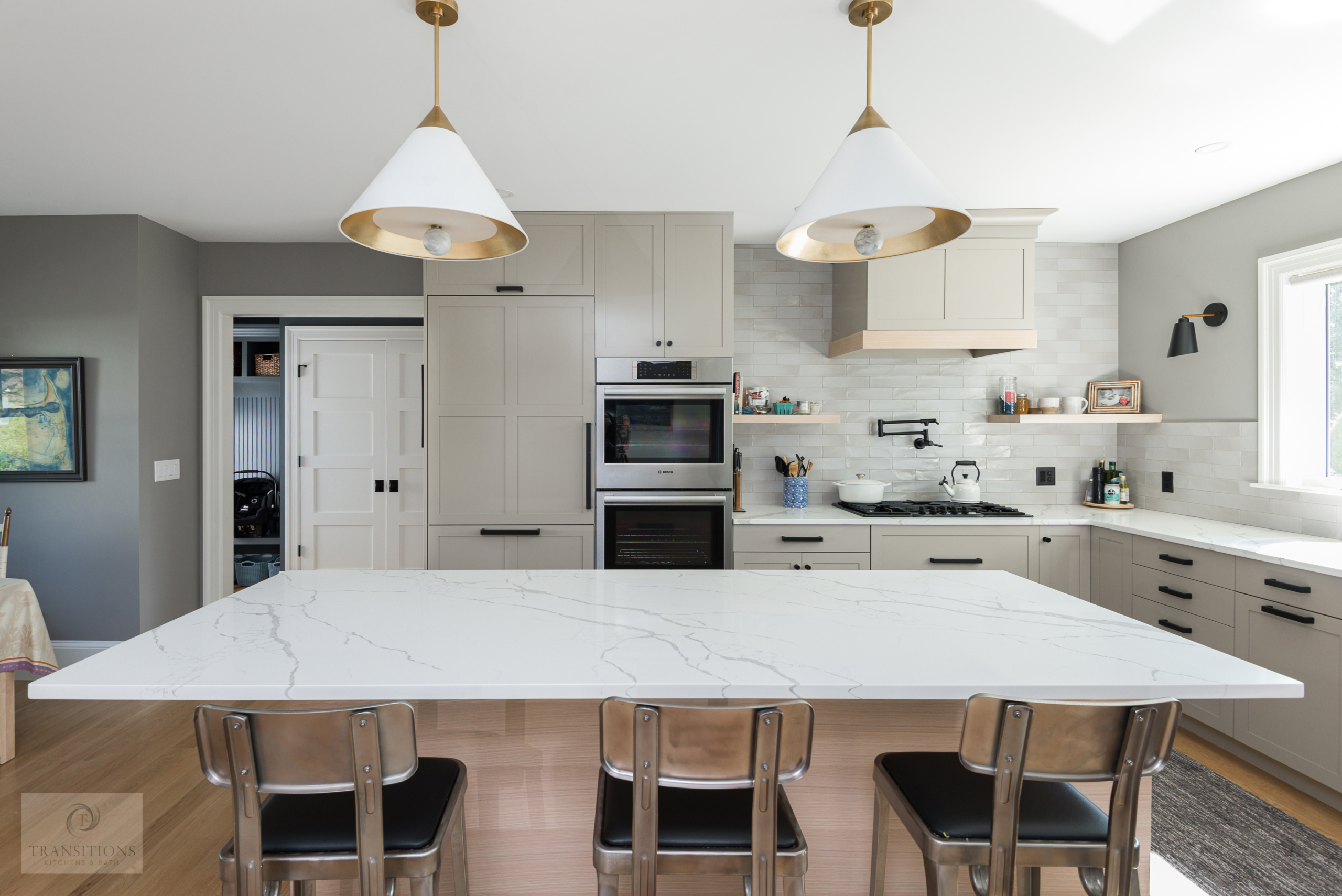 Make the Most of Wall Space
Replacing cabinets with open storage means you are revealing more of your kitchen design's walls, so consider how you are going to decorate this space. Wallpaper or a contrasting paint color is a great backdrop to shelving.
If you remove cabinets entirely to leave wall space open to the ceiling, then consider a statement backsplash to enhance this area. A panel in an eye-catching material such as colored glass, copper or stainless steel would work, but tiles are becoming more interesting. Gone are the days of the standard size and layout, as this year embraces larger formats in striking textures, colors, patterns, and shapes. As it's a limited area to cover, you can go high-end and really make an impact with your tile selection.
Grout comes in a great array of colors also, so you can choose a combination of tile and grout that works for you. Why not incorporate a high-end hood in an unusual material to become a central part of your kitchen design? Hang pictures and mirrors or place them on shelving to personalize your look.
Hooks and pegs can also support attractive cooking utensils, herb pots or funky towels. Only hang well-crafted items that are suited to the style of your remodel. Use this opportunity to accent your kitchen design with a chosen accent color, to add texture, or create a splash with metallic accents.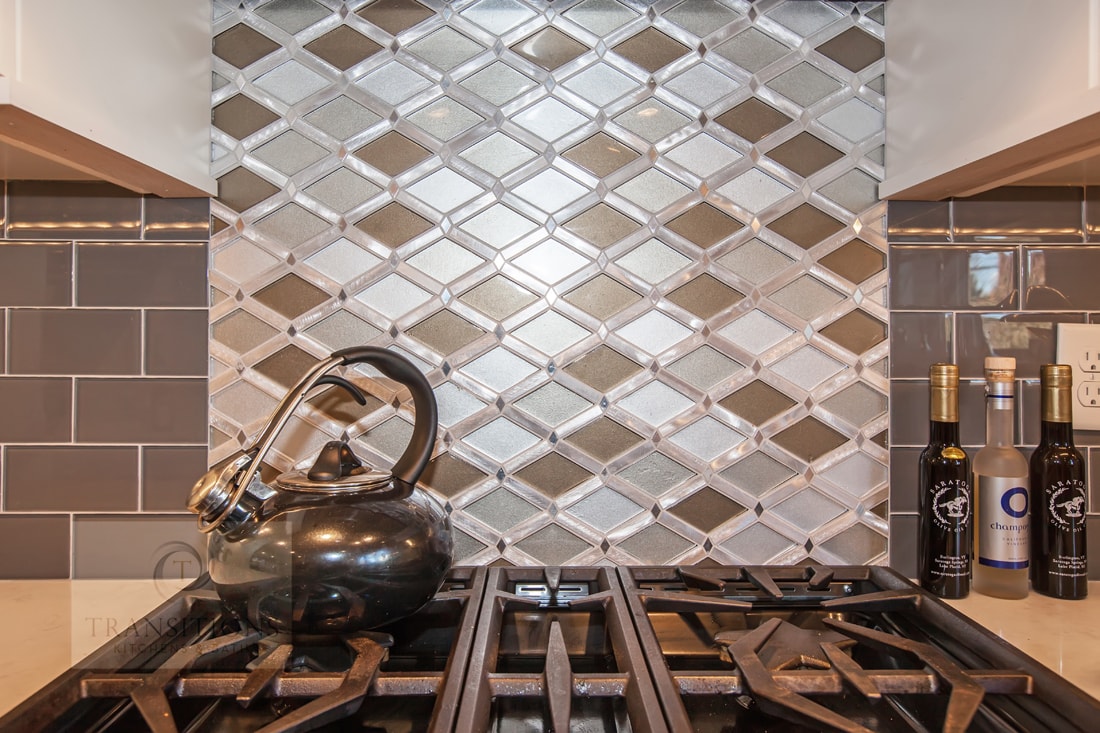 Focus on Lighting
How you choose to light your kitchen design makes a big difference to the finished look. Plan your lighting scheme at the design stage of your remodel to create a cohesive lighting design and allow for correct installation of all light fixtures.
Task lighting shines a bright light on work areas and accent lighting enhances items on display while ambient light sets the mood with softer light sources. Dimmer switches give you further control over lighting levels.
Consider your lighting fixtures and go for something that accessorizes your room's style. This year's statement lighting includes giant pendants and dramatic wall mounts. Why not place one statement pendant, or a trio, over a dining table or island to make this space stand out from its surroundings?
Candles accessorize any space after dark, whether placed around your kitchen or grouped together. Chandeliers are another romantic and glamorous lighting option. Metal fixtures are always on trend and this year's brass is very fashionable across all hardware. Organic materials are very popular and can make a statement while retaining their natural quality. A brave choice of color or material makes your lighting stand out as an accessory in itself.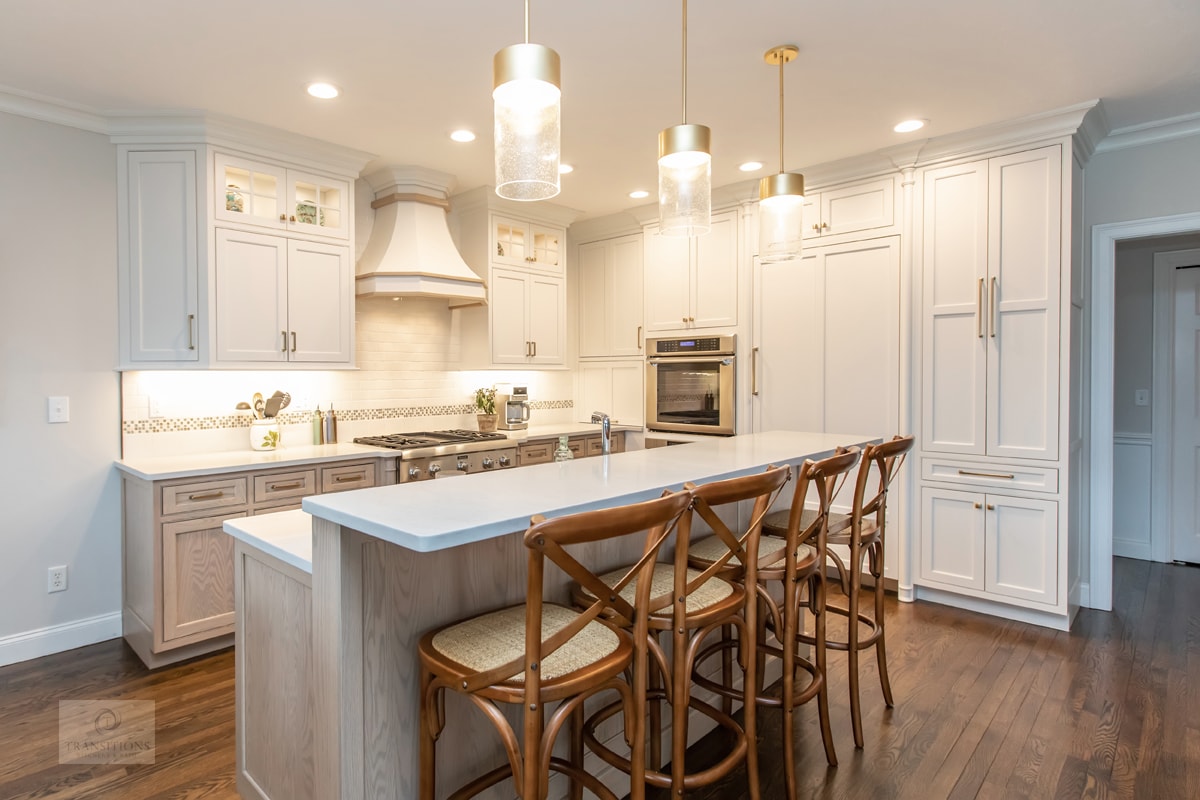 Introduce Color and Texture to White Kitchen Designs
White kitchen designs can be punctuated by color or layered with neutral tones in different textures. White is stylish on its own, but you can transform it by pairing it with other colors and accessories, which offers the option to change your chosen accent color whenever you wish.
Why not inject this year's color, green, or warm things up with a spicy orange shade? Navy and white is still popular in two-tone cabinetry and can be included throughout a color scheme. If you want to segregate an open plan kitchen design, color is very useful. For example, a dining area could embrace one shade and the food prep space could be a different color.
You can't go wrong with adding black accessories to a white kitchen design. Black matte hardware is still in vogue and barstools or shelving stand out beautifully in dark metal. Cabinet handles can also be used to make a statement. Neutral shades are perfect for this year's organic trend, giving your kitchen design a look that is both calm and elegant. Layer textures with baskets, wood, and fabrics in neutral tones to bring warmth to a monotone design.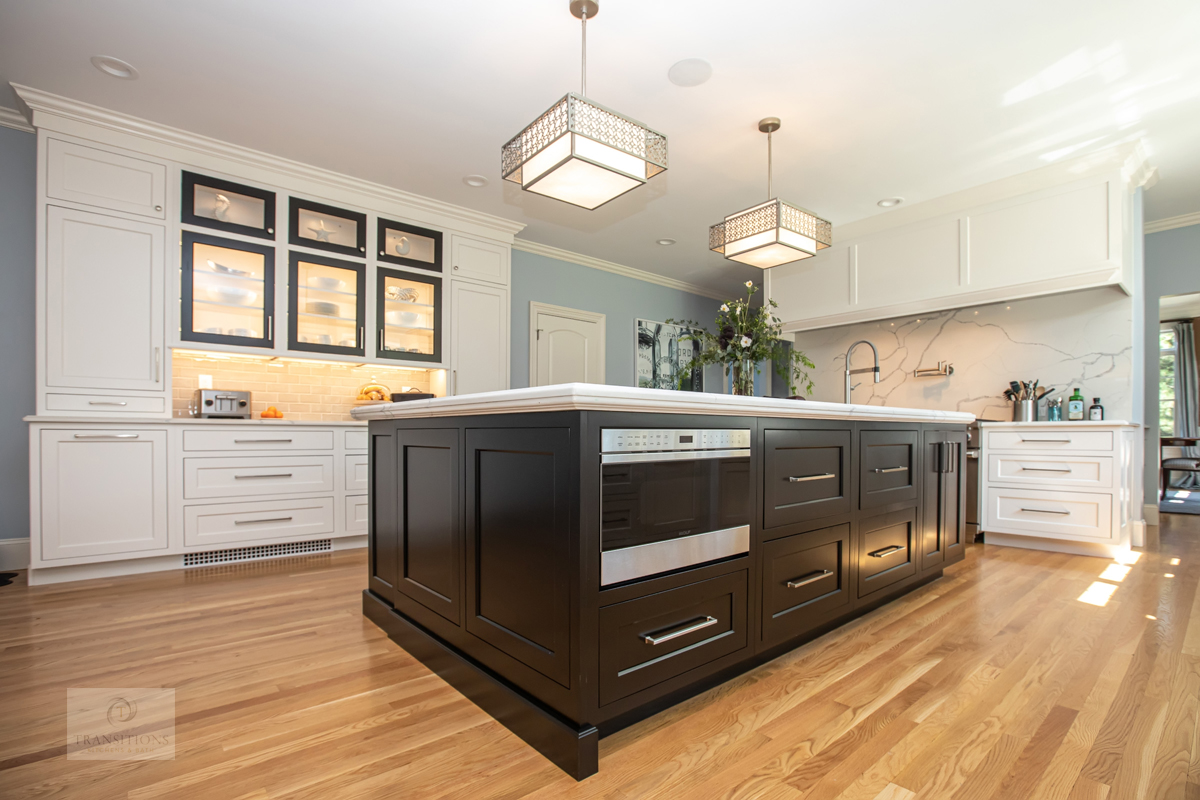 Make Your Design an Expression of Your Personality
Your kitchen remodel is a reflection of your personal style, expressed through the design elements chosen by you. From flooring to appliances, functionality is key, but must be balanced with style to achieve a cohesive kitchen design.
After the installation process, accessorizing is the next step to making your kitchen design your own. The accessories you choose should express your personal taste and enhance the style of your space. Custom storage is the best way to retain the look of your kitchen design, keeping it clutter-free and low maintenance. However, adding freestanding furniture such as a bar cart or lamps are ways of injecting interest as well as being functional.
Try upholstering seating in your favorite colors and textures. Adding drapes, blinds or shutters makes a big difference to windows but be sure that they suit the style of the room and don't overwhelm the space or reduce natural light. Introduce lush greenery in containers that accentuate your kitchen remodel. Whether real or artificial, plants and flowers bring life and color to any design.
Everything you add to your basic kitchen design is really an accessory. Carefully consider what accessories you want to include and where you will place them in your kitchen. In order to prevent your kitchen remodel looking cluttered, keep countertops and other open storage organized and clean. Make sure you have a link between items you display to unify these elements and give your kitchen design a polished look. The end result will be a stylish and functional place that is low maintenance and full of character.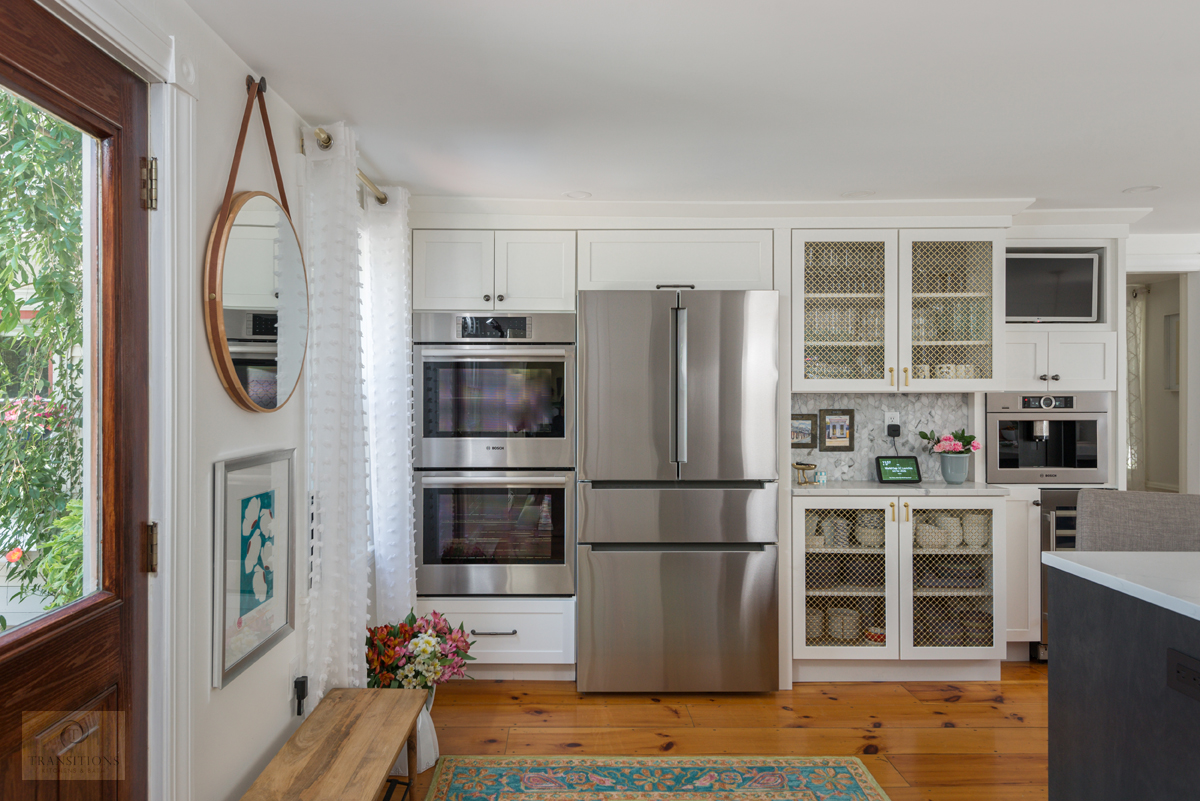 At Transitions Kitchens & Bath you can trust that our team of experts take all your needs and preferences into account. We'll take the stress out of a kitchen renovation and work with you every step of the way to ensure you're happy with the result. You'll feel confident to further accessorize your stylish and functional space. Check out our
design gallery for inspiration
and
contact us today
to discuss how you can transform your kitchen design.