A good kitchen design takes care of practicalities as well as looking beautiful. Including a beverage bar in your kitchen remodel makes life easier whether you're just having a coffee or entertaining. You can devote a small section of your countertop and cabinets or a fully equipped standalone beverage bar. Both will look stylish and cater for your needs when you include customized storage. A functional, clever, and trendy addition such as this also adds value to your kitchen and great kitchens sell homes. Here are 5 tips if you're thinking of installing a beverage bar.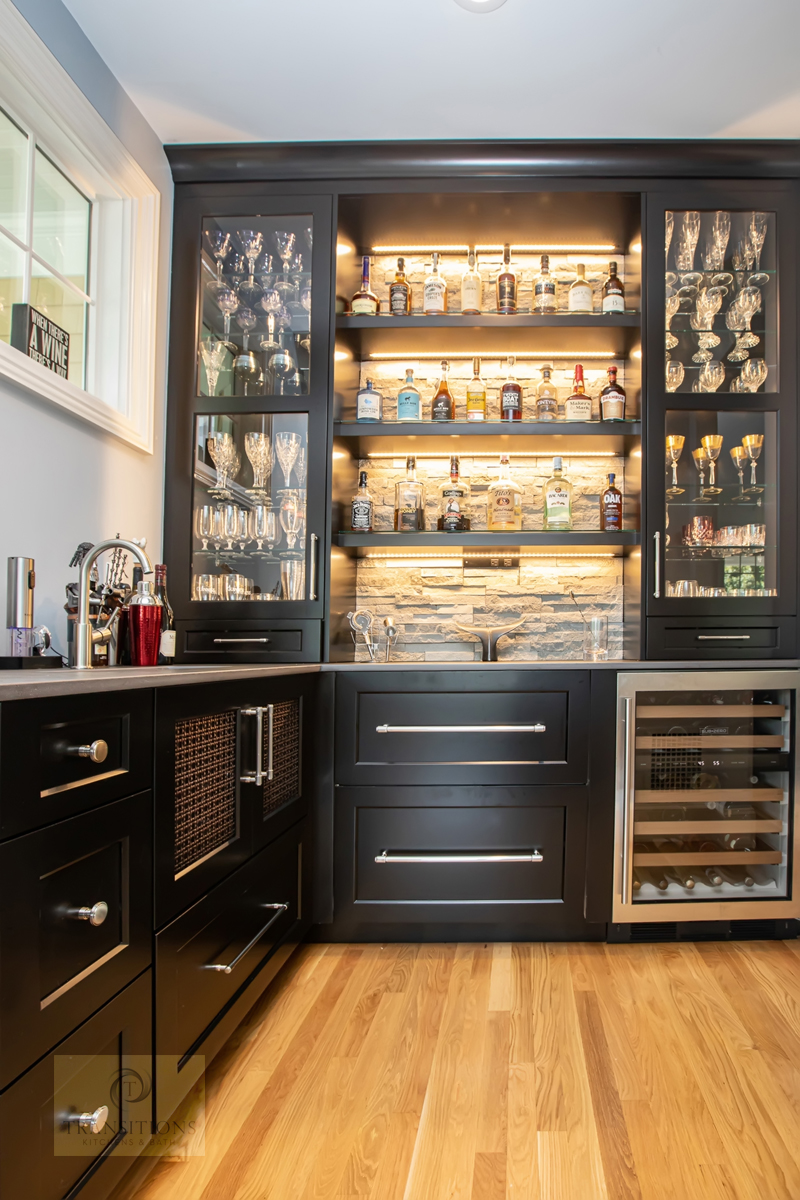 1. No Restrictions Apply
A beverage bar doesn't need to be a tiny corner with a couple of decanters and a wine rack. Modern wet bars are places that cater for all the family and their guests, so the sky's the limit. If you have a small kitchen then plan where you could fit a bar and be clever about what you can install. If you have the space for a larger bar, you could have a sink, dishwasher and refrigerator with shelving for cups, glassware, drinks and other ingredients and accessories. A built-in coffee maker means water is piped directly into it, saving you having to refill it. If your space cannot accommodate all this, all you need is an area for guests to fix a drink at a party or for the you to fix your coffee. An undercounter beverage refrigerator is ideal if space allows as it offers a place for kids to grab a cold drink away from the cooking area. From basic to luxurious, beverage bars work, regardless of size.
2. Plan the Perfect Position.
At the planning stage, think carefully about the best place for your beverage station. You might have a large space beside the stove, but the bar should be situated away from your food prep area. You don't want people underfoot when you're busy cooking and they're getting drinks. If you have two islands, then the one used for socializing at would be ideal for a wet bar with a beverage refrigerator and storage at one end and barstool seating at the other. Keep all drink requirements above and below the counter with custom-built storage solutions. You might even have space in an area adjoining your kitchen to convert to a bar, such as a pantry or mudroom, or even a spot just inside the living room in your open plan kitchen design. You may need to move plumbing or wiring, but a kitchen design expert can keep you informed of any special requirements when installing a beverage bar and factor this into your budget.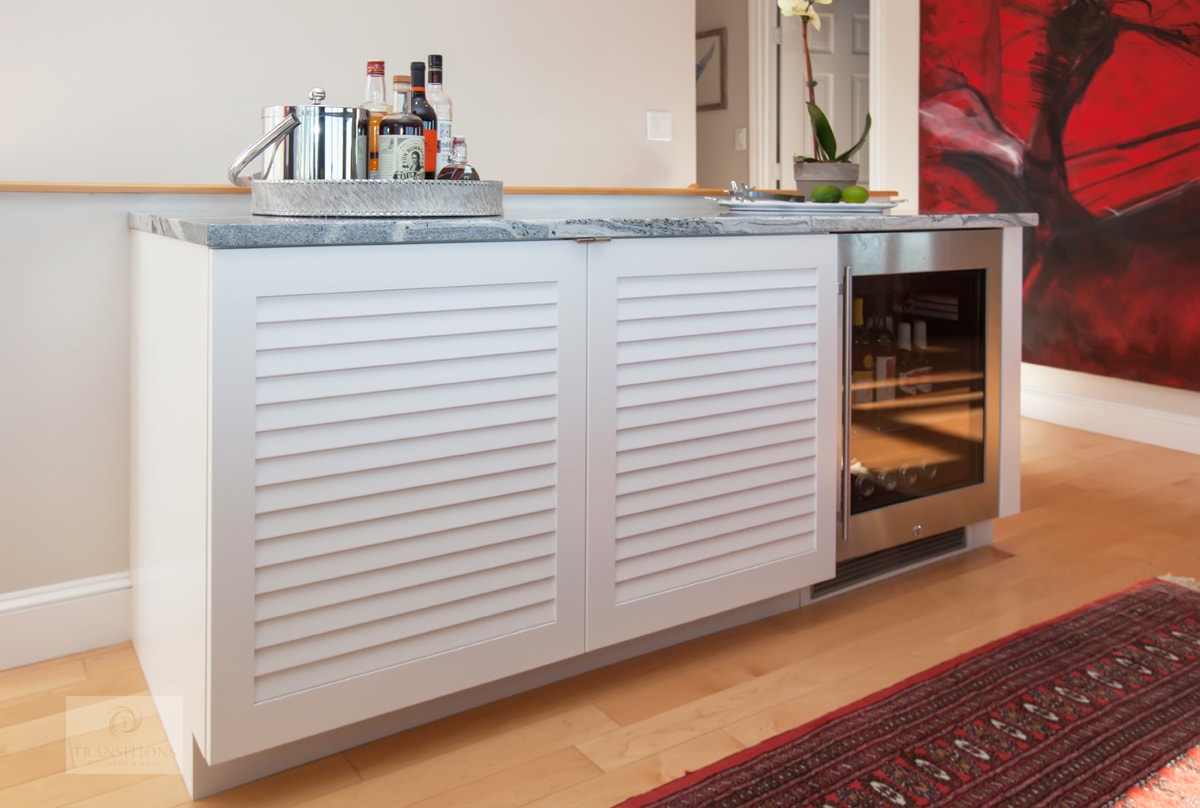 3. Raising the Bar
If you love your new beverage bar, there's no limit to the luxury features you can add on. In addition to a refrigerator, you could install a wine rack or storage to display an array of drinks.
Or if you don't want to dust your collection, then down lit glass-front cabinets do the job well and are very stylish. A coffee machine, a sink, and a small dishwasher can be plumbed into your beverage bar to make life easier.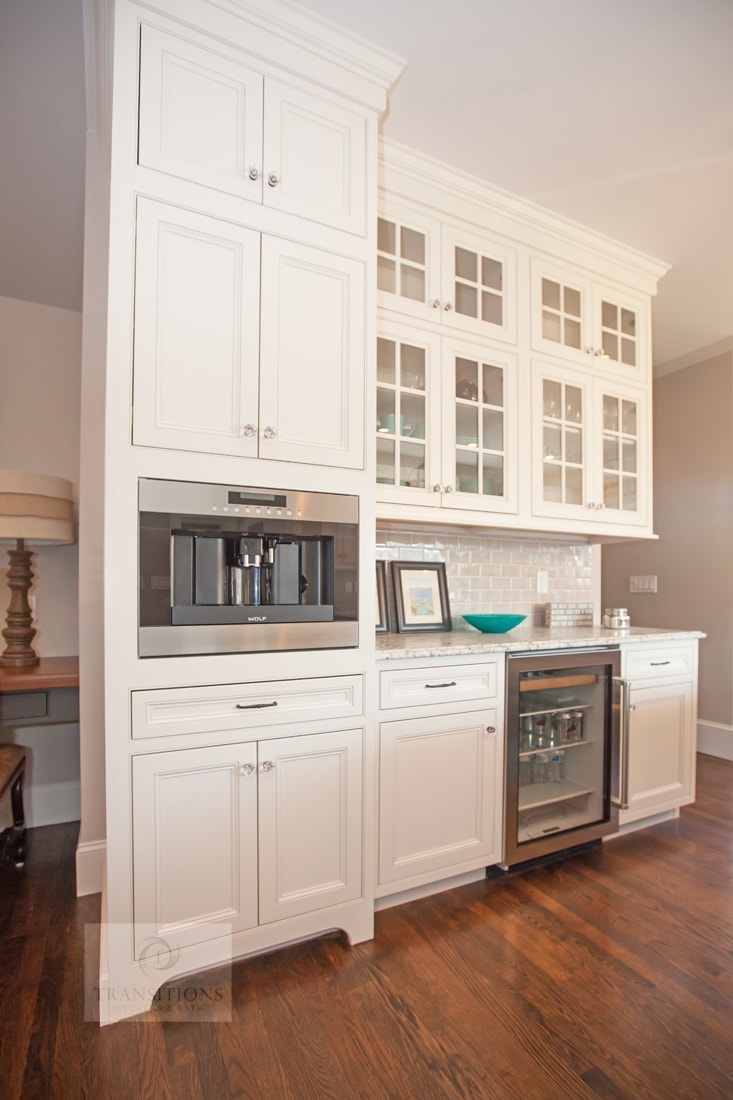 4. Catering for the Connoisseur
Whether your drink is beer or brandy, you can create a wet bar that can specialize in its storage and preparation. What better way to display your gin bottles than on trendy open shelving with a glass bowl of citrus fruit? Finish the look with a bunch of rosemary hanging from a hook along with cinnamon sticks and whatever else you garnish your cocktail with. Whiskey, tequila, and rum can get similar treatment if they're your drink of choice and you can display the glasses, mixing equipment, and ingredients in custom-built storage.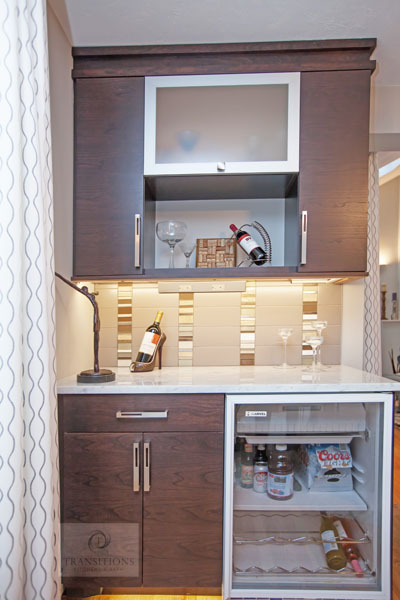 5. Take Your Cup of Joe to the Next Level
A beverage bar doesn't have to specialize in alcohol. Make your coffee bar stylish and practical by incorporating it into your kitchen remodel at the planning stage. If you don't want to look at a coffee machine on your countertop, simply house it in a cabinet with doors or a pull-down cover.  A fridge could hold ground coffee, milk, syrup and make ice for iced coffee. Beans and barista tools can be stored in an overhead cabinet and latte glasses and porcelain espresso cups would look great on contemporary open shelving.
Look at our kitchen design gallery for more inspiration. Call us to discuss how a beverage bar, among other excellent lifestyle solutions, can turn your house into a stunning home.