Flooring is an essential element
of any home living space. It covers a large, central surface area in any room and so must be integrated with the design vibe of your home. In addition, your floor must be able to withstand wear and tear. It is subject to foot traffic, pets, spills and splatters, and dropping heavy items. Determine how much traffic your room gets, how moisture prone it is, and if it is subject to temperature fluctuations before finalizing your flooring selection.
There are many flooring materials available, but it can be difficult to find the right balance of style and durability within your available budget. Our guide to flooring options will help you get started. Then visit design showrooms to see different materials in person and compare the alternatives. Work with a design expert to help you in making your final selection.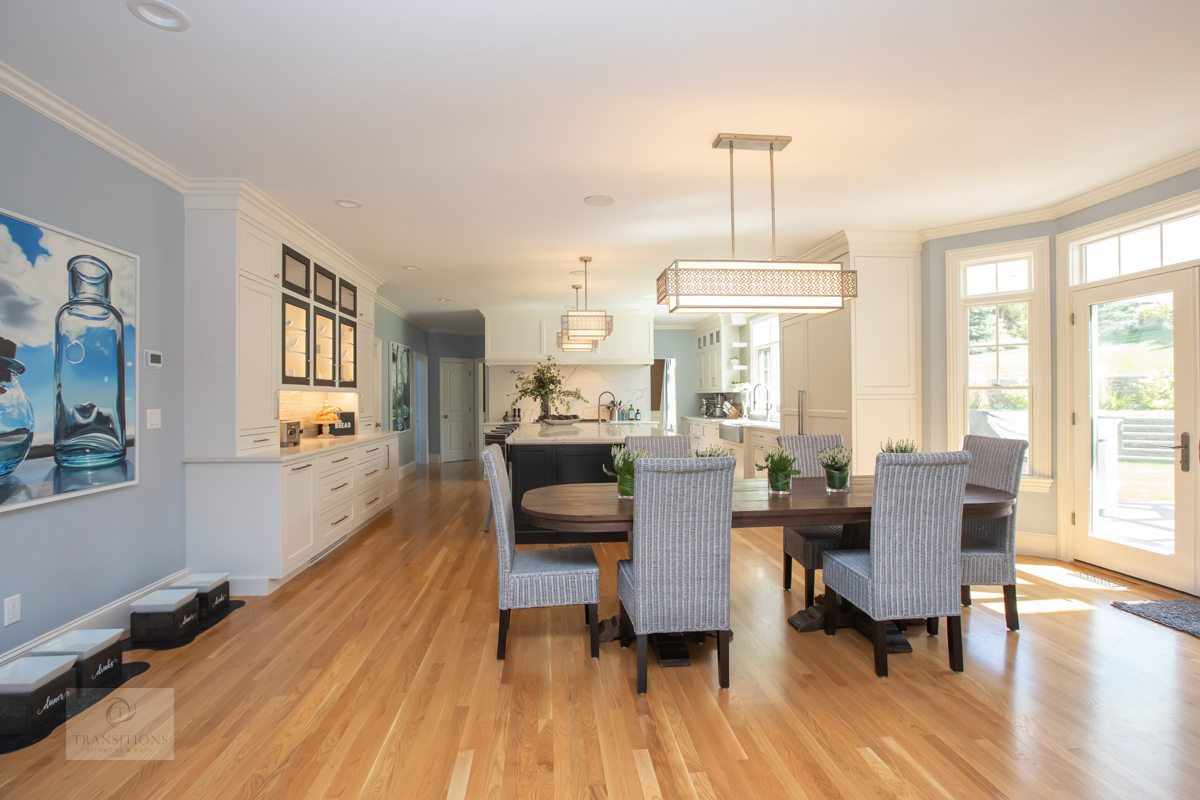 1. Decide what you need.
When choosing an essential surface like a floor material, you must first consider your functional requirements based on the needs of your household. While you may initially be focused on style, you should decide what your must haves are for functional considerations like moisture resistance, scratch proofing, and ongoing maintenance.
Moisture resistance – Think about the room where you are installing flooring and what it will be used for. If it is a moisture prone area like a master bathroom design or a kids' bath, then you must take this into consideration when selecting your flooring material. Stick to materials proven to withstand a medium to high moisture environment like concrete, tile, or vinyl.
Also consider the texture of a floor in a high-moisture area, as a smooth surface like polished tile can be dangerous. A textured surface is much safer to walk on when spills, splashes, and steam are a common occurrence.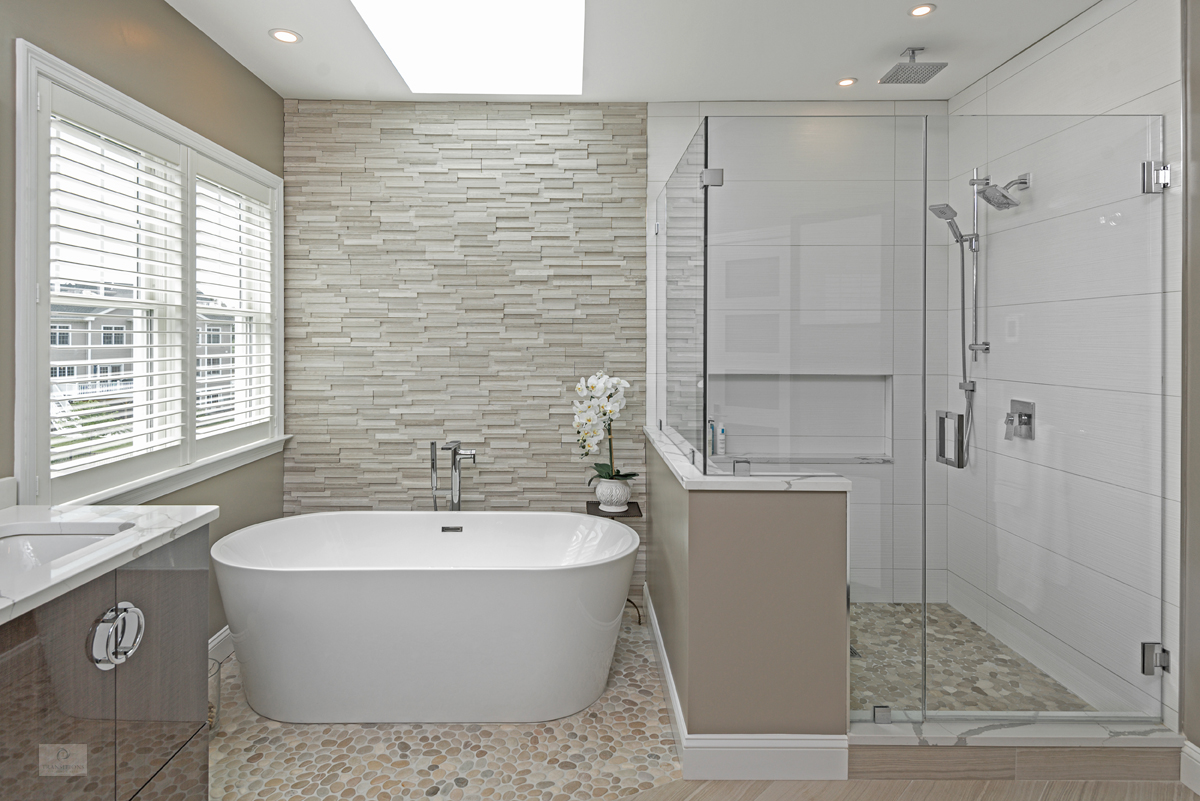 Scratch proof
– If you
have a busy household
, and in particular have kids or pets, then consider looking for a more scratch resistant surface so your floor material can withstand this traffic. Ceramic or porcelain tile, laminate, or vinyl plank or sheet flooring are all durable options. While tile is highly scratch proof, remember that it can be prone to chipping if you drop something heavy on it. For laminate, the scratch resistance depends on the quality of the top layer, which is the transparent wear layer. Vinyl is even more durable and scratch proof, and so ideal for highly trafficked areas. Hardwood flooring is much more scratch prone, but you can extend the life of hardwood by sanding and refinishing it over time.
Long-term maintenance – Maintenance requirements differ greatly from one surface material to another. Some materials necessitate special cleaning methods or are only compatible with specific types of cleaners. Other surfaces have specialized long-term maintenance needs that must be adhered to in order to ensure your flooring reaches its potential age. Make sure you fully investigate and are happy with these requirements before investing in a flooring material.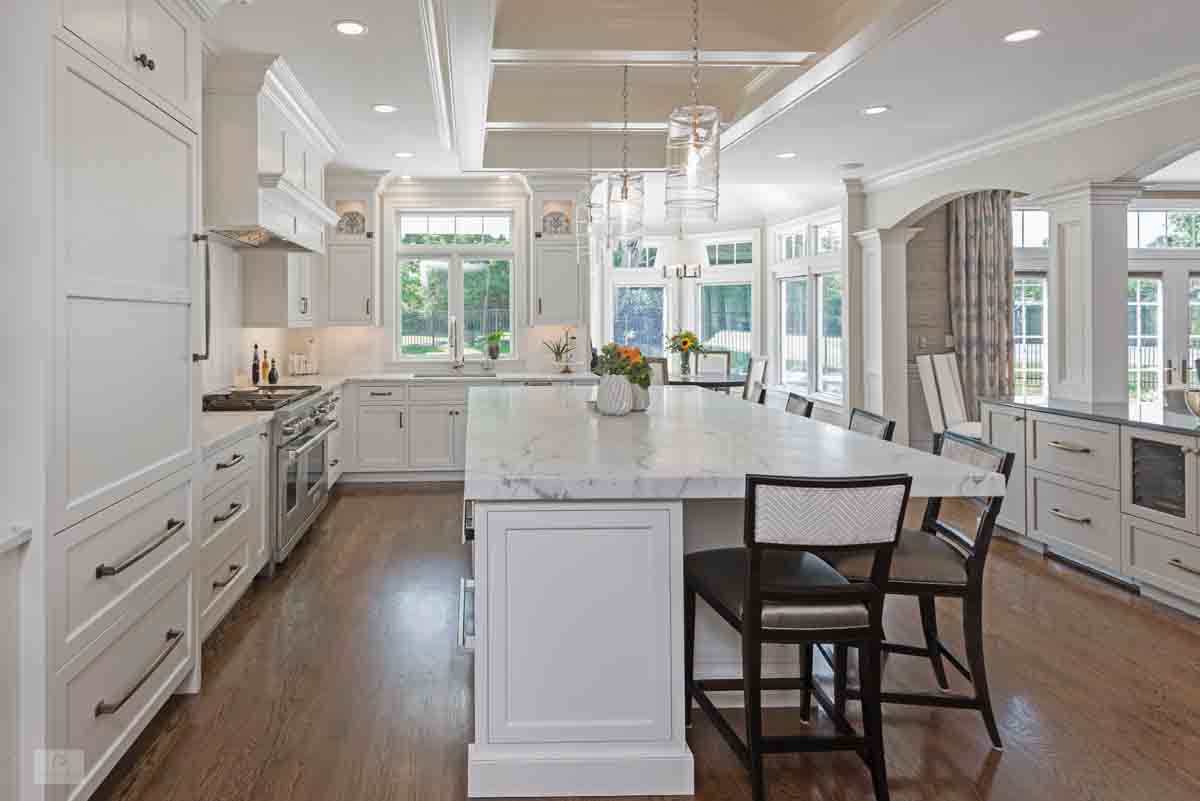 2. Figure out your preferred style.
Once you understand the practical requirements for choosing a flooring material, you can look at which style best fits your overall design aesthetic. From the classic warmth of hardwood to the customized appeal of tile colors, patterns, and textures, there is a wide array of flooring options to enhance any style room. If your style demands the visual appeal of wood but you need greater durability, then consider alternatives like wood look porcelain tile or luxury vinyl planks.
Decide if you want your floor to blend neatly with surrounding design elements or to stand out on its own. A bold patterned or brightly colored tile looks amazing but make sure you are happy to commit to the look this creates for your room. Flooring is not easily replaced so you must view it as an investment in your design rather than an accessory that you change on a whim. If you want to go for a more classic look then stick to wood, wood look, or classic neutral tones.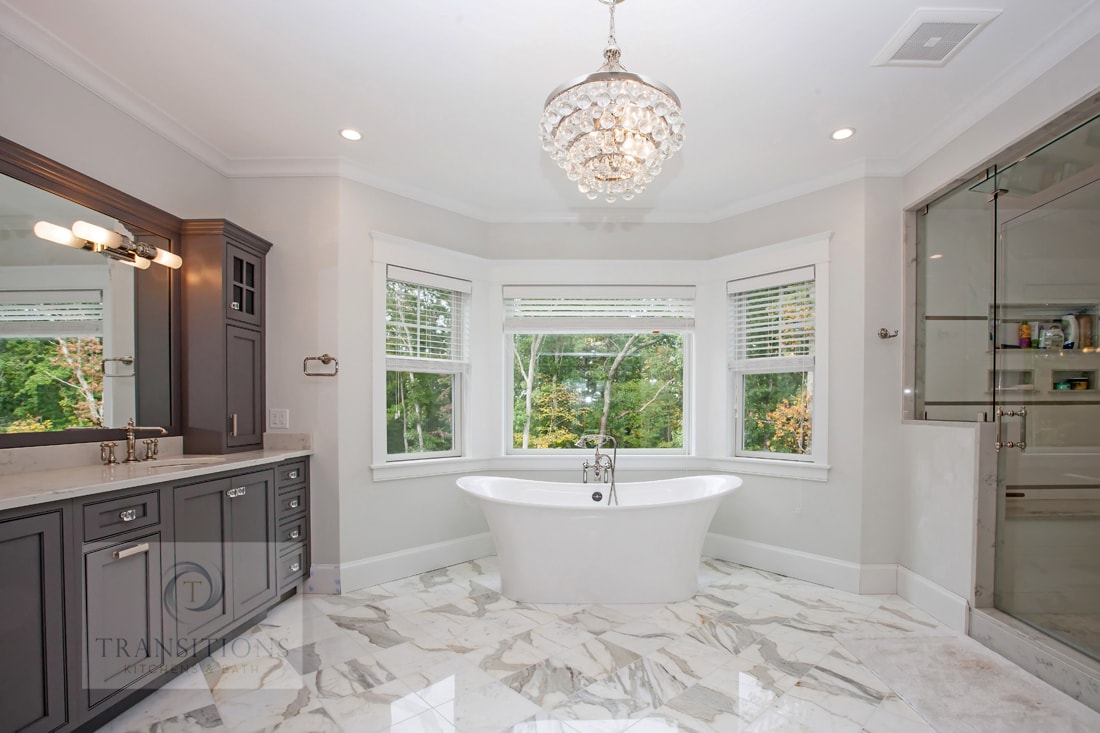 3. Consider your budget.
Flooring options are available in a wide range of budget options, and the cost of flooring is based on both the price per square foot for the material and on the installation cost. Some materials require a more specialized method of installation, are more labor intensive to install, or require extra materials like underlay.
It helps to understand your budget when shopping for flooring and how much of your available funds you can commit to flooring. If you have the room in your budget, it pays to spend more on a flooring choice that will enhance the beauty of your design and last longer. Go for the best you can afford, and if necessary look at alternative materials like vinyl that are more budget friendly and mimic other surfaces like wood and stone.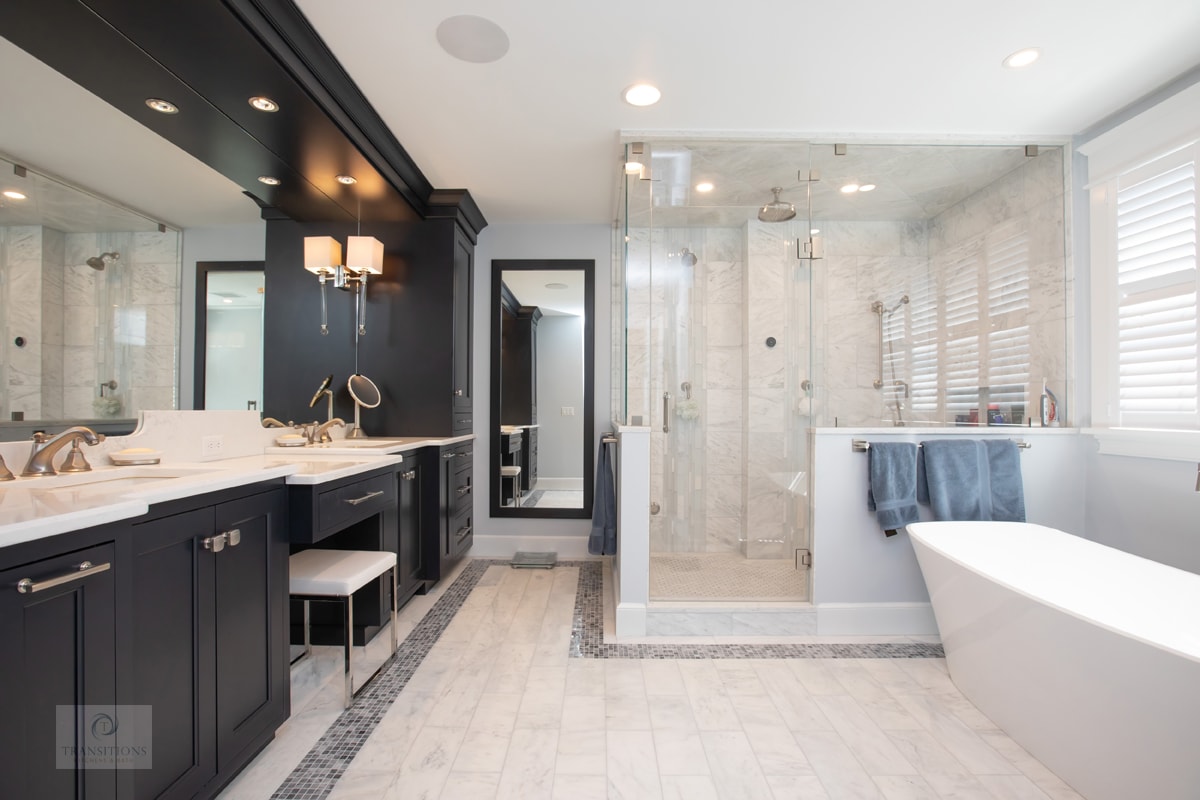 4. What are the main flooring materials and styles?
Hardwood
You can't beat the natural beauty of solid hardwood flooring, nor can you imitate the feeling of it underfoot. This warm, elegant material is a classic surface that can be refinished and potentially last for centuries when it is carefully maintained. Hardwood comes in a range of wood species with completely different looks. It can be obtained in varying widths with different colors and finishes from the Scandi-chic of pale wood to the traditional charm of dark wood. Different types of trees produce unique wood that gives your flooring a one-of-a-kind look. Among the hardwood species are oak, maple, walnut, hickory, bamboo, and more.
Hardwood must be glued or nailed to a subfloor, which is typically plywood or concrete. Hardwood must be installed by a professional who can do justice to this beautiful, but tricky to handle, surface. It's essential to leave hardwood in the room where it will be installed for several days so it can acclimate, because natural wood expands and shrinks based on the room's unique humidity and temperature.
In addition to the obvious appeal of natural hardwood, it also offers the benefit of being able to be refinished multiple times. This extends the life of the surface and allows you to change the look of your room by sanding and refinishing it.
What are the downsides of hardwood flooring? It is a natural material that is not moisture proof and is susceptible to temperature changes and humidity and can be prone to scratching and warping. If this is a high moisture area like a busy bathroom design, then hardwood floor may not be the best choice. You should opt instead for a more durable wood look tile. In a kitchen design, hardwood can work and is especially beautiful in an open plan kitchen/dining/living area. However, careful maintenance and cleaning is essential, and make sure to put rugs in places more prone to spills like by the kitchen sink.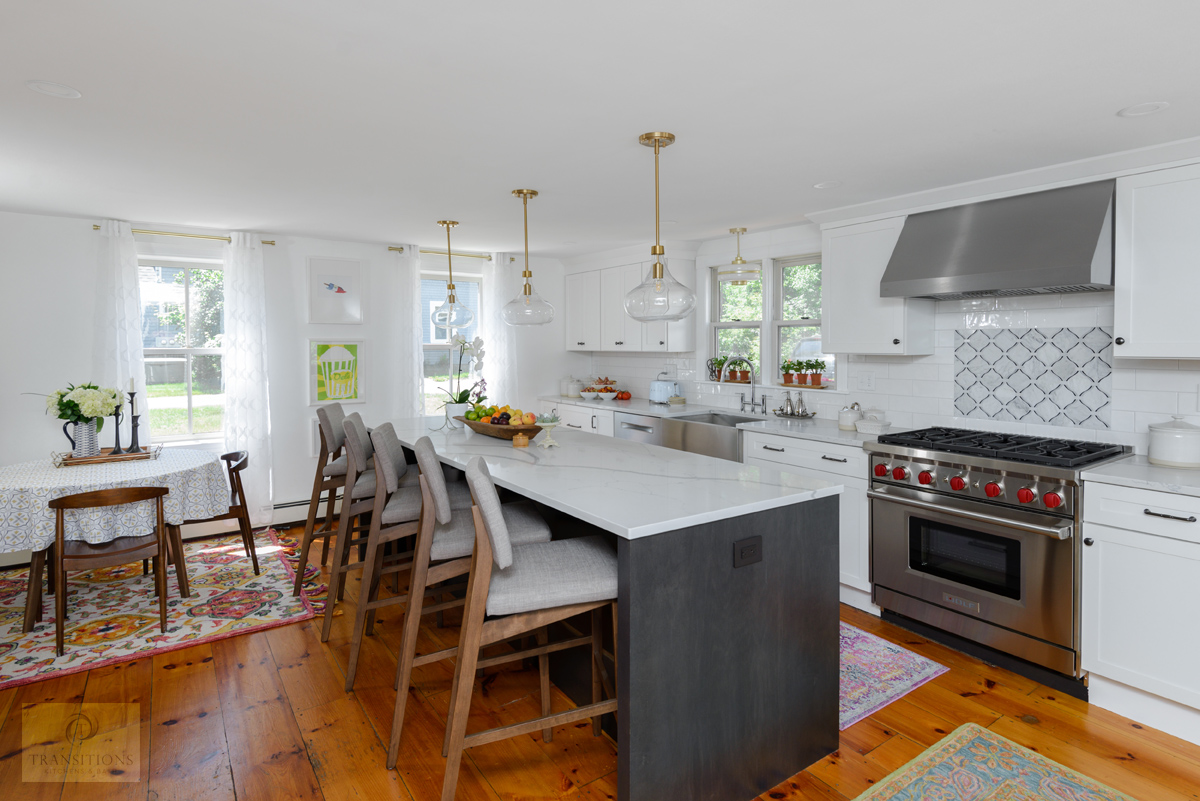 Engineered Hardwood
This alternative to hardwood gives you the appeal of natural wood with greater versatility as it can be installed as a DIY project and is a bit easier to maintain. Engineered hardwood consists of a veneer of solid wood over a core made up of high-density fiberboard or plywood. Like hardwood, it comes in planks of varying widths and has the look and feel of solid wood due to the top layer. You can even refinish engineered wood (though only once or twice and this is dependent on the thickness of the veneer).
Engineered hardwood is not waterproof but it is more resistant to warping so it can be an alternative to hardwood in spaces more prone to moisture. Since the surface layer is still natural wood, engineered hardwood is prone to the same scratching, but it is still more durable than solid hardwood.
Laminate
Laminate flooring takes that durability one step further, as it gives the look of wood (or other materials) by using a photo layer on top instead of a natural material. Laminate flooring consists of 3-4 layers starting with a dense core layer on the bottom that is similar to that of engineered wood.  This is topped by an image layer that imitates the look of wood, stone, or tile. The top layer is called the wear layer, which is a transparent, durable surface that protects the image layer. Some laminate flooring includes an extra layer to help with soundproofing and comfort.
This flooring surface is highly durable, easy to clean, won't fade in direct sunlight, and it is cheaper than hardwood. It copes well with humidity and temperature fluctuations, but it is not waterproof and is slippery underfoot when it gets wet so take caution in highly moisture prone rooms like a bathroom design. Laminate is an ideal choice for a busy area in your home if you have kids or pets.
It is relatively straightforward to install, and typically involves a soft underlay with the laminate floor glued together or clicked into place depending on the type of laminate. This is referred to as a floating floor since it attaches to itself and not a subfloor. Laminate flooring is a more cost-effective option, but cheaper versions do look more artificial, so consider your available budget and shop around to compare quality within your price range. Unlike hardwood, laminate cannot be refinished to extend its lifespan.
LVT/LVP
LVT and LVP stand for luxury vinyl tile and luxury vinyl plank flooring. This is the latest in vinyl flooring and is a long way off from the old-fashioned version you might remember from your grandmother's kitchen. Luxury vinyl flooring is constructed of a rigid or flexible vinyl core layer at the bottom, topped by a vinyl design layer that mimics the look and texture of your preferred natural material, all covered by a transparent wear layer that protects the surface. Some include an extra layer underneath that makes it more durable and comfortable.
LVT and LVP come in a wide range of installation options, ranging from a floating floor installation method to gluing it down or a loose lay method. It is completely waterproof, relatively inexpensive, and highly durable, plus it really gives you the look of the natural material it is mimicking. Keep in mind that vinyl is made of plastic, so it is not the most environmentally friendly option and it can contain varying levels of VOCs.
Vinyl Sheet
This is a lower cost option that is fully waterproof and comes in a seemingly endless array of colors, patterns, and textures. As the name suggests it comes in large rolls and can be cut to fit the space. It is highly durable and easy to install, but if not installed correctly it can lead to warping. It is an ideal option for a laundry or utility room but can work well in a bathroom design or kitchen remodel.
Tile
There are many types of tile flooring options, in a range of materials, finishes, colors, textures, and patterns. Tile seems like it has been around forever, and offers durable, stylish choices to fit any home's style and practical needs.
The top materials for tile floors include:
Stone tile such as marble, granite, and slate.
Ceramic tile made of baked clay and can be found in glazed or unglazed surfaces. Ceramic (and porcelain) tiles can also be found in wood look surfaces that mimic the appearance of wood in a durable, moisture resistant surface.
Porcelain tile made of more refined clay and baked at a higher temperature, making it more durable and moisture resistant.
Cement tiles, which are more porous and must be sealed but give a beautiful surface that can be refinished.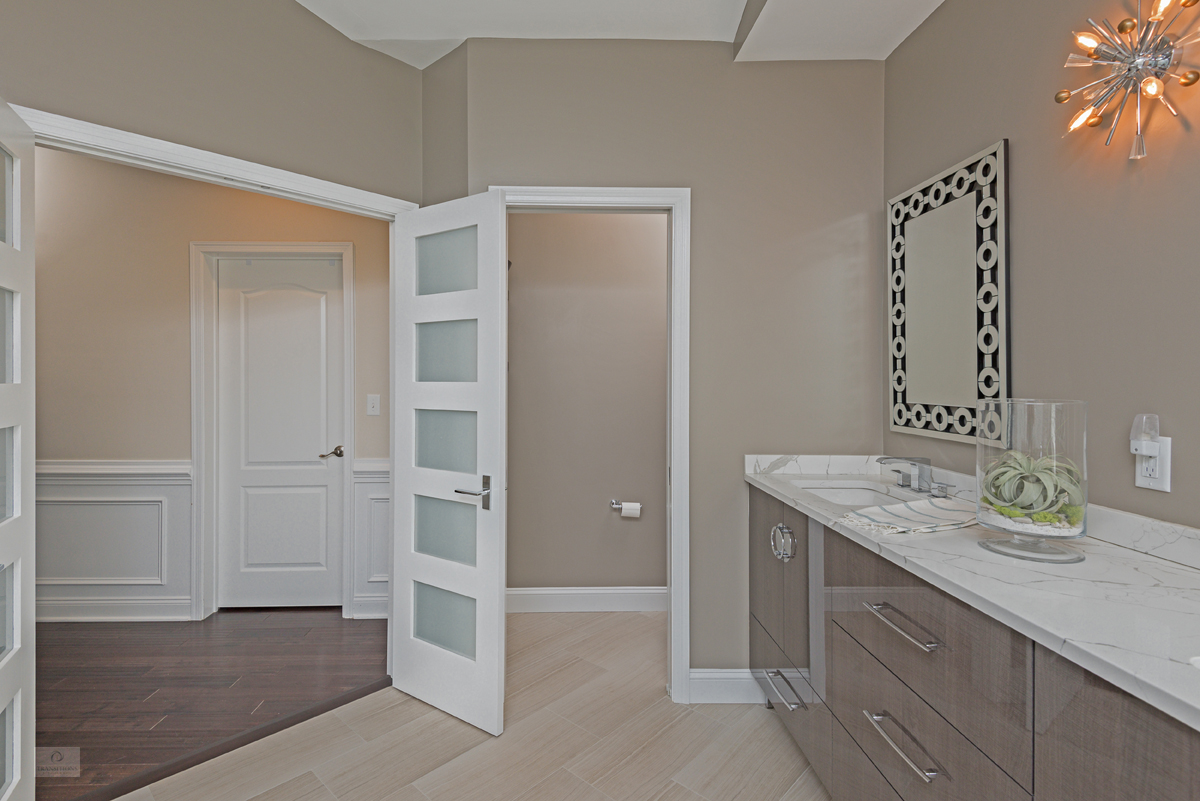 Tile installation is best left to the experts, as it is time consuming and difficult to lay and grout tile to achieve the highest quality. It is an ideal solution in a moisture prone area but equally a stylish solution for any space in your home. It can be cold underfoot, so consider including radiant underfloor heating.
Tiles are relatively easy to maintain though keep in mind that grout lines need to be resealed over time and kept clean to maintain their appearance. Some tile surfaces like marble are more prone to stains and moisture, while some need to be resealed over time, so take these requirements into consideration when selecting the right material for your home.
Which flooring material is right for you? Look at the space you plan to remodel, your lifestyle, available budget, and home design style when making a material selection. Talk to a design professional to help you find the ideal flooring that will enhance your home living spaces. Our experienced design team is ready to help you with all your home remodeling needs. Call us today!