When planning a kitchen remodel there are so many decisions to make it can seem overwhelming! Look for inspiration online or by visiting local kitchen design showrooms. When planning the style and functionality of your kitchen design there are a few key elements that lay the foundation of your room, so start with these core design elements.  Kitchen cabinets form your kitchen's layout, provide essential storage, and set the tone for your style based on the cabinet style and finish.
Countertops are another essential component as they provide necessary workspace cover a large surface area, which means they also strongly influence your kitchen's style. There are seemingly endless options for countertop materials, style, and colors, so how do you decide which one is right for you?  Get started with our guide to selecting the perfect kitchen countertop.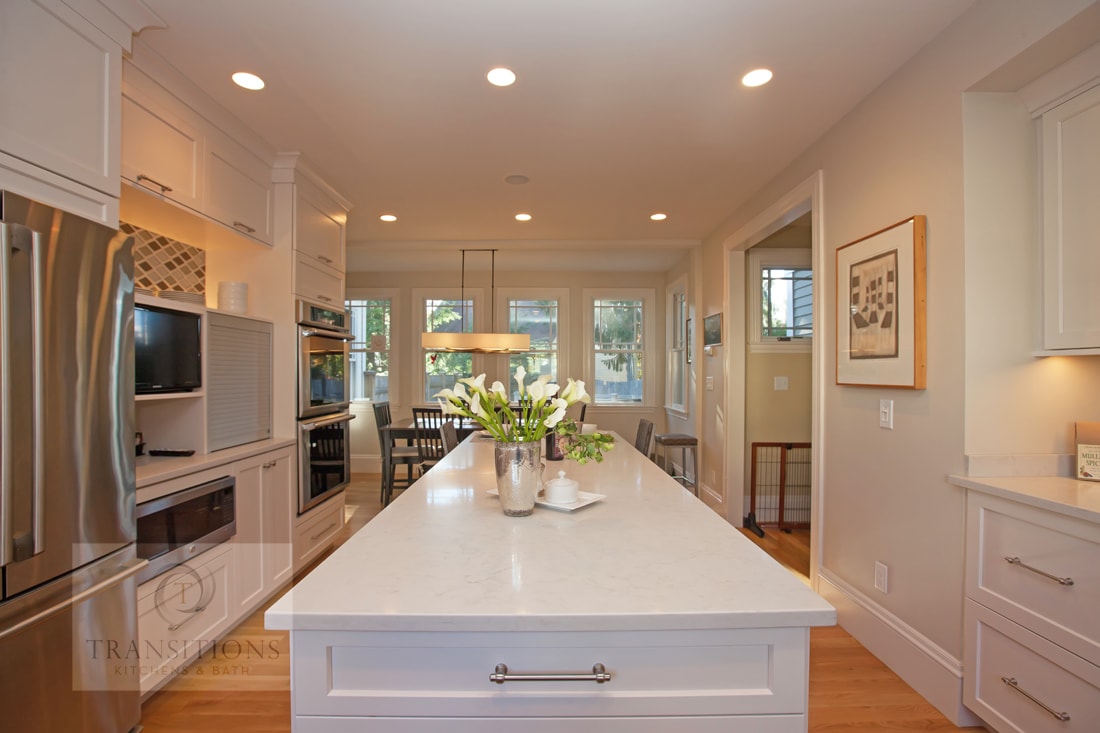 How do you use your kitchen?
Your countertop decision must start with functionality. For example:
Do you have a busy kitchen where you cook every day, have kids preparing snacks at all hours, and entertain family and friends?  Some countertop options are more scratch and stain-resistant than others, so if you plan to do a lot of cooking or anticipate spills and mess then make sure your countertop material is up to the job.
Are you an avid baker? Consider including a section of marble or granite as both are ideal for baking.
If you entertain frequently, you might consider extending your island countertop into a section for dining.  This could be the same countertop material, or you might make your tabletop section a contrasting material like wood.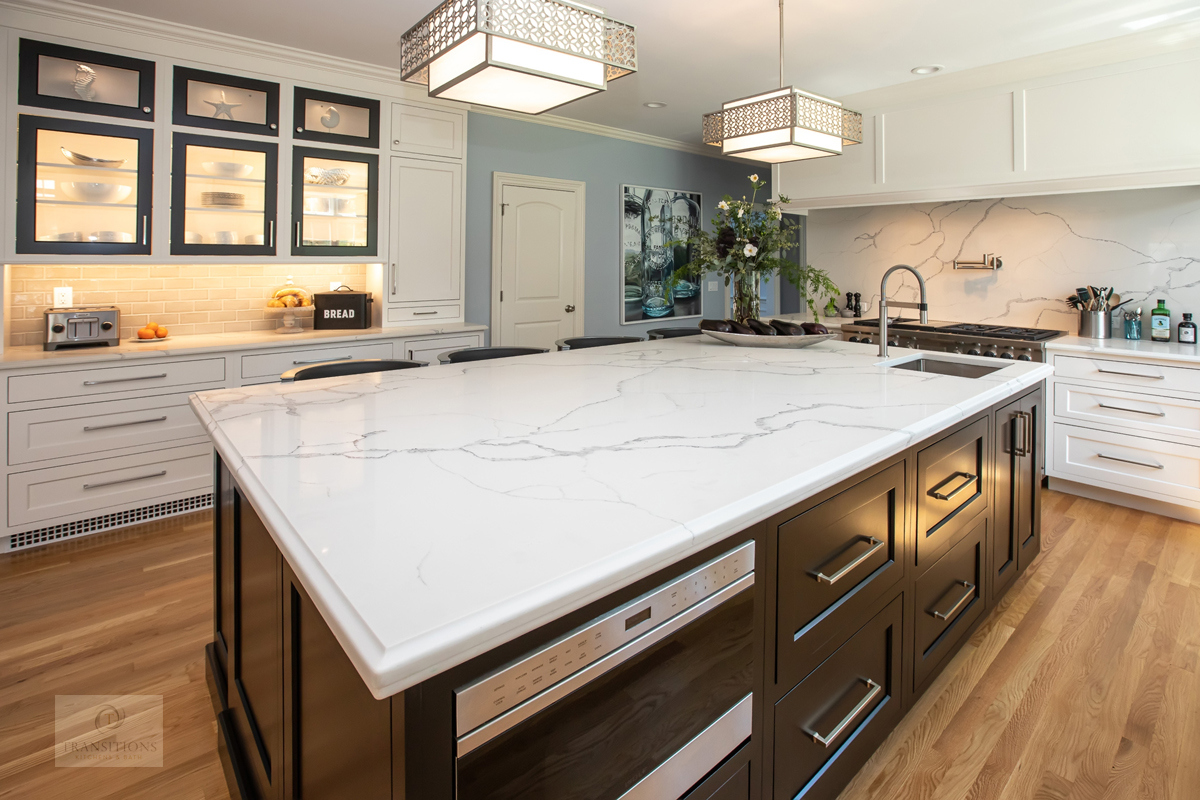 What is your available budget?
Countertop materials vary widely in terms of price, so it's important to consider how much actual countertop material you require and how this will impact your overall kitchen remodeling budget. Look at the size and shape of your kitchen design, consider whether you plan to expand your kitchen footprint or change your layout, and decide how many kitchen islands you will include.
Considering these factors alongside your style preferences will help you decide between different countertop options so you can find one that fits within your budget allowance.  You might also consider mixing countertop materials, allowing you to include a more expensive material in one section while the rest of your countertop is more budget friendly.
Another factor to consider is that the saying "you get what you pay for" definitely applies to countertops.  Choose a quality, durable countertop, then maintain it properly and it will last a long time. You may also be able to find an alternative material that is more reasonably priced but still meets your style and functionality requirements, so it's important to do your research.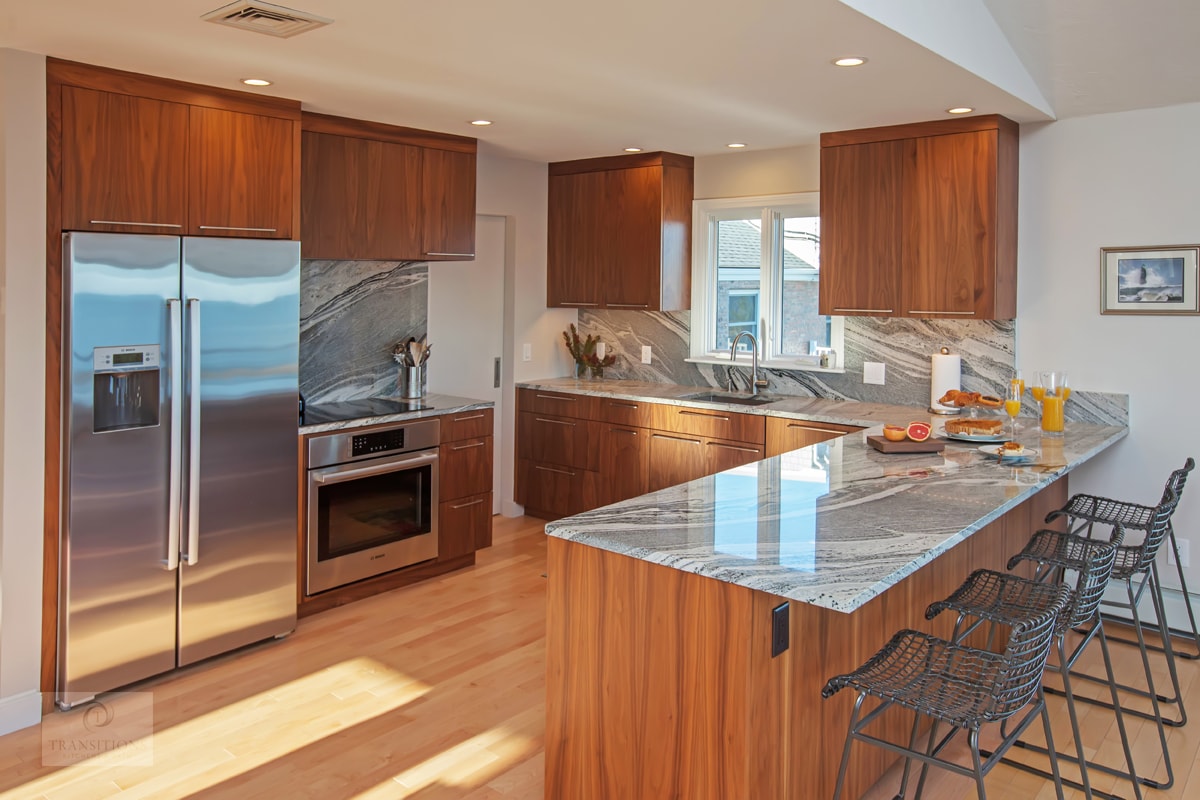 How committed are you to maintenance?
There is no getting around it – not all countertop materials are equal! Some require more care and maintenance than others.  More porous materials like marble and limestone need to be sealed every year, while wood countertops require application of oil once a year. Certain materials can withstand heat, spills, and grease splatters, while others require more care.  If you are willing to care for a high maintenance material for the sake of style then go for it, but if you know this is not for you then stick to an easier choice that fits your lifestyle.
What is your kitchen design style?
The countertop, along with kitchen cabinets, backsplash, and flooring, cover most of the surface area of your kitchen, and it is one of the first surfaces you see when you walk into a kitchen. So, the choices you make for material, color, texture, and shape have a significant impact on your kitchen design style. Here are some of the main countertop materials available for use in kitchen remodeling:
Granite
Granite countertops are a classic choice for kitchens. This natural material brings a unique flair to any kitchen design as every piece of granite is different, and it always adds a dash of luxury to your space. Granite is durable and heat resistant, and it comes in a wide array of color choices.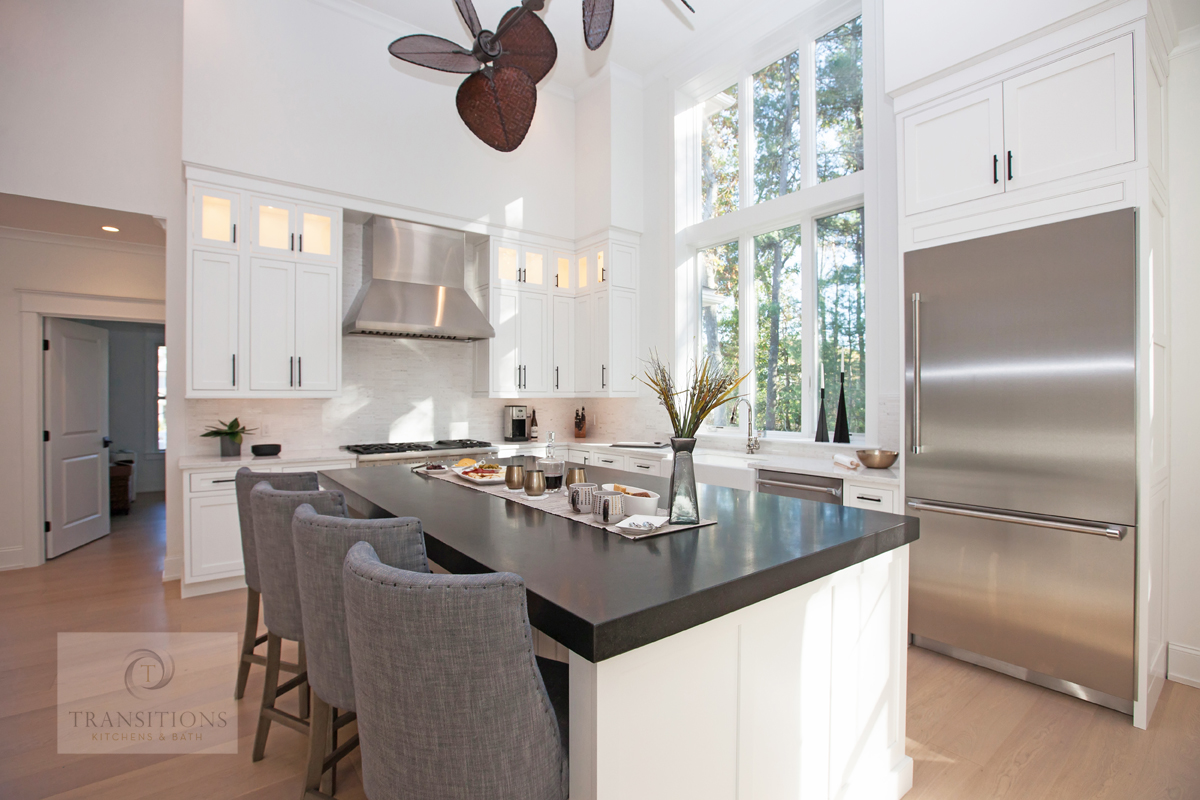 Soapstone
This unique material is a smooth, gray stone that is hard wearing and gets more interesting with age.  Soapstone is strong and heat resistant but make sure this unique style is one you are willing to commit to before purchasing.
Marble
Marble is a classic, natural material that comes in a range of colors and gives your kitchen design a one-of-a-kind luxury feel. It is heat proof but susceptible to stains so must be sealed properly and carefully maintained.  Marble is considered a top choice for baking, so could be incorporated into a section of countertop and serve as a baking zone in your kitchen design.
Solid Surface
This blend of acrylic and resin is a durable surface that is low on the maintenance scale.  The material can be easily formed into any shape and comes in a huge range of colors and patterns, so it is a highly flexible option to give you the exact style you want. It can also mimic more expensive materials like granite or quartz, so can also serve as a less expensive alternative to high end materials.
Quartz
Quartz is an engineered material that is nonporous, hygienic, and very durable. This countertop choice is available in a wide range of colors and styles and can be customized to your requirements. For these reasons and more it is one of the most popular countertop options on the market and complements any style kitchen design.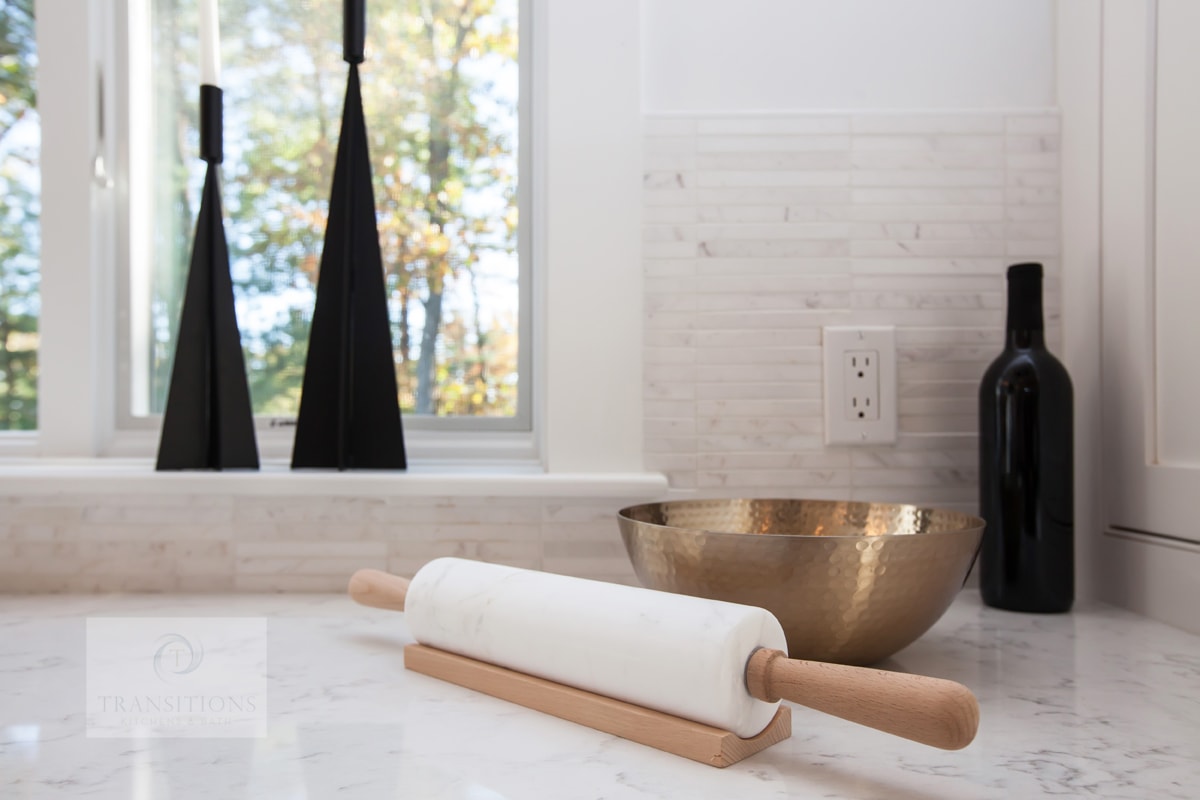 Laminate
Laminate is a more affordable option, that offers one of the widest selections of colors and patterns. It is not as hard-wearing as some other countertop materials, but modern plastic laminates have improved the surface and made them more durable than they once were.
Concrete
Concrete offers a unique style in a customized shape that is heat and scratch resistant. They are ideal for rustic and industrial style kitchen designs but fit other styles too since they can be honed to different finishes, given individual textures, or tinted with color. Concrete may crack slightly but these cracks can be repaired, and once it is sealed regularly it is a highly durable surface.
Wood
Wood countertops or butcher block are an ideal material for food preparation or baking zones. They also work very well as a tabletop, at the end or to the side of a kitchen island. Wood is a perfect choice to warm up a white kitchen design or offset blue or gray cabinetry.  This material is susceptible to stains and scratches, but it also is long-lasting once it is sealed and maintained.  This wear and tear give wood countertops character once you are happy to commit to the look.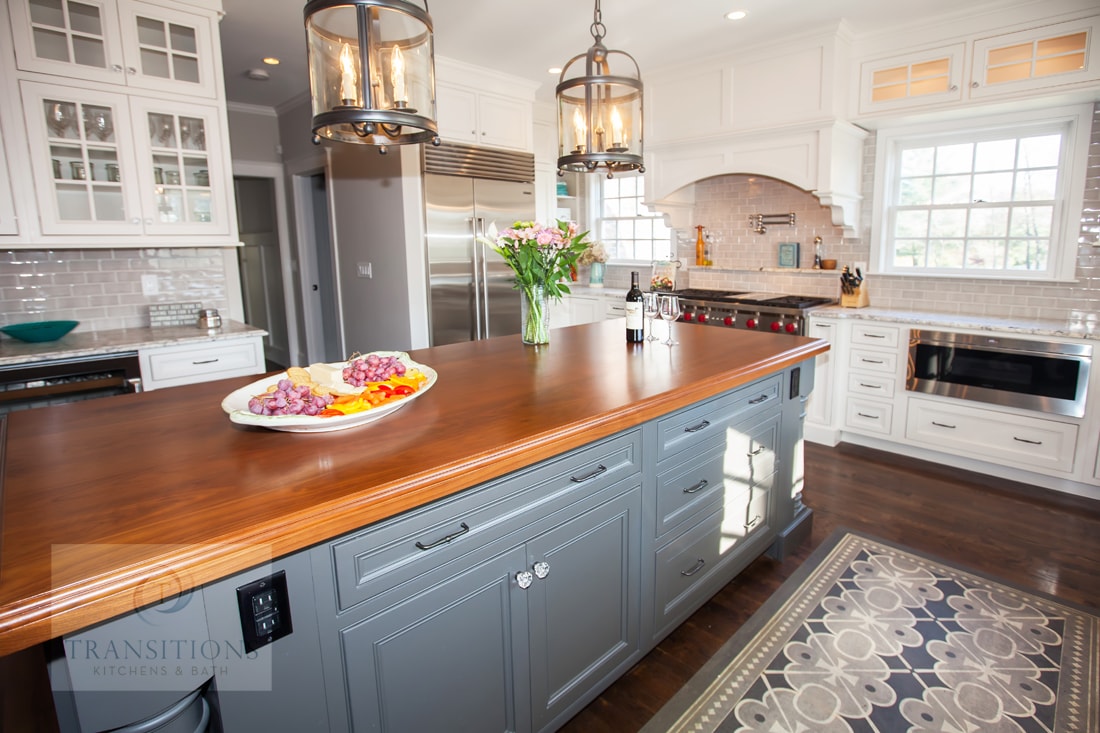 Tile
Tiles are durable and stylish, and come in a wide range of shapes, sizes, colors, and patters that give your countertop a one-of-a-kind look.  The tiles themselves don't need to be sealed, but keep in mind any grout lines do.
Our Norwell, MA showroom is the ideal place to find everything you need for your next kitchen remodel, including a wide range of countertop materials.  Contact us today or visit our showroom to start planning your new kitchen design!