Planning a remodel usually means changing fundamental elements of your bath design, including the bathtub. Sinking into a bath brings huge health benefits and is especially good for stress relief. The type of tub you choose and where it's positioned can impact your bath design, from the layout to the style of your room, so make these choices early in the design stage to get the most out of your bath renovation. Here's all you need to know about how to position your bathtub.
What are my installation options?
There are several ways to install your bath, but you need to take the size and shape of your space into account when selecting a tub style. Where your pipes are plumbed is also a consideration, as moving them will add to the budget for your remodel.
Freestanding Tubs are perfect for a larger space with a good view at bathing level. They are placed on either block bases or claw feet.
Corner Tubs are smaller, so make sure you can physically fit into them before buying. They're a great space-saving solution that fit into a corner, leaving only one side of the tub to finish.
Alcove Tubs are bigger and also only leave one side exposed as they fit between three walls.
Drop-in Tubs are custom-made to slot into a suitable enclosure, and typically allow for a ledge around the tub area.
Undermount Tubs are similar but are surrounded by a material that can blend seamlessly into your tile or stone floor. They can be positioned anywhere in a design and the wide rim is great for storing bath necessities.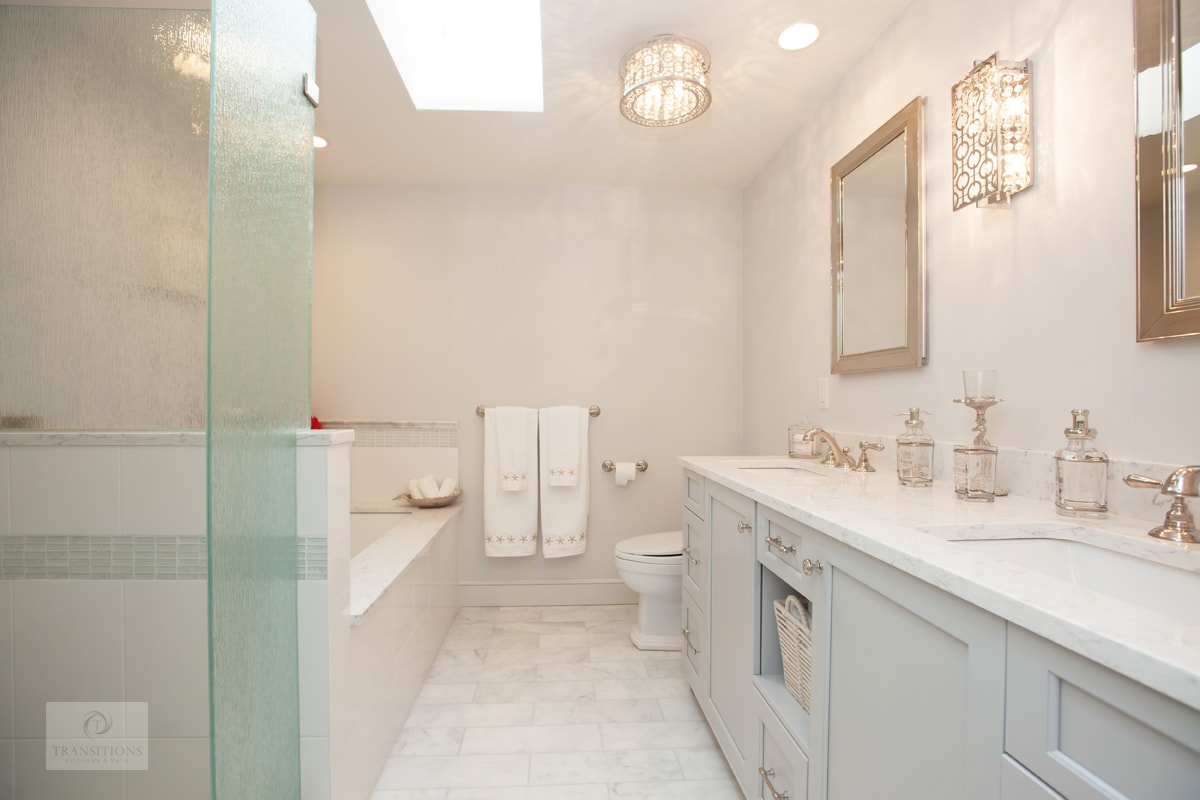 What type of tub should I choose?
Standard Tubs are the most basic type of tub that can be installed anywhere in your remodel.
Soaking Tubs are ideal if you'd like a larger model.
Walk-in Tubs mean you don't have to climb into your tub, so are perfect for bath design geared toward aging in place or mobility impairment.
Whirlpool and Air Tubs include massage jets for the ultimate luxury bath experience.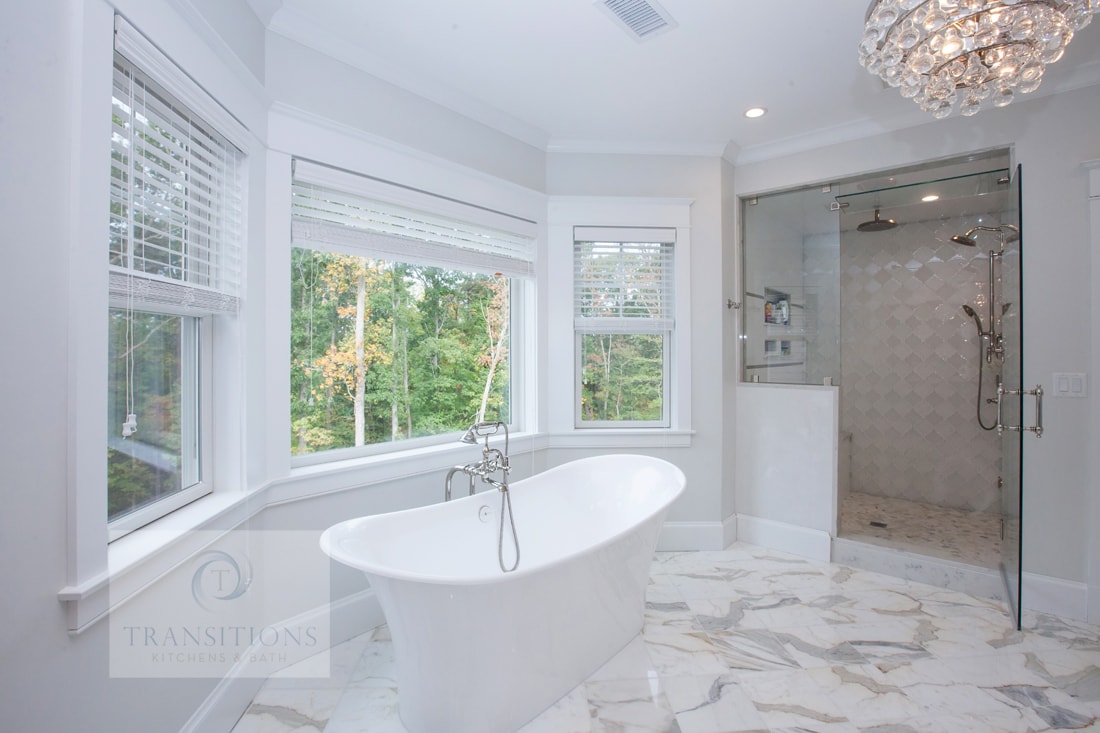 Which is the best faucet for my tub?
There are three basic faucet types. Each come in a variety of styles and materials to suit your design.
Wall-mounted faucets suit any tubs installed beside a wall.
Deck-mounted faucets fit into any wide ledge alongside a tub.
Floor-standing faucets, such as in this bathroom design in Hingham, work well with freestanding tubs, especially when situated more centrally.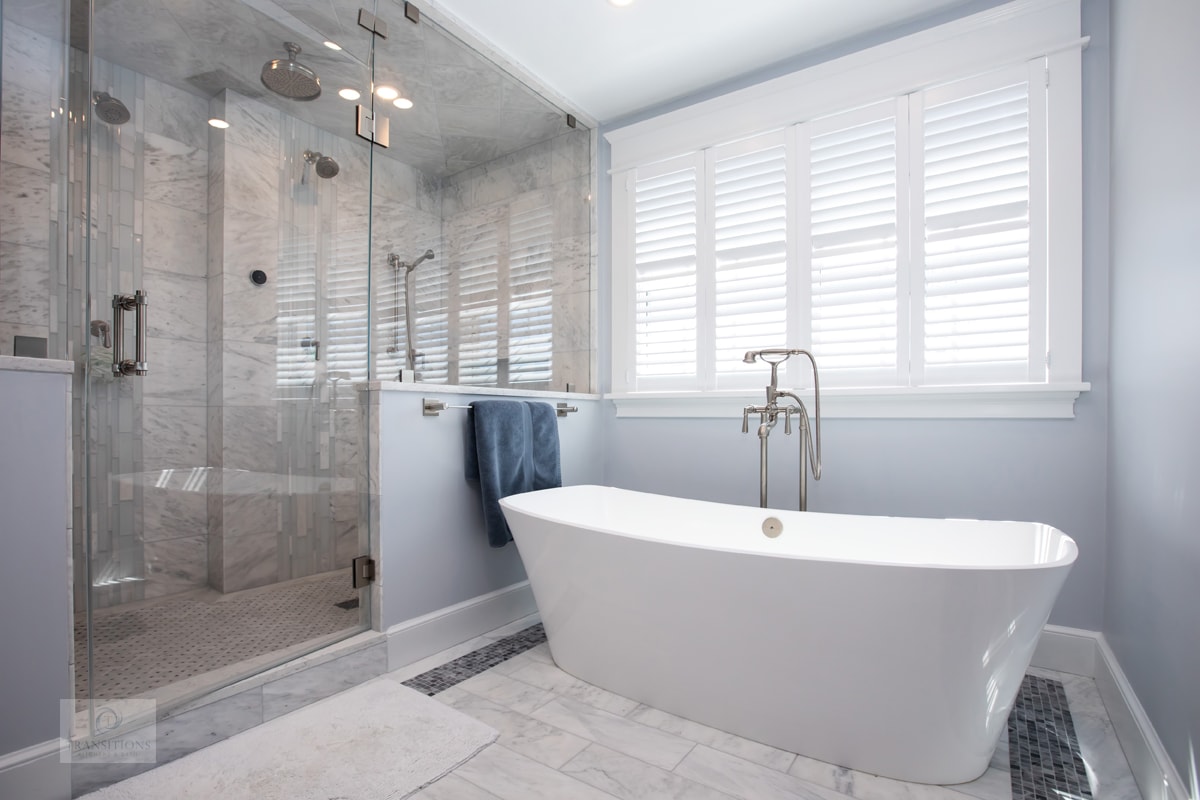 What else should I consider at the design stage?
 Look at existing pipes and position your new tub where it has access to plumbing.
 Make sure that your tub is not too large for your bath design or the space where you'll be installing it. If you're planning on putting a showerhead in your tub, then make sure your available space and tub position can accommodate a panel or curtain.
If you'd like to add smart extras such as voice-controlled lighting, speakers or digital settings, remember that these add-ons affect where you position your tub.
If you choose an exceptionally heavy material for your tub, then your floor might need to be reinforced. Your bath designer can go through all these aspects with you to avoid surprises in your remodeling budget.
Including the right bath, correctly positioned in your bath design, adds to your lifestyle and enhances your interior design. If you plan your bathtub after the fact, you could end up undoing some of your remodel and adding to the bill. At Transitions, we'll listen to your requirements and advise you on the latest trends. You'll be in safe hands with our experienced bath design experts. Check out our bathroom design gallery for some more design inspiration and contact us today to start planning your dream bath remodel.