Storage is essential to a stylish, efficient, and highly functional kitchen design, but this does not mean that kitchen storage is one size fits all.  Your design style, personal tastes, household and more will influence how much and what type of storage you need. One recent trend in kitchen remodeling is open storage, but is this type of storage right for you? Find out here!
Here is what we love about open storage:
Open and airy.
One of the key benefits of this popular trend in kitchen design storage is that it contributes to a sense of openness in the kitchen.  Open shelving allows light to flow through the room and contributes to an airy, natural feeling in your kitchen.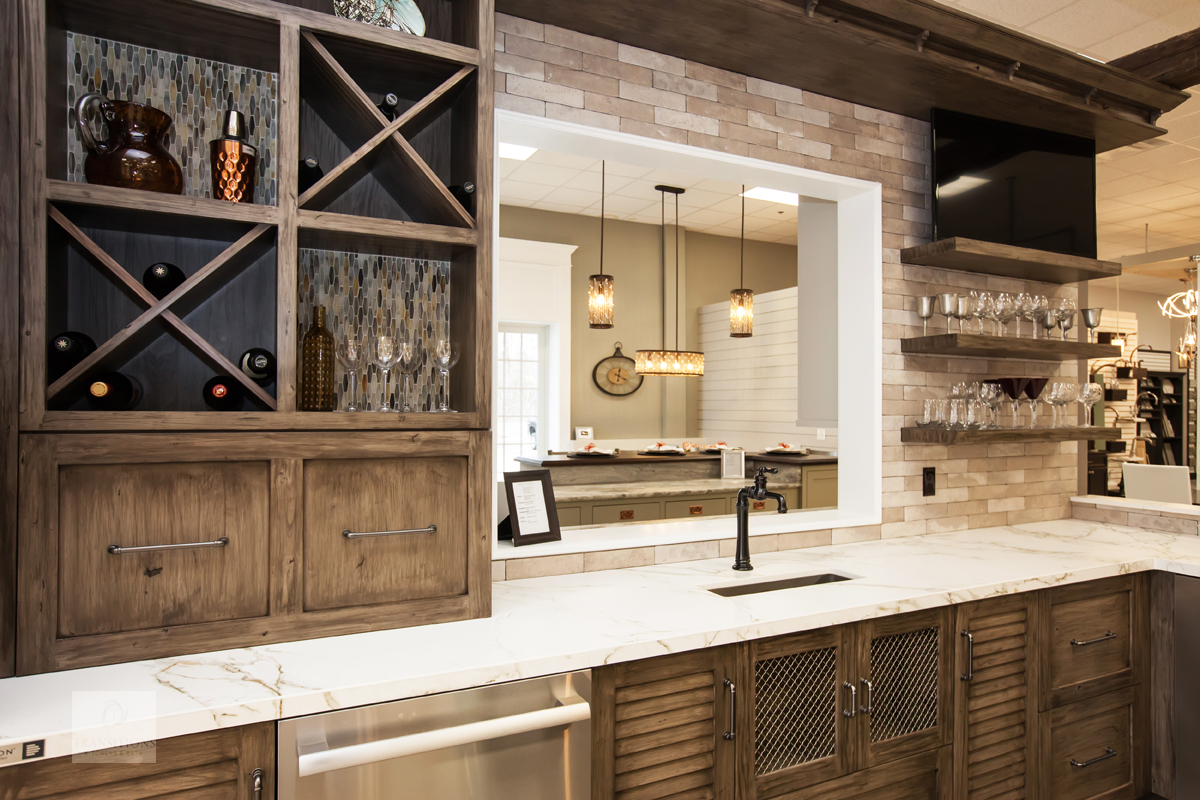 Right at your fingertips.
Certain items need to be readily accessible in the kitchen, like items used for everyday cooking such as oils and spices.  Open shelves strategically placed near the cooking area (but safely removed from heat sources) is one way to store these items while having them readily available.
Reduces costs with less cabinetry required.
Cabinetry costs vary depending on your chosen style and material, but in general kitchen cabinets comprise a significant portion of your kitchen design budget.  One way to minimize costs while maintaining quality and style is by replacing some cabinetry with open shelves. Typically, this involves incorporating some open shelves in place of upper kitchen cabinets, so you can maintain a balance of open and closed storage to reap the benefits of both.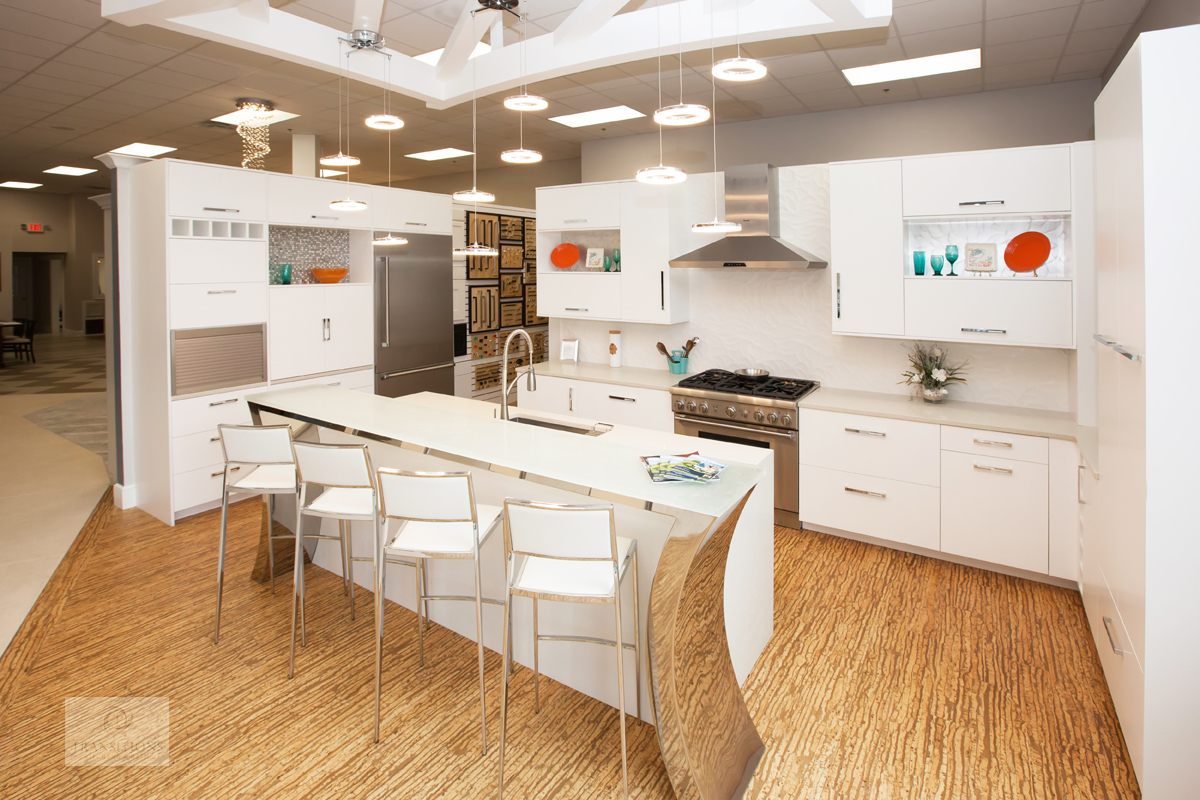 Adds depth to a small or narrow kitchen.
Floor to ceiling cabinetry is handy for storage but it can also give your kitchen design a closed in feeling. Replacing some cabinetry with open storage, or even glass front cabinets, can have the effect of giving your kitchen design a greater sense of depth. This is especially useful if your kitchen footprint is smaller or narrower.
Perfect as a feature or for display.
While a wall of cabinets is a sleek design feature offering a uniform appearance throughout your space, open storage provides a more eclectic style.  Open shelves offer space where you can create a curated display of your favorite items such as books, candles, decorative dishes or glassware, and more. Add a punch of color by organizing everything according to a favorite shade or use it as a place to store special items that add character to your kitchen design.  The area behind and around your open storage can also become part of this design statement.  The material and color you use for your shelves can offer texture and contrast, as can the space at the back of shelves. Consider painting, wallpapering, or tiling the area behind your shelves as an eye-catching focal point.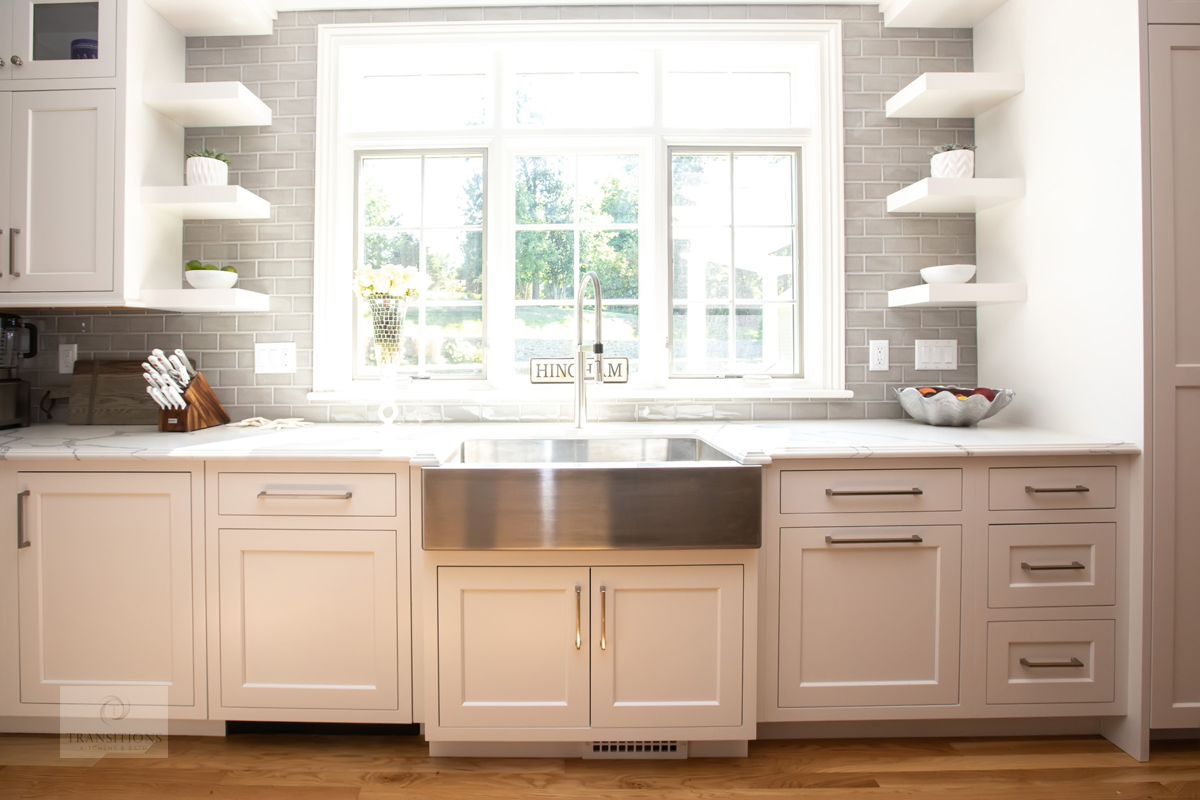 Here are the things we don't like as much:
Nowhere to hide.
The flip side of allowing for open display is that…everything you place there is open for display. When you rely on open shelving for part of your storage there is nowhere to hide your stacks of plain dishes or cracked coffee mugs.  The answer to this dilemma is typically to organize your kitchen design with a combination of open and closed storage to give you the best of both worlds.
More cleaning and maintenance required.
Open space means you really must keep on top of dusting and cleaning. With open storage, your dust bunnies will be on full display, so regular dusting of your shelf and items stored is a requirement to keep up your kitchen design's look.  Depending on where they are located, items may also be prone to grease splatters or splashes, so regular wiping down and cleaning is essential.
Stored items are not as well protected from the elements.
Item stored in the open are exposed to all the elements in your kitchen design, from sunlight to moisture, and grease to food residue.  Carefully consider where you will position your open storage and what you will store on these shelves.  Items that are delicate or easily damaged by sun and moisture might be better stored in a more protected area.
Can make your kitchen look more cluttered.
You must be careful about what you choose to keep in open storage (and also willing to maintain it over time).  Even if you carefully curate items to place on your open shelves on day one, do not fall into the trap of "just putting something down temporarily" on these handy, accessible storage spaces. You can easily find yourself with a cluttered mess that contributes to a messy feeling in your kitchen.
Which option is right for you?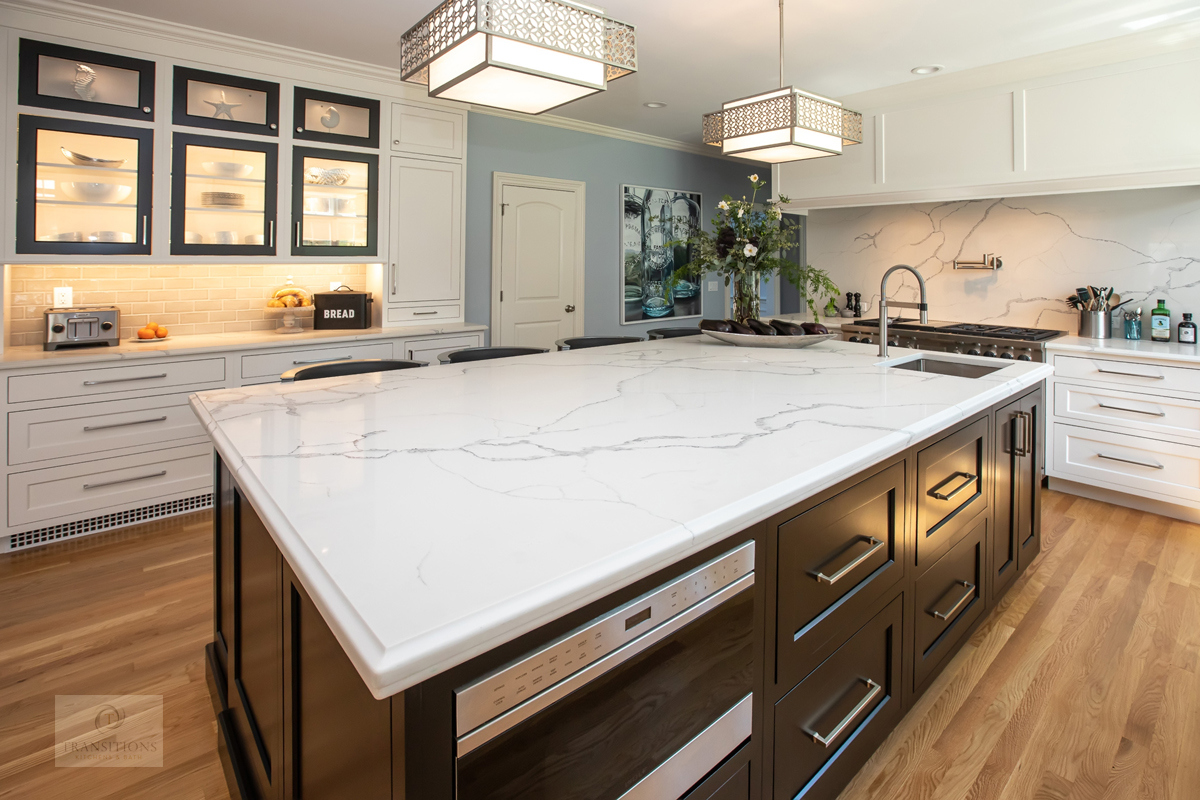 This answer is different for everyone.  Completely changing wall kitchen cabinets for open shelves is not for the faint of heart.  It is a commitment to maintain and clean that space to keep the look you love.  For some, open shelves is a nightmare they want to avoid, and will stick with traditional, closed cabinetry.  Many of us fall somewhere in the middle, where open storage appeals to us but on a limited basis.  Your kitchen design expert can help you find the best ways to incorporate this look in your next kitchen remodel, through a combination of some open shelves and perhaps also glass front kitchen cabinets.  Adding these items in a limited way benefits your design by breaking up a wall of cabinetry, without taking on the herculean task of maintaining all open shelves.
Check out our kitchen design gallery or follow us on social media to find more storage inspiration. Ready to start your remodel? Contact us today to talk to one of our design experts!