If you are considering a bathroom remodel, think carefully about what type of space you want to create.  In the case of your master bathroom design, remember that it is typically where you start and finish your day, get ready for a big night out, and de-stress in a relaxing bath or soothing shower. This room is much more than the place where you brush your teeth and both your style and functionality should reflect this.  From your showerhead to color scheme, flooring materials, and vanity cabinet style, every element of your new bathroom design should enhance the style of your home and the quality of your life.  An experienced bathroom design professional is the ideal partner to help you achieve the vision for your new space, with the perfect materials to enhance your bathroom, and according to an agreed budget.
While you are picking out tile, plumbing fixtures, and lighting schemes, why not also consider adding comfortable seating to your bathroom design.  There are many ways seating can be incorporated into a bathroom, and a perfectly positioned bench or chair takes your design to the next level, creating a soothing spa type atmosphere.  Here are 5 ways to make seating an integral part of your new bath design:
1. Be the star.
Is your master bathroom where you get ready, not just shower, but also do your hair and put on your make up?  Why not go full Hollywood with a glamorous make up vanity cabinet complete with a seat.  This allows you to sit comfortably with mirrors and lighting ideal for getting ready, with all your toiletries and tools at arm's reach in custom built storage.
2. A shower retreat.
Nothing invigorates you for the day ahead or washes away a stressful day like a soothing shower.  Make your shower experience even more relaxing by adding a built-in seat in the shower enclosure.  A custom-built shower bench like this bathroom design in Hanover, MA is stylish and offers a place to sit while enjoying the steam and warmth of your shower.  It can also be a place to keep shower toiletries but avoid making it too cluttered by including purpose-built storage shelves or a niche to make sure your bench is always clear.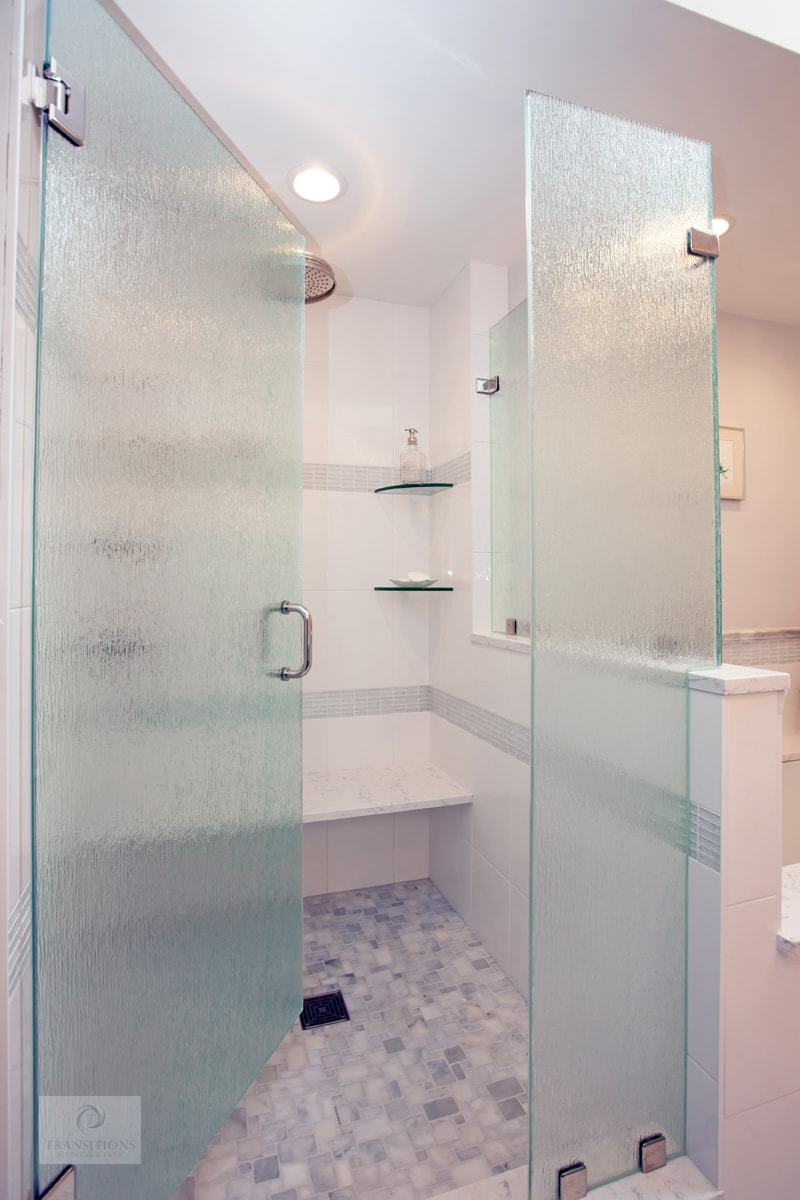 3. Carve out a corner.
Even if you don't have space for a full shower bench, consider adding a built-in corner seat for a place to rest in the shower.
4. Room for two.
Even better, a large open, walk-in shower allows space for a bench in the shower and one just outside the shower. This allows a second person to sit and enjoy the shower steam or offers a place to sit down while drying off after your shower.
5. A Seat with a view.
If your bathroom is your oasis in a busy home, carve out seating that will allow you to maximize relaxation.  A seat by the window to enjoy the view could be the perfect place to soak up natural light coming into your bathroom.  This could be incorporated in a few ways, including a cushioned chair positioned by the window or bathroom cabinetry built under the window to include storage underneath with a cushioned window seat. Or, if your bathtub is near the window you could even include a wide tub deck perfect for a brief rest to dry off or to relax while getting ready.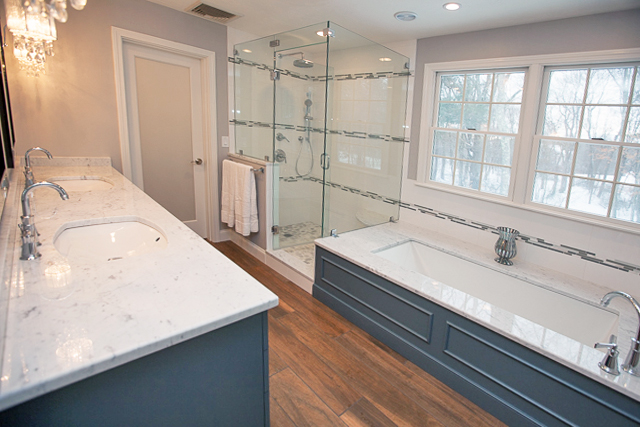 If you are preparing for a bathroom remodel, consider how you use the space and what features will enhance your daily life.  Adding a seat to your make up vanity, shower, or near your bathtub or window can turn an ordinary master bath design into a spa-style retreat.  Find more great ideas in our
bathroom remodeling gallery
, and then
contact our bathroom design experts today
to learn how to make your dream bathroom a reality.