Kitchen and
bathroom designs
have increasingly adapted to become more multi-functional spaces. Homeowners are looking for remodels that embody the latest trends but are also highly functional and low maintenance.
It's no longer enough to have a kitchen design focused only on cooking. It needs to be a space where we can also entertain and relax. Likewise, bathroom designs have evolved into luxury retreats where we unwind in stylish surroundings. Practicality and indulgence go hand in hand in this year's clever and stylish kitchen and bathroom designs.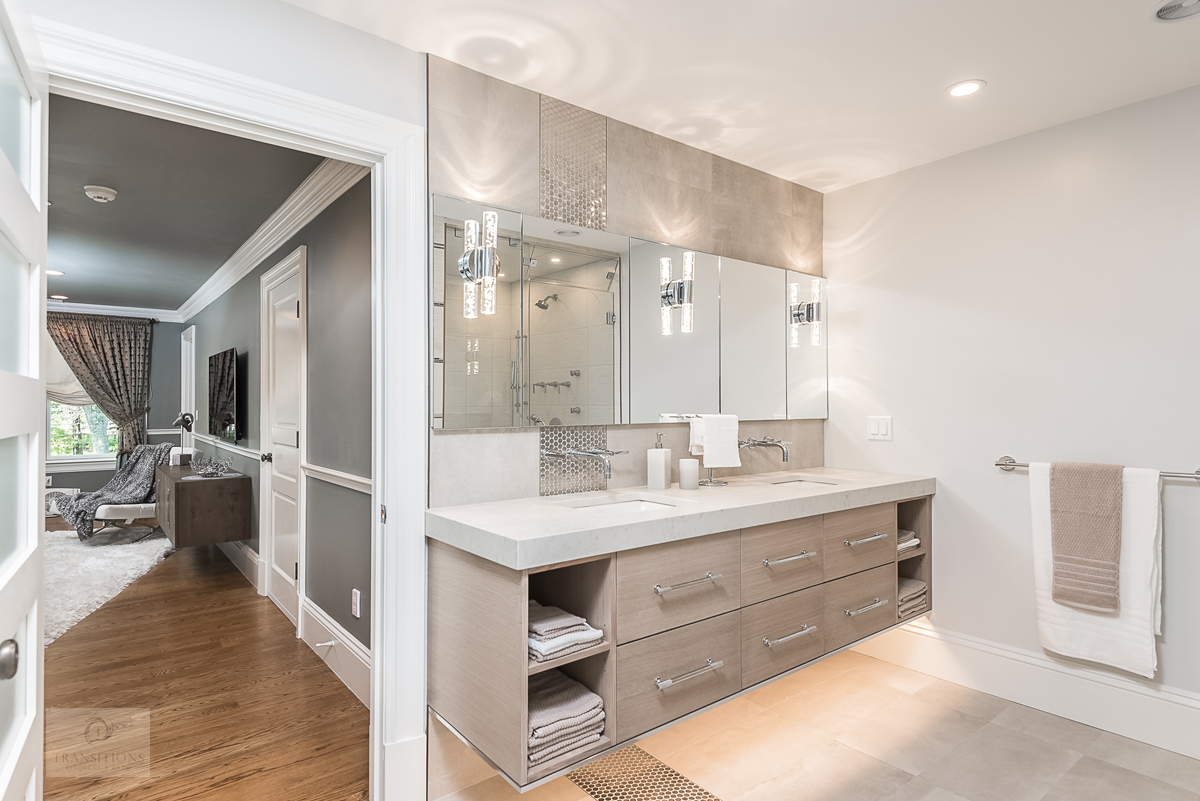 Tailor-made storage is vital to keep clutter at bay and effortlessly maintain your remodel. Your storage choice sets the tone of your finished look and should be carefully planned at the design stage. What are the key trends in this year's storage solutions and how can they be incorporated into your kitchen or bath design? We explore the top storage solutions in our latest blog.
1. Embrace a Sleek Aesthetic
This year sees a huge move towards streamlining in kitchen and bathroom design. This sleek cabinetry that stores essentials is a design feature in itself. Floor-to-ceiling and wall-to wall cabinets maximize every inch of a kitchen design or bath remodel for a clean, modern look that eliminates clutter.
If you want to take the streamlined look one step further, invest in handleless doors that offer elegant simplicity and stand the test of time. Handles could disrupt the fluidity of your streamlined design. Due to the craftsmanship involved in handleless cabinet doors, this on-trend look adds to your budget. The reward is that it looks great, is easy to clean, and opens up any design for a feeling of calmness.
If you don't want to go for handleless or recessed handle doors, then stick to sleek flat front kitchen cabinets with minimal hardware to achieve this look. This Scituate, MA kitchen remodel combines this cabinetry look with a slab backsplash for a clean, modern style.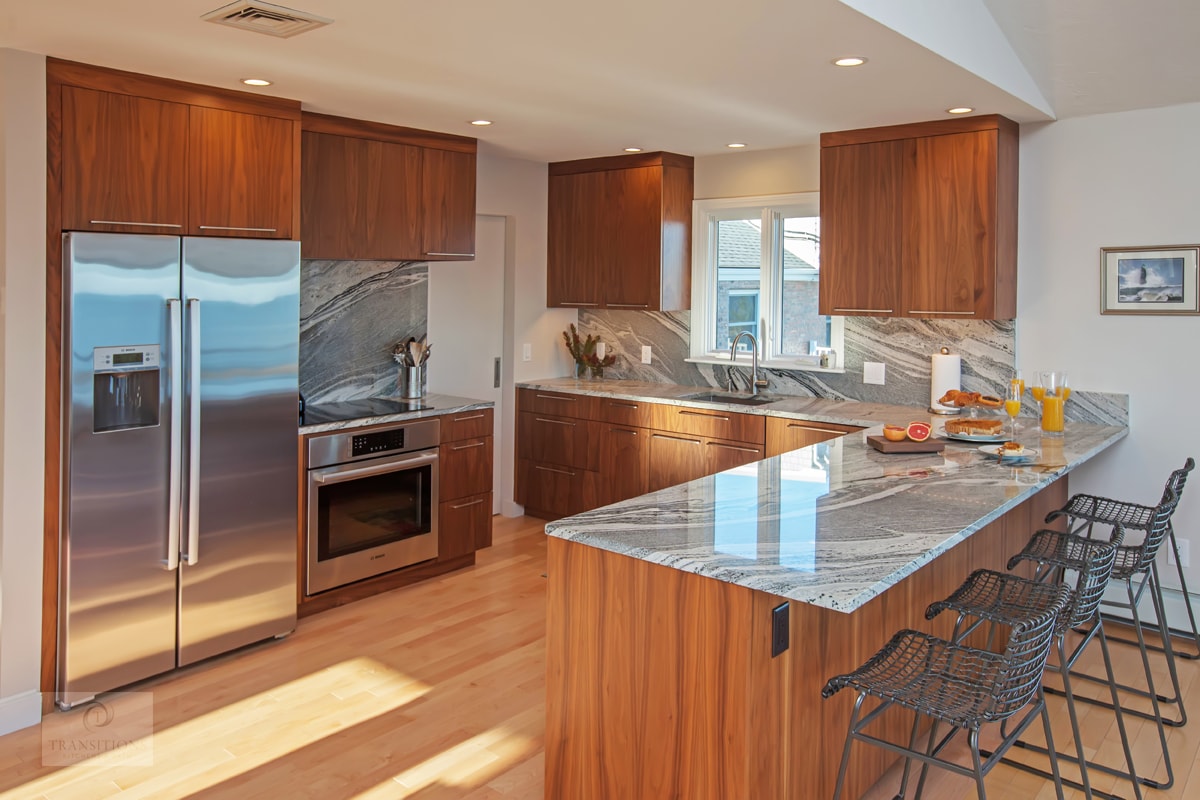 If you don't want to lose handles completely, then why not try recessed handles? They retain the streamlined look of the cabinets while adding depth, texture and color that can be picked up on throughout your design. Streamlined storage relies on strong lines and quality materials. Countertops, stove hoods, and backsplashes should be of a similar quality for consistency in your stylish remodel. Streamlined storage definitely contributes to a minimalist kitchen or a
zen-style bath design
but can make any style renovation less cluttered.
2. Make Space for a Pantry
Pantries are more popular than ever in kitchen design. As homeowners are leading busier lives, pantries are a dedicated space for food and equipment that would otherwise overwhelm a kitchen remodel. Extra refrigerators and freezers can store food in a pantry, and a countertop, sink and dishwasher transform a pantry into an extra food prep and storage area.
Smaller pantries might not fit appliances but are still effective with the right storage solutions. Deep drawers can keep everything from cans to spaghetti jars and thermoses organized and accessible. Smaller items can go in slide-out racks that fit vertically in a narrow space. Peg dividers keep flat items organized so your baking sheets and trays can be easily accessed.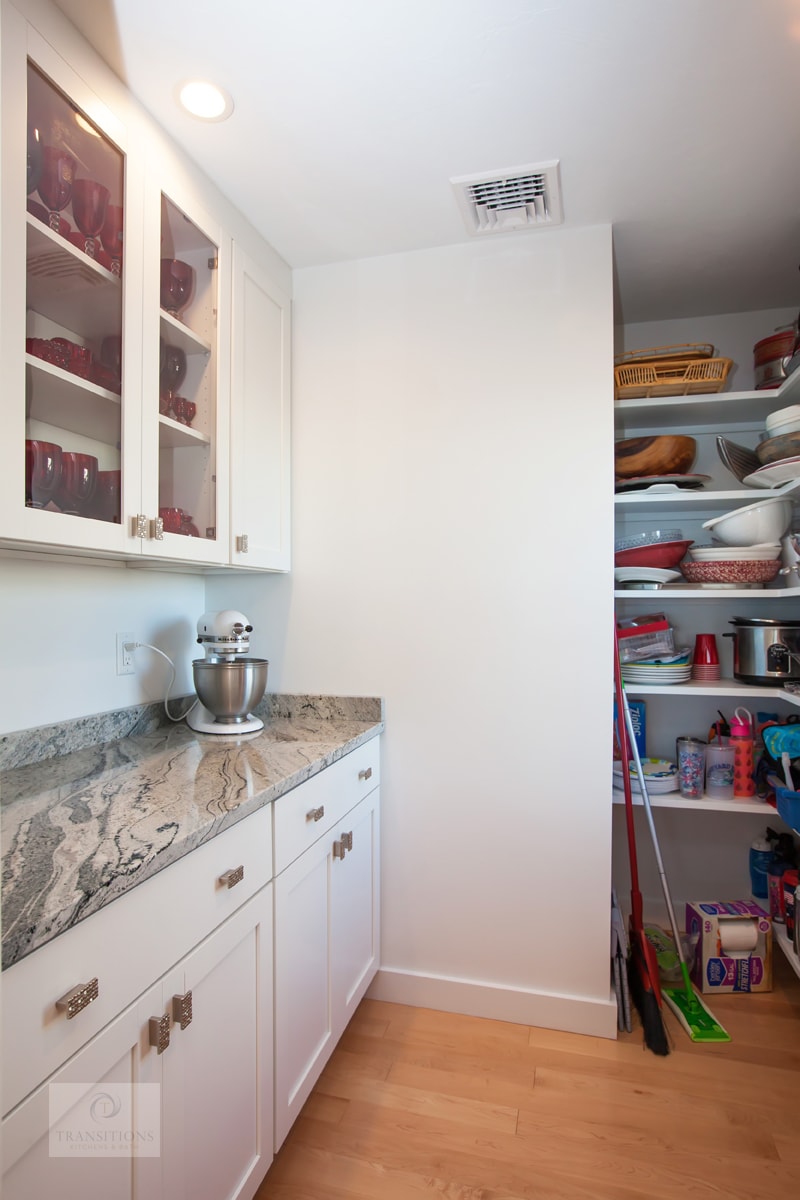 Seasonal and rarely used things can be kept on high shelving. Keeping a cart for baking supplies, desserts or collecting dirty dishes means it can be wheeled in or out of the pantry for whenever you need it.
A pantry can also be part of your cabinetry if you don't have a separate space for a pantry. Your kitchen design expert can work with you to maximize your pantry's storage potential, regardless of its size.
3. Open Up Your Storage
Open storage works really well in kitchen and bath design, being both functional and aesthetic. It's an excellent option for bringing personality to a remodel as it lets you display your favorite things. If you carefully curate what you store on your open shelving, then it opens up a space instead of looking cluttered. Arrange items in small groups in front of each other rather than in a line, creating depth. Larger pieces can be placed on their own. Choose containers that suit your style to contain clutter. Why not also use non-conventional items as storage containers, such as vases or jewelry boxes?
Some types of open storage, such as niche shelving, need to be considered at the planning stage of your remodel so walls can be constructed accordingly. Niche storage is good for a streamlined design, as your storage does not impact on the flow of traffic in the room.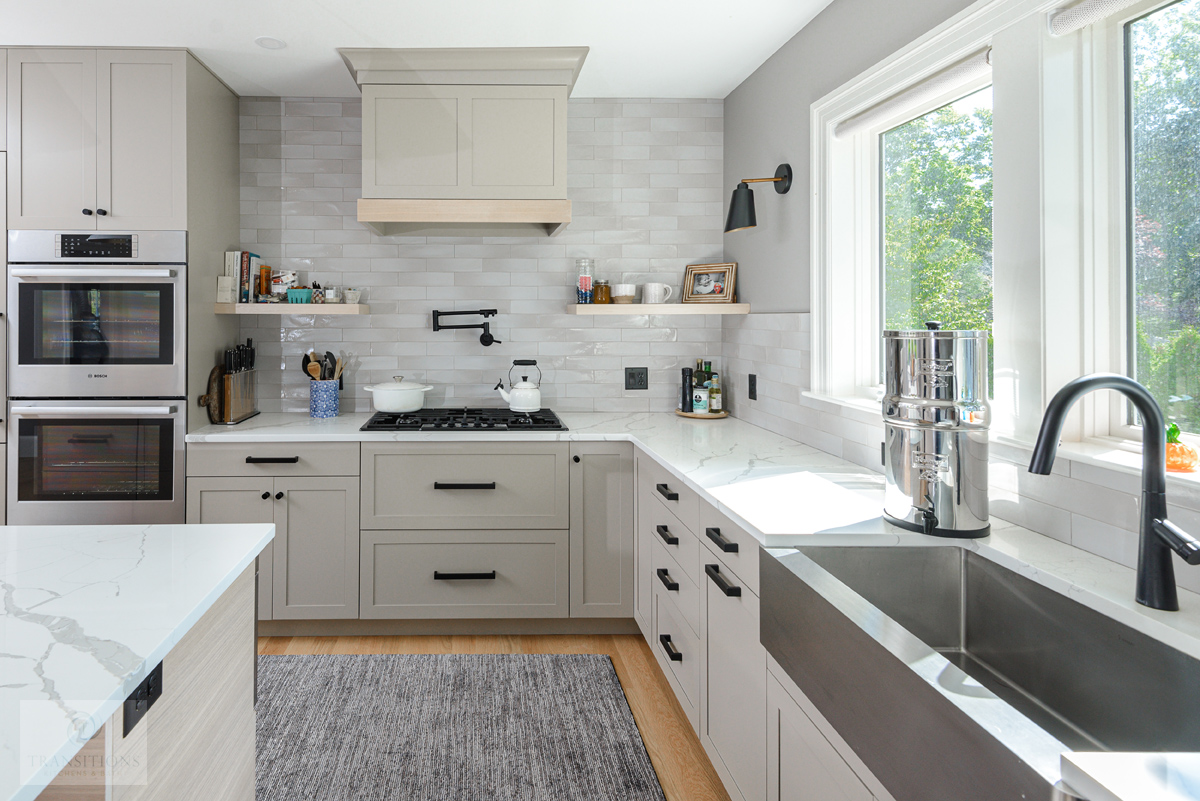 The materials you use for any shelving are also important as they need to complement the style of your remodel. Stainless steel is a hygienic and modern kitchen or bathroom design component. Wooden shelves always bring warmth to a room, especially dark wood in a spa-style bathroom or reclaimed wood in a rustic design. Glass opens up a space, reflecting light and blending into any surroundings. Your shelving material could also contrast with the rest of your style for a contemporary or eclectic look. The same goes for hooks, rails and baskets or crates that store essentials and inject character into your remodel.
It's definitely more budget-friendly to install open storage than cabinets, but it can be high maintenance as you need to clean regularly to keep everything dust free. Shelving over a cooking area offers handy storage for cooking essentials but this can lead to a build-up of grease on shelves and contents. You can always compromise with glass-fronted kitchen cabinet storage to display contents and keep them dust-free. Add in cabinet lighting to enhance your display area. The open storage trend requires careful thought and maintenance but is worth it for the style it brings to a kitchen or bath remodel.
4. Include a Second Island
Kitchen designs have become more open plan and multi-functional, so it follows that islands have seen a huge increase in popularity. They are the workhorse of the kitchen design but also the centerpiece, setting the style and tone for your room. As well as providing workspace, islands can store everything from appliances to recipe books.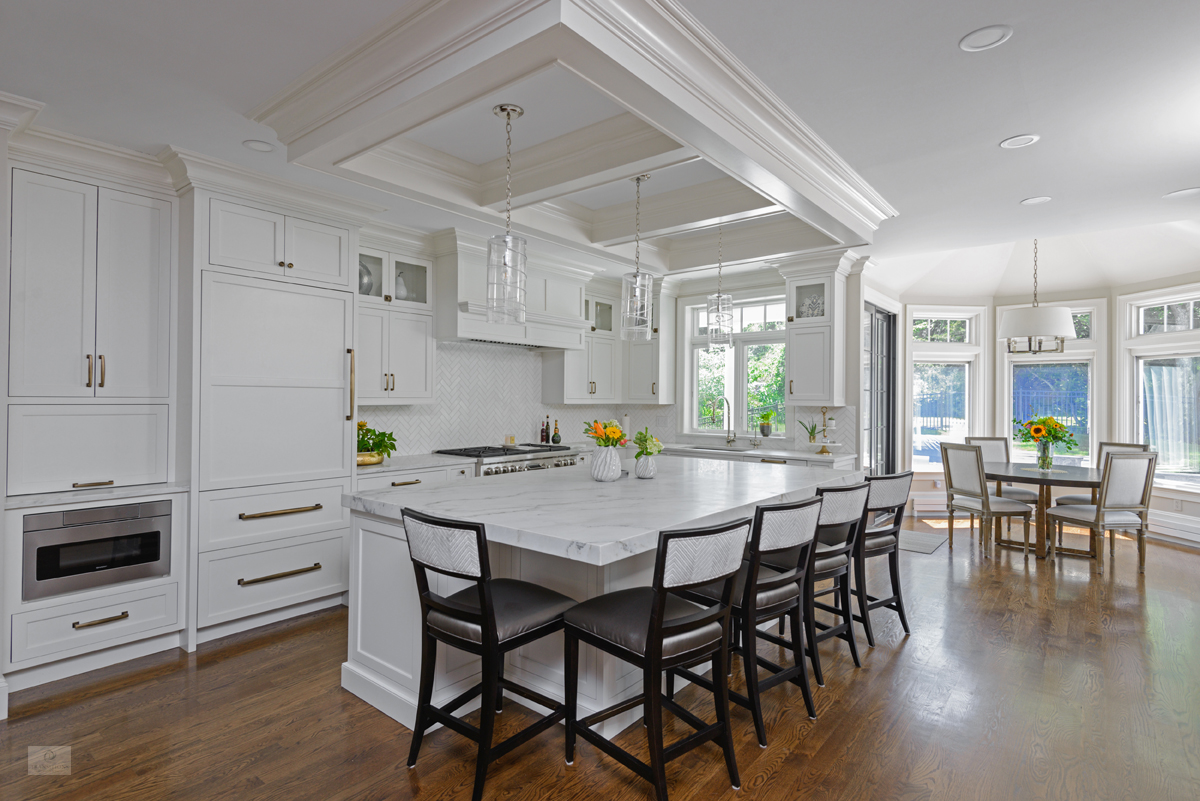 Multi-level islands are ideal for high performance, but in
large kitchen designs
incorporating two islands allows even more flexibility. This storage solution is both practical and stylish and gives a high-end feel to any kitchen remodel. The important thing is to designate specific functions to each island to maximize efficiency and reduce clutter.
One island can be at the center of the work triangle, focusing on food prep and cooking. The other island can be a place to dine, entertain or study. This also eliminates the need for a dining table. Why not make the most of your island's storage by designing a space for your pet's bed? Or install a wine cooler? With such a large area, the possibilities are immense and what two islands take up in floorspace they give back in style and functionality.
Make your two islands really stand out by embracing the trend for contrasting cabinetry finishes. You could differentiate the islands from the perimeter cabinetry or even have each island in a different finish. This two-tone kitchen design style will create a striking look for a stylish kitchen and differentiate the functionality of your islands from the main work zones.
5. Integrate and Conceal
Prioritizing a sleek flow and clean lines in your design aesthetic helps your kitchen or bathroom remodel to feel calm and free of clutter. Anything that disrupts this flow can be concealed with cabinetry that blends in with other closed storage. Paneled refrigerators and dishwashers are integrated with the rest of your cabinetry for a minimalist aesthetic. Bathroom vanities should be designed with clever internal storage solutions and sleek exteriors to embrace this trend.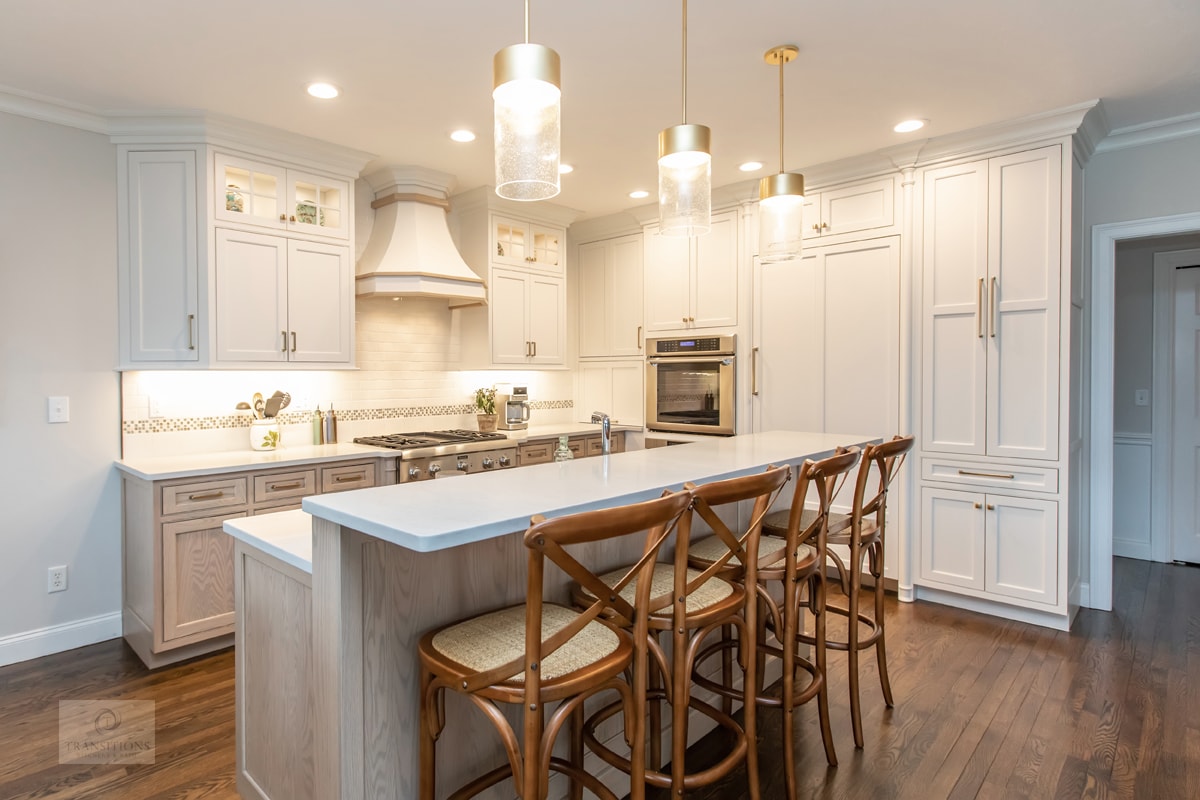 As technology gets incorporated into every aspect of our lives, it's important to facilitate the electrical tangles that come with charging cables and plugs. Having outlets and charging stations inside cabinetry means you can use devices and styling tools where they are also neatly stored. You can store and power your hairdryer from your vanity and keep a device tucked away in your island as it charges and plays music on your speakers.
It helps to minimize what you store on your countertop to avoid creating clutter and keep your workspace free. Some small countertop appliances need to be ready to use, and appliance garages conceal everything from food mixers to coffee machines on countertops. You could also create an entire beverage bar within cabinetry so you can close it off when not in use, maintaining your kitchen remodel's sleek appearance.
6. Introduce Warmth with Accents
As design veers toward streamlined cabinets and neatly accessorized open shelves, there is a danger that your newly remodeled space could appear bland. Introducing character-driven, warm accents outweighs this allowing your kitchen or bath design to have the best of both worlds.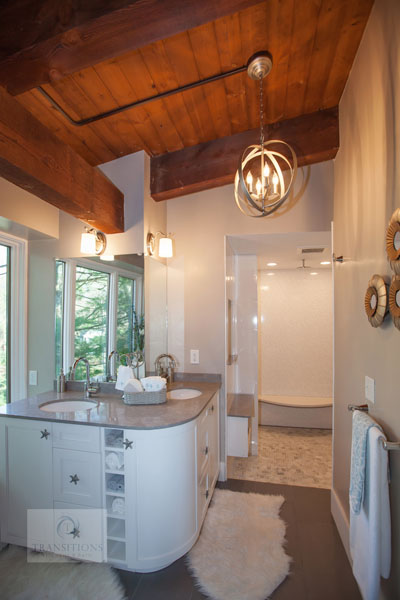 One sure way to introduce warmth and texture is with wood. Transform a white bathroom design into a spa retreat with rich wood in cabinetry, countertops or shelving. Wooden crates and deep baskets add texture as storage containers. Lighter wood tones are also coming to the fore as bleached and blonde shades enter kitchen and bathroom design. Ornate touches, such as carving or beading, bring vintage accents to a more traditional kitchen design or bathroom remodel.
Metal accents also enhance a design with everything from matte black faucets and showerheads to brass hardware, copper range hoods, and industrial-style lighting. Try to keep accents to a common theme to avoid chaos, so carry through your metallic tones from hardware to shelving to give your design a fluid appearance.
Good kitchen and bath design should suit your taste and lifestyle and be easy to maintain. Efficient storage eliminates clutter and gives you more space to relax in your kitchen or bath remodel. It facilitates busy lives but also transcends functionality to enhance your room's style by focusing on design aesthetics as well as maximizing storage capability. Whether you choose to conceal or accentuate your storage solutions, there are options available to take your remodel to the next level. Talk to us at Transitions Kitchens & Bath and we'll guide you through all your design and remodeling requirements.