Are you considering a bath remodel in the near future? Why not go the extra mile and make your
master bath design
a luxurious sanctuary where you look forward to getting ready in the morning and relaxing in the evening? By considering what you need and then investing in a few key areas, you can create the ultimate spa experience.
At Transitions, we can help you create a true representation of your personal style and help with your everyday requirements, resulting in an aesthetic and highly functional design. When planning a bath renovation, it's important to know what your own requirements are first and then take inspiration from other homes, such as the ones in our project gallery.  Exclusive hotel bathrooms are also an excellent reference source as they're designed with luxury in mind. Warm wood, natural stone, layered lighting and standalone tubs are just some ways to upgrade your bath design for a luxurious experience. Let's look at some of the top bathroom design ideas that could be incorporated into your bathroom remodel.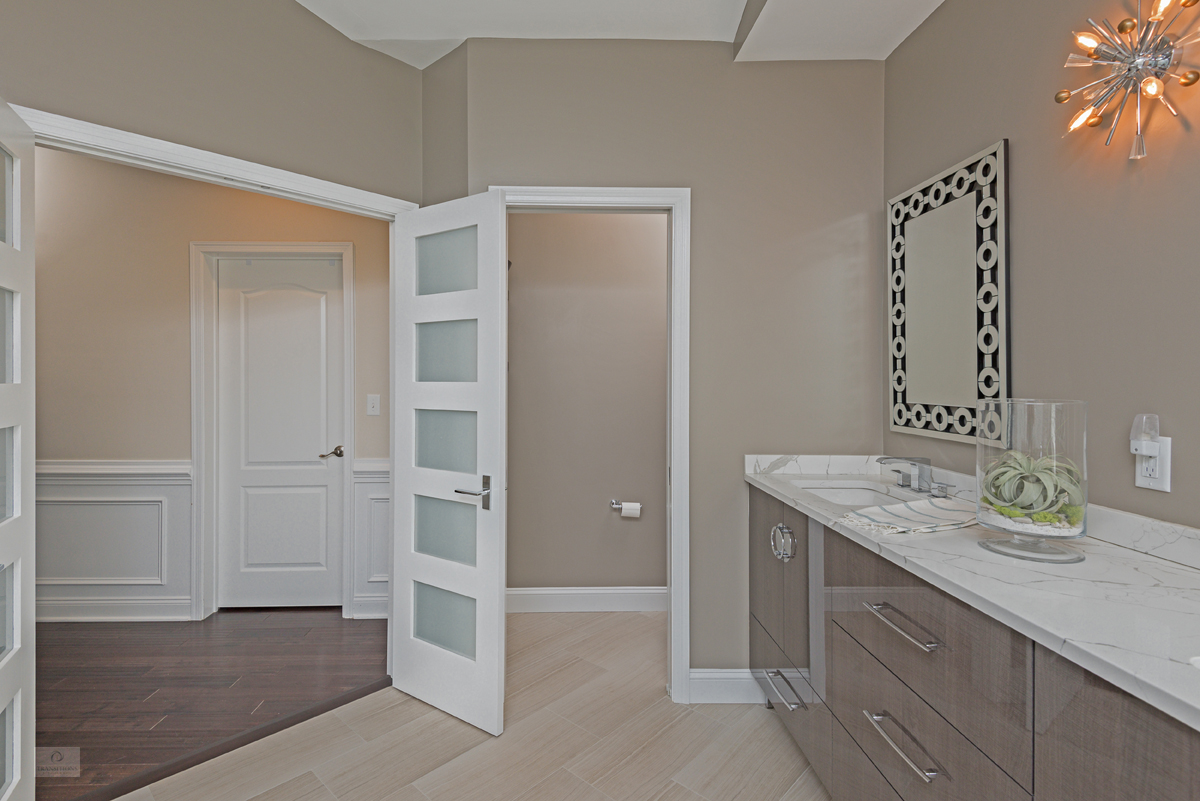 Install a Floating Vanity
Floating bathroom vanities are no longer purely synonymous with contemporary design. They are a perfect way to bring a touch of luxury to your bath remodel. As luxury aesthetics are often tied to a more simple, spa style approach, floating vanities are ideal for a bathroom renovation with relaxation and clean lines in mind. They break up what could be visually weighty cabinetry without compromising on storage. Less space can be utilized in a clever way with customized storage accessories inside your cabinets or by adding decorative and useful baskets underneath, which bring added texture.
Sinks, faucets and hardware fit any style of floating vanity. You can choose from a wide range of countertop materials and colors, as well as sink, faucet, and hardware styles and finishes to complete your vanity style. . This way you can create something unique to your taste and requirements. Having the floor visible underneath the vanity cabinet opens up your design and showcases surrounding materials like the wall and floor tiles. On a practical note, the floating vanity also makes it easier to clean your bath remodel.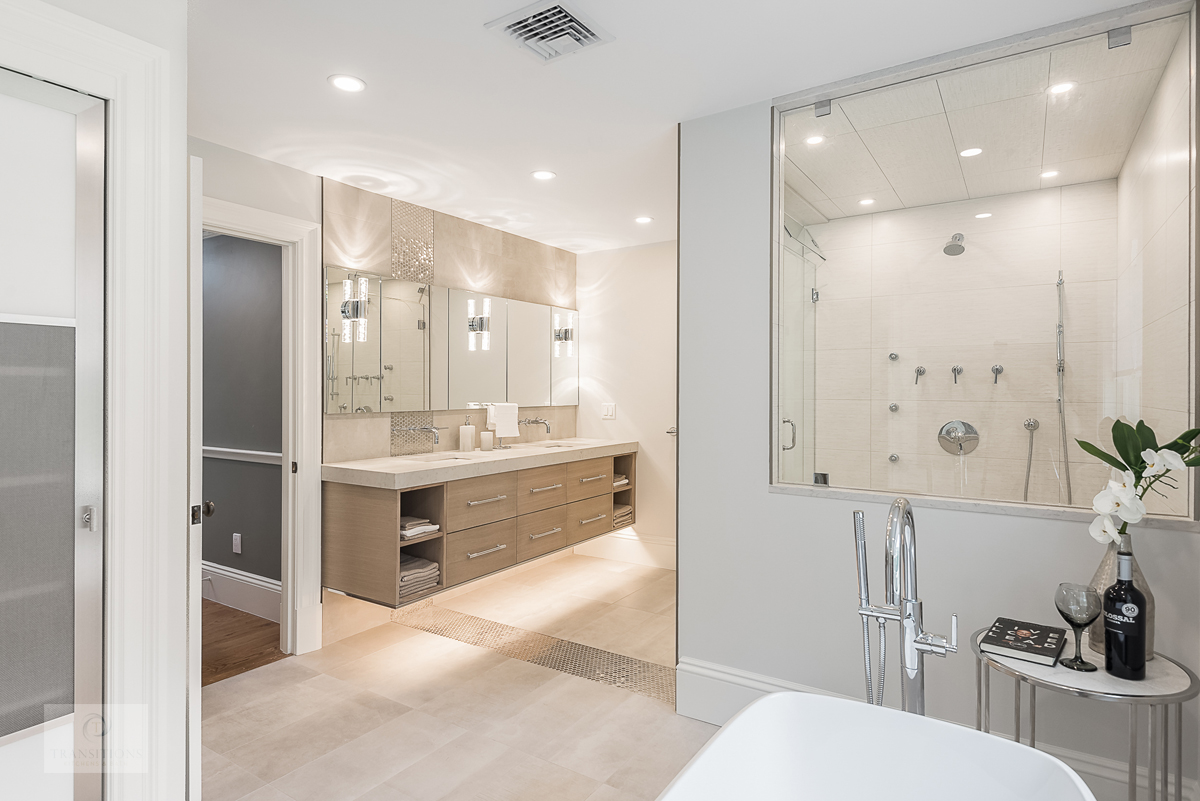 Try A New Type of Tile
It seems that bigger really is better when it comes to current tile trends. Very small mosaic tiles are giving way to very large format tiles in bathroom design. They make a big impact and there is less grouting to maintain, making these large slabs particularly good for shower surrounds. These large-format tiles can look very luxurious, especially in natural stone or stone-look materials. Small mosaic tiles can still be incorporated in small areas, such as a recessed storage niche, to act as an accent to your main slab tiles.
Improved manufacturing technology also means that tiles are coming in a huge variety of shapes, sizes, colors and patterns. Making the most of these exciting options is set to be a big trend this year. Ever-popular subway tiles are now available in various sizes and finishes to shake up a classic look. Hexagon, arabesque, diamond and chevron shaped tiles are becoming increasingly popular in new textures and colors. Eye-catching tiles can be used on backsplashes and even ceilings to create bold accents.
The way tiles are laid is changing too. Try vertically or horizontally stacked linear tiles for a minimalist appearance. Keeping your main tile patterns very straight and neat means you can focus on other aspects of your tile design such as texture or color, as well as the surrounding area. Remember, your luxury bathroom design can be both elegant and interesting.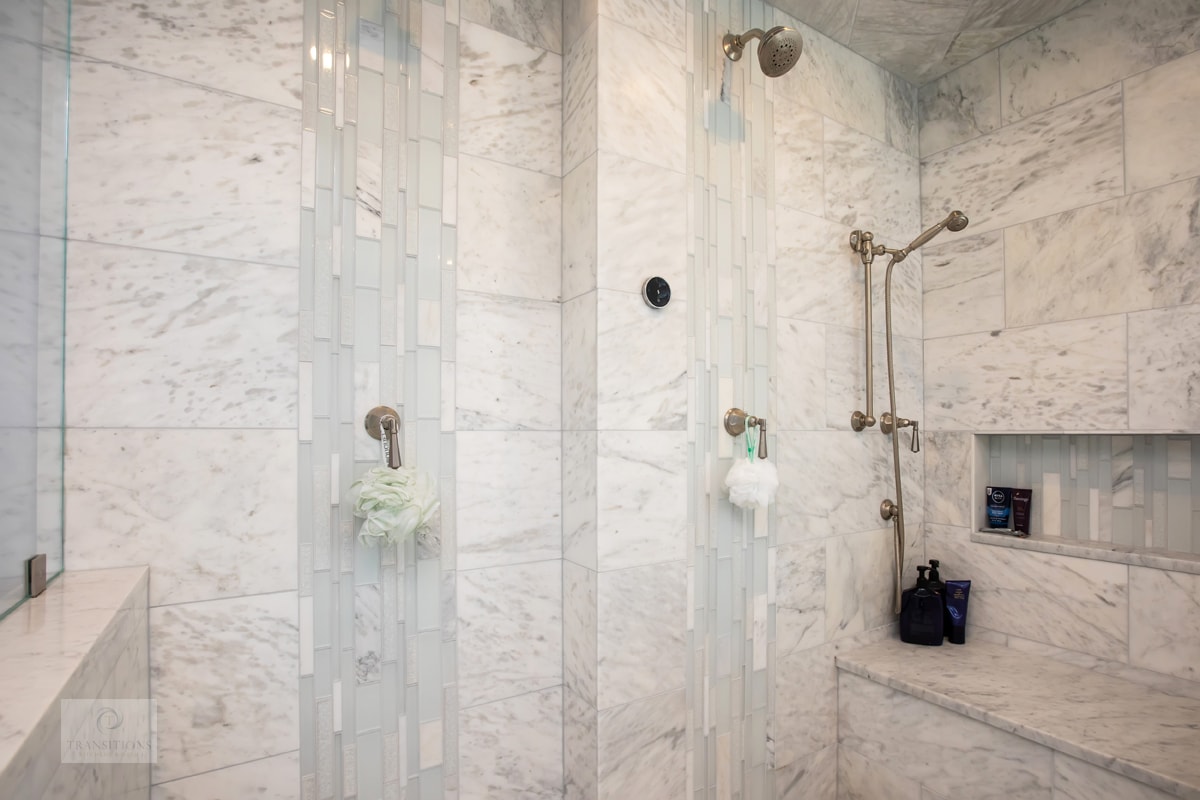 Give Your Mirror Star Treatment
A new mirror is an excellent and relatively simple way to change up your bath design. One practical choice that also gives it a luxury look is by backlighting your mirror. Both backlit mirrors and medicine cabinets are a stunning choice for a modern bath remodel. This incorporated feature provides glare-proof ambient lighting and if you dim the level, it is perfect as a nightlight. The backlight also gives the illusion of a floating mirror which is great for highlighting texture or color on the wall behind it.
Front lit mirrors give you more fixture options but could distract from a mirror's shape being the star of the show. Asymmetrical mirrors are on the rise and can be a focal point for your bathroom remodel. A framed mirror offers the chance to incorporate a new texture or color in your bathroom design, such as a metal framed or tile framed mirror.
Smart mirrors are now entering the arena of luxury bath design. Anti-fog, touchscreen and voice-control technology combined with charging stations mean your mirror can become an entertainment and information hub.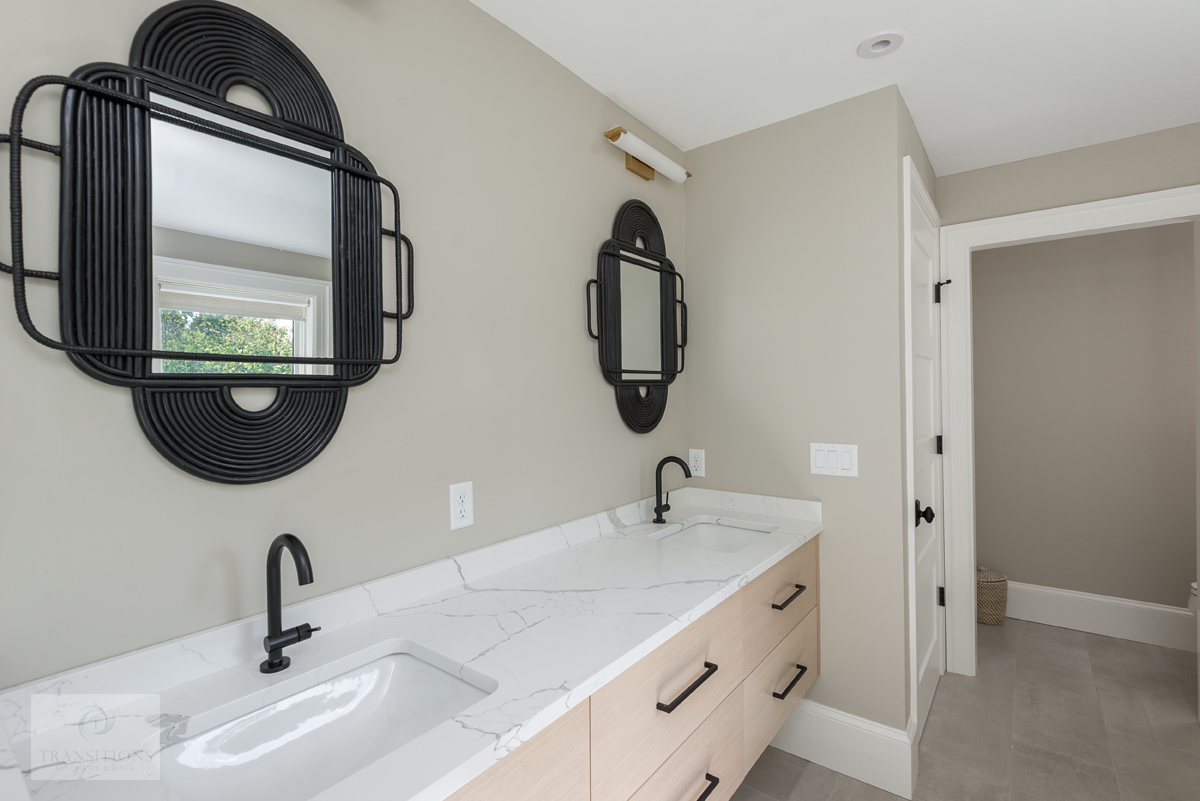 Think Twice About Your Tub
Tubs are essential to a bathroom remodel focused on spa-style relaxation. Although shower enclosures are becoming larger, this just means that bath designs are becoming more space-savvy to accommodate all your design needs, while losing none of the functionality.
Freestanding tubs are without doubt the most popular choice, but flat-bottomed tubs are far more popular than more elaborate clawfoot models. Their simple, clean lines work well in any bath design without overwhelming the space. They are a design staple in classic white but are also appearing in other materials like wood and concrete for a truly unique touch.
Tubs are becoming more design-focused with luxe features to make them the focal point of a high-end bathroom remodel. Place your tub beside a window with a view and hang a statement light fixture like a chandelier or pendant overhead for a dramatic look. Choosing a bathtub model with massage jets, thermal controls, speakers and self-cleaning capability makes the most of your bath time in your heavenly retreat.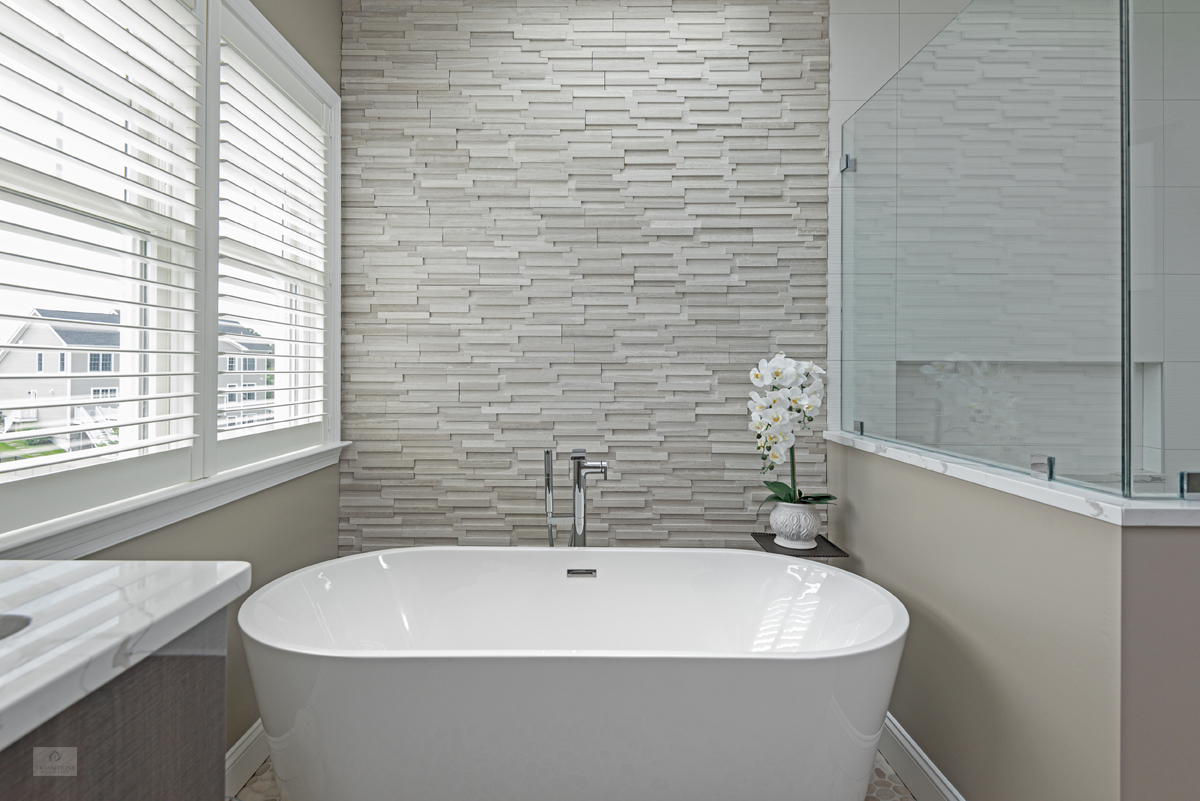 Color It Beautiful
A restful bathroom design doesn't necessarily mean it has to be all white. The paint industry is constantly producing a wealth of durable paints in multiple finishes with advancements in stain, bacteria and mildew resistance.
Beige, tan, mushroom and brown tones are all familiar spa-style colors that are becoming popular and bring warmth and a neutral background. The colors that are trending this year are warm and vibrant so you can move away from cool gray tones while still retaining a modern, sophisticated look. The same rings true for accents, accessories and fixtures in strong colors that work well with a neutral or white shade.
Blue and green are always good to evoke a coastal calm or natural well being, but pastel pink and coral tones are increasing in popularity in bath design. Use a strong shade as a contrast to white fixtures for a crisp, rich feeling. Whatever shades you choose, keep your color palette to a minimum to avoid overwhelming the space.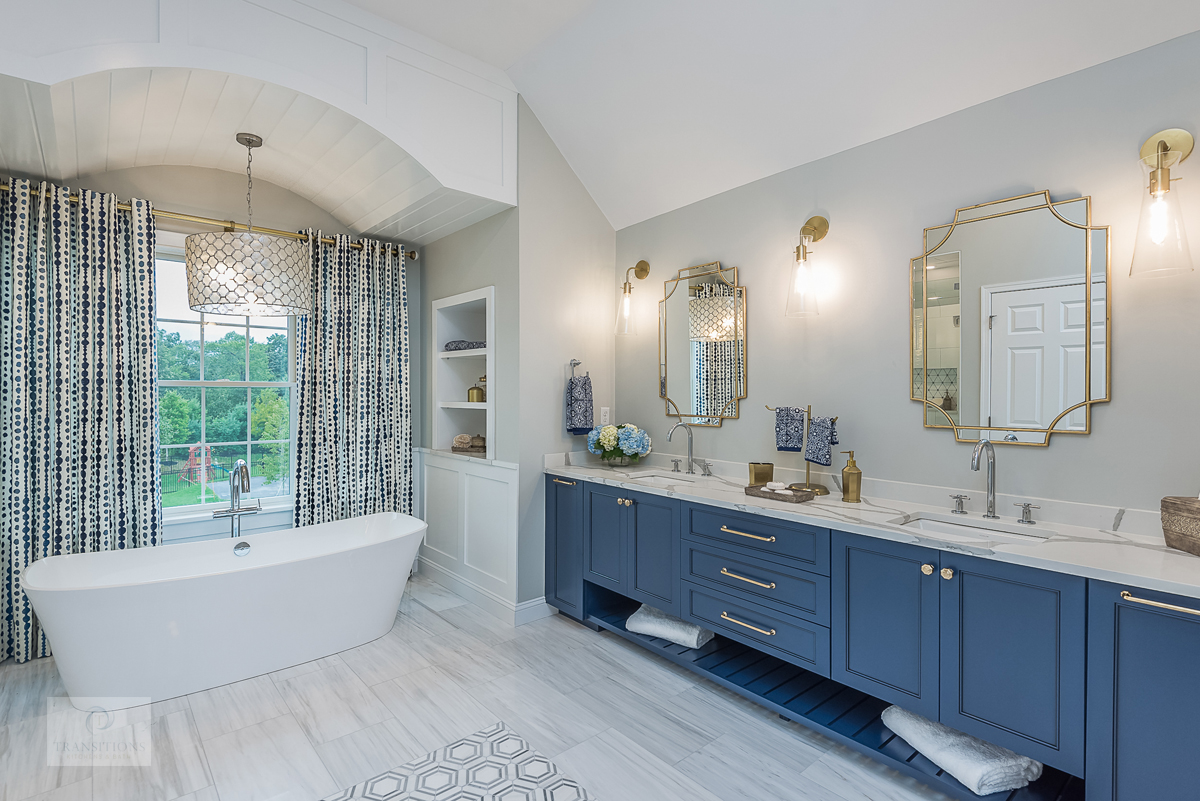 Smart Toilets Bring Futuristic Luxury
Like vanities, toilets look minimalist and spa-style when they're wall-hung. Their clean lines, smooth surfaces and raised position makes them easier to clean than the plumbing and crevices of traditional models. Take your new toilet to the next level with hi-tech features. You can avail of models with temperature-controlled spray and air-drying, warm seats that close automatically and touch-free flushing. There are also self-cleaning toilets with built-in deodorizers and noise disguising features. Your toilet can embody the height of technology while retaining a stylish, on trend appearance.
Aim High with Your Floor
Porcelain and ceramic tiles continue to be popular due to being hard wearing, low maintenance and resistant to bacteria and moisture. They also come in a huge selection of colors, sizes, shapes and patterns.
There is a move towards warmer tones of wood, but ceramic and porcelain tiles can mimic natural hardwood very effectively. They also come in a marble look that is popular, along with the wood appearance, for organic style bathroom designs.  The finishing touch to these tiles is underfloor heating for the ultimate in luxurious comfort and style.
Natural wood and stone are also fail-safe options and bring warmth to an all-white bath design. You can include them in a hardwood bathmat or river rock shower floor if you want to stay with imitation tiles on the rest of the floor. Both give a high-end feel to your bathroom remodel.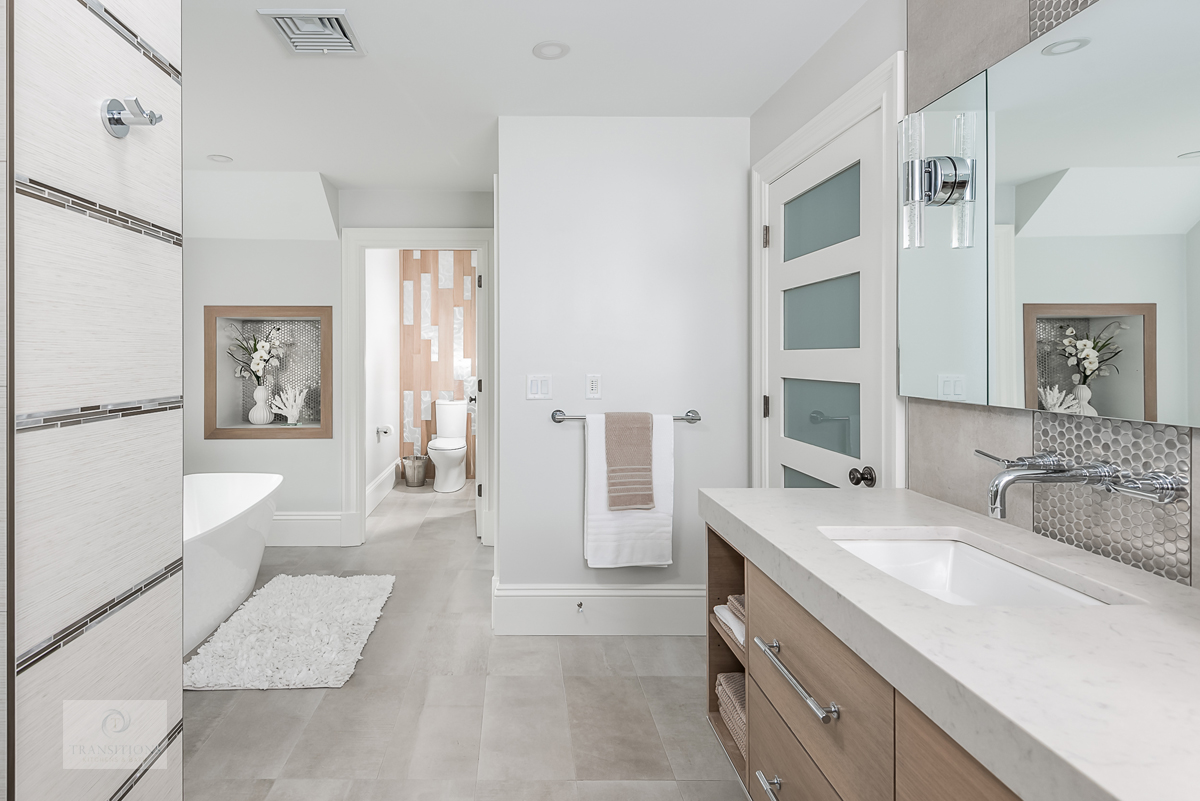 What Are the Best Luxe Faucets and Hardware?
You can inject glamor into your bath design with the right faucets and hardware. Pick up these tones in light fixtures and mirrors too.
Brass is increasing in popularity, especially if minimalist and in a brushed finish. Its opulent appearance complements natural stone surfaces and wood cabinetry really well. Warm gold tones are perfect for accenting a room and you won't have the fingerprint problem of polished chrome. Black matte metals pick up dark veining in marble and look stunning against stark white surroundings.
High-end hardware can dramatically change the look of your cabinetry. Faucets are becoming increasingly more hi-tech with features such as motion sensors, water flow and temperature controls that are powered by the running water. What better way to add a touch of luxury to your sink or tub?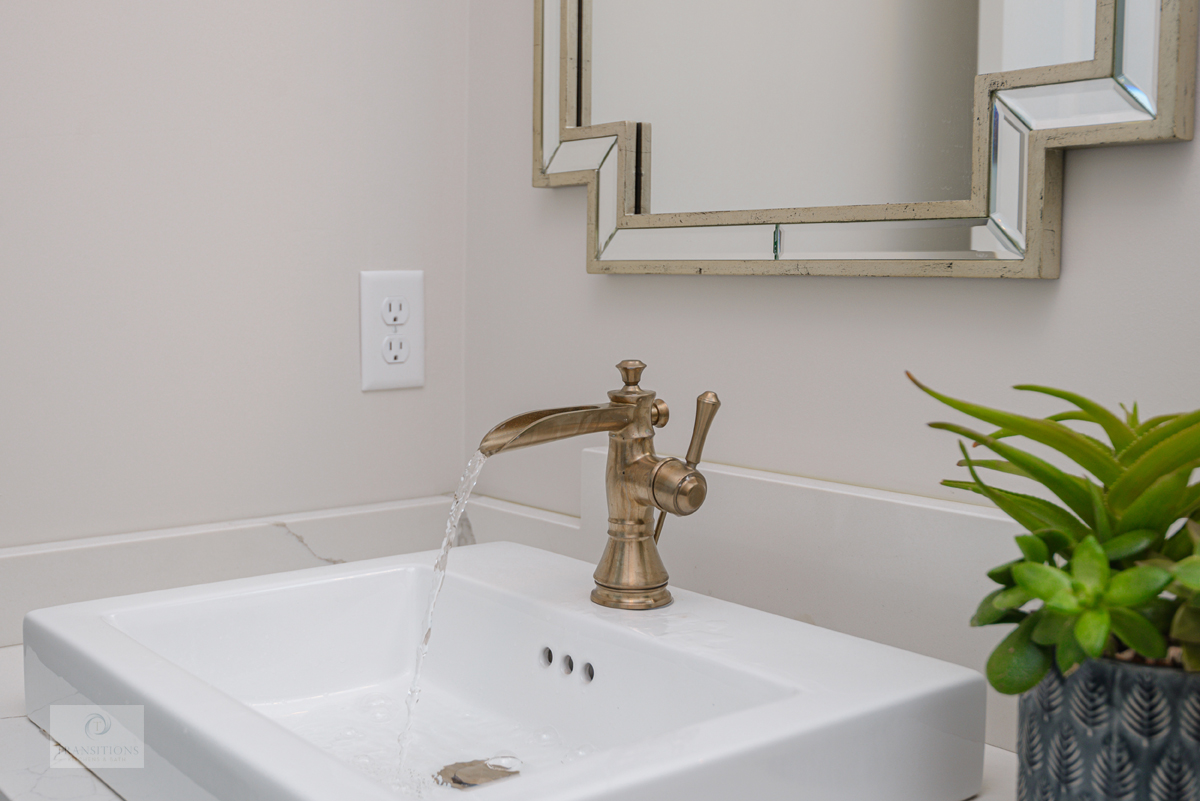 Maximize Your Storage
You won't be able to maintain your new bathroom design if clutter builds up. Custom storage means you have the correct amount and type of storage space to keep everything organized and concealed, when required. Warm wood cabinetry, or for a different look mirror-fronted storage, along with internally compartmentalized cabinetry work hard to keep your bathroom feeling zen. Anything you store in niche shelving should be containerized or kept to a minimum, so displays are neatly curated and don't overwhelm your shelves. Compacted storage areas, cabinets and shelving keep everything as minimalist as possible, reducing stress so you can relax.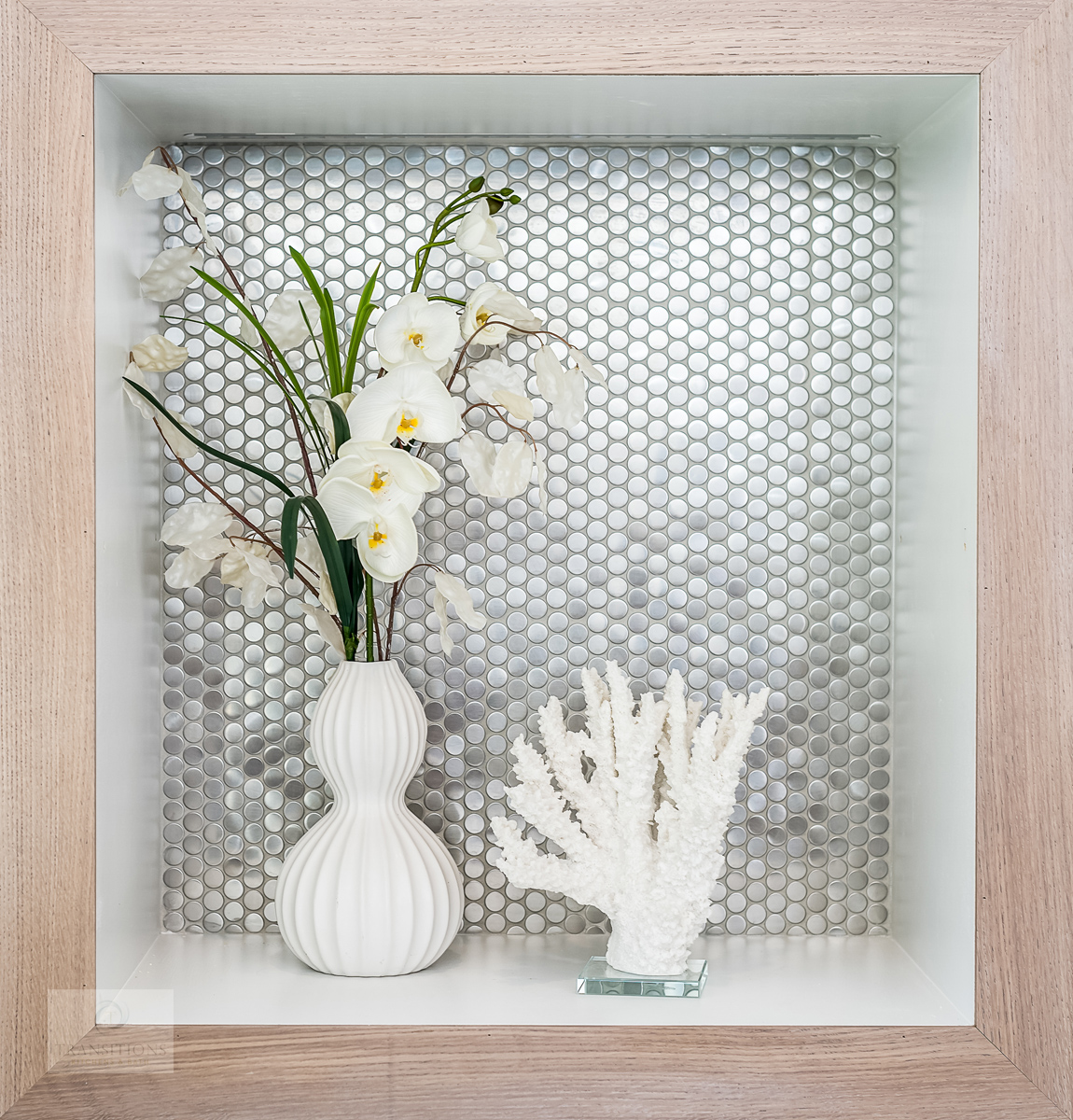 Get the Ultimate Showering Experience
Open showers visually increase the size of your bathroom design, while also offering better accessibility and more shower space. Technology for the ultimate shower experience is improving all the time. Two-in-one shower heads increase coverage and intensity, while massaging showers can also have several spray settings in a wide coverage head. Built-in speakers, voice-activated lighting and temperature controls are also easy to install in your high-end bathroom remodel.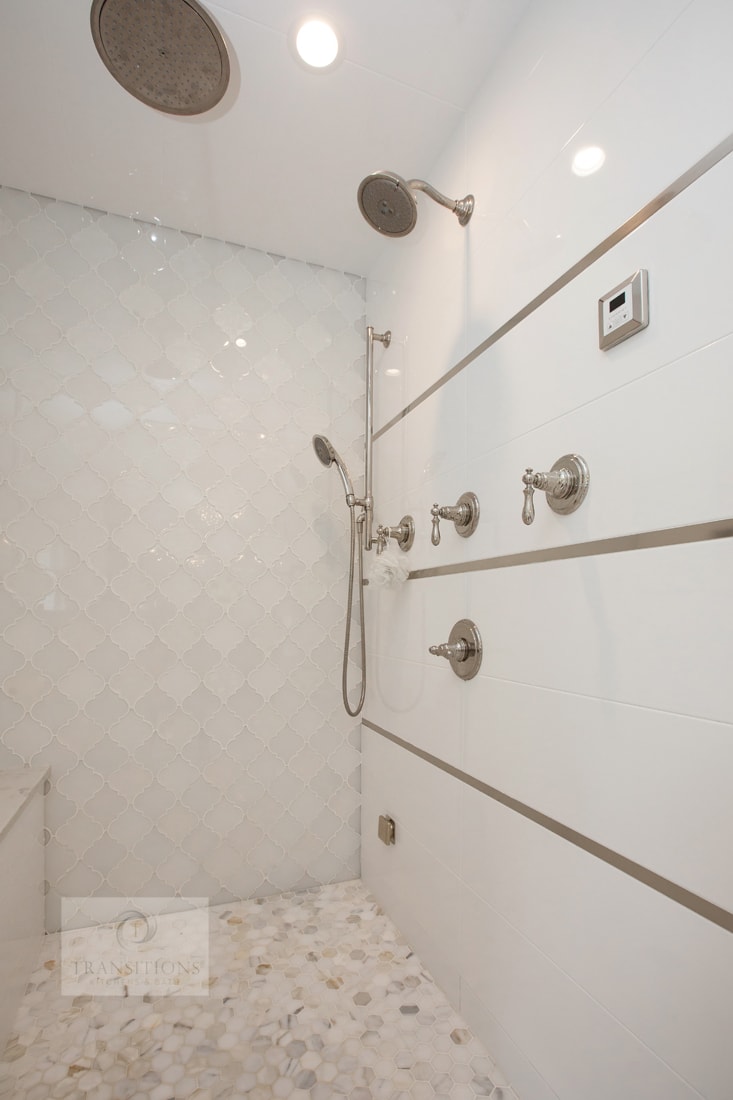 Contact us today
to get started on your luxury bath design.
Our experts
combine their experience with your design requirements and taste to create a stylish and functional retreat like no other.