Kitchens have emerged as the center of home life. Where previously, the kitchen was only a place to prepare food and clean up afterwards, now we dine and entertain in the kitchen. It is the focal point of a modern home, where people gather each day and where guests are welcomed. Open plan living has given rise to larger spaces with clever storage and sophisticated lighting plans that are perfect for everything from your morning coffee to Friday night cocktails with friends.
A kitchen remodel needs to be stylish, as well as a multifunctional room that fits everything from food preparation to homework time. With so many demands being placed on your kitchen design, how can you make it feel luxurious? It's worth investing as much as possible in your kitchen remodel. If you're planning on relocating in the future, high-end kitchens sell homes quicker. If you're staying put, then it's time to express your style in a luxe kitchen that performs well and makes life easier.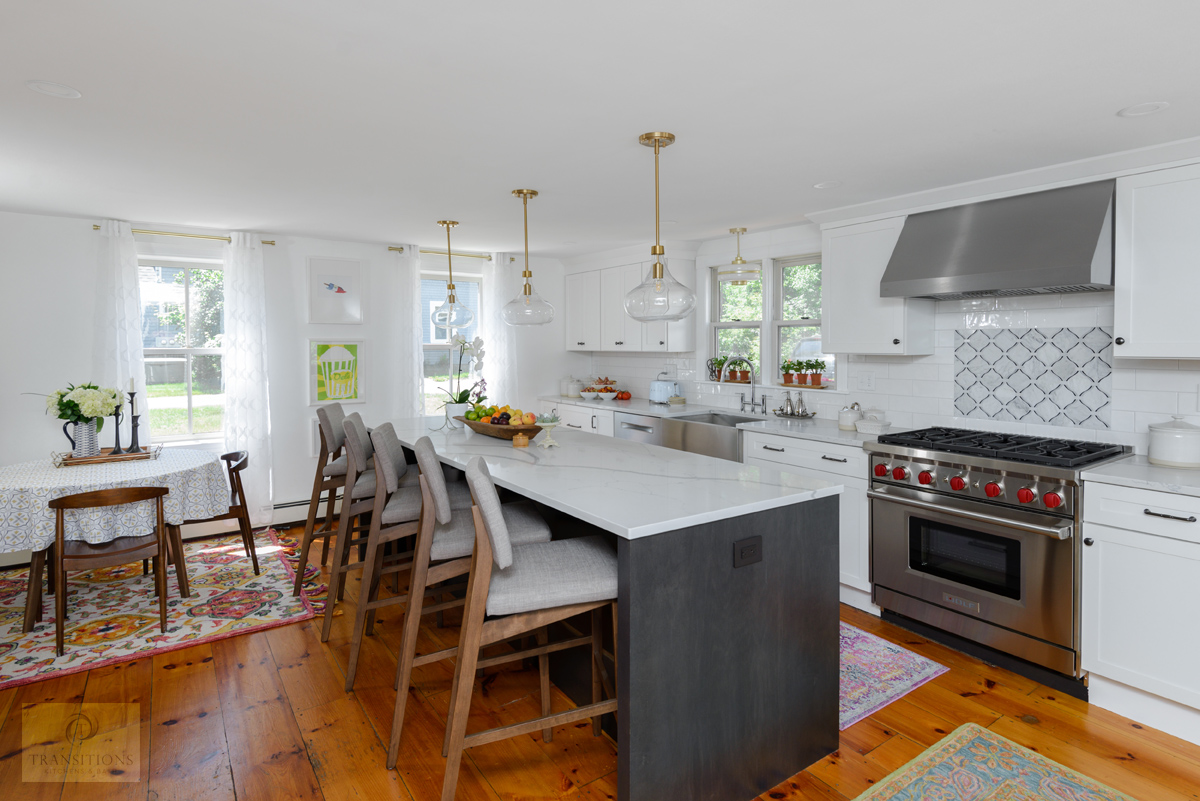 UPGRADE YOUR ISLAND
Social dynamics have led kitchen designs to become more open plan, but this open space must include streamlined storage and clean lines to reduce clutter and maintain functionality. A great way of utilizing space while creating a focal point is to center your design around a multi-functional island. The island has long been a hero of kitchen design and the latest designs are bigger and better than ever, performing as a kitchen hub while making an aesthetic impact.
An island can contain storage for everything from pans to pet supplies and include sinks, cooktops and other appliances. At the same time, it should be large enough to prepare and serve food and drinks on, with adequate seating for family or guests. Factoring in work or study space means that islands are becoming larger, with more than one level or sections to create distinct zones. T-shaped or L-shaped islands are popular for a larger kitchen design. Cantilevered islands provide lower counter space connected to one side of the island that can literally, take any island to the next level with extra countertop space. As the lines blur between kitchen and living areas, your island can extend into your living area to free up space in your kitchen and also serve as a stylish dining table.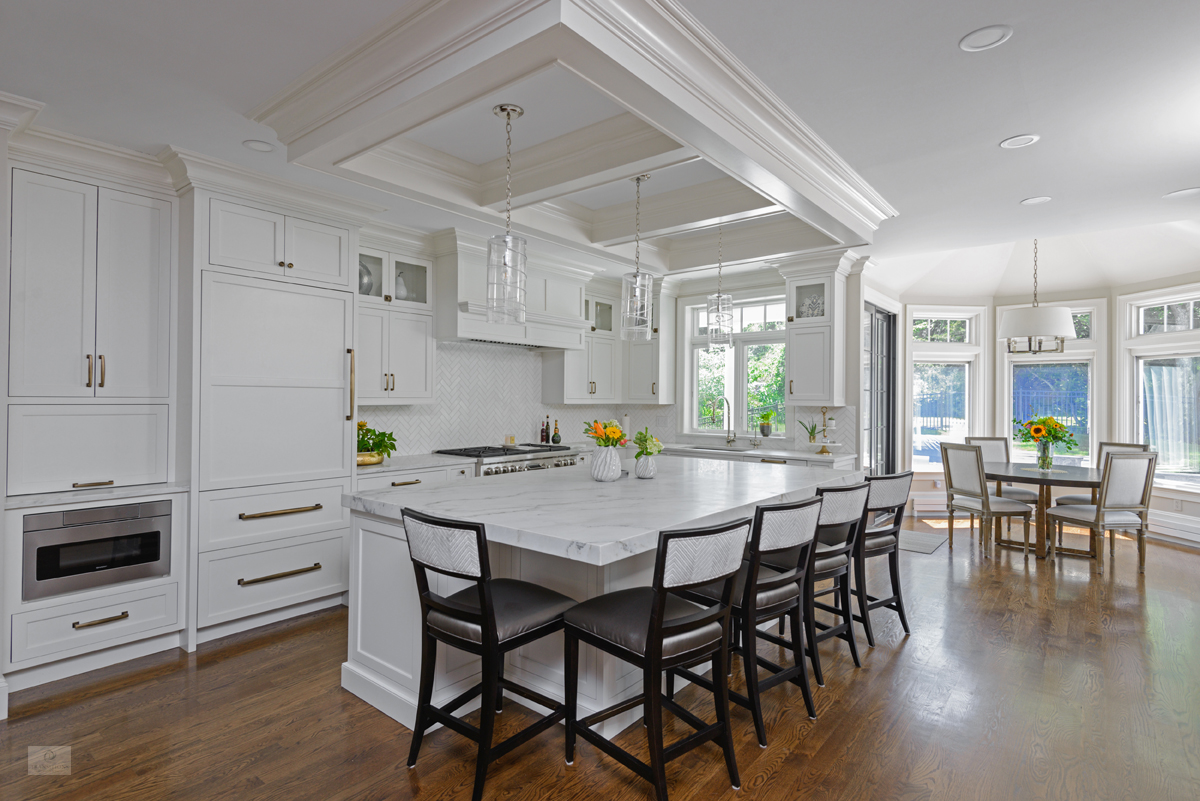 STREAMLINE YOUR LOOK
It really is a case of "less is more" as the design world streamlines kitchen layouts and materials, for a cool and calm aesthetic. The secret to paring everything back is by using clean lines, especially in storage solutions. Replacing upper kitchen cabinets with open shelving is a trend that has opened up wall space but can be high maintenance as it involves regular cleaning and curating of the items you store there. The latest design look is streamlined floor-to-ceiling and wall-to-wall cabinets that hide clutter and are understatedly elegant. Use high quality materials and include texture for interest. Reclaimed wood, for example, is sustainable, fashionable and works well in minimal, touch-release cabinetry. Hardware can still be included on streamlined kitchen cabinets. Go for a quality material such as brass or an unusual choice like leather to add character and a luxe finishing touch.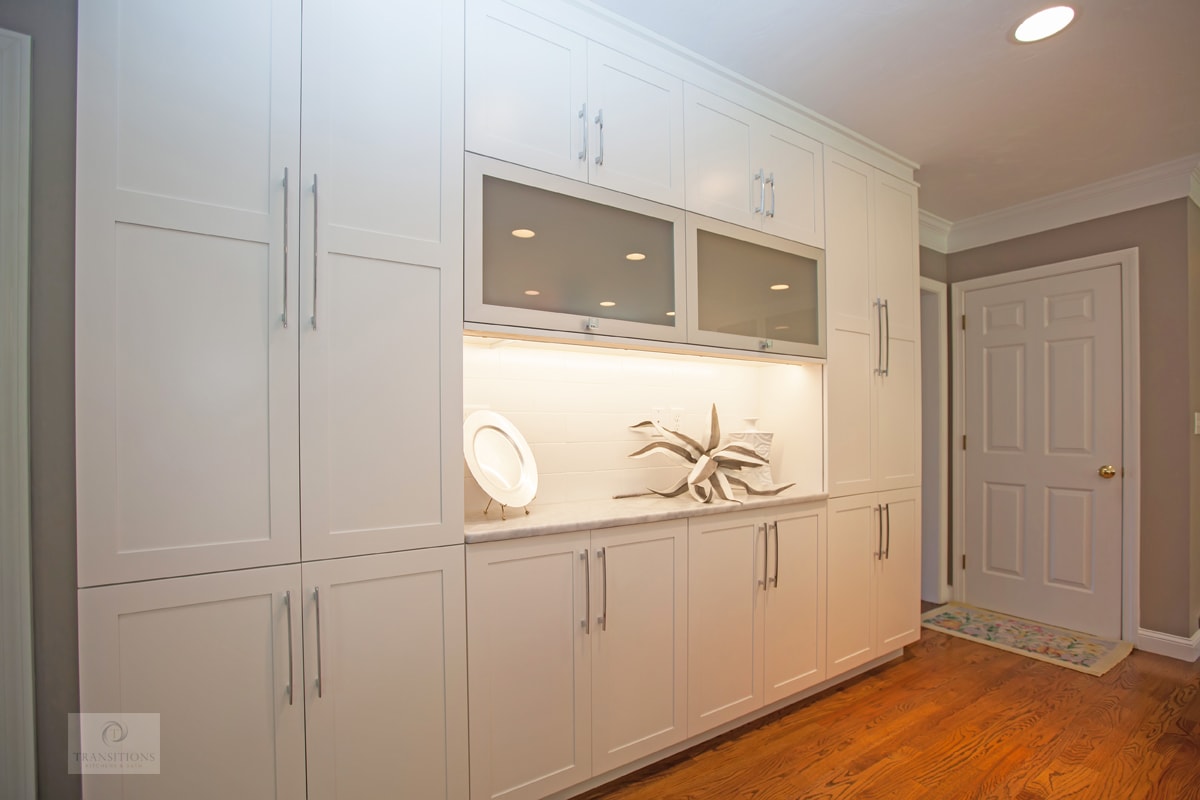 CHOOSE GAME-CHANGING COLORS
White is a classic color that works well in kitchen design. However, as you spend so much time in your kitchen, why not try a color that represents your style and changes things up? Different materials and textures can be combined for a blended approach to your kitchen remodel, making it unique, yet on trend.  Designers are increasingly going for colored cabinets in shades of blue or green. Black is also very popular for sophistication with drama. Not only cabinets, but islands, tiles and walls are being intensified with colors that bring a luxurious feel. Try a wine red, rich brown, plum, emerald-green, navy or velvety black to give an intensely luxe feel to your surroundings. One way to ensure that your design isn't too dark is to go for a two-toned approach with your kitchen cabinetry. Try a lighter color on upper units or choose a contrasting countertop or island in a different shade. Mix up materials too, for a combination of tones and textures that give interest and depth.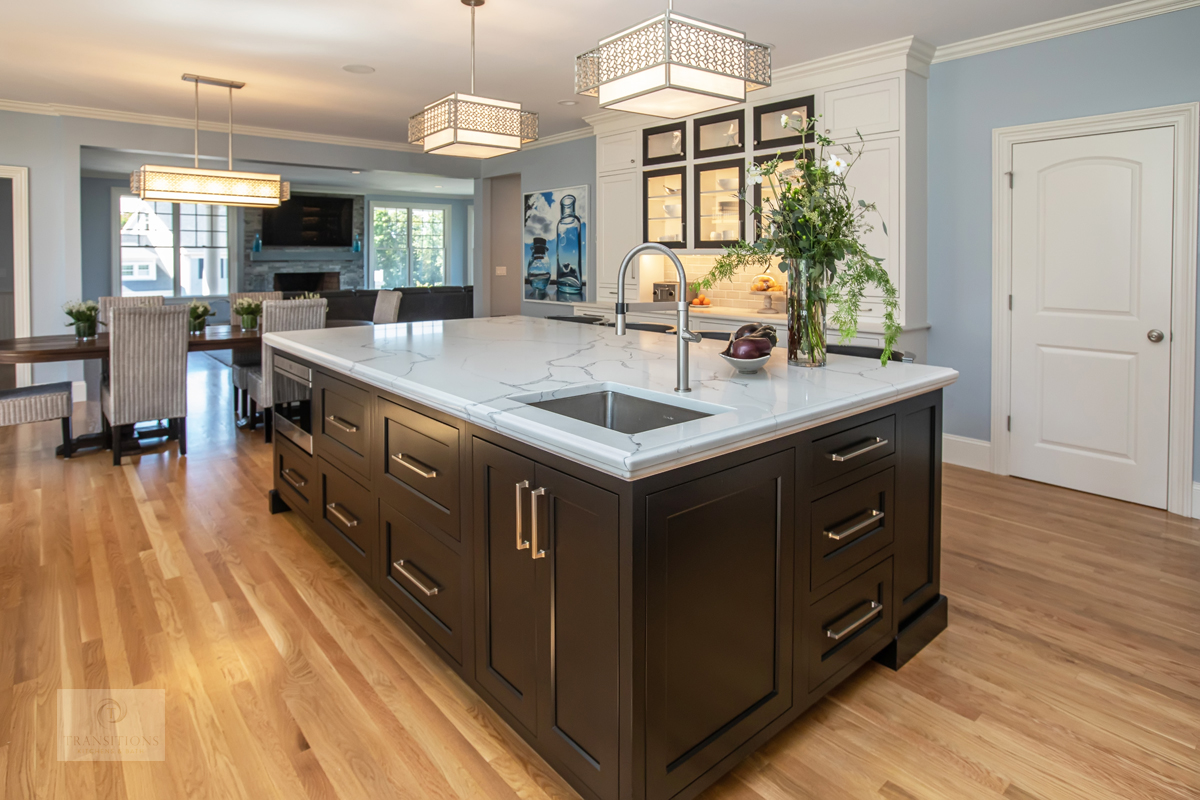 EMBRACE TECHNOLOGY THROUGHOUT YOUR DESIGN
Technology can provide a fully functioning kitchen design with a high-end appearance. Smart kitchens have technological advances built into everything from faucets to lighting. Motion sensored faucets, automatic pot stirrers and coffee machines that can be timed are just some features that add flair and style to your kitchen design. Smart refrigerators that keep track of your food supplies and trash cans that scan barcodes and order replacements are more genius solutions for busy lifestyles. Technology transforms a kitchen design into a luxurious remodel, using innovation to maximize efficiency. Our devices can connect effortlessly to entertainment, but also to lighting, ovens, heating and a myriad of appliances for a kitchen where you can work and entertain without stress.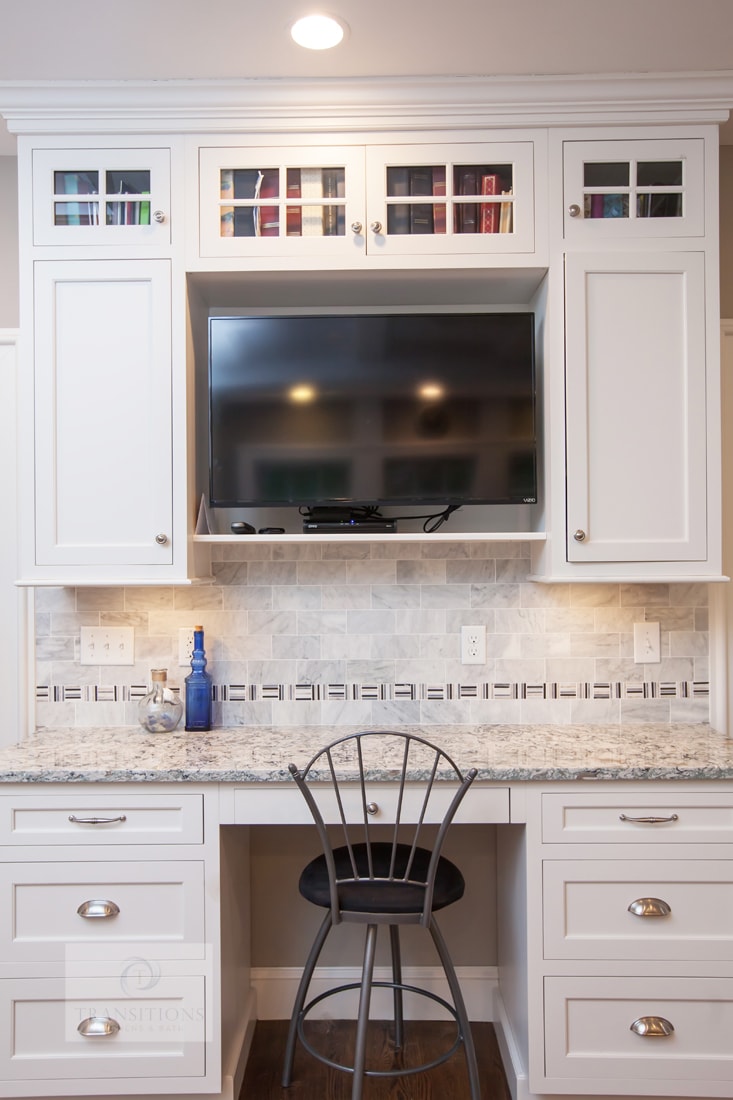 CONSIDER EVERY ASPECT OF LIGHTING
Lighting is an important element of your luxury kitchen remodel. Think about the kind of lighting you want during the planning stage so you can incorporate necessary wiring or fittings during construction. Your lighting scheme should be layered and able to perform many tasks at different times while being stylish and warm. Task lighting is needed over busy work surfaces. Ambient lighting creates a soft atmosphere but also delineates areas of your kitchen design. Track lighting and ceiling fixtures can be directed over certain parts of the space to create depth and definition, especially with the aid of dimmer switches. Accent lighting showcases items on display and adds subtle sophistication to any kitchen design.
The key to a high-end look is decorative lighting. Invest in one or two designer light fixtures to give your design the wow factor. Opt for a pendant light in an organic material or some glass globes. The materials you use for your lighting fixtures should be high-quality and match your style. Bar-style pendants work well in a sleek, minimalist design and oil-rubbed bronze track lighting are perfect in a trendy, dark color scheme. Choose outlets and switches in brass, copper or silver for luxe touches.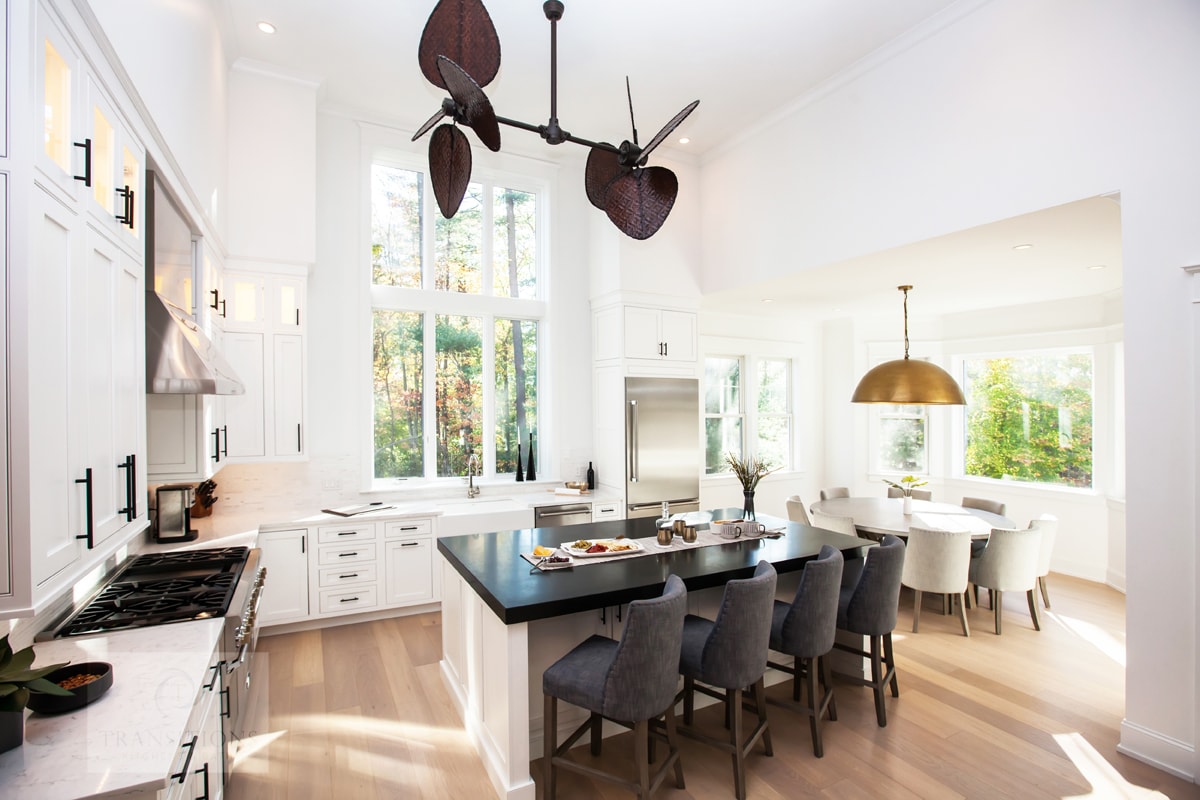 GO FOR A FAILSAFE COUNTERTOP MATERIAL
A high-quality countertop can lift the whole look of your kitchen design. Quartz is a wise choice as it's stylish, durable, low maintenance and easy to install. Technological advances mean that quartz countertops now come in a huge range of colors and finishes. It's possible to get quartz to imitate a material like natural stone with realistic veining and patterns. Granite is also a luxurious choice but requires more maintenance. A composite sink adds the finishing touch to a quartz countertop, being seamlessly smooth and, importantly, easy to clean!  Neutral tones like grey, cream, taupe or white give a chic look to compliment any kitchen design. Other materials, such as wood, laminate, resin or marble, can look stunning in a dark, rich color against light cabinetry.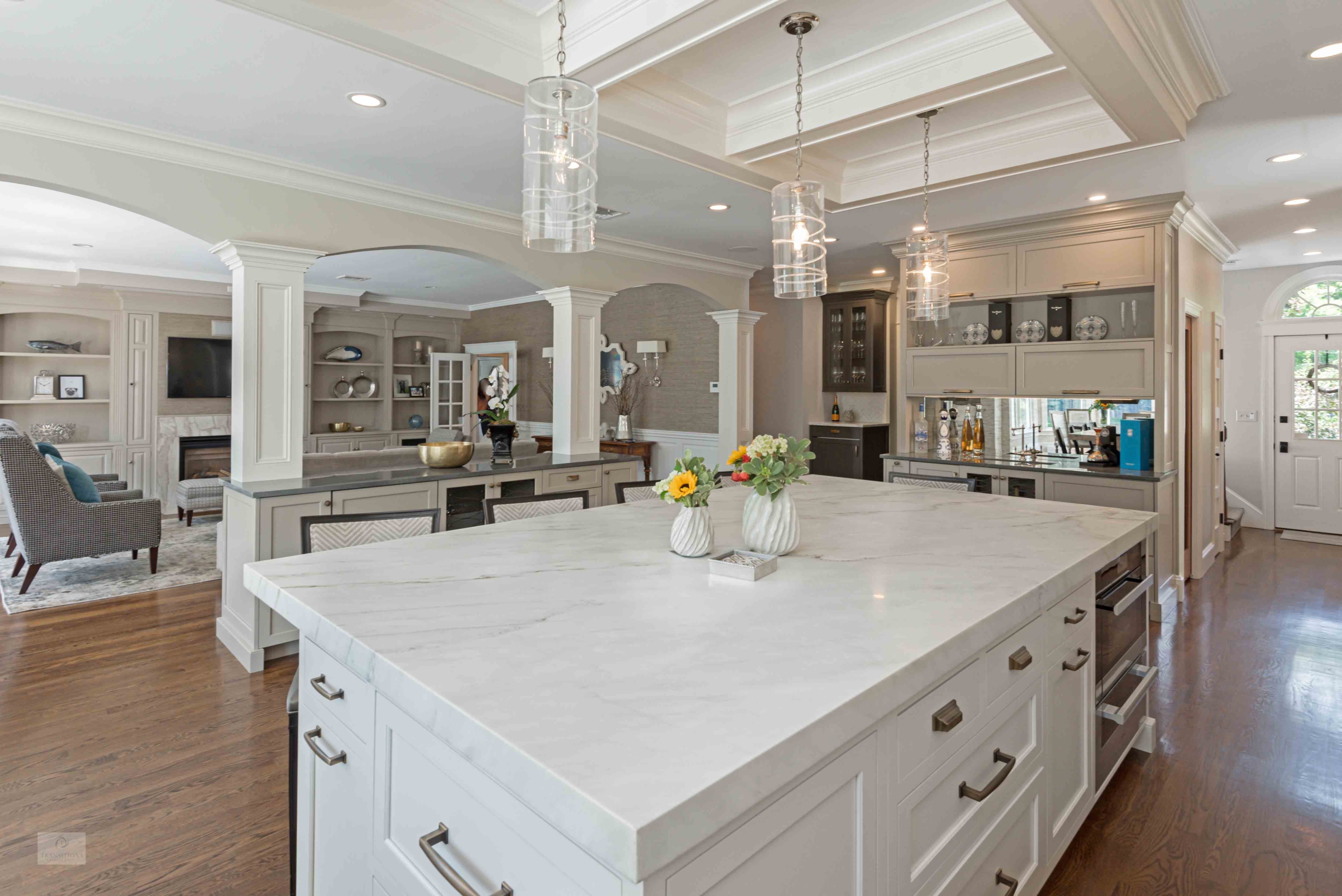 DON'T OVERLOOK YOUR BACKSPLASH
Subway tiles are a classic choice for backsplashes, but designers are trending toward using larger tile formats in more vibrant colors. Textured and patterned tiles in interesting shapes are also bringing glamor to kitchen remodels. What's really taken off is the continuous slab look, where an expanse of material is used to cover the wall. Steel, copper, quartz, wood, marble, glass and resin are just some of the materials gaining popularity. With upper cabinets giving way to shelves beside the stove, backsplashes can reach the ceiling. This look is very low maintenance and adds a high-impact focal point to a room, as you're choosing a luxe material in a concentrated area.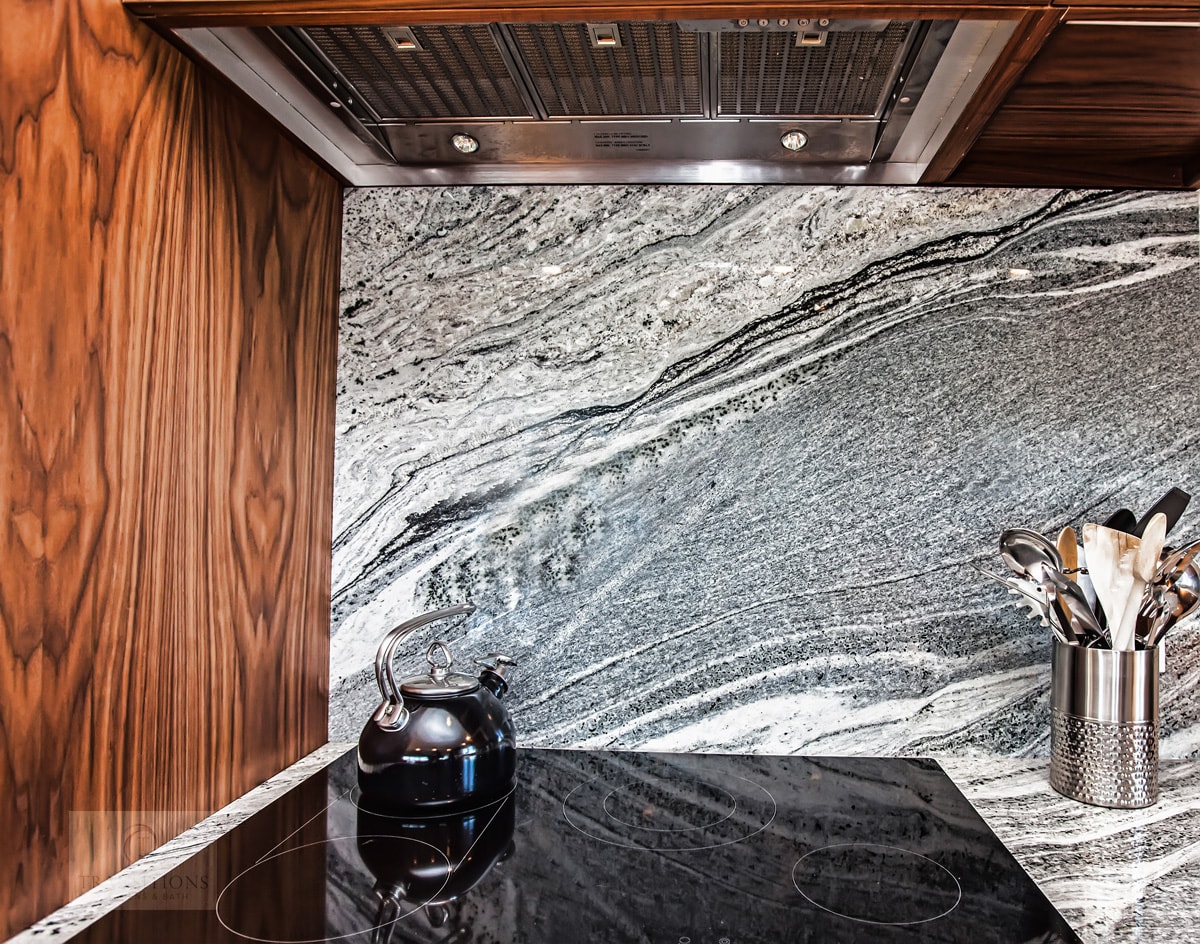 CHOOSE DURABLE FLOORING
Kitchen flooring puts up with a lot of traffic. The material you choose needs to be hard-wearing and work well with your kitchen cabinets. Bamboo, concrete and hardwood are all excellent choices that work in any kitchen design. Ceramic or porcelain flooring are increasingly popular and comes in a wide range of colors and styles. They can mimic most materials with added durability. Natural stone or wood can be replicated in these tiles, down to their surface texture. Even their size can be the same, so you can invest in plank sized tiles that look exactly like wood, but without its drawbacks. This brings a luxury look and functionality to your kitchen remodel.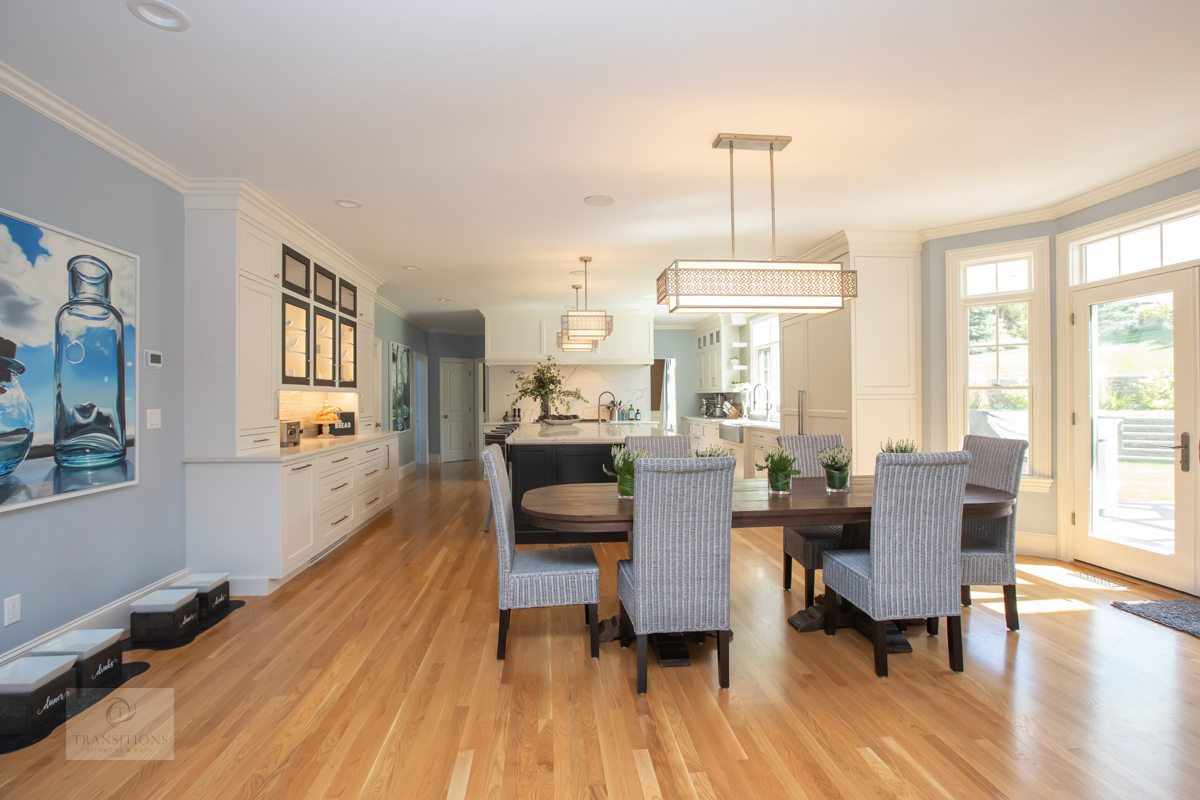 ORGANIZE YOUR KITCHEN DESIGN FOR MAXIMUM EFFICIENCY
The key to creating a calm, beautiful kitchen design is to keep clutter to a minimum. Internal storage can be maximized with clever storage solutions to organize its contents. There's no point having a huge drawer if everything is chaotic inside. Customize your cabinetry to accommodate your requirements and plan for storage throughout your kitchen design, with the addition of a pantry. Appliance garages are perfect for small appliances. Another storage hack is cabinets dedicated to garbage and recyclables. Integrate your refrigerator into your design and keep countertop essentials in attractive containers. Drawer dividers, pull-out racks and lazy susans are all internal fixes for more efficient storage, making your kitchen remodel work on both aesthetic and practical levels.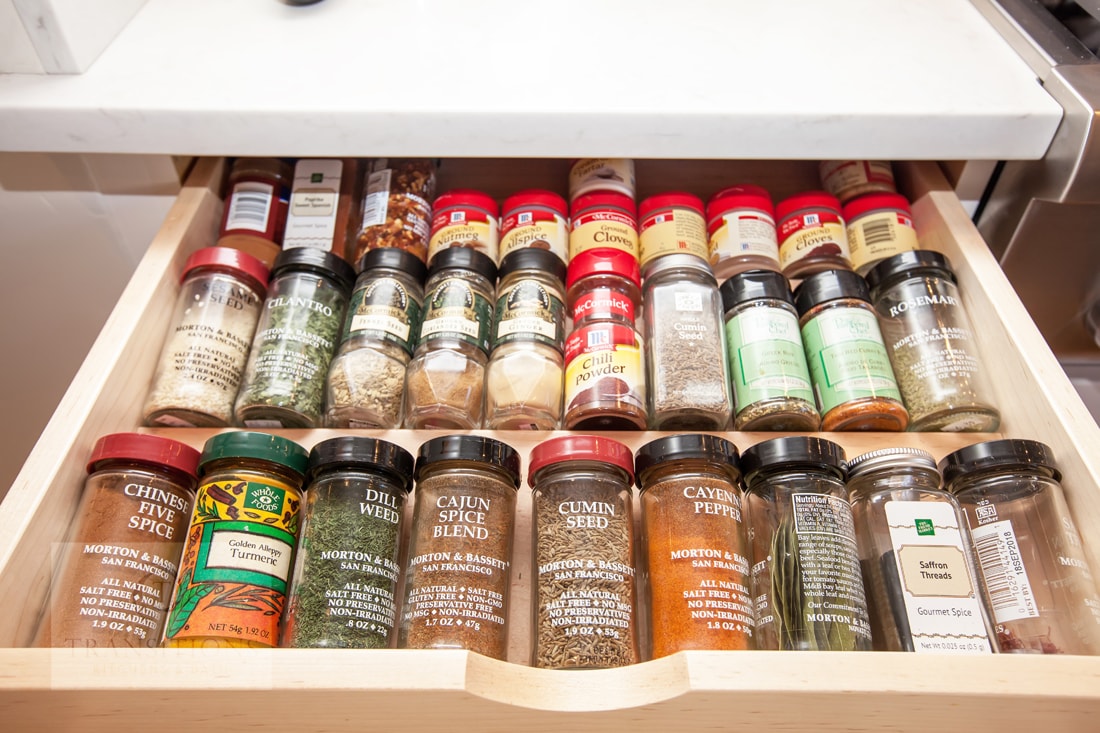 BRING IN THE OUTDOORS
There is nothing like lush greenery to bring a space to life. Potted plants, vases of flowers, succulents and hanging planters are all very on trend and add definite style to your kitchen remodel. Invest in well-made pots and vases that complement your style. The most effective way of including nature in your design is to add entry points from your kitchen to an outdoor area where possible. Install a glass door to connect the two spaces and create a patio that feels part of your kitchen remodel. A trend increasing in popularity is to install an enormous window over your sink. This could involve losing some upper cabinets, but with effective storage elsewhere, you achieve a dramatic result, welcoming light and nature into your upmarket kitchen design.