When planning a bathroom remodel, you may be focused on your bathtub, shower style, vanity, showerheads, and tile.  These items form the foundation for the functionality and style of your bathroom design.  They set the tone for your space with colors, texture, and shape, like the sleek lines of a contemporary vanity cabinet or the natural textures of pebble tile for a shower floor.
Once you decide on the style for your bathroom design and select these key fixtures, it is time to start accessorizing.  Just like jewelry accents a favorite outfit, your accessories add personality to a design and elevate the style of your room.  You may not think accessories are key to completing your bathroom design but remember this is a central space in your home where you start and end your day. It may be your relaxing home spa retreat or the place where your children splash in a bubble bath.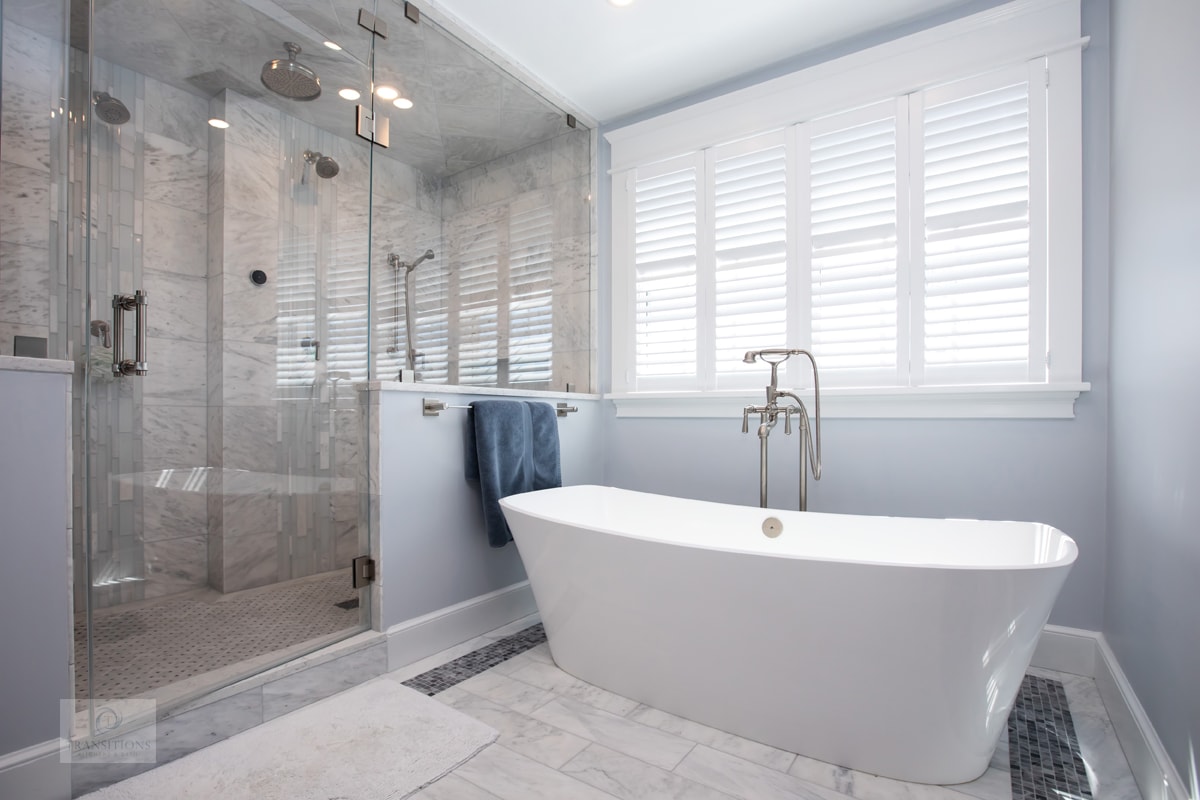 The accessories you choose bring your bathroom design to life and bring out your personality with everything from cabinet hardware to candles to towels. How do you select accessories to create your perfect bathroom design style? From ceiling to floor, follow our top design tips to start creating a stylish bathroom!
Before you get started.
The first thing you should do when accessorizing a bathroom design is to start with a clean slate.  If this is a bathroom remodel, then you have already cleared out the entire room and should be able to view the space with fresh eyes once the main fixtures are in place.  If it is an existing bathroom design or you are only doing a partial remodel, be sure to do a full clear out of the room before you start accessorizing.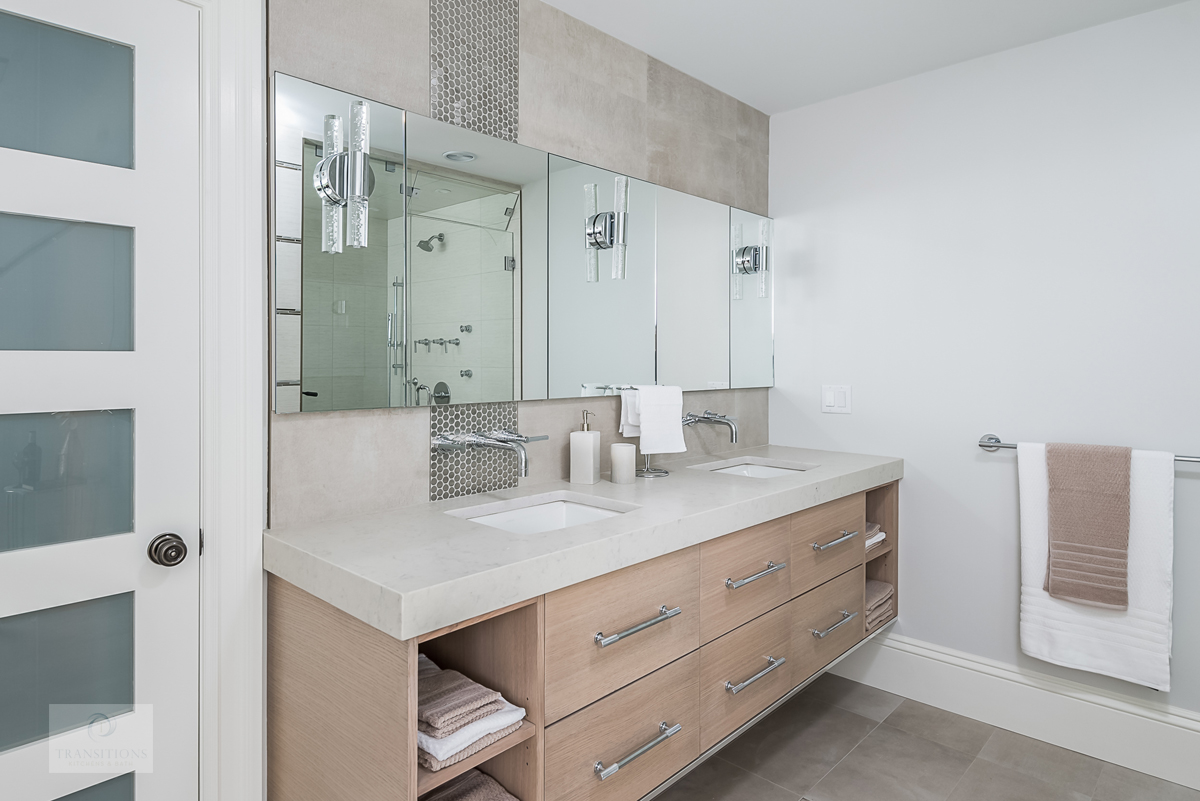 This is the perfect opportunity to declutter! Whether you want to go for the KonMarie method, the "four box" method, or any of the wide range of decluttering techniques out there, try to use this as a chance to really clear up your room. Pull everything out of all your drawers, cabinet shelves, medicine cabinets, and every floating shelf or niche.  Get rid of anything that is out of date, broken, or never used.
Anything that remains should have a home in your bathroom storage, whether that is put away neatly in a drawer or sitting on a shelf in your shower.  If it doesn't have a place, then you either don't need it in the bathroom or you do not have enough storage. The result is a decluttered space where you can relax in the tub, and where your style is allowed to shine through.
Look up: light fixtures, showerheads, and more!
Let's start at the top to find the perfect ways to accessorize your bathroom remodel.  Lighting is an essential component of any bathroom design, but it is also a prime opportunity to dress up your room with marvelous metallics, glass, crystal, or fun lampshades.  For a glamorous effect, include a sparkling chandelier in your bathroom, or go for a bold pendant with a colorful shade to add a pop of color to your room. The vanity is central to any bathroom and must include lighting that brings essential illumination without causing glare.  Wall sconces offer balanced light and come in an array of materials and styles to accent your vanity and walls.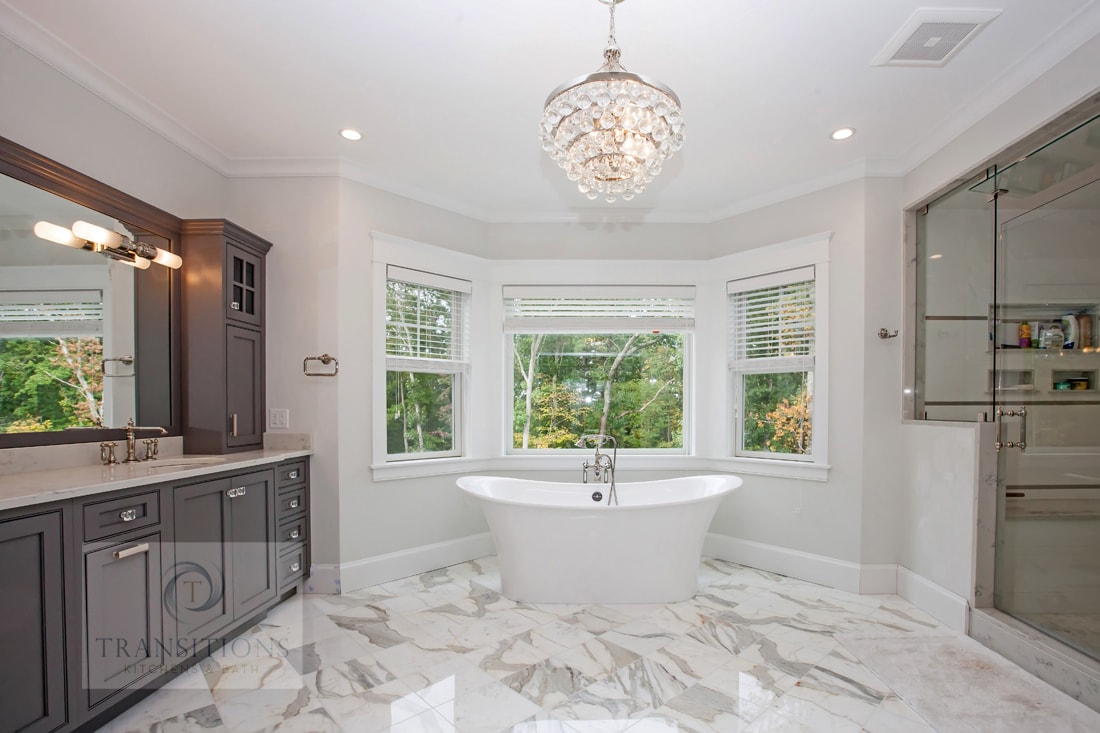 While you are looking up, consider your plumbing fixtures including the showerheads.  No bathroom is complete without your plumbing fixtures, but choosing a strong metallic shade turns this practical feature into a stylish accessory.  Polished chrome and nickel are still popular, classic choices, but matte black, gold, and bronze bring glamor and sophistication to a bathroom design and are increasingly a popular choice.
Up the walls with stylish accessories.
When you walk into a bathroom, the walls are at eye level and therefore draw immediate attention.  Make it love at first sight by adding sophisticated style touches to your walls. If you are planning a bathroom remodel consider adding visually appealing tile designs like a colorful mosaic tile for your storage niche or go for it with mixed materials like this Weston, MA bathroom design with aluminum and wood.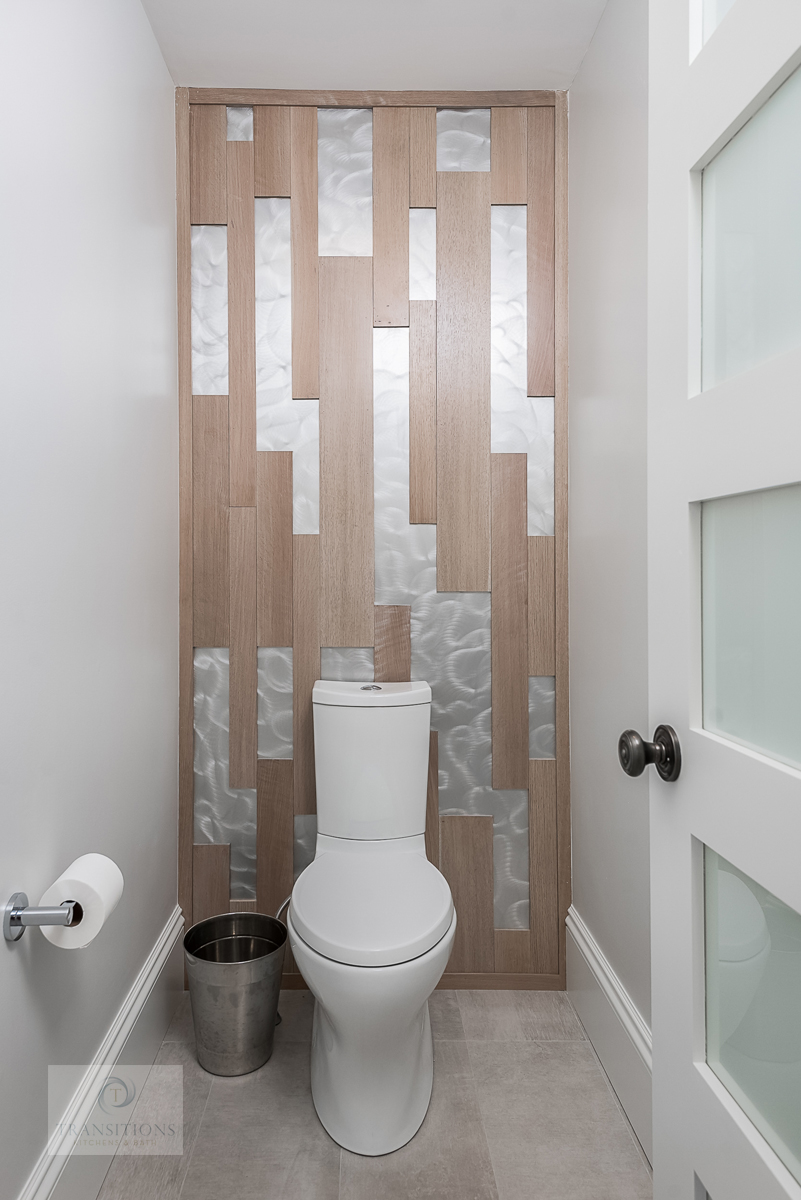 A tile border in an accent color and shape can also offset neutral, classic tile walls.  Other wall coverings that offer opportunity to dress up your bathroom (and can be changed more easily over time) include wallpaper and paint but be sure to select moisture and mildew resistant options. For a classic or beach style add wainscoting or beadboard to part of your bathroom walls.
Continue your metallic accents with complementary towel bars and rings, and don't forget to accent your color scheme with hand towels like this stunning Cohasset, MA bathroom design. For a unique design accessory with rustic charm, use a repurposed ladder for your towels. Mirrors are a practical element in a bathroom remodel, but also a prime opportunity to add a glam touch with beveled glass, metal or tile frames, or backlighting.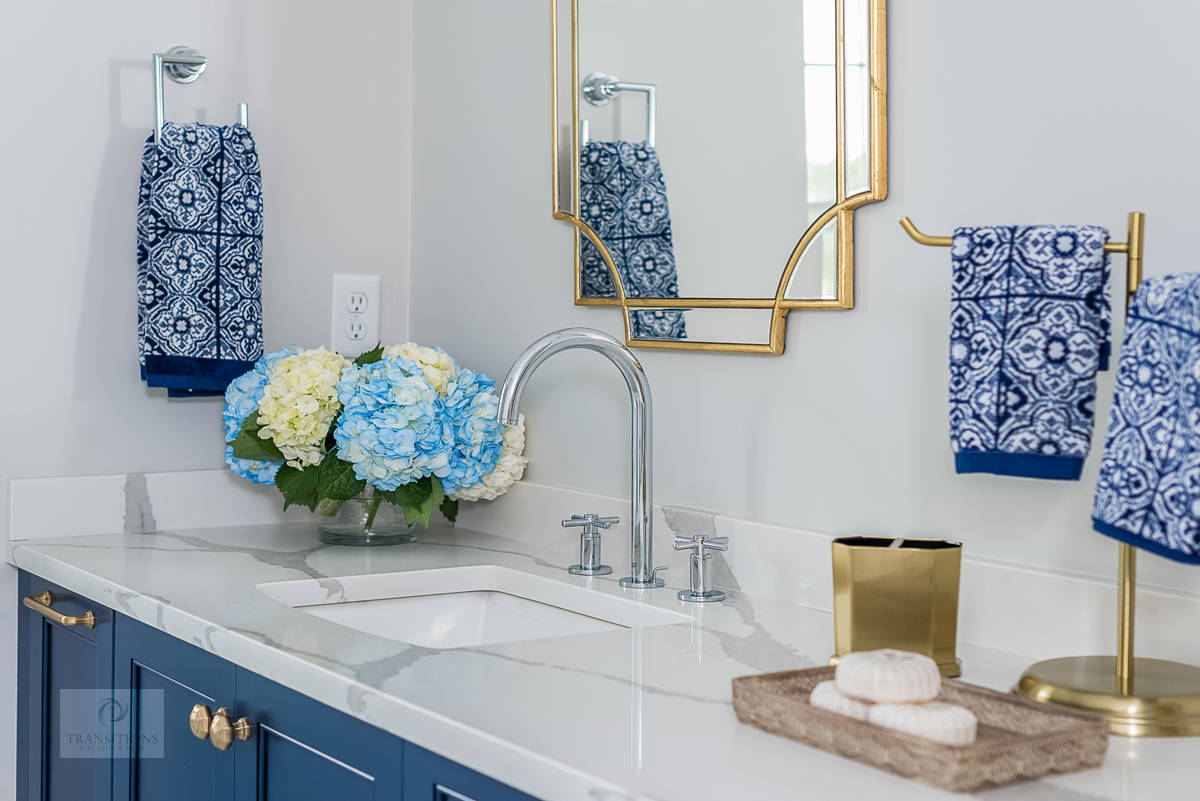 Turn practical storage solutions into design statements by adding a colorful wall behind open shelves, with paint, wallpaper, or tile. Then carefully curate the items you place on your shelves, leaving room for personal items like a framed photo, candle, memento, or small objet d'art to add charm to your design.  Any practical items can be neatly arranged in coordinated jars or baskets that complement your room's style.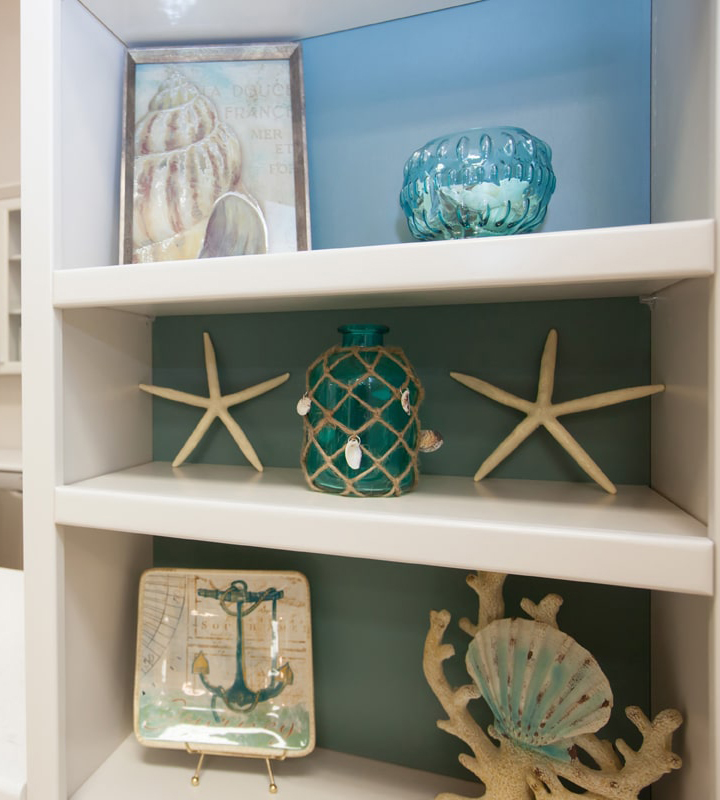 Make things really interesting by installing shelves in a material that makes your bathroom design stand apart.  Reclaimed barn wood adds a rustic vibe to your room while polished wood gives the space a spa style atmosphere.  Metal or glass shelves are perfect for a sleek, contemporary bathroom design.
Don't be afraid to add artwork to your bathroom design, but just make sure it can withstand any moisture or steam in the room.  Hang a favorite framed print or even a family photo on the wall in a frame that accents your metallic or wood accessories. Use your artwork as a chance to bring personality and color to your room.
Window treatments are an essential part of a bathroom design for privacy, particularly if your windows are visible from the street or a neighbor.  It's Important to strike a balance between privacy and openness that also allows natural light to stream into the room.  Blinds, shutters, and curtains all work well in a bathroom design and offer a chance to bring color, pattern, and texture to your space.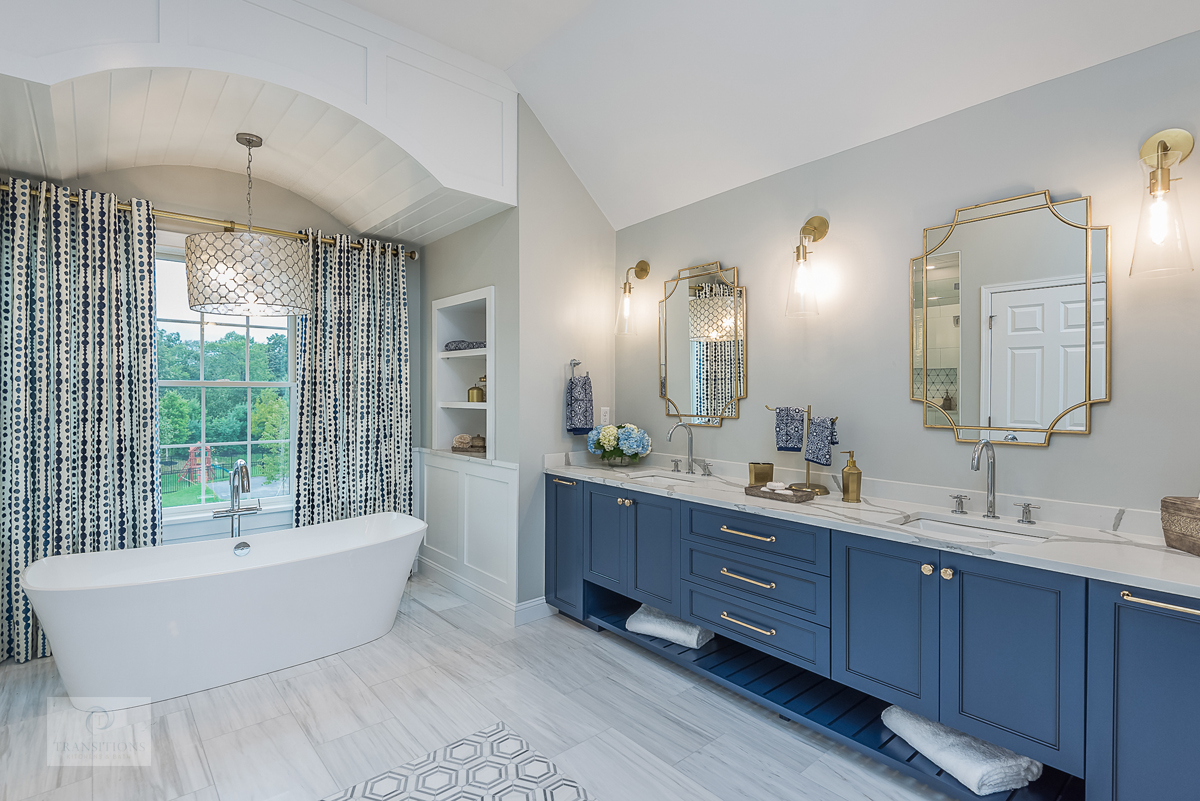 Have fun with furniture.
Other than the shower or tub, the most prominent fixture in your bathroom design is the vanity cabinet.  It provides storage and sets the tone for your design with the cabinet's door style and finish.  The vanity also offers many ways to accessorize your bathroom design starting with the cabinet hardware.  From crystal knobs to matte black drawer pulls, hardware accents the cabinetry and works together with other accessories to create a cohesive style for your room.  Match your metallic hardware to the finish of your plumbing fixtures and towel bars or select crystal knobs that work with your crystal chandelier to create a glamorous master bath.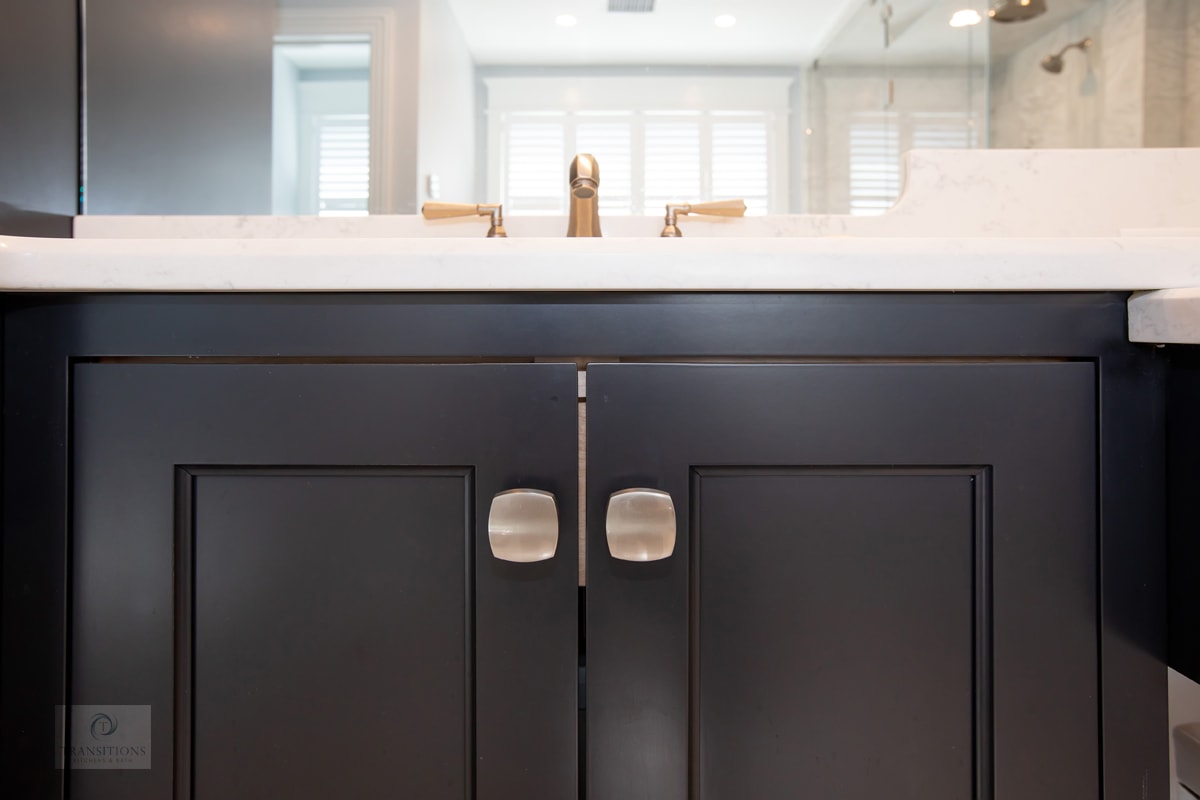 Keep countertops clear, and limit what you keep out to essential items or a few decorative accents.  Use stylish jars for storage and keep everything to one area so countertops are easy to clean on a regular basis. A small metal tray or hand mirror could be placed on the countertop with perfume or other items arranged on it for an added stylish accent.
Don't be afraid to add a small freestanding table to a larger bathroom design like a metal cocktail table, wooden table, or even a wheeled bar cart.  This furniture item may seem out of place in a bathroom, but it can add a one-of-a-kind touch plus extra storage right where you need it, like next to a freestanding tub.
Seating has its place in a bathroom design too, from benches outside the shower to small stools to cushioned chairs.  If you are including a make up vanity in your bath remodel, you definitely need a comfortable seat that accents your room's style.  In a larger bath design, you could include a luxe, cushioned chair near a window, transforming your room into a home spa retreat.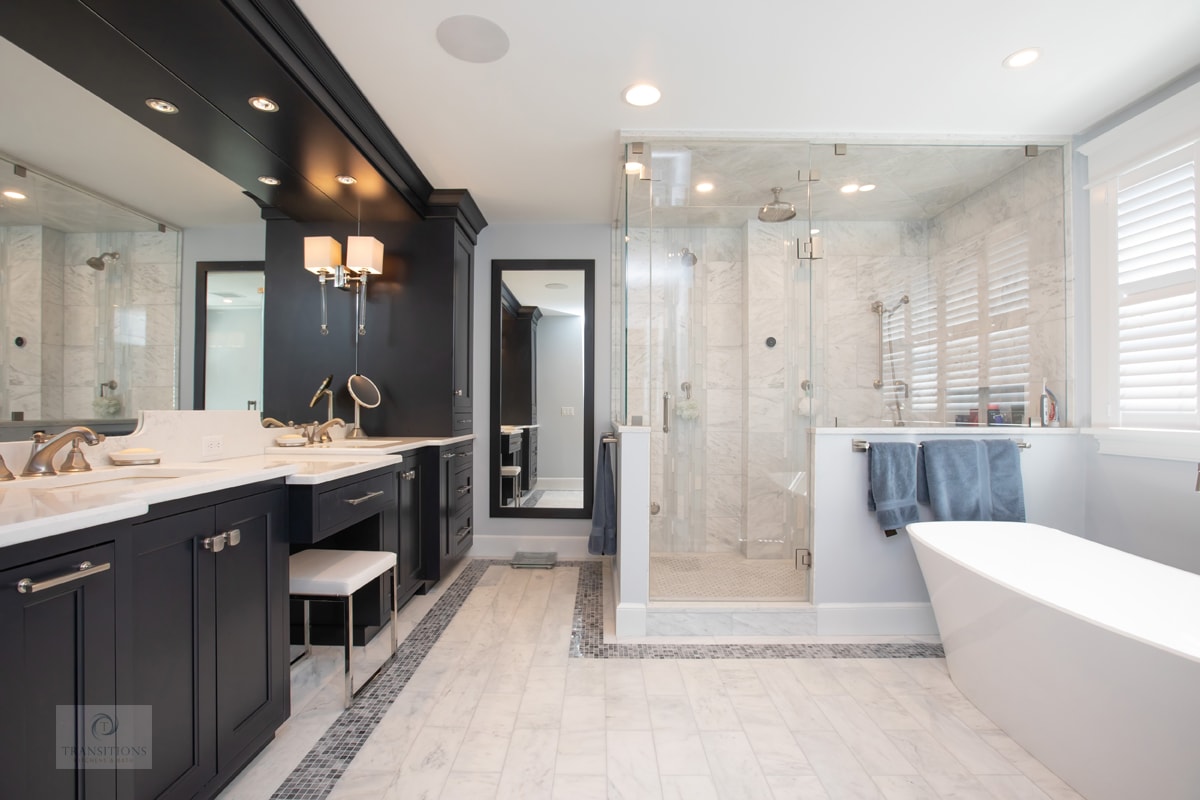 Look down: rugs, plants, and more!
If you did your decluttering right, then you should have no problem keeping your bathroom floor clear. This means you shouldn't have any trip hazards in your room, and also allows your tile floor to maintain a stylish presence in the room. Accessories on the floor must be kept to a minimum to keep the clutter from creeping back in, but there are a few items that could be included here.
Bathmats or rugs are essential to a busy bathroom, where you may be stepping out of the shower to dry off or standing on a cold tile floor while brushing your teeth.  They keep your feet warm and dry and prevent slipping when you exit the shower or tub. They are also an easy (and easily replaced) way to add color and style to your bathroom design.  Choose fluffy, luxurious mats to give you the feel of your favorite hotel, add a bright pop of color to a white or gray tile floor, or select a wood slatted mat to evoke a spa retreat.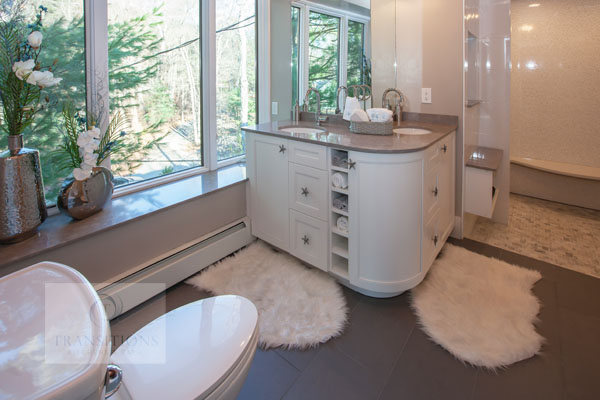 Bringing nature into a bath design creates an atmosphere of calm, and one way to do this is by adding plants to your space.  A carefully placed plant can improve both your bathroom's décor and the air quality, but make sure you pick the right plant suited to the room's humid environment.  If you are not an avid gardener, pick a plant variety that is low maintenance, so it does not add to your stress levels.
Whether you are starting a full bathroom remodel or just updating an existing room, carefully selecting accessories is key to a stylish bathroom design.  From mirrors to light fixtures, towels, artwork, rugs, and more accessories bring warmth, color, and personality to your room. Get inspired in our bathroom remodeling gallery and then contact our design team to start planning your new bathroom today!